Splinterlands "Chaos Legion" Pre-Sale is ON

It's my duty as a faithfull and avid #Splinterlands (https://splinterlands.com/) player to inform everyone that the Chaos Legion Pack Pre-Sale is ON!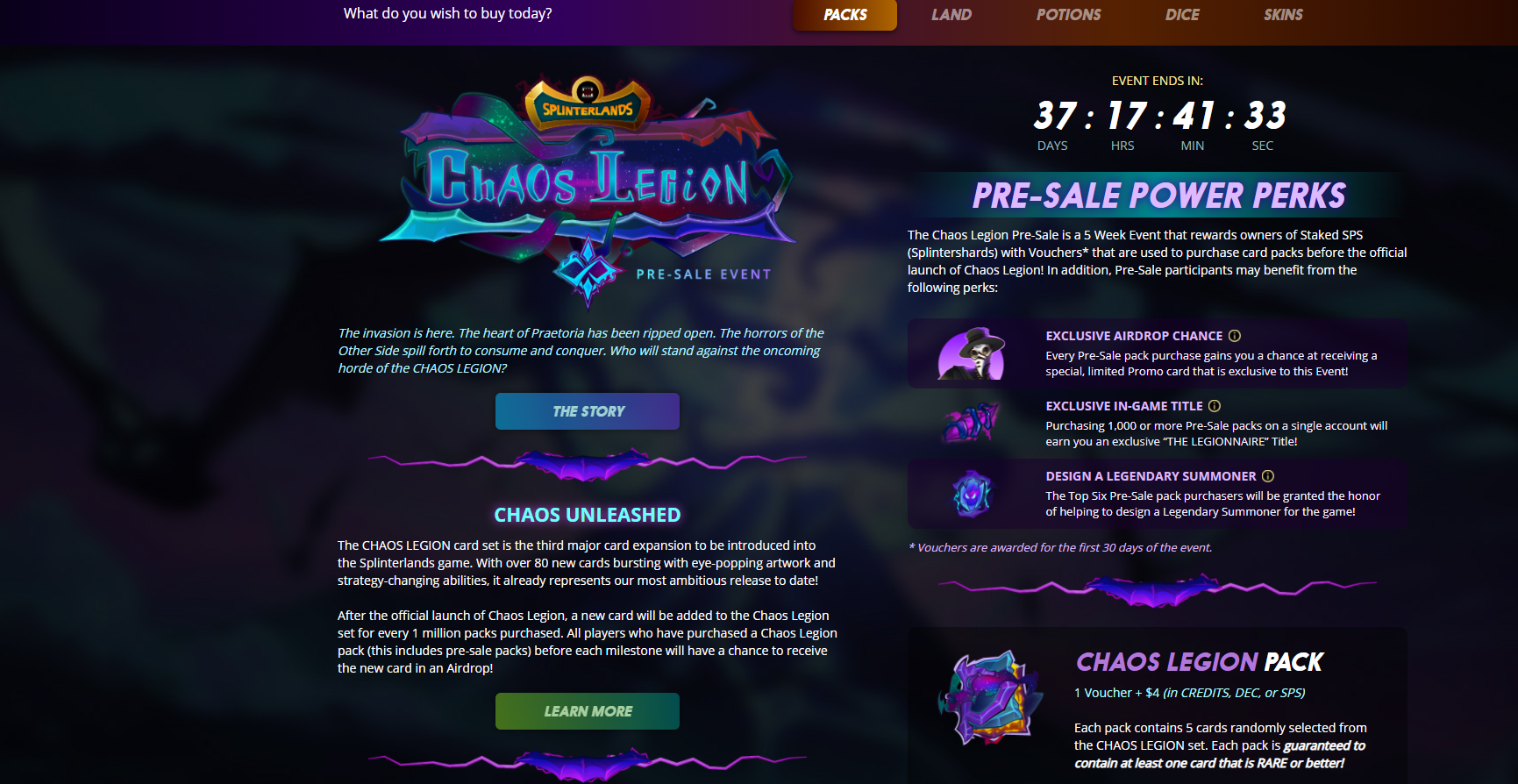 1 Million Packs are available for grabs for $4 each and the pre-sale will go on for 37 days.
Buying pre-sale packs makes you eligible for future airdrops as well as a sweet -10% discount if you decide to pay with SPS (Splintershards) tokens. Oh, I forgot to mention the special 10-20% bonus for if you buy more than 100 of 'em!
Bonus Tiers
100+ packs - 10% additional packs
500+ packs - 15% additional packs
2000+ packs - 20% additional packs

How to buy Chaos Legion Packs
First things first, you need a Splinterlands account if you haven't yet joined the madness. You can sign up via my referral link as a thank you gift for introducing you to the best #play2earn game hehe.
Sign up on Splinterlands : https://splinterlands.com?ref=knowhow92
And now the tricky part. The Splinterlands team wants the pre-sale to be as fair as possible for everyone so they introduced the "Vouchers".
For the next 30 days, each Splinterlands player will receive a certain amount of "Vouchers" every 24 hours depending on the amount of SPS they have staked and the pack-voucher ratio is 1-1. This means that you need to have 1 Voucher for every Chaos Legion pack you intend to buy during the pre-sale.
For example, I'm getting 0.374 Vouchers daily for staking 1472 SPS and this equals to a bit more than 11 vouchers over the next 30 days.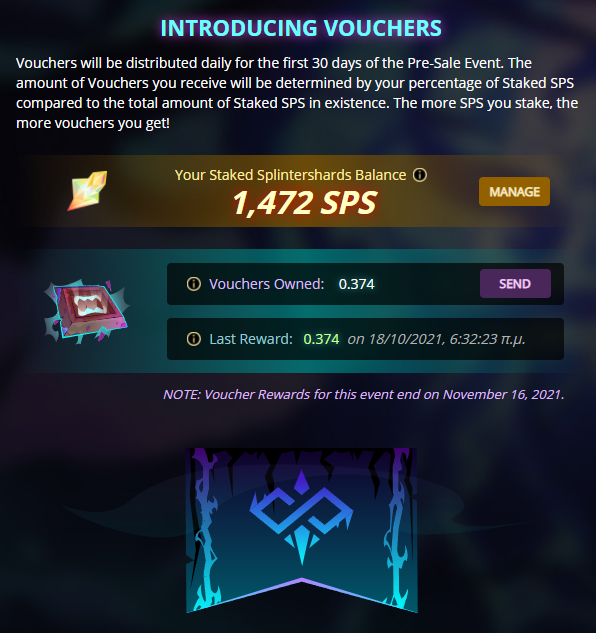 If you don't have a shitload of SPS staked and you really want to jump in the pre-sale worry not, you can still do that.
Voucher is a token issued on Hive blockchain so you can buy Voucher tokens on Hive-Engine (https://hive-engine.com/?p=market&t=VOUCHER), an exchange used for trading tokens issued on Hive.
The only problem is that the price of Voucher has skyrocketed up to $20/token so you need at least $24 in total for 1 Chaos Legion Pack ($4 pack + $20 Voucher).
This definitely stops "small" investors like myself to grab many packs during the pre-sale but ensures that whales won't grab all 1M packs in seconds.
---
My "Chaos Legion" Buying Strategy
My goal is to buy at least 100 packs during the pre-sale so I can get the 10% bonus packs as well as pay with SPS for a 10% discount.
There's no way I'm gonna receive 100 Vouchers in the next 30 days though (1 Voucher - 1 Pack) so I am gonna play the "game of patience".
I am gonna be selling my airdropped Voucher tokens for the next few days at high prices, gonna save as much Hive as I can and hopefully buy back more vouchers for a lower price in the near future.
I know that this is a bit of a gamble but I can't spend more than $2000 in vouchers just to buy 100 packs which cost like $400 so I'll risk it and I think the chances are on my side.
The Volume and price of Voucher is mooning the past few hours as Splinterlands is gaining more and more momentum and my guess is that this will keep on going for at least a week (and more)
There are people I personally know that made a fortune out of Splinterlands and they definitely don't mind spending some extra thousand dollars to buy as many packs as they can during the pre-sale.
Once whales are done buying their Vouchers the price of Voucher will hopefully fall and that's when "smaller" investors/players like me will be able to "stike" hehe. Hope packs won't run out until then though but I doupt this will happen.
---
What are your plans?
Did you sell or buy any Vouchers? Did you open any Chaos Legion packs yet? What's your Chaos Legion Pack Buying strategy?
I'm all ears and looking forward to exchange ideas at the comment section bellow so don't hesitate and leave a comment with your thoughts about this EPIC moment in Splinterlands history.
Much love to everyone and #hustle them #Splinterlands assets HARD. As hard as you can folks!
---
Thank you all for your support
As a full-time online hustler, supporting my content allows me to keep doing what I love.
Much love to everyone and always have fun.
@Knowhow92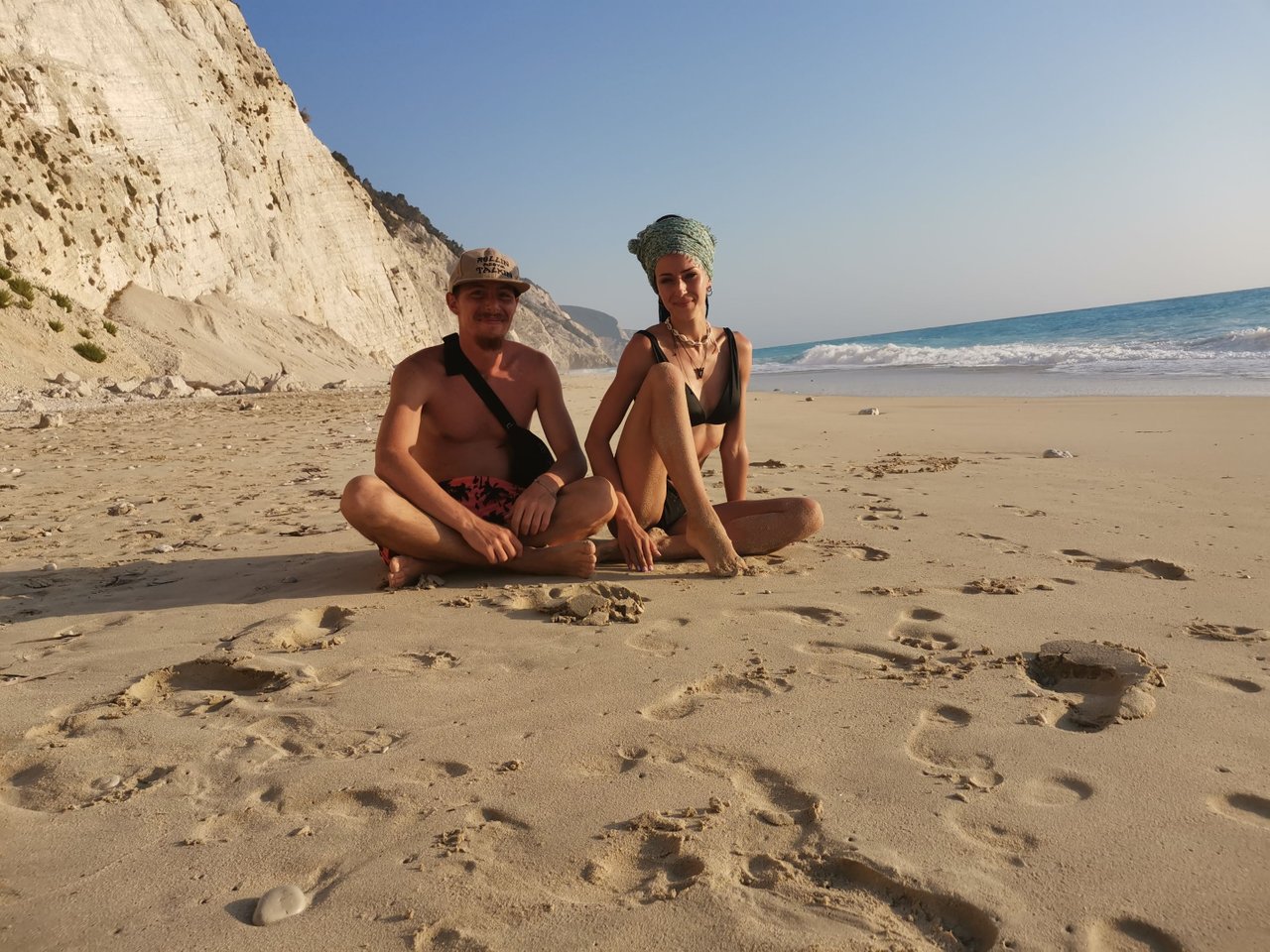 Earn Crypto For Your Content (Affiliate Links)
Find me Here
🏡 Hive: https://www.peakd.com/@knowhow92
🏡 Torum : https://www.torum.com/u/knowhow92
📹 Youtube : https://www.youtube.com/channel/UCJTN...
📱 Twitter : https://twitter.com/theocharis_ch
☀️ Lbry : https://lbry.tv/@knowhow92:d
📷 Instagram : https://www.instagram.com/haris_housos/
☕️ Ko-fi : https://ko-fi.com/knowhow92
Posted Using LeoFinance Beta
---
---