Tournament planning-Introducing Vouchers for Access proposal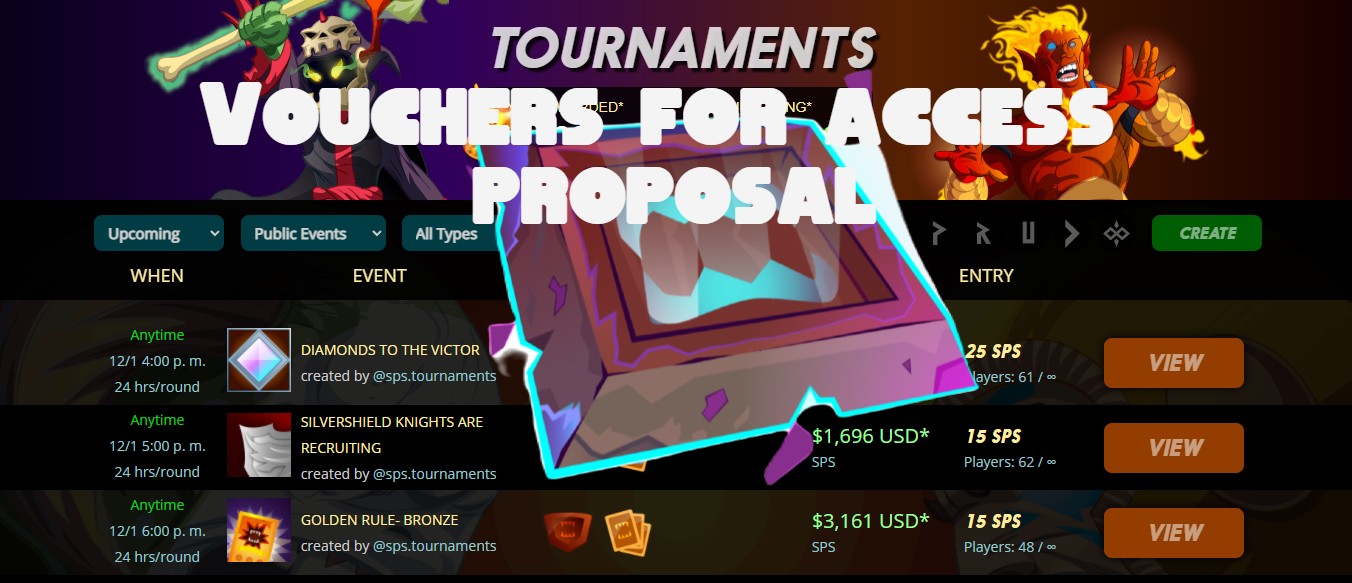 Hello everyone! hope you're doing great!
I was able to participate for a while in a talk on Splinterlands Discord channel today that had place on the tournament-planning server (and will probably keep going during next days).
First, i'd like to say i feel blessed to participate on a project that takes communitie's voice into account, no decision will be to everyone's liking but looking for solutions among the players, for me, is something that honors Splinterlands.
Today's talk was opened to all the members of the channel and there was a variety of opinions about what's expected from tournaments, but most people agreed in some core issues:
Tournaments are great, they represent a competitive side of the game at all levels and prizes are highly coveted, but due to some reasons are not being as attractive as they should, numbers in hand they can be really profitable .
Most members expect Tournaments to be the potential e-sports side of the game when this competitions arise.
And also most of the members agreed that we need a balance on entry requirements...or a way to surpass them which is just my opinion and will talk about it later!

Let's bring tournaments closer to the public
Why am I not getting a sit if I have chips?
Some players will wonder that when trying to join a tournament and realize they can't reach the requirements, because just having enought for the fee won't grant you a sit.
This post is not to question how necesary requirements are, or the amount that would be fair...I don't think that's the issue.
What i would like to expose here is how much Splinterlands community needs Tournaments to have mass adoption and how making them more accesible to all the players could benefit all parties in this equation.
We all need to alternate games
I love playing ranked, taking the challenge to reach the top of the ladder and compete for those prizes while having tons of fun is adictive, and as we wait for the Land expansion, playing tournaments is our real option to ranked games nowadays.
We can continue battling and opt for prizes while our dec capture rate restores, tournaments fulfill that need and it's an attractive format to play for future e-sport competitions.
Meeting the requirements for tournaments has been the main issue on todays talk, they have been increased and this is still going to be reworked on a weekly basis until we reach a good adoption point as far as i understood today.
Collection Power Requirements
As you probably know, if you ever tried to join a tournament, you'll have to meet some card collection power requirements.
I don't think reaching power requirements should be an issue for an average player, obviously we must be realistic on the investment to be made in proportion with our chances to win.
On being realistic i could explain my particular experience, i can almost play the Bronce Blunderbuss-Modern tournament with my own collection power, renting just a few cards to play it could be realistic with the amount of cp I own, but trying to play Diamonds to the Victor tournament wouldn't be realistic as requirements are 40 times my actual colection power.
Collection power can be obtained by renting cards, most people today agreed that renting collection power to expressly play tournaments might not be a great option, but most of us already rent some power to play ranked on desired levels, so we could easily reach all those requirements by renting some cards and being realistic of our real options.
SPS Staking Requirements
I'm an absolute supporter of Sps staking, as i said earlier, not here to discuss how necessary these requirements are or the right amounts to fix them.
Sps Staking requirements have also been increased and, in my opinion, staking Sps is not yet stablished enought among new players, so this requirement could be the one that will make most players refuse playing tournaments.
We all know how important is to bring value to the game by staking our tokens, but losing a massive amount of potential tournament players also hurts all the parties.
Most of us are already staking Sps, but not many can reach the amounts required, and unlike Power, we cannot rent Sps...
But as far as i know vouchers represent staked Sps, and we can all produce them, then i thought they could be introduced into the tournament fees to surpass the difference between your staked Sps and the required amount.

Vouchers for Access Proposal
Tournaments for everyone!
Vouchers are a direct product of staking your Sps, having multiple uses for it could never hurt Sps.
Everyone can have vouchers, either product of their own staking or being bought in the market.
Introducing vouchers to surpass the difference between your stake and the requirements could not only promote the usage of vouchers but also encourage players to play tournaments and be able to build their own stake by winning them.
Same Requirements More Options to Surpass them
Being able to surpass this requirements using vouchers would potencially give every player the options to play a tournament, renting could grant power and vouchers could reduce that Sps staking requirements.
Requirements can remain the same for the players that can meet them and they will also be happy to add more value to their staking.
I think far from wanting to restrict the access to tournaments, the path for mass adoption of this format is opening it to every player by introducing vouchers in this operation. They represent staked Sps and they are accesible to everyone.
Making a more inclusive gaming experience is benefitial for all, there's lots of skilled players that would love to give a shot from time to time to this tournaments but unfortunately can't meet the requirements.
Let's find some options to give tournaments the place they deserve!

Thank you very much for reading, as always, i enjoy a lot sharing my experiencie with you and also encourage everyone to do it!
@kote53
All my support to all the people that works to improve this community by creating content and helping members:
@Clove71 and her Discord community , join to stay alert of challenges, streams, giveaways, best content and support there.
All my love to her and her community.
Thank you for sharing all your content and experience with us
@Sketchygamerguy and his Splinterlands Lore Channel, always willing to have some fun and help new players, join to stay alert of giveaways and meet awesome members.
@drabs587 great streams and videos, really recommed watching for best content, he also does tournaments.

JOIN US!
Click the link down below to start battling now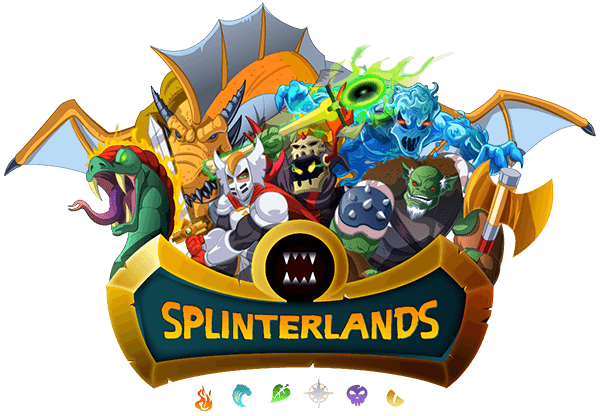 ---
---