Hive Goals - 2022 Jul 1 Update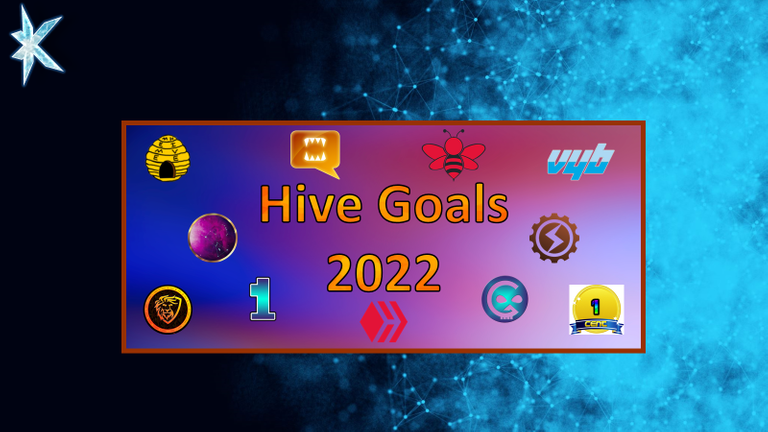 Hello fellow Hivians!
Its the start of the month and after being gone most of May and June its time to see how I've been doing with my 2022 Hive goals. Not surprisingly I barely moved my numbers but despite this, the general crypto market crash has been decent when it comes to the ability to stack coins.
I continue to delegate a good chunk of my tokens to my guild's shared account 'acolytesofhelio' and I'm happy to see that the guild has been growing despite my absence as of late. Like my own goals, Acolytes of Helio have set some strong goals to become better curators and my delegations directly help that.

Goals
Out of 11 total goals I have already hit the mark for 5 of them with the other 6 steadily gaining traction. That said, it appears that some of my goals may not be reasonable without additional direct infusion of fiat. For example, I don't forsee hitting 10 BEE by January. For that matter, I'd be surprised if I got anywhere close.
Do here is my target progress so far:
| Token | Target Holding | July Holding | June Holding | May Holding |
| --- | --- | --- | --- | --- |
| HP (Hive) | 500 | 376.137 | N/A | 347.546 |
| SPT | 15,000 | 15,715.408 | N/A | 15,100.031 |
| Oneup | 15,000 | 8,309.154 | N/A | 7,791.804 |
| BXT | 5 | 9.3 | N/A | 6.466 |
| MEME | 1,000 | 1,206.797 | N/A | 1,163.139 |
| VYB | 100 | 75.316 | N/A | 54.2 |
| OPG | 150 | 116.72 | N/A | 113.72 |
| LEO | 25 | 30.012 | N/A | 28.449 |
| Cartel | 10 | 1 | N/A | 1 |
| CENT | 250 | 265.129 | N/A | 252.483 |
| BEE | 10 | .928 | N/A | .6036 |
If you were to compare the $ value of my tokens over time, generally speaking I'm down about 80% since the crypto crash of March 2022 despite having double the number of tokens in many cases. Of course I have some heartburn not selling and rebuying as the market started to crash but I've always followed the mantra that timing any market is a recipe for disaster and generally holding my position averaging in my buys has treated me well.
Rising Star
I have also added a new goal however it is less of an annual goal and more just a general one. I'm on a mission currently to obtain 100k starbits, the currency generated via the Rising Stars game. I've been playing the game off and on casually for the past few months and have enjoyed a bit of progress. However, its starting to get harder to accumulate cards via single pack purchases so I'm working towards my first 12 pack bulk buy. Currently I'm sitting at 33k/100k which I'm quite pleased with. I'm pulling in roughly 1.3k per day so I should see my first bulk buy in a couple months!
Cartel
Finally I want to update everyone on the Cartel. If you aren't aware, its basically a meta NFT gaming guild. It holds multiple assets throughout many different NFT games and it is effectively owned by Cartel token holders. Think of the tokens sort of like a stock. The Cartel in its early days promised a sort of dividend payout from its activities to token holders. Well, this payout has finally started so I wanted to go through what that actually looks like. My Cartel token purchase (1 for $10) is now currently worth $4.32. This is a face value loss of $5.68 which given the overall crash, isn't too bad (-56%). Currently, the guild is ONLY paying out vouchers which is one of the Splinterlands related tokens. I'm hopeful that the token will also start to payout its curation token gains as well as that was one of my primary drivers in picking it up. So with 1 token, I currently receive .018 voucher per month which is worth $0.008. That is table math an APR of 0.9% (not including the initial loss of 56%).
Thank you all for reading and good luck to you at achieving your own personal goals.
Cheers all!

Disclaimers
All images and content owned by me unless otherwise noted.
Helpful Details
Hive Curators
For those of you that blog but don't like to curate content, consider delegating your tokens for daily payouts. The following Curation accounts will payout 95% of all curation rewards received back to you automatically allowing you to indirectly support great content while earning great APY off of your crypto.
May not include all curation accounts
Hive Basic Income (HBI)
HBI is effectively an automated curation tool which will upvote your HIVE posts forever. It is an amazing way to ensure you get some income from all of the time you spend teaching others via posting your strategies, analysis, and thoughts. You can read more about HBI in their FAQ.
Support
If you are new to the Crypto space and wish to support me, please utilize the below referral links. You can also support via upvotes, tips directly through Hive, including my name in a HBI purchase, or via a card/DEC donation. Finally, delegating tokens (HP, SPT, or ONEUP) to 'acolytesofhelio' will help our guild curation account grow and support our community.
Exchanges & DeFi
Coinbase - $10 signup bonus
Bittrex
Uphold - $20 bonus on first $250
Blockfi
NFT Games
Splinterlands - Contact me after using and I'll send some DEC your way.
Gods Unchained
Exode - 2 free alpha booster packs
Rising Star
---
---