Weekly Battle Challenge: Kitty from the other side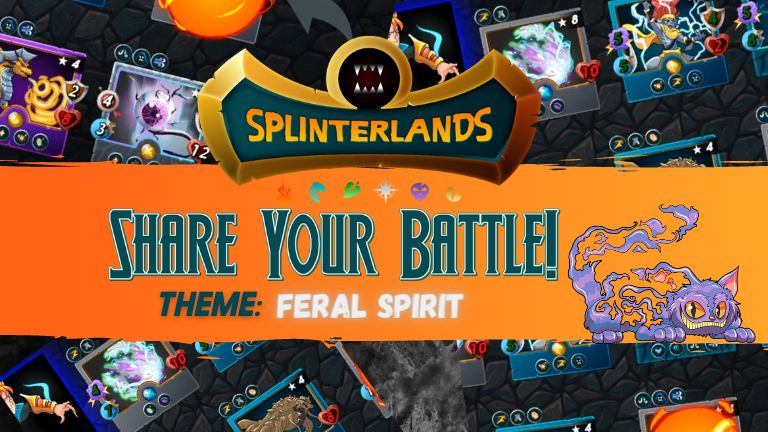 Hello fellow TCG enthusiasts!
This week's battle challenge covers Feral Spirits which is one of the old staple Light cards from the alpha/beta series. Before Chaos Legion this guy regularly ripped through the backlines of its opponents.
If this is the first you are hearing of the Splinterlands 'Share Your Battle!' challenge, check out the official rules and guidelines in this post. Now lets get into this week's challenge.

Card Overview - Feral Spirit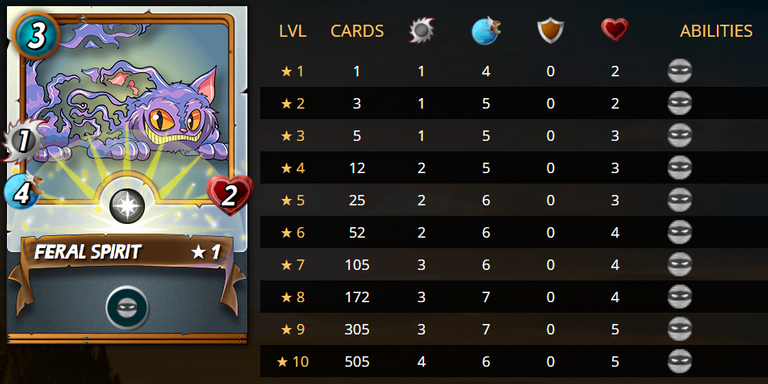 Edition: ALPHA/BETA
Rarity: COMMON
Element: LIFE
Attack: MELEE
Abilities: Sneak
Back when Feral Spirit was part of the ghost deck he was often a go to, especially when paired with Silvershield Knight. This little kitty was quick to bite and did a great job compensating one of the light decks main weaknesses, speed.
Official Lore
Forever caught between dimensions, the Feral Spirits (and all Luminous Beasts) are the result of the Obliteration of Light, a horrible destructive event in which all the living vanished from the surface of Khymeria. These spirits do not hunger or thirst, but their fangs still bite and their claws still slash.
I've always liked this card and despite that I've never bought him. That may be because I like cats though. Regardless, he does have a bit of a Schrodinger thing and quantum superposition is such an interesting concept. Since I didn't own this guy but still really liked him I opted to rent him to take part in the challenge.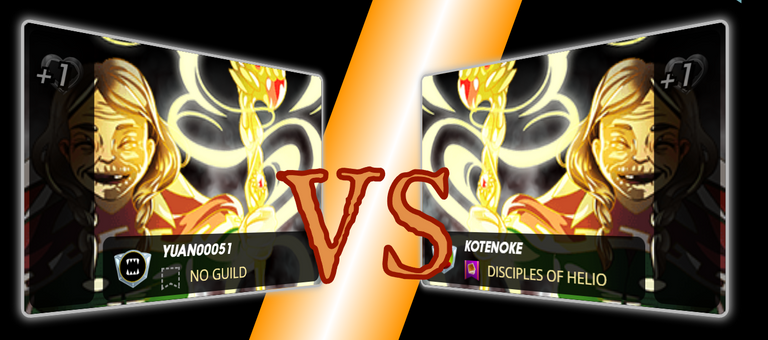 Battle Link
Context: Regular Ranked match in Silver 2.
Ruleset as follows:

Silenced Summoners and Stampede are a very niche combination of rules and since Light is one of my weaker decks means it is an ideal situation for me. I have 0 leveled light summoners which meant just playing the cheapest mana light summoner was my best bet. Stampede is also niche. It very rarely sees use in low league decks. With the ban on Earth I was even more ecstatic since that meant I would be able to avoid having to worry about the new Earth magic meta.

Battlefield: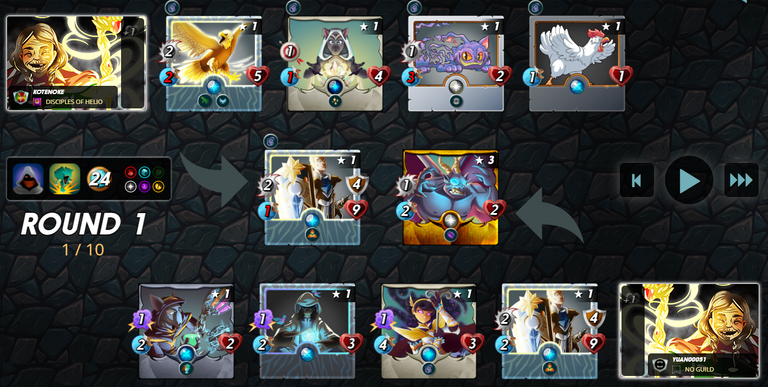 Analysis:
Honestly, when the comps came out I knew I was going to win immediately. Simply put my opponent didn't have the damage needed to get through my front and second line tank. In addition, the comp itself made very little sense to me with a bait card in front without a strong backline.
Had my opponent actually played the delay tactic with bait tanks and a strong backline however Feral Spirit here would have been an idea card as a counter. Specifically, because it has sneak and sneak/snipe are the exact types of abilities that are important for taking out a backline.
If you guys have been paying any attention to the new CL cards I'm personally seeing the new airdrop card, Baakjira, and many of the other new water cards setup this type of delay comp perfectly. I can't wait until I start seeing those comps more often.

Disclaimers
Splinterlands images owned by Splinterlands. All other images and content owned by me unless otherwise noted.
Helpful Details
Hive Curators
For those of you that blog but don't like to curate content, consider delegating your tokens for daily payouts. The following Curation accounts will payout 95% of all curation rewards received back to you automatically allowing you to indirectly support great content while earning great APY off of your crypto.
May not include all curation accounts
Hive Basic Income (HBI)
HBI is effectively an automated curation tool which will upvote your HIVE posts forever. It is an amazing way to ensure you get some income from all of the time you spend teaching others via posting your strategies, analysis, and thoughts. You can read more about HBI in their FAQ.
Support
If you are new to the Crypto space and wish to support Atlas, Nobu, and myself, please utilize the following referral links. You can also support us via upvotes, tips directly through Hive, including my name in a HBI purchase, or via a card/DEC donation.
Exchanges & DeFi
Coinbase - $10 signup bonus
Bittrex
Uphold - $20 bonus on first $250
Blockfi
NFT Games
Splinterlands - Contact me after using and I'll send some DEC your way.
Gods Unchained
Exode - 2 free alpha booster packs
Rising Star
---
---