SPLINTERLANDS - SHARE YOUR BATTLE Weekly Challenge!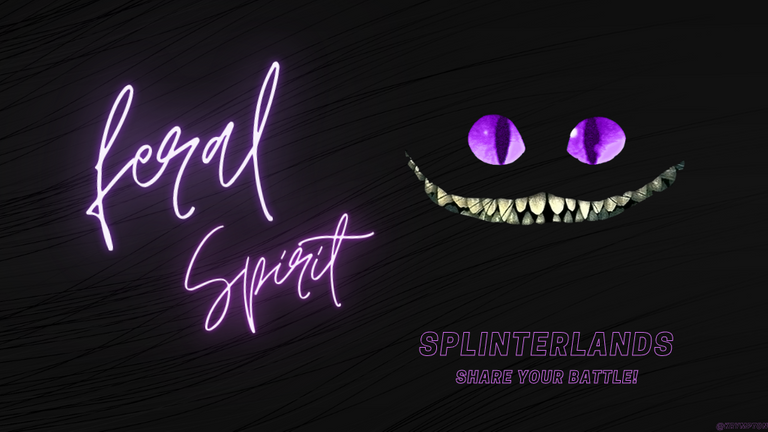 SHARE YOUR BATTLE Weekly Challenge!
Theme: FERAL SPIRIT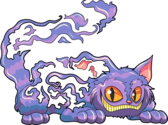 Forever caught between dimensions, the Feral Spirits (and all Luminous Beasts) are the result of the Obliteration of Light, a horrible destructive event in which all the living vanished from the surface of Khymeria. These spirits do not hunger or thirst, but their fangs still bite and their claws still slash.
Challenge Link
https://peakd.com/hive-13323/@splinterlands/share-your-battle-weekly-challenge-feralspirit

STRATEGY
Firstly, I do not own Feral Spirt, nor is Life my preferred splinter.
This put me at a disadvantage out the gate as I needed to Rent out our purple cat just to showcase this challenge.
To begin I rented a Lvl 4 Spirit. I failed to remember however, that my Life Summoners are only Lvl1 and thus not able to take advantage of the levelled up Feline.
After trying and failing more times that I will admit, I bit the bullet and also rented a Lvl 3 General Sloan in the hope that with these two cards and my ghost cards, I could pull of a miraculous win in Silver II.
Below is my lineup that I took in to the eventual winning battle. There were a lot of losses as I simply couldn't compete with Lvl 1 cards and a purple cat but we got there in the end!



LINEUP
| Card Picture | Monster | Level | Position | Reason |
| --- | --- | --- | --- | --- |
| | General Sloan | 3 | Summoner | The +1 Ranged buff works really well to synergise with the Life splinter ranged attack units in Chaos Legion |
| | Chaos Knight | 1 | Tank | I needed a tank with shield and some armour to absorb some of the hits early on, giving my archers a chance to take out the opponent |
| | Feral Spirit | 4 | Meat Shield (unfortunately) | To take advantage of my summoners buffs, I needed to make sure my backline stayed alive long enough to deal damage. Our theme monster of the week, whilst dealing some sneak damage, is unfortunately relegated to semi-useful meat shield for this battle. |
| | Herbalist | 1 | Ranged | Buffed with +1 Ranged brings this Herbalist up to 2 damage per round for only 2 Mana. |
| | Lone Boatman | 1 | Ranged | Again, Sloan's buff gives the Boatman 3 Snipe damage per round. Given the ruleset, I needed to be taking out the monsters with the lowest health |
| | Venari Crystalsmith | 1 | Tank Heal | What eventuated as the star of this battle, Crystalsmith was able to keep out Tank alive long enough to allow the Range attacks to take care of the opponent. |
| | Xenith Archer | 2 | Ranged | Another low mana Ranged unit that will help deal some damage whilst being able to absorb some sneak damage with the Equalizer rule set |

BATTLE
Battle Link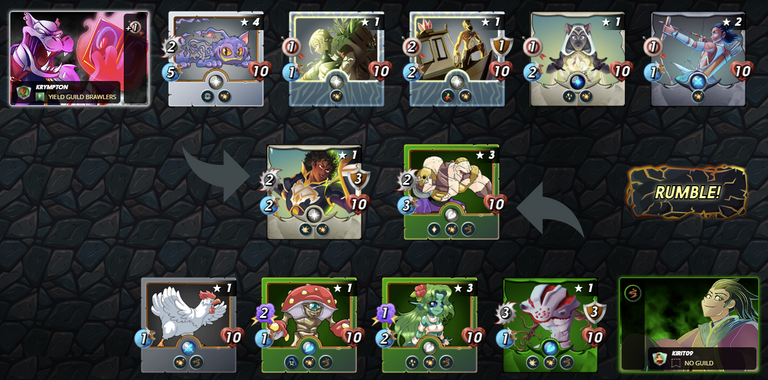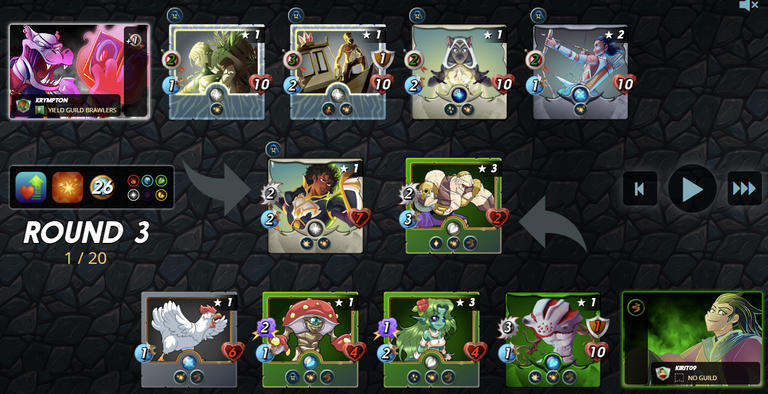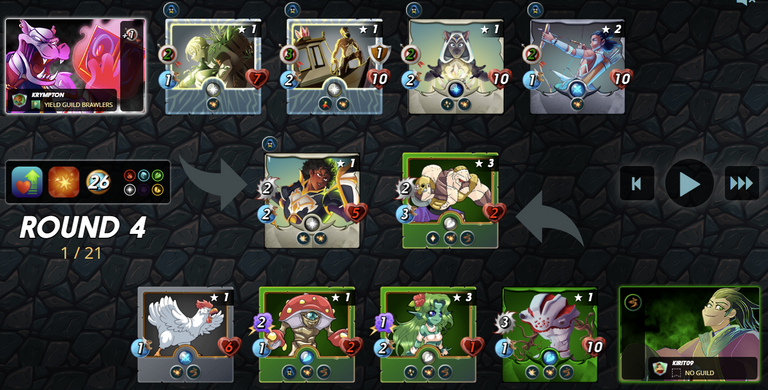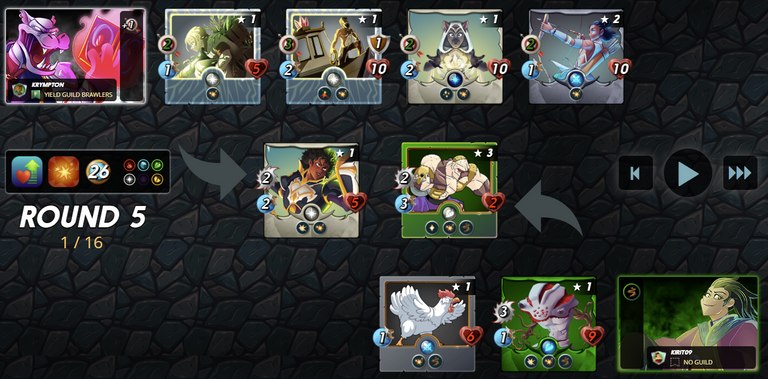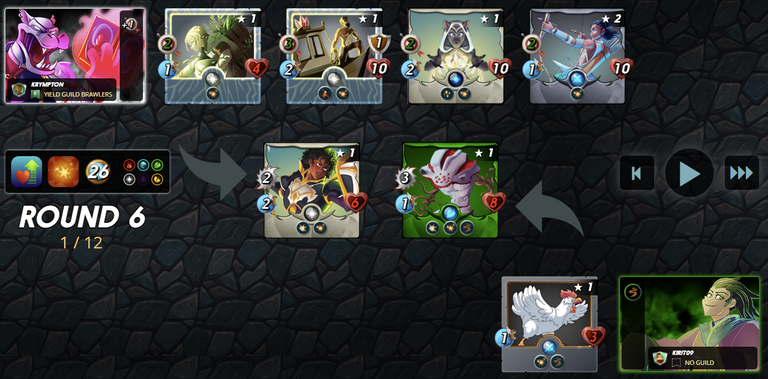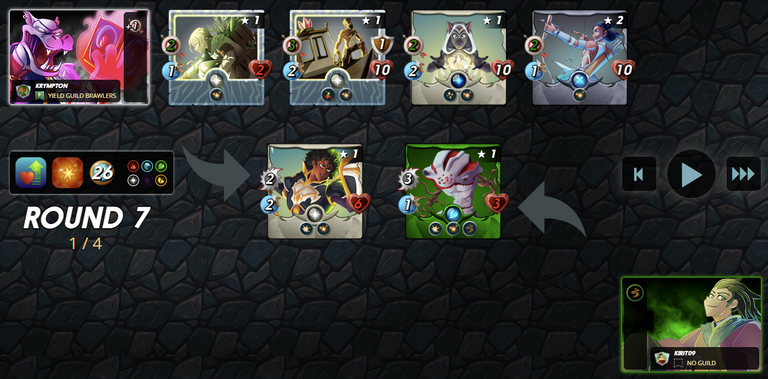 REFLECTION
Previous to Chaos Legion I used the Feral Spirit quite a bit, the cheap sneak was nice to have. The new General Sloan summoner however, has now moved the focus for Life towards Ranged attacks.
Whilst I won this battle, unfortunately the Feral Spirit didn't play a big role.
My opponent tried to counter melee and magic with his Mylor and Mushroom Seer but luckily I played a ranged attack instead.
The Equaliser and Blast ruleset meant my Feral Spirit was hurt badly by the blast damage but the main strategy here was to use my ranged attack to take out their tanks so I needed someone to shield the Archers from Blast.
The Golem's heal and Infantry's shield proved troublesome and I didn't think I would have the firepower to break though but as you can see once the Magic damage was removed, I was able to win the battle.

REFERRAL
If you are new and would like to try out the amazing game that is #Splinterlands, please consider using my affiliate link HERE
If you register with my link and buy a spellbook, DM me and I will send you 250 DEC to help you get started with renting or buying some cards.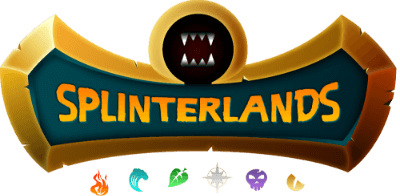 ---
---