SPLINTERLANDS TUTORIAL: Newbies Initiative Tutorial (Blockchain Games)

---
VIDEO TIMELINE
00:00 - 00:51 || Introduction/Recap
00:52 - 01:39 || Splinterlands Game (Introduction)
01:40 - 01:51 || 7 Elements in Splinterlands
01:52 - 03:01 || 4 Levels of Card Rarity
03:13 - 05:14 || Card Types (Summoners and Monsters)
05:15 - 05:59 || Analysing the Cards (Monster) - Introduction
06:00 - 06:23 || Mana Cost/Cap (explanation)
06:24 - 07:07 || Stats (Melee, Ranged and magic attack, health, speed and amour)
07:07 - 08:08 || Abilities (explanation)
08:09 - 08:58 || Analysing the cards (summary/conclusion)
08:59 - 10:11 || The Battlefield
10:12 - 12:45 || Preparing for Battle (Rules, mana cap, playable Splinters, selecting Summoner and monsters)
12:50 - 13:13 || Creating an account
13:15 - 16:39 || Practice Battle
16:40 - 17:15 || Getting the best out of Splinterlands Game (earning in-game Cryptocurrency and NFTs)
17:16 - 18:10 || Concluding Remark and Appreciation
---
---

Hello everyone, my name is @ksam (Kalu Samuel), and it is my pleasure, once more, to anchor this tutorial for the Newbies Initiative Programme.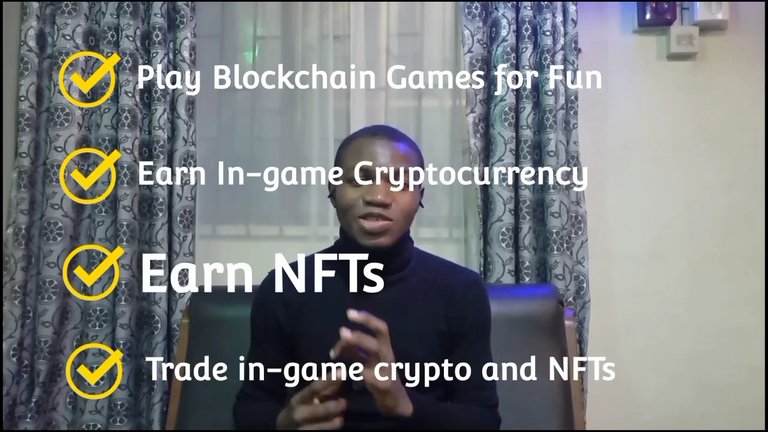 By way of Recap, in the first part of this tutorial on NEWBIES INITIATIVE TUTORIAL - BLOCKCHAIN GAMES I introduced us to the world of Blockchain Games and I said that there are four major features of Blockchain Games.
You play blockchain game for FUN
You earn in-game Cryptocurrency
You earn NFTs
You Trade the in-game crypto and NFTs
---
Thus, with the above basic knowledge of blockchain game, we shall have a look at Splinterlands game, which is one of the most successful Blockchain games on Hive and among other blockchains.
We shall present a tutorial for Splinterlands game to help everyone understand the basics of the game.

SPLINTERLANDS GAME

In the video above, I gave a guide and tutorial of Splinterlands game for Beginners. I am aware that I didn't discuss some aspects of the game that need to be touched, hence, this post will offer the summary of what I discussed in the video above with an additional exposition/explanations of some important aspects.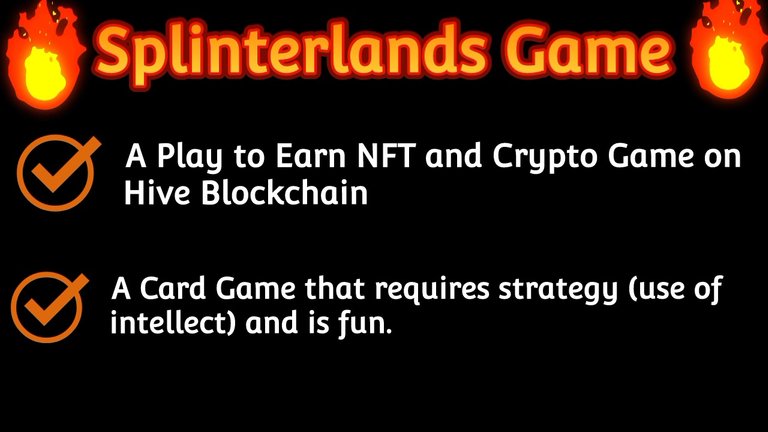 Splinterlands is a play to earn crypto and NFTs game on the Hive Blockchain.
Splinterlands is a card game that requires strategy (use of intellect) and is fun.

IMPORTANT FEATURES IN SPLINTERLANDS

---
☆ ELEMENTS
---
There are 7 Elements in Splinterlands
Fire
Water
Earth
Life
Death
Dragon
Neutral (Mercenaries)
---
☆ SPLINTERS
---
There are 6 Splinters or Primal Forces in Splinterlands
Fire
Water
Earth
Life
Death
Dragon


Notice that the Neutral Element isn't categorised as a Splinter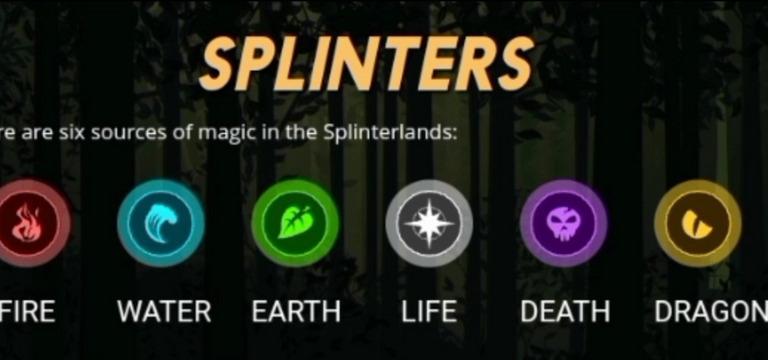 ---
☆ RARITY
---
Rarity refers to the availability or distribution of cards. In Splinterlands we have 4 levels of Rarity.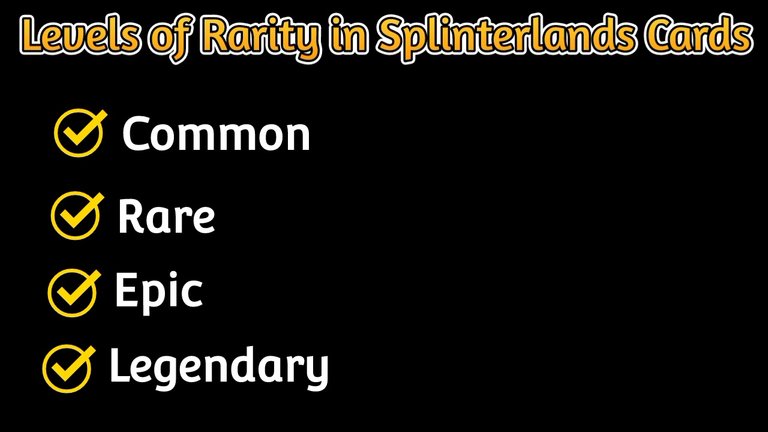 Common
Rare
Epic
Legendary
In the video, I gave an example where a pack of 1000 cards contains 700 common, 200 rare, 80 epic and 20 legendary.
The probability of picking a legendary card (20/1000) in a pack is very low as compared to picking a common card (700/1000). Hence, the legendary cards are few, scarce and their worth is higher 💎
---
☆ SUMMONERS
---
A summoner is one (card) who harnesses one of the six Primal Forces, and uses its power to summon Monsters.
---
☆ MONSTERS
---
Monsters are individuals or creatures that are summoned by the summoner to the battle field.
---

---

ANALYSING THE CARDS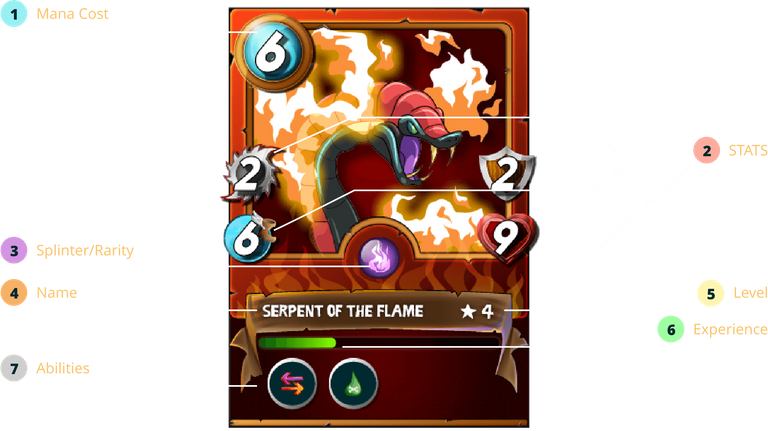 1 Mana Cost: Cards are selected based on the Mana Cost of each card. The Mana Cost of the Summoner and Monsters (when added up) should not exceed the given Mana Cap of the Battle.

2 In the STATS we have the 3 attack methods:
| Name | Image | Function |
| --- | --- | --- |
| Melee attack | | This is a close combat-hit Monster. Preferably, it is best suited for the first row, however, some Melee Monsters with Abilities can attack from any angle, and some rules may permit them as well. |
| Ranged attack | | They can attack from far distance alone. If they are close by (1st position) they won't be able to attack. |
| Magic Attack | | They can attack from any row. Their attack damages the health directly, while ignoring the opponent's shield (unlike the Melee and Ranged Monsters). |
We also have the health, speed and armor/shield.
| Name | Image | Function |
| --- | --- | --- |
| Health | | This is the life status of the Monster. Once it reaches zero (0) the monster becomes dead |
| Speed | | Fast Monsters attack faster than slower Monsters, and some fast monsters can evade attacks from slow monsters. |
| Shield | | For Monsters with armor, their Armor must deplete before their health, except if its a magic attack whose attack hits the health directly. |
3 It indicates the Splinter/Rarity of the card.
4 The name of the character.
5 The higher the level, the higher the STATS of the Monster.
6 By combining duplicate cards, your card/Monster gain experience.
7 Abilities are special skills which summoners and Monsters possess.
---
Note: The card of a summoner is different from a Monster.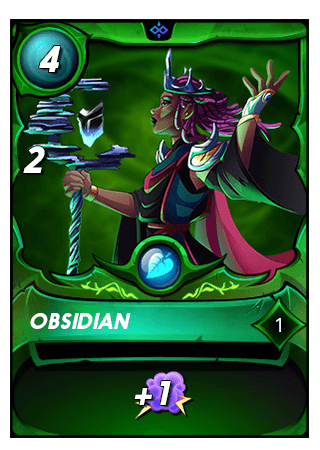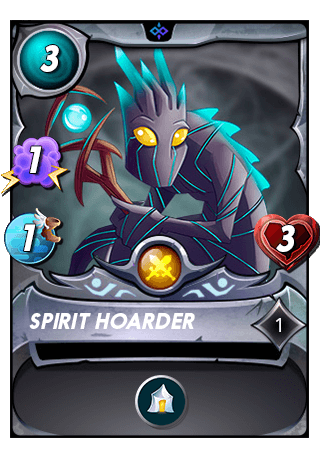 The summoner (left) doesn't possess STATS like the Monster (right) because only the Monsters fight the actual battle.

THE BATTLEFIELD| PREPARING FOR BATTLE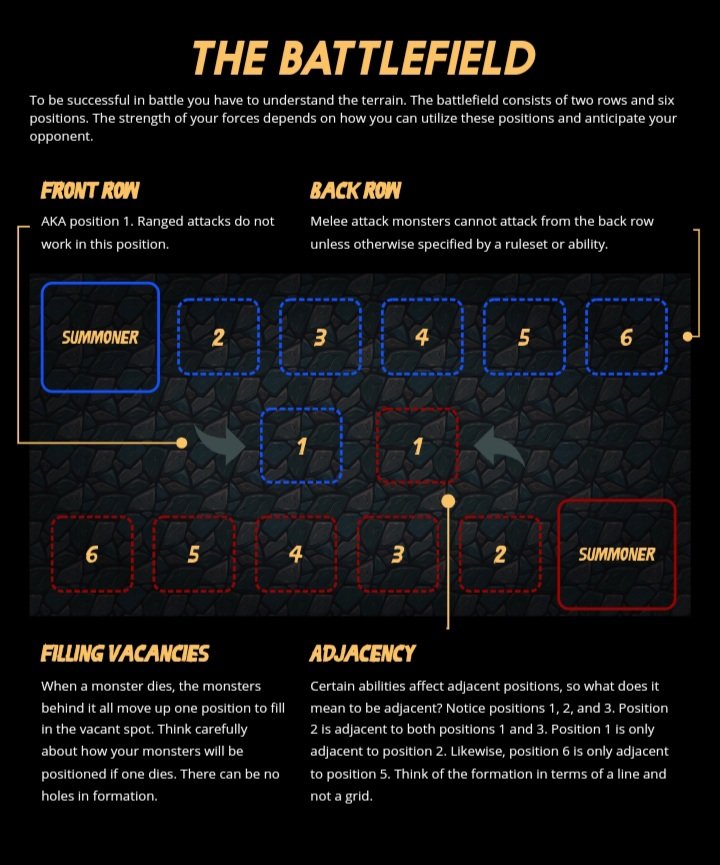 The images above are essential in order to understand the Battlefield of Splinterlands Game and the process of selecting your team. You need to consider the Rule set, Mana Cap of the Battle and available Splinters (more explanations in the video above).

PRACTICE BATTLE

Having studied the Splinters/Primal Forces, rarity, the different cards (Summoners and Monsters) and their STATS, as well as the Battlefield and preparation for battles, it is necessary to practice what we have learnt.
First of all, you have to create an account: you can do that through this link here: Creating a Splinterlands Account
You can follow the video for guidance as well as to see a battle example.
---
It is important to note that in order to earn from Splinterlands game you have to buy the Spell Book (cost $10).
When you do this, then you'll be able to:
Win Dark Energy Crystals (DEC - in-game crypto) after battles,
Participate in daily quest to win coins, portions and cards.
Win coins, portions and card at the end of every season (16 days),
Participate in tournaments and win prizes (crypto, NFTs and more),
Win and trade NFTs
BLOG about Splinterlands and get curated by the SteemMonsters account. You don't need to be a pro in the game and you mustn't win a battle before you post. Just stick to the guidelines and you can get your post curated twice in a week.
You can also participate in giveaways.
---
By way of emphasis, with blogging about Splinterlands, you can get back the $10 you used in buying the Spellbook.
When you follow the Splinterlands weekly Challenge it makes you know these Monsters and Splinterlands better, and it helps you grow in the game.

Having understood what Blockchain Games are and the aspect of earning in-game Cryptocurrency and NFTs on blockchain games, and having known basics of Splinterlands game through this tutorial, you can do well to check this tutorial I did on Splinterlands game: A Detailed Beginner's Guide to Splinterlands Game/Battles. You can also follow me to view my weekly entries for the battle challenge.
---
Important notice ⚠️
---
Before the next task is given, I would answer every question on the tutorial on Blockchain game and Splinterlands. I hope by doing this, I'll clear all doubts before you commence the task.
Hence, there will be a discord meeting held on the SMILE DISCORD SERVER on Saturday, 16th July 2022, at 7:00pm GMT (which is 8pm WAT - West African Time) where all newbies can bring their questions and paste them into the #help-chat channel which I will provide answers to them via voice or can be pasted in the comments of this post as well.
After the Discord Meeting on Saturday, A task will be given and then published on the @newbies-hive account with a video of what took place in the meeting. Please do well to bring in your Hive questions in the meeting.
Note: The meeting is not compulsory, but we do advise you to attend and ask your questions.

The line dividers are property of Hive Learners Community
All Splinterlands images and screenshot are from Splinterlands Website and property of Splinterlands, for the promotion of Splinterlands game.
Designs were made through Canva and Powerdirector.
---

---
I AM KSAM
---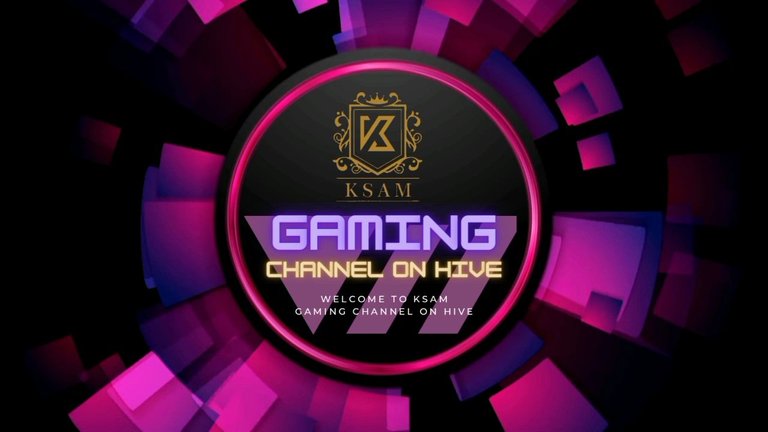 @ksam is a "uniquely creative" Hive lover who combines his musical, writing, linguistic, video and audio editing skills to promote creativity and ideas in the Hive Community. He is a "crytopreneur" and a game lover. You can follow him to view more tutorials and critical analysis of Splinterlands and PsyberX games.
---
---
▶️ 3Speak
---
---