THE RISE OF CRYPT BEETLES: SPLINTERLANDS GAME ANALYSIS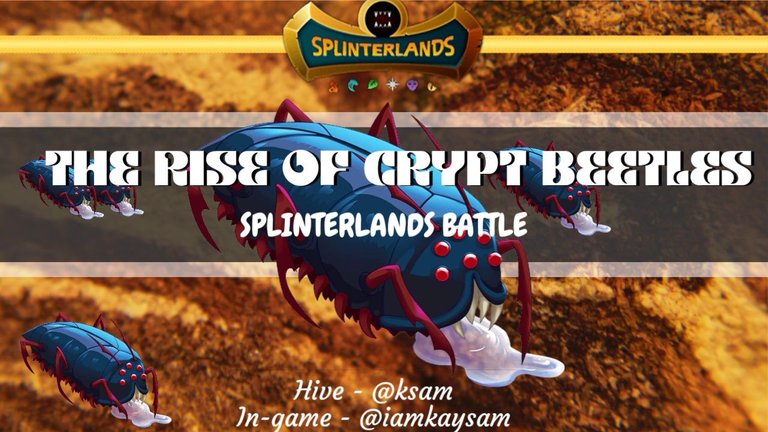 ---
OUTLINE OF THE POST
---
Introduction
CRYPT BEETLE (LORE and STATS)
My Battle
--Rules of the Battle
My Strategy and Line-up
--My Summoner
--My Monsters
Summary of the Battle
Did your strategy work?
Do you like CRYPT BEETLE?
Appreciation
My Splinterlands in-game username is @iamkaysam

This is the weekly Challenge of SHARE YOUR BATTLE, and the Theme for the Week is CRYPT BEETLE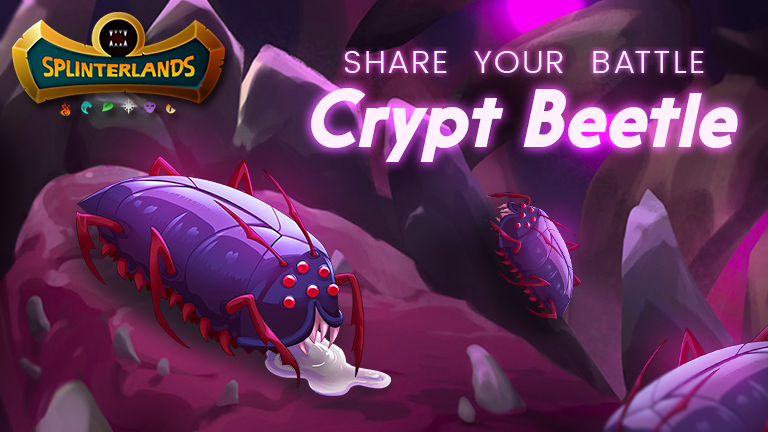 Welcome to my Gaming Space where I give detailed analysis of my Splinterlands Battle.
For this week we shall discuss the CRYPT BEETLE Monster.
I have a Gold foil CRYPT BEETLE Monster 🤩 Well, I use this Monster once in a while, because even with it's low stats, it's ability of Shield allows it to last longer as compared to Monsters of the same stats level with it.
Let's get into an in-depth analysis of this Monster and I will share a battle were I used it.
---
CRYPT BEETLE 🪲
---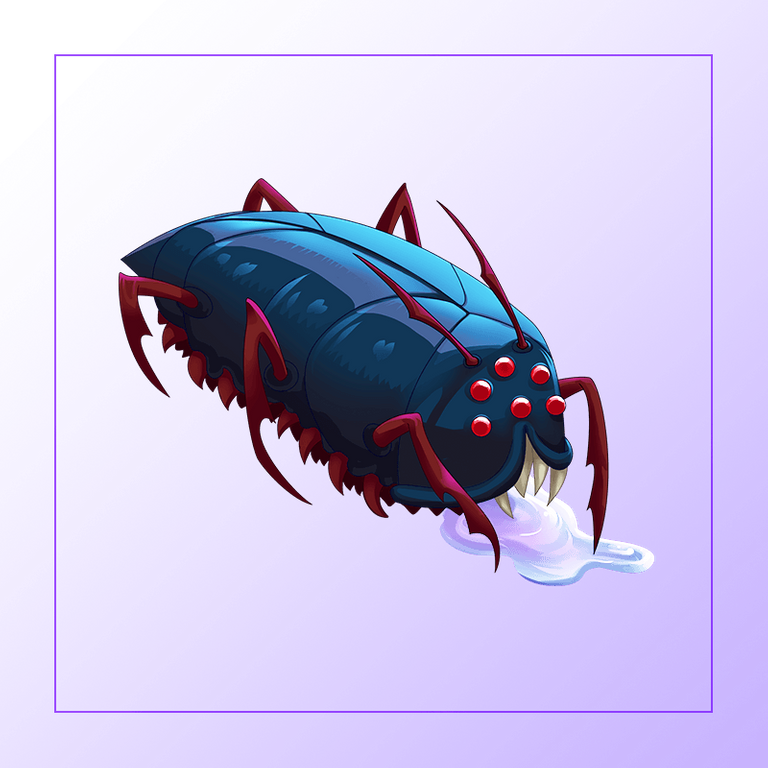 Edition: CHAOS LEGION
Rarity: COMMON
Element: DEATH
Attack: MELEE
Abilities: Shield
LORE
Any explorers that delve too deeply into the crypts, mausoleums, and necropolises of the world will find a foe they are unprepared for. Not undead, not liches, and not other monsters that can be found in the deep. Instead, tales are told of the crypt beetles. Enormous insects that are found feeding on the corpses within. Most explorers think they are a mere nuisance and will try to scare them away from whatever tomb they are choosing to rob.

But things don't end well for those explorers. These large beetles will defend themselves and their food aggressively. And any explorer that makes it back out alive will have impressive scars to show from the crypt beetle's bite.
---
STAT ANALYSIS
---
| | Image | L1 | L2 | L3 | L4 | L5 | L6 | L7 | L8 | L9 | L10 |
| --- | --- | --- | --- | --- | --- | --- | --- | --- | --- | --- | --- |
| Attack | | 1 | 1 | 1 | 1 | 2 | 2 | 2 | 2 | 2 | 3 |
| Health | | 2 | 2 | 2 | 3 | 3 | 3 | 4 | 5 | 5 | 5 |
| Speed | | 1 | 1 | 1 | 1 | 2 | 2 | 2 | 2 | 2 | 3 |
| Shield | | 1 | 1 | 2 | 2 | 2 | 3 | 3 | 3 | 4 | 4 |
---
ABILITIES
---
| Name | Image | Function | Levels |
| --- | --- | --- | --- |
| Shield | | Reduced damage from Melee and Ranged attacks. | 1 - 10 |
---

---
MY BATTLE
---

Click here to watch the battle
My battle was against HSWDR96706367 😁 who chose Summoner and Monsters from the Primal Force of Earth. On the other hand, I selected my team from the Primal Force of Death.
---
RULES OF THE BATTLE
---

The rules of the game were:
Standard Game: which means no changes, modification or addition to the normal playing techniques.
Mana Cap of 27
Elements that can be used include all: Water, fire, Earth, light, death and dragon.
---
MY STRATEGY AND LINE-UP
---

For my strategy, here are my Summoner and Monsters, and I'll tell you why I chose each Summoner and Monsters.
MY SUMMONER
Thaddius Brood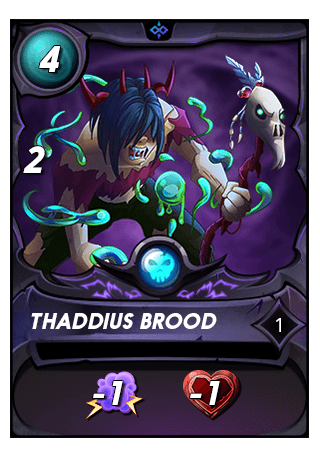 I chose Thaddius Brood to reduce the health and magic effect of my opponent.

MY MONSTERS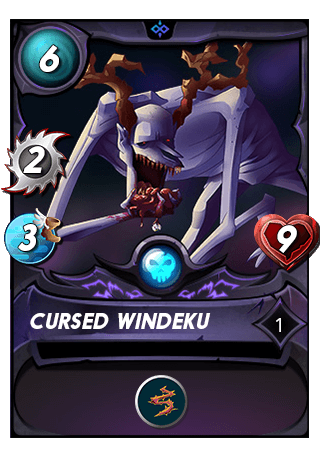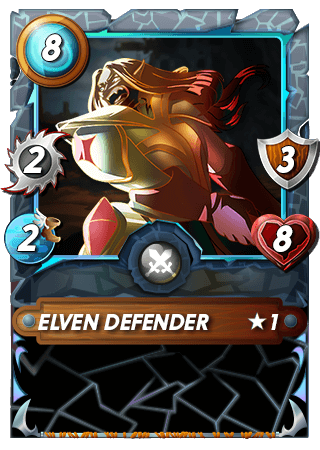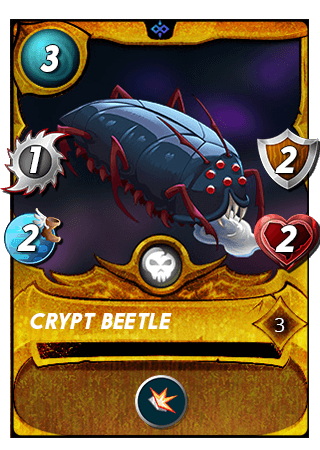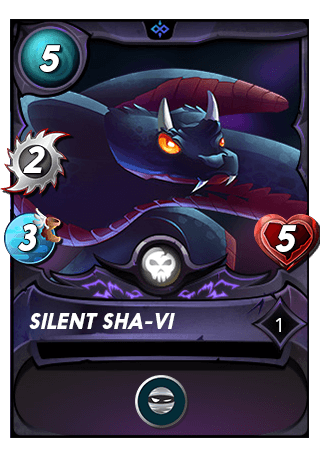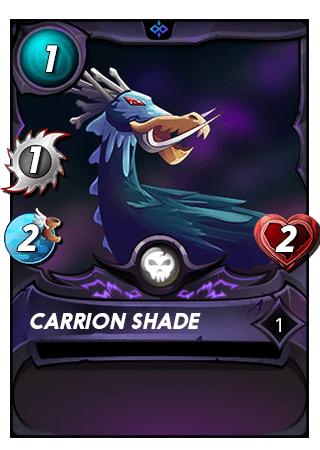 MEET MY MONSTERS
| Monster Name | Image | Reason for Choosing |
| --- | --- | --- |
| Cursed Windeku | | Each time I play with the Death Splinter, I always choose the Cursed Windeku as my first position Monster. It has a good health and other good stats. But most importantly, it has the ability of Thorns. With this, it serves as an offensive and defensive Monster. |
| Elven Defender | | I chose the Elven Defender as the second position Monster to replace the Cursed windeku if it is defeated. This is a very strong warlord 💪 |
| Crypt Beetle | | This is the theme best of the Week. It has got a low stat, but it's ability of Shield makes it last longer than other Monsters with the same low stats level as it. This is because it reduces the damage of Melee and range attack Monsters towards itself. |
| Silent Sha-vi | | I love this monster and its sneak ability with its great health and other stats. I placed it here to lead the sneak force |
| Carrion Shade | | I placed thos Monster here to fill up the space and to take an hit from my opponent's sneak or Opportunist Monsters, so that it doesn't affect my main team line up first. It is like a sacrificial lamb 😅😅 |

---
COMMENTARY AND SUMMARY ON THE BATTLE
---
I had to figure out and better outlook for sharing my battle. I believe this one looks better 🤩
ENTRANCE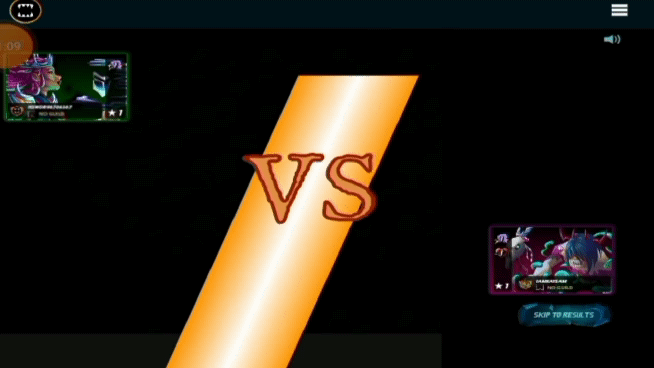 ☆ I love this entrance way better 😁
RUMBLE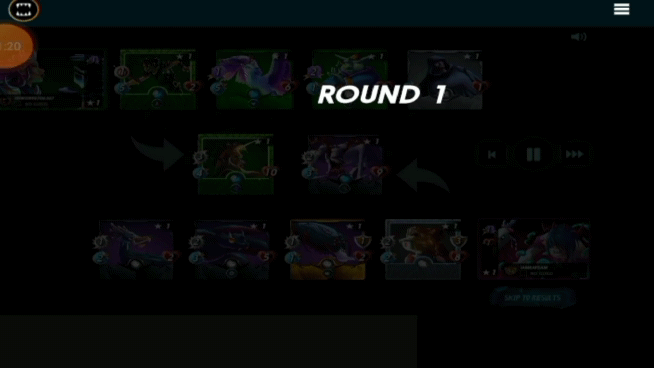 At the beginning of the Battle, the following events happened:
☆ My opponent's Summoner, Obsidian, gave my opponent's team one magic attack effect to the Magic attack Monsters.
☆ My Monster, Thaddius Brood, subtracted one health from my opponent's Monsters.
THE BATTLE LASTED FOR 8 ROUNDS
---
ROUND ONE
---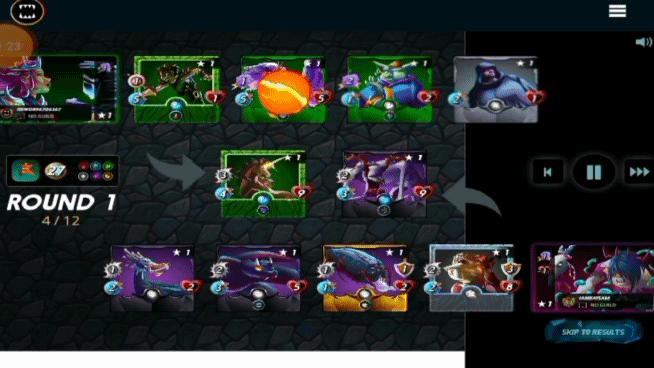 ☆ In the first round, my my opponent lost his last Monster, Chaos agent.
---
ROUND TWO
---
☆ Unfortunately for me, I lost my first Monster, Cursed Windeku. This was because my opponent had a tank heal Monster, Goblin Psychic. It continued to heal the first Monster, while the Ranged and magic Monsters kept damaging the Cursed Windeku till it lost its life.
☆ My team immediately overpowered the Goblin Psychic of my opponent's team to prevent it from causing more havoc.
---
ROUND THREE
---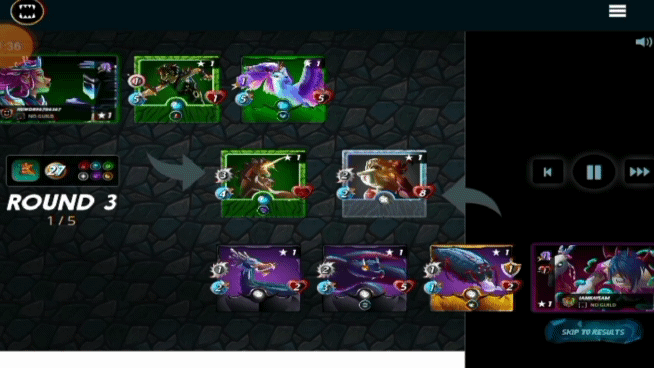 ☆ It was a fierce battle and no life was lost. All Monsters gave in their best 💪
---
ROUND FOUR
---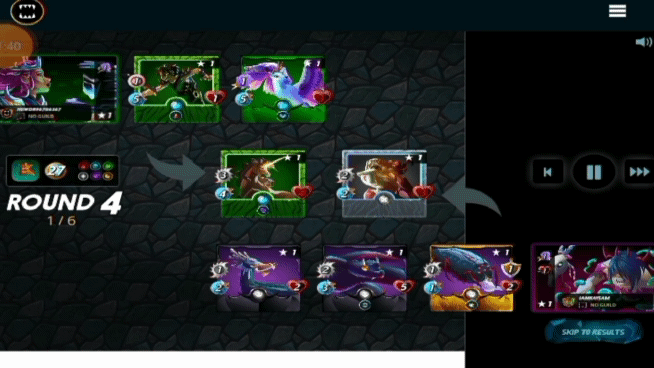 ☆ Oh No! I lost my Elven Defender. At this point, I gave up on winning the battle 🤦‍♂️
☆ The Themed Monster of the week, Crypt Beetle, took the position of the first Monster and continued the battle.
---
ROUND FIVE
---
☆ Although with its small Stats, the Crypt Beetle was able to withstand the attack of the Monsters of my Opponent's team even when all of them directed their attacks towards it.
☆ This was an opportunity for my Sneak Monster to deliver a fatal blow at my opponent's Monster Regal Peryton.
---
ROUND SIX
---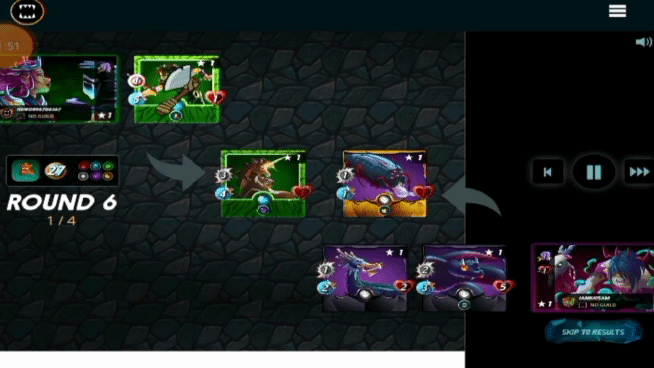 ☆ After holding up for long, the crypt Beetle lost its life.
☆ At this point, I was at the verge of losing hope one more time. However, I knew that if I can defeat the Unicorn Mustang of my opponent, then it's a win for me.
---
ROUND SEVEN
---
☆ at the verge of giving up it's life, the Silent Sha-vi defeated the Unicorn Mustang.
---
ROUND EIGHT
---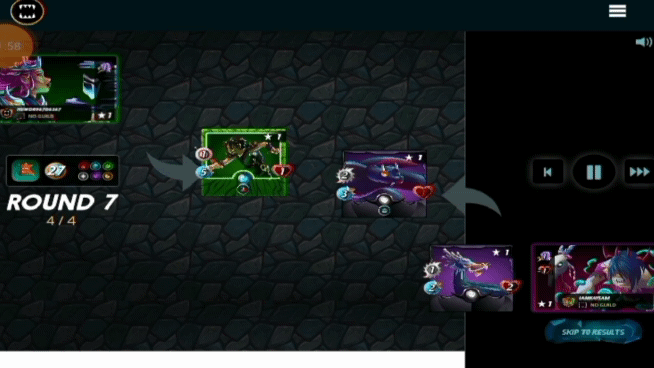 ☆ The defeat of the Unicorn Mustang was the actual winning blow. This is because the Ranged Monsters don't attack close distance except when the rule of the Battle permits it.
☆ So I threw the final blow, and....
---
....I WON THE BATTLE!!!
---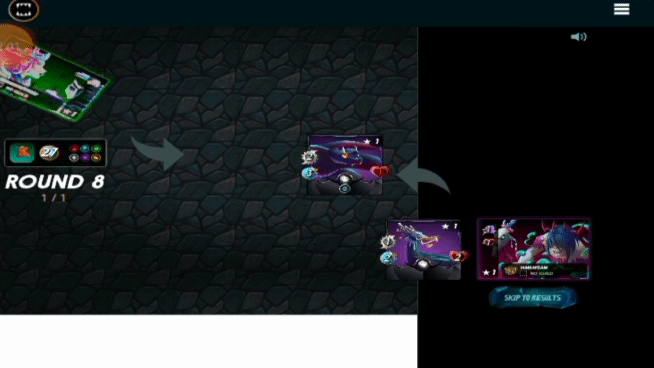 I am still maintaining my winning streak 😁😁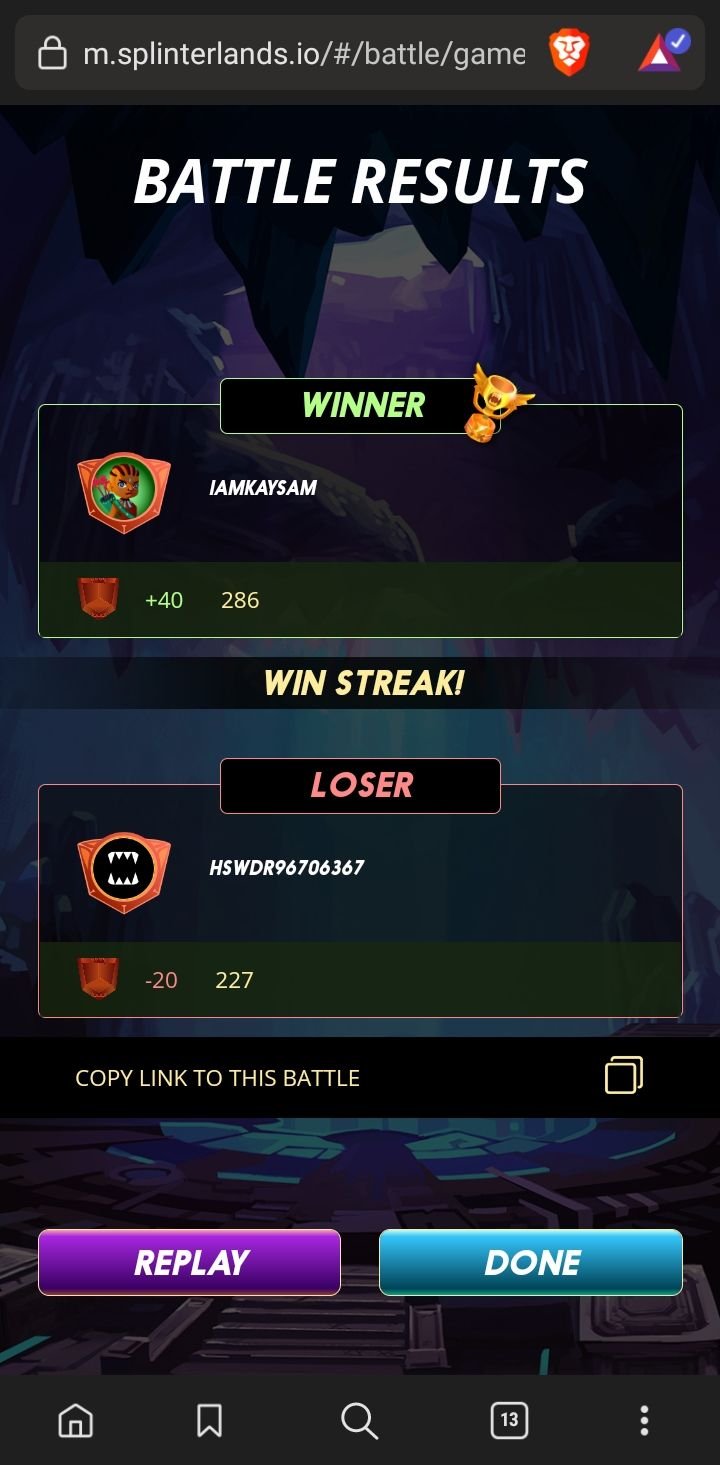 ---
DID YOUR STRATEGY WORK?
---
I didn't begin the game with a clear strategy, but I am glad That I won the battle and I'm still maintaining my winning streak of more than 7 battles. 😁
---
DO YOU LIKE CRYPT BEETLE?
---
Yes, I like the Crypt Beetle and I like my Gold foil type 😍🤩
---
Click here to watch the battle
If you haven't joined the Splinterlands game or started playing, I invite you go join using the link below.
Click to join
Your comments will be highly appreciated as it'll help me improve my strategy and understanding of the game.
Line Dividers gotten from @clove71 @splinterland and @cieliss
---
And by the way, I am 100% ready and in full anticipation for the release of PsyberX so that I can also share some @psyberx game stuffs as well 😉

---
I AM KSAM
---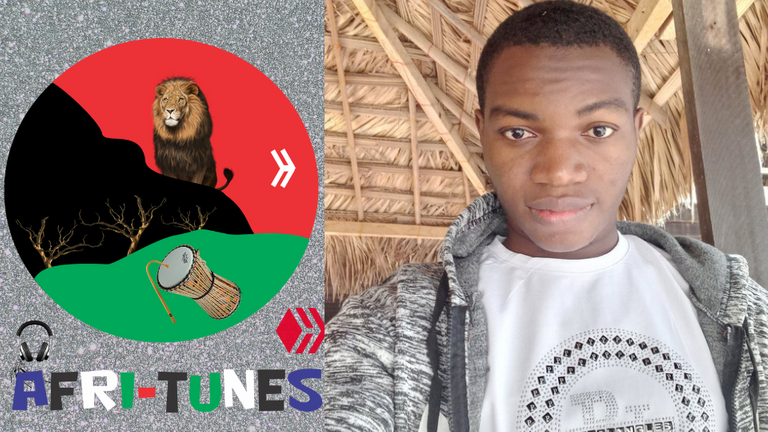 @ksam is a "uniquely creative" Hive lover who combines his musical, writing, linguistic, video and audio editing skills to promote creativity and ideas in the Hive Community. He is a "crytopreneur" and a game lover. You can follow him to view more tutorials and critical analysis of Splinterlands and PsyberX games.

---
---