LAVA SPIDER | SHARE YOUR WEEKLY CHALLENGE

---
VIDEO TIMELINE
00:00 - 01:33 | Selecting my Summoner and Monsters
02:00 - 02:58 | The battle
OUTLINE OF THE POST
Introduction
Lava Spider (LORE and STATS)
My Battle
--Rules of the Battle
My Strategy and Line-up
--My Summoner
--My Monsters
Did your strategy work?
Do you like Lava Spider?
Appreciation
If you haven't started playing the game, hop in through this link to begin. BEGIN
My Splinterlands in-game username is @iamkaysam

This is the weekly Challenge of SHARE YOUR BATTLE, and the Theme for the Week is LAVA SPIDER.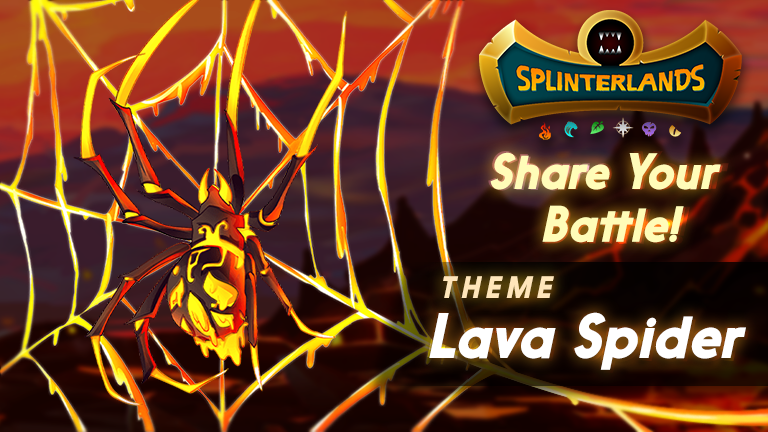 Since I began this weekly Challenge, this is the first challenge where in I don't need to rent or buy the theme card of the week 😅
For the Wood Nymph and Dragon,I had to rent the card for 24 hours in order to complete the Challenge. But for this theme, the card was part of the collection given to me when I got my spell book. I think I lso have the card as part of my personal collection also.

LAVA SPIDER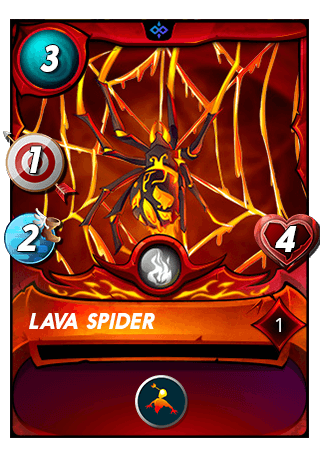 Edition: CHAOS LEGION
Rarity: COMMON
Element: FIRE
Attack: RANGE
Abilities: Snipe
LORE
Few explorers dare to go deep within the volcanoes of the world. Tales are told of great spiders that weave threads of fire and trap their enemies in webs of flame. An inescapable and painful death.
When the Chaos Legion entered the Splinterlands through the great volcano in the center of Praetoria, they saw the lava spiders and used them to their advantage. Transporting these spiders into areas that need defense is a win-win for both groups. For the Chaos Legion, it is an easy barrier to ward off unwanted visitors. And for the lava spiders, they get free meals from the curious, the foolish, and the unwary adventurers that seek to strike at the Chaos Legion.
The dwarven warrior crept his way towards a long stretch of stone corridor. It had taken him months to find this secret entrance within the dense jungle. A hideout for supporters of the Chaos Legion. He intended to destroy them all and make safe the area once again.
He made his way silently into the corridor, gripping his dagger tightly. But as he trekked further into the darkness, he felt the heat increase. A heavy frown crossed his features. That wasn't right. Why was it getting so hot?
He turned a corner and stifled an alarmed cry. Crisscrossing the corridor were strands of spiderwebs that glowed red hot. He brought his dagger up, but it was too late. A searing pain stabbed into his back.
He was unconscious by the time the burning web was wrapped around him.
STAT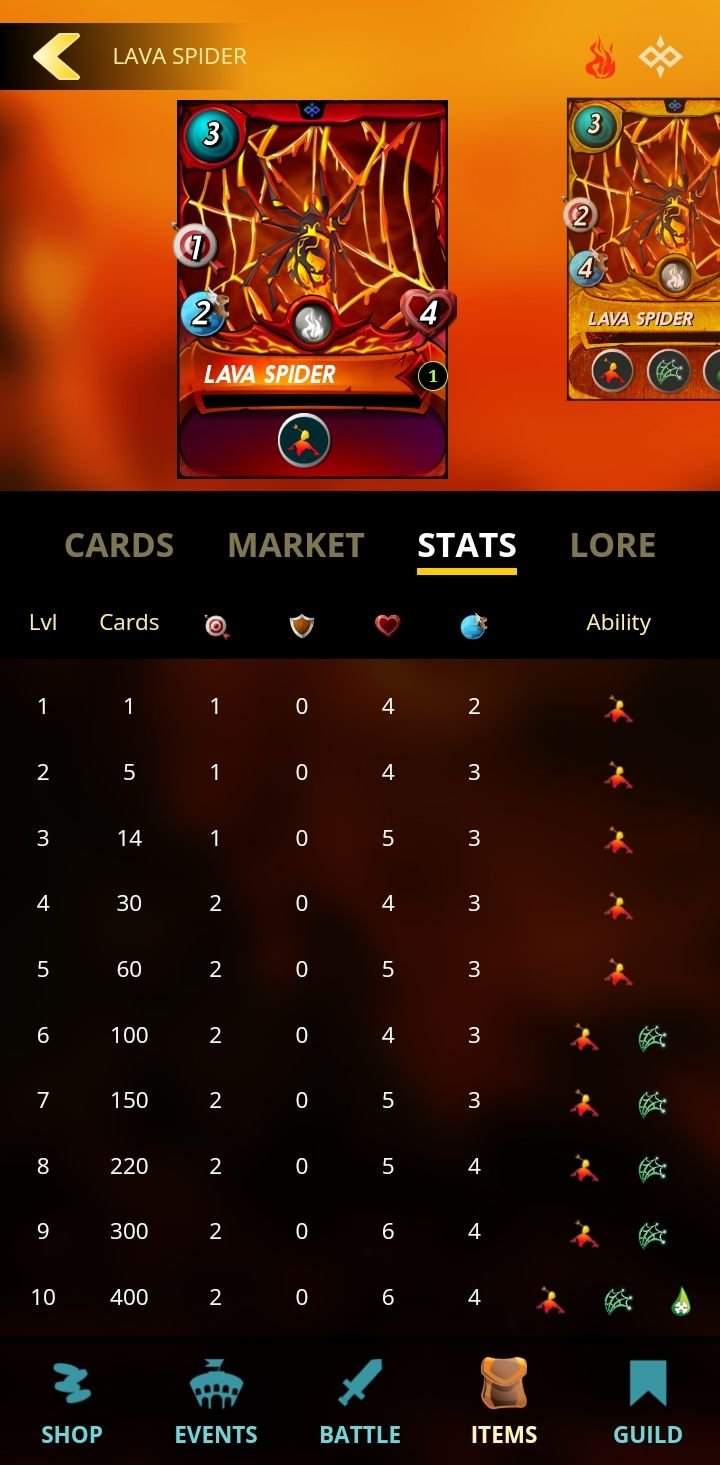 In the first level it has:
Attack: 1
Health: 4
Speed: 2
Ability: Snipe
SNIPE: Targets enemy Monsters with Ranged, Magic, or no attack that are not in the first position.
In level 6 it has an additional style of Snare
SNARE: When attacking enemies with Flying, removes the Flying ability and cannot miss.
In level 10 it has an additional style of Poison
POISON: Attacks have a chance to apply poison, which does automatic damage to the target at the beginning of each round after the poison is applied.

MY BATTLE

Click here to watch the battle
My battle was against @icebeak 😁 who chose Summoner and Monsters from the Primal Force of Earth. On the other hand, I selected my team from the Primal Force of Fire.
RULES OF THE BATTLE

The rules of the game were:
Standard Game: which means no changes, modification or addition to the normal playing techniques.
Mana Cap of 29
Elements that can be used include all: Water, fire, Earth, light, death and dragon.
MY STRATEGY AND LINE-UP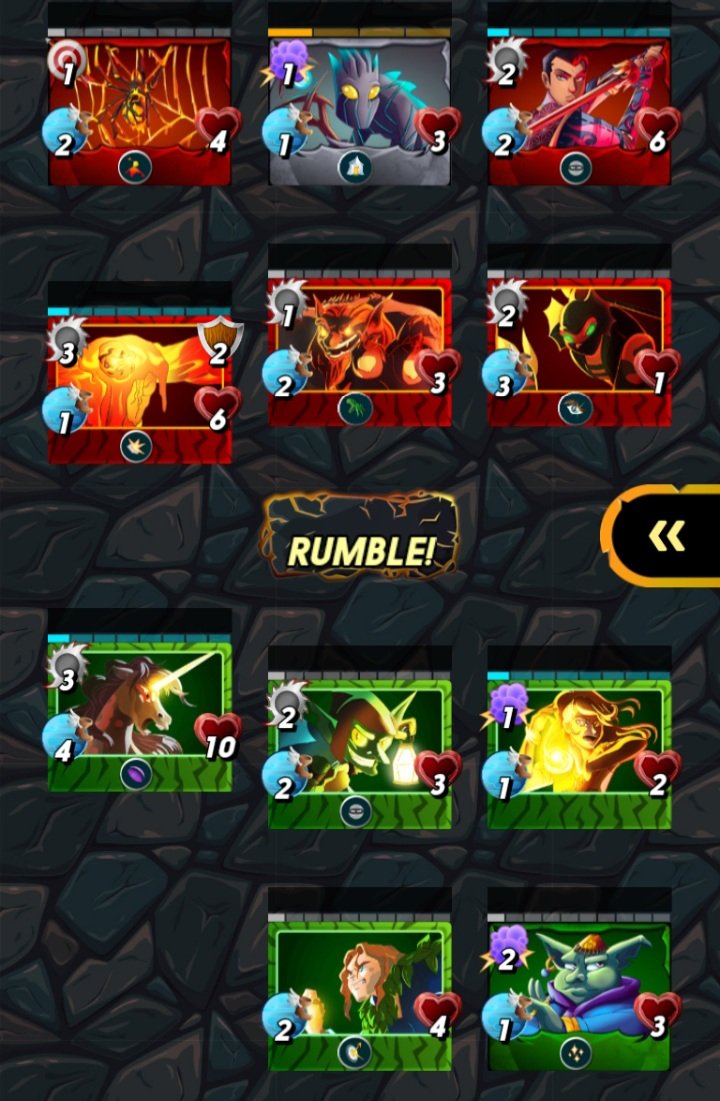 For my strategy, here are my Summoner and Monsters, and I'll tell you why I chose each Summoner and Monsters.
MY SUMMONER
Tarsa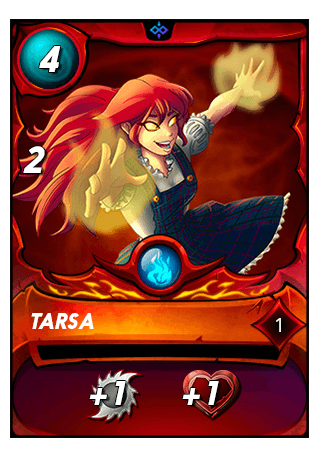 I chose this Summoner in order to get 1 additional attack effect and 1 additional attack effect for all my Monsters.

MY MONSTERS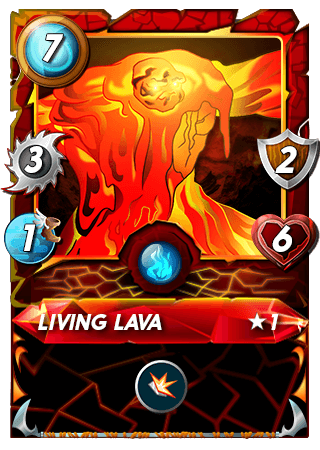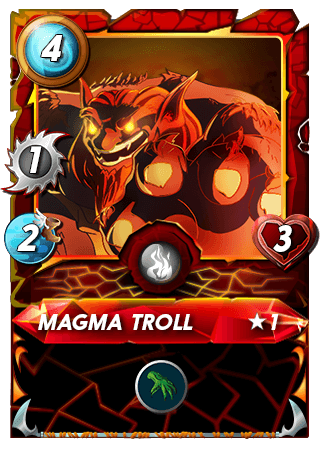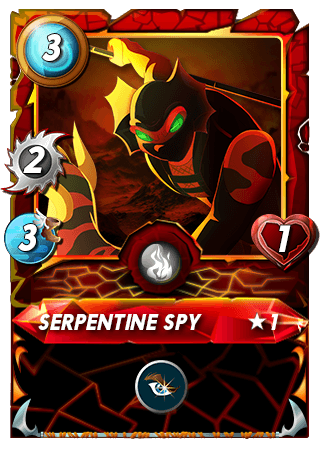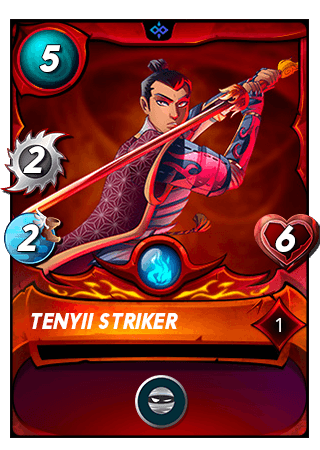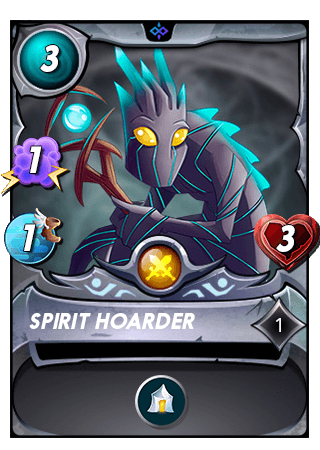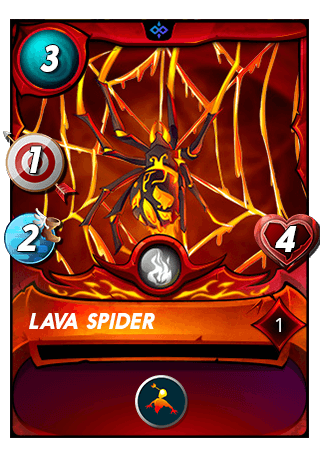 MEET MY MONSTERS
Living Lava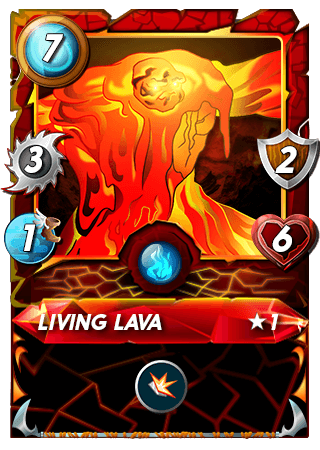 I chose this Monster at the first position because I consider him as one of the best Monsters to use at the first position. Aside his 1 speed, the additional attack effect shared by my Summoner give him a total of 4 attack effect and this is quite good at Level 1. He also has a health of 6 and 2 shield.

Magma Troll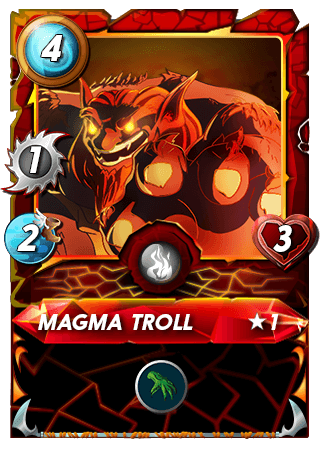 I chose this monster at the second position because of his reach ability. He can attack from the second position.

Serpentine Spy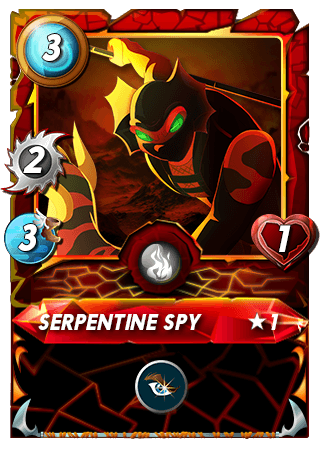 I chose this monster because of his Opportunity Ability. He can attack any of my Opponent's Monsters that is the weakest in the team.

Tenyii Striker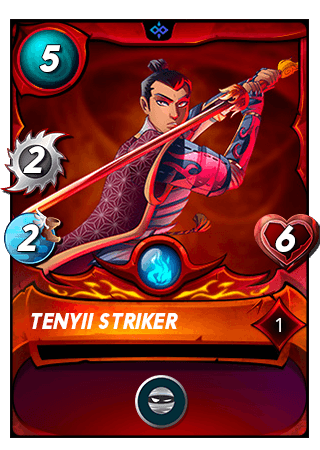 I so much like the Tenyii Striker because of his good stats and sneak ability.

Spirit Hoarder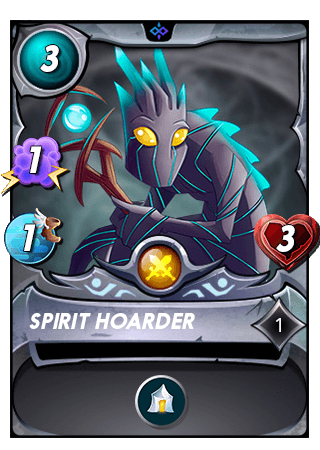 My wonderful Legendary card 😁😁😁 His ability of Triage is quite necessary as it strengths and heals other Monsters
Heals the friendly back-line Monster that has taken the most damage.

Lava Spider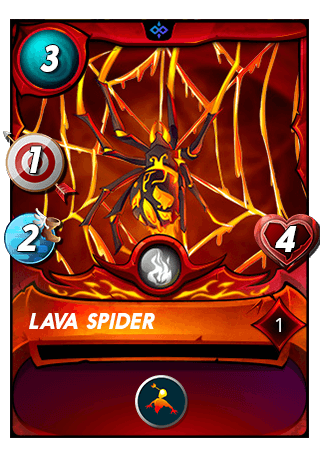 This is the theme and Monster of the weak. Although not to strong, I placed it at the back because it is a ranged Monster. By this, it cab attack from it position and get strengthened by the Spirit Hoarder if it gets hit.

DID YOUR STRATEGY WORK?
YES! YES! YES!
My strategy worked out and I left the battle wit losing only my first position Monster.
DO YOU LIKE LAVA SPIDER
Well, honestly, I don't have any problem with it but it isn't a choice card for me. But I hope I get a golden foil Spider someday 😁
****Click here to watch the battle***
If you haven't joined the Splinterlands game or started playing, I invite you go join using the link below.
Click to join
Your comments will be highly appreciated as it'll help me improve my strategy and understanding of the game.
Line Dividers gotten from @clove71 @splinterland and @cieliss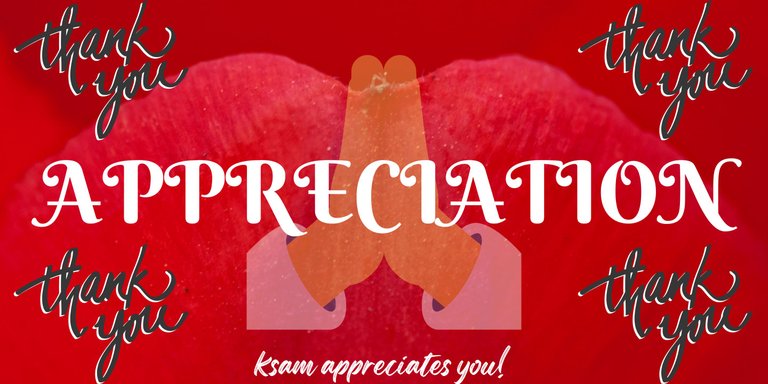 I appreciate @clove71 and the entire curation team, admins and moderators of @splinterlands community for running this platform and making it a home for lovers of splinterlands.
---
▶️ 3Speak
---
---