Memoirs Of A Silver Player Vol. 3 | The Modern Era - Gold 1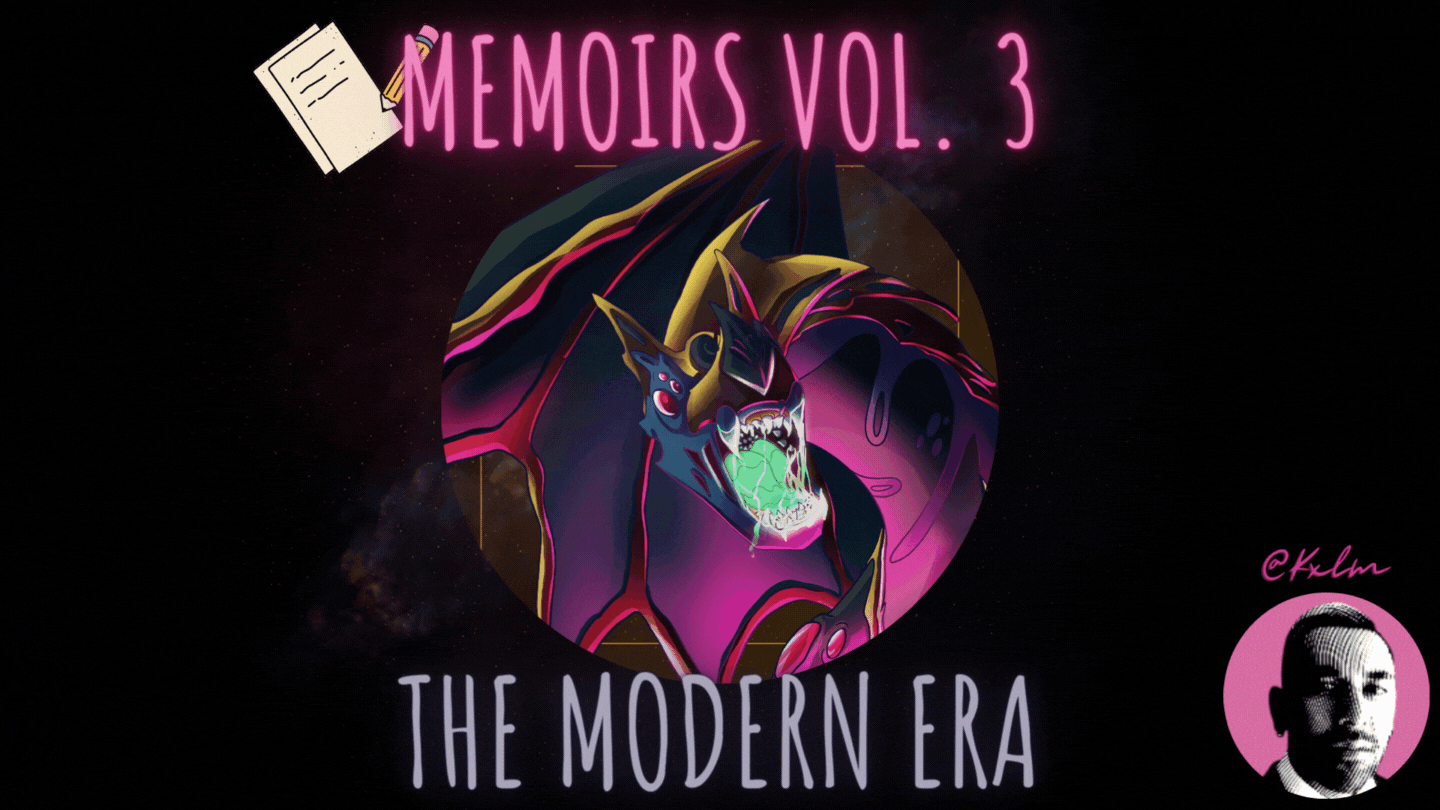 @Kxlm here, with the third edition of my "@Splinterlands Memoirs" series, where I document my thoughts and experiences of the game, throughout my journey.
On the 14th of July, the Modern & Wild Ranked Formats were finally released. As with every new update, we all look to find the greatest benefits for our journey and sometimes we are required to take risks, to make these discoveries.
The current makeup of my deck qualifies me to play in the Wild Silver 1 League, with an average win rate of 75%. With the introduction of Modern, I now have the appropriate collection power to play in the Modern Gold 1 League.
My current collection power is 122,200 CP
While having the collection power is one thing, having levelled Summoners and Monsters to match your league is another crucial aspect. After all, if you're not winning battles, you're not earning rewards... Plain and simple! I decided I would stick it out in the Wild Silver 1 League and see how things panned out, but two days ago, everything changed...
I took the leap of faith and moved up to the Modern Gold 1 League 😱
Let's take a look at my approach to this new endeavour, my learnings and my verdict for anyone who is looking to do the same.
For an in-depth post, detailing all facets of the Modern & Wild Ranked Formats - Click Here!
🤜Let's get into it!🤛

MY DECK
For those of you who play in the Silver League, my deck would appear to be quite unorthodox and you would be correct in making that judgement.

The level limit for Rare Summoners in the Silver League is level 4, yet, I have a level 5 Kelya Frendul, along with levelled Water Monsters that exceed the Silver level limit. Why!?!? 😅


My Current Summoners & Water Deck
Well, when the idea of Wild & Modern was first announced, I already knew that I was priced out of the Wild Gold League (given my current financial situation). Then they announced that the Modern Leagues would require only half the collection power of Wild!
I realised I might have a chance to make it to Gold, so I decided I would prepare by levelling my favourite Summoner and Splinter accordingly. This is how I found myself to have a Gold level Splinter, whilst playing in Silver, which turned out to be great for this experiment.
But having only one Splinter to rely on was not going to cut it...

RENTING
The next step was to visit the rental market. With my move to the Modern Gold 1 League being purely experimental, renting was the best approach vs buying with no guarantee of a return.
Upon visiting the rental market, I noticed that prices had taken a massive leap from previous weeks, especially those for the Modern League. I figured the best way to reduce my expenses would be to rent out a complete Dragon deck.
This would grant me the option to utilize some of my high-level reward cards, across all Splinters, while renting only one Summoner. Based on market prices, I chose to go along with the cheapest Dragon Summoner: Drake Of Arnak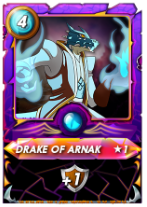 Drake Of Arnak is a rather unassuming Summoner. While 1 additional armour is not amazing, it does prove to be useful in absorbing what might otherwise be a fatal "opportunity" or "snipe" blow, as well as the option of utilizing "repair", where a monster may not otherwise have armour. For the price of 28.704 DEC per day for a level 6, this was an absolute steal in my book. Comparatively, other Dragon Summoners were priced upward of 100 DEC per day. Kretch Telavor was renting at around 35 DEC, but I felt the additional armour was going to be of greater benefit to me than what Kretch Telavor offers.
---
Below is the complete list of cards I rented, including their rental costs. Although I only wanted to rent one Summoner, I decided to secure a few additional cards in Death, to allow some flexibility if for any reason I could not play either my Dragon or Water deck. The Neutrals offered additional utility all round.
I opted for a couple of extra cards in Water, to fill some holes in my Water deck. Tide Biter's "reflection shield" for the "blast" ruleset. Kelp Initiate and Albatross for low mana cleanse and healing options + a spicy combo, which you can check out - Here (Credit to @yukihyakubai)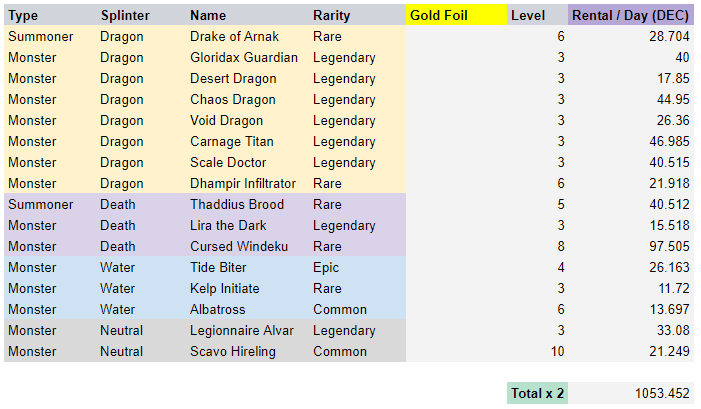 My total rental costs came out to 526.726 DEC per day, but of course, the new changes to rentals forced me to rent for a minimum of 2 days, making our new total 1053.452 DEC

BATTLE & ECR MANAGEMENT
In addition to the minimum rental time being adjusted to 2 days, the Daily Focus system also received an overhaul, with a range of new focuses + your focus Splinter no longer being guaranteed for selection in every battle.
For further details on those changes - Click Here
On top of that, the ECR calculations were also adjusted, to where battles played from the 50% mark and below, burn 5% of your current ECR, as opposed to the original 1%.
With these changes in effect, I became less concerned about renting cards specific to the Daily Focus and instead would concentrate my efforts on winning battles and earning my Focus points passively. Taking into account the 2 days rentals, as well as the ECR changes, I planned to:
Play my ECR down to 75% on day 1 of renting and leave it to recover over the next 24 hours
On day 2, I would play my ECR down to 50% and then rest for the next 48 hours until I was back up to 100% ECR
This plan would allow me to get the most out of my 2-day rentals.

RESULTS
My first day resulted in 390.08 DEC earned from ranked battle rewards, with 10 Daily Focus chests (below).

The second day resulted in 828.18 DEC earned from ranked battle rewards, with 17 Daily Focus chests (below).
Note: I played 2.5 x the number of battles from the first day.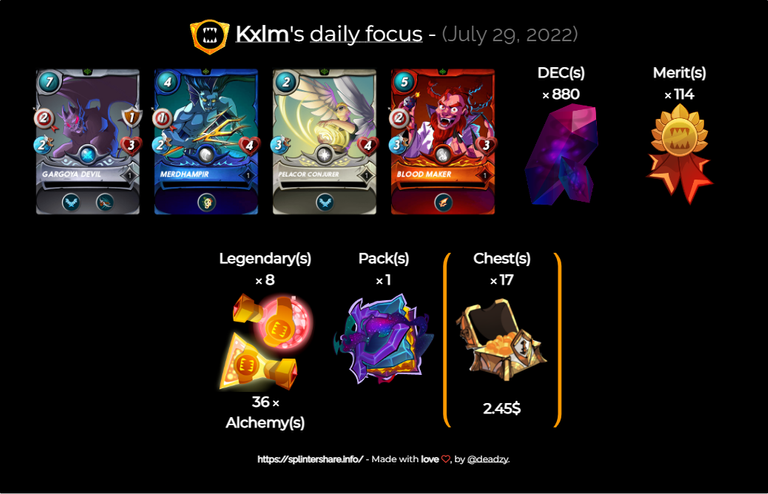 I managed to maintain an average win rate of 60%, while not great (and significantly lower than my % in Silver), still netted me the following:
Total DEC Earned From Ranked Battle Rewards
1,218.26
DEC Spent On Rentals
1053.452
DEC Profit
1,218.26 - 1053.452 = 164.81 DEC
Total Chest Value @ 27 Chests
$2.55

EVALUATION
Take what you will from these results. Personally, I am happy with how things turned out. I managed to cover my rentals with a small profit on top, as well as earn some decent rewards from chests.
For me, the biggest payoff was actually the amount of fun and enjoyment I had in the Modern Gold 1 League, compared to Wild Silver 1. The game seems to really open up at Gold, with a variety of new abilities and strategies to deploy, with the added % increase for better chest rewards. I can also say that the DEC payout is significantly better than Wild Silver 1, however my need to rent somewhat nullifies this benefit.

CONCLUSION
I am elated with my experience and am thankful I made the move to the Modern Gold 1 League. The change in strategy, learning new abilities and finally making use of those levelled reward cards I've been stacking has made for a pleasant change. Admittedly, I was beginning to reach the point of boredom in Wild Silver 1 and this new journey into Gold has reignited my love for the game.
The plan I've implemented to allow me to be successful in the Modern Gold 1 League works perfectly for my deck, however, I cannot promise the results will be the same for everyone who is currently playing in the Wild Silver Leagues.
If you have found yourself feeling disinterested in the game and are needing something to reignite the spark you once had, I would recommend making the move from Wild to a higher tier in the Modern leagues.
After all, this is a game and games are supposed to be fun!
Until next time...
God Bless~
-Kxlm
🤜 LETS GROW TOGETHER 🤛
🖐 If you are interested in starting your #Splinterlands journey - Click Here Now!
---
✔️ Join Kxlm on his NFT gaming journey, to becoming a whale in the space, while making some sick tunes along the way 🎹
Game Guides | Strategies | Music Production Tutorials

If his content made you 😁, then drop some ❤️ by upvoting and leaving a comment.
Also, click the Follow button to keep posted on his future content.
---
---