Battle Weekly Challenge - LAVA SPIDER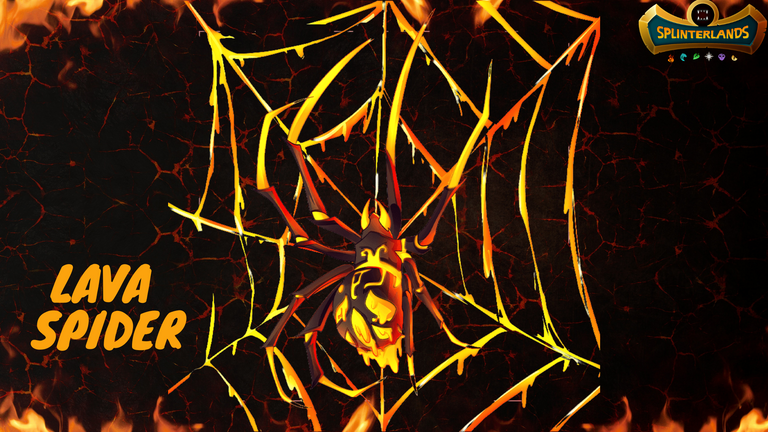 Hello Everyone!
This is my post for the battle weekly challenge - LAVA SPIDER.
I opened a chaos pack 6 days ago. I got a gold foil lava spider and Obsidian😍.
The market price of all cards from the pack is around $4.69. If minus the pack cost which is $4 then I still make a profit of $0.69.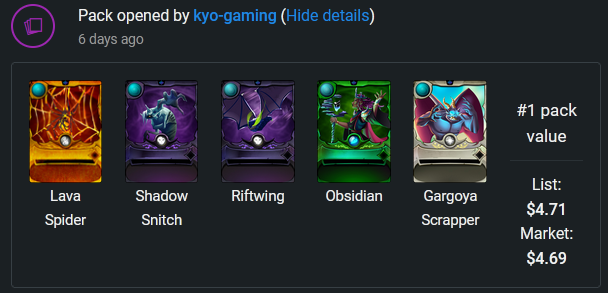 .


CARD INFO
| Edition | Rarity | Element | Attack | Mana Size | Starter Card | Abilities |
| --- | --- | --- | --- | --- | --- | --- |
| Chaos | Common | Fire | Range | 3 | Yes | Snipe, Snare & Poison |

ABILITY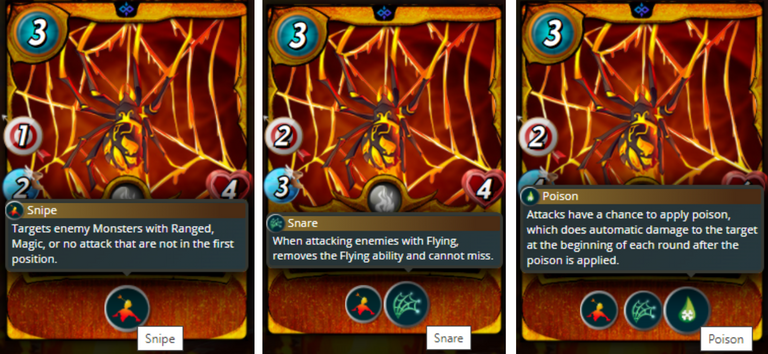 STATS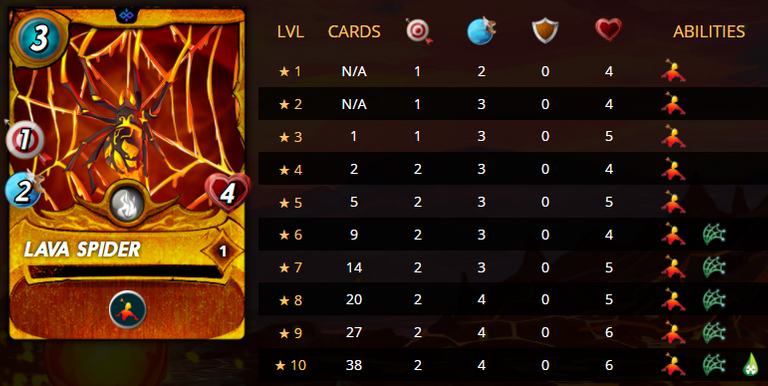 BATTLE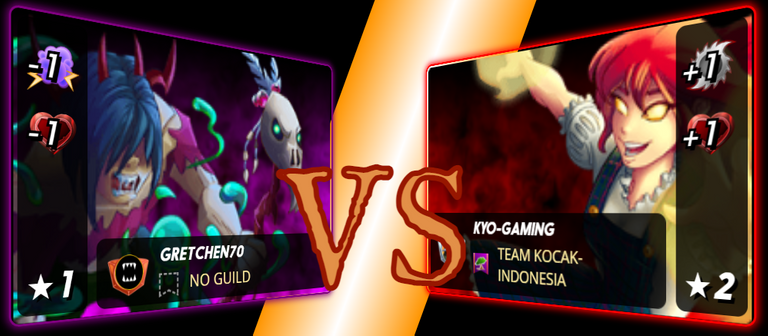 RULE SET

Noxious Fumes
All Monsters start the battle poisoned.

Stampede
The Trample ability can trigger multiple times per attack if the trampled Monster is killed.

Mana Capacity: 32

Available Element: Fire, Water, Earth & Death

OPPONENT BATTLE HISTORY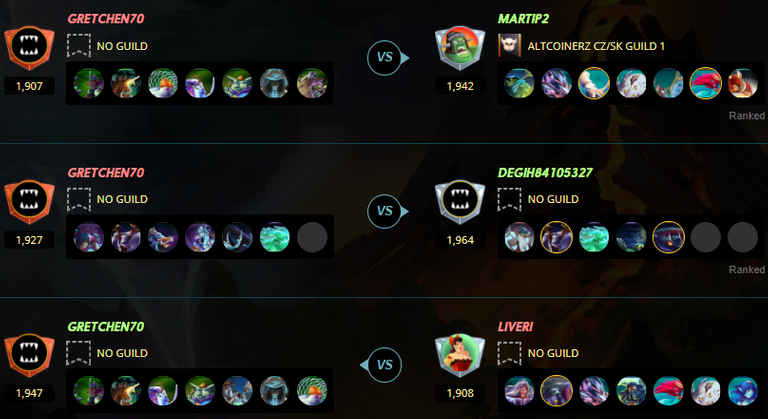 Opponent often used Earth and Death elements based on his last battles.

Normally for the Noxious Fumes ruleset, people will use Thadius Brood from Death Element to reduce 1 health of the opposing monsters or Tarsa from fire element to add 1 health of friend monsters.
MY LINEUP
| Card Image | Buff | Element | Strategy |
| --- | --- | --- | --- |
| | +1 Melee damage & +1 health | Fire | I believe the opponent will use Thadius Brood based on his last battle therefore I chose Tarsa to counter it. She is a new favorite summoner from Fire Splinter since Chaos Legion was released. She gives +1 melee damage and +1 health to the friendly team. |
| Position | Name | Card Image | Ability | Strategy |
| --- | --- | --- | --- | --- |
| 1st | Living Lava | | Shield | Living Lava is a really good tank with Shield ability which can reduce damage from melee and range attacks. He has 3 melee damages, 2 shields, and 6 health in level 1. He has a weakness against magic attack monsters and against high-speed opponents where his attacks are likely to be missed. |
| 2nd | Fineas Rage | | Reach | Fineas rage will assist Living Lava to attack the front opposing monsters. He has 8 health, 2 melee damages, and 5 speeds. He will be my second tank if Living Lava is killed. |
| 3rd | Tenyii Striker | | Sneak | I chose him because he has 6 health, 2 melee damages, and sneak ability. |
| 4th | Scavo Chemist | | Cleanse | He can remove the negative effects from the monster in the first position on the friendly team. So Living Lava won't get poisoned during the battle. |
| 5th | Scavo Firebolt | | - | I chose him because he has 2 range damages and 4 health. |
| 6th | Lava Spider | | Snipe | I chose him because he has 5 health and might last 3 rounds if not get attacked by the opposing monsters in the battle. He has the snipe ability with 1 range of damage. His attacks may not have a big impact but are quite important because he targets melee and magic attack monsters. |

BATTLE
ROUND 1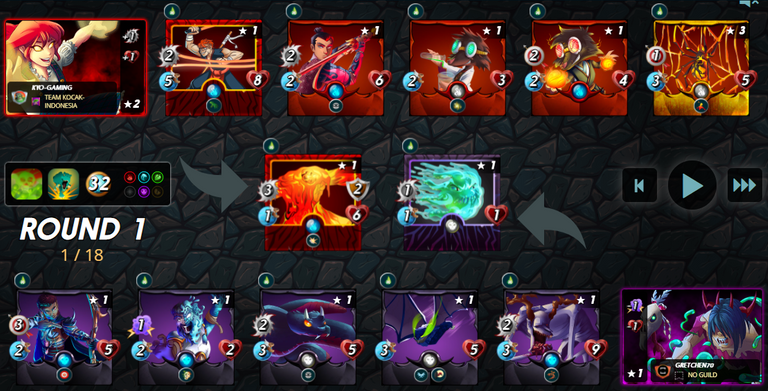 Opponent used death element as expected. He used Thadius Brood as Summoner, Cursed Slimeball (1st position), Cursed Windeku(2nd position), Riftwing (3rd position), Silent Sha-Vi (4th position), Life Sapper (5th position), and Dhampir Stalker (6th position).
Round 1 started with -1 magic damage and -1 health by the Thadius Brood's debuffs to my monsters. Meanwhile from my side Tarsa gives +1 health and +1 melee attack to the friendly monsters.
Fineas Rage got the first attack chance. He managed to kill Cursed Slimeball.
Both sides exchanged attacks and Lava Spider got attacked by Silent Sha-vi and lost 2 health.
No more monsters die on both sides until the end of round 1.
ROUND 2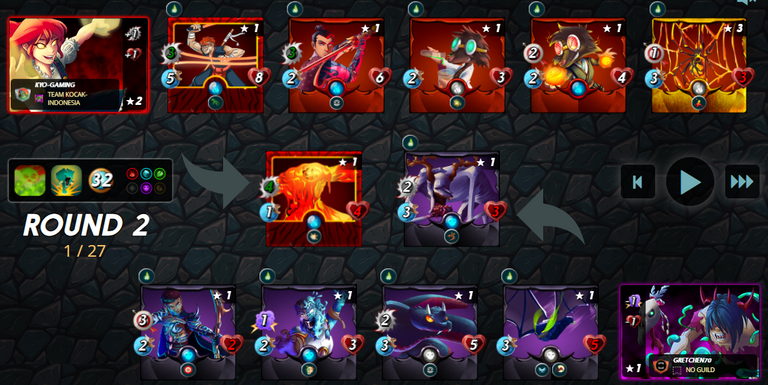 Noxious Fumes ruleset applied at the beginning of round 2. All monsters get poisoned except Living Lava because of the Scavo Chemist's cleanse ability.
Dhampir Stalker is killed after getting poisoned.
Cursed Windeku and Life Sapper are killed by Fineas Rage and Lava Spider.
Silent Sha-vi also managed to kill Lava Spider but after that, it was his turn to be killed by Tenyii Striker because he was in the last position.
ROUND 3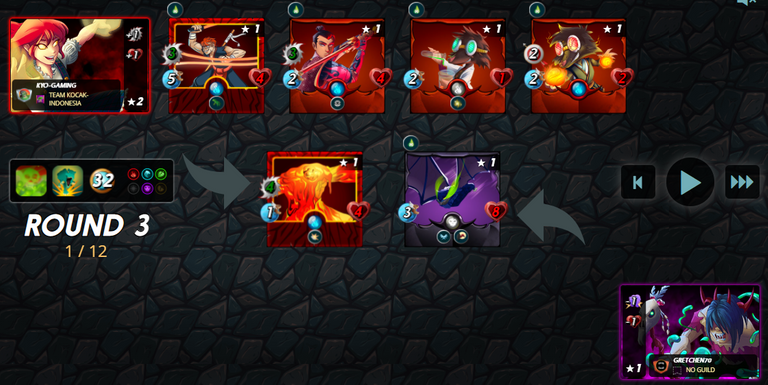 Noxious Fumes ruleset applied at the beginning of round 3. All monsters get poisoned except Living Lava.
Scavo Chemist and Scavo Firebolt are killed after getting poisoned.
The opponent only left Riftwing with no attack.
Riftwing managed to miss attacks from Fineas Rage and Living Lava but can't escape from Tenyii Striker's attack and lost 3 health.
ROUND 4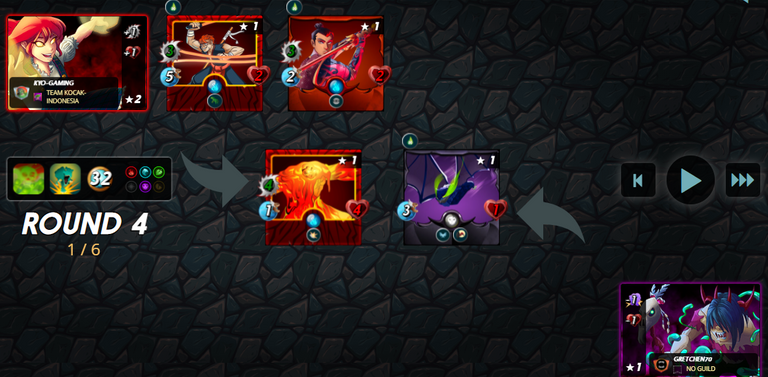 Noxious Fumes ruleset applied at the beginning of round 4. All monsters get poisoned and killed except Living Lava.

DID MY STRATEGY WORK?
Yes, my strategy is working effectively.

I might be lost if I don't use Scavo Chemist's with his cleanse ability in the battle.

CONCLUSION
I like to use Lava Spider because he has decent health and speed.

There is another option of range attack monster with snipe ability and 3 mana cost which is Fire Beetle.

Let's do a comparison between them.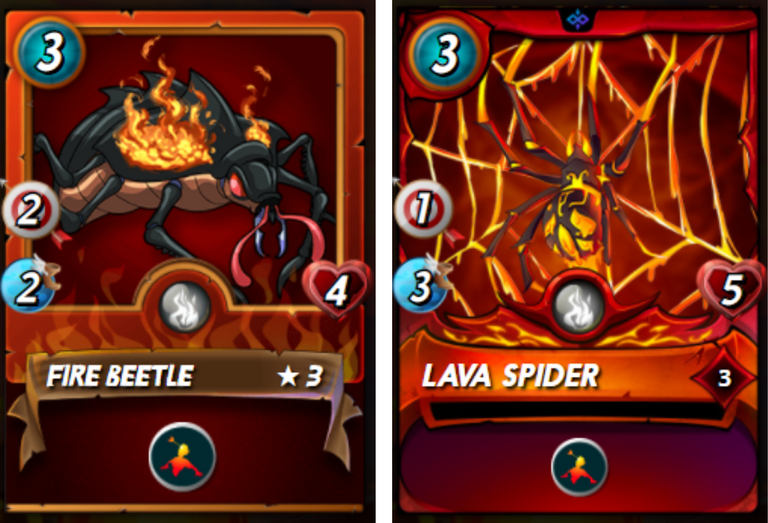 Fire Bettle has a bigger attack than Lava Spider.
Lava Spider has higher speed and bigger health than Fire Beetle.
In my opinion, I would prefer Lava Spider.
He will attack faster than Fire Beetle in the battle and there is a possibility of escaping the opponent's attack with his 3 speeds.
He also has bigger health and can last long in the battle compared with Fire Beetle.
He has other abilities besides snipe which are Snare ( level 6 ) and Poison ( level 10 ) meanwhile Fire Beetle only has snipe ability.

WHAT WILL I TRY DIFFERENTLY NEXT TIME
I will use Lava Spider especially for the low mana battle, little league, noxious fumes, and close range rulesets.
I will consider buying Lava Spider level 4 which costs around $2.4 or level which costs around $5.

Lava Spider level 4 above already has 2 range of damages.

If you haven't signup for this cool play-to-earn game then please use my referral in this LINK.
Thank you so much for your attention and upvote😆.
CREDIT
Special thanks to :

@carrieallen for the tutorial formatting.
@freeztag for the wonderful divider
Card images and battle from @Splinterlands
Thumbnail was made using @Canva
Gift divider was made by me @kyo-gaming
---
---