Cheguei na Gold League novamente! [PT-BR/ENG]
Boa noite meus amigos, hoje o post trás uma noticia muito feliz! Finalmente eu @legalizabrazil, consegui novamente alcançar a liga GOLD III depois de alguns dias e vários posts hahaha. Foi bem difícil mas deu tudo certo! Mas isso é só metade do caminho, meu objetivo real ainda é alcançar a liga GOLD I e ficar um tempo por lá colhendo algumas recompensas, mas por enquanto estou bem feliz pois não irei precisa renovar mais um aluguel para a liga Silver! Dessa vez eu vou poder alugar diretamente para competir na liga gold!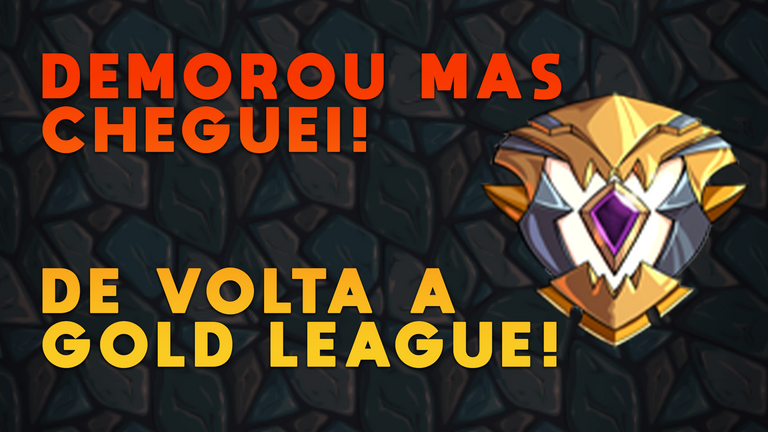 img sources: Splinterlands and freepik

---
LONGO E ARDUO CAMINHO
Para quem acompanhou minhas ultimas publicações, viu o quão difícil foi e o quanto eu sofri contra adversários que usavam boas e solidas composições na Liga Silver. Compartilhei alguns relatos de partidas, invocadores e estratégias que fizeram a diferença. Acabei gastando bastante DEC, mas no fim consegui subir de ELO e chegar na Liga Gold, sei que vai ser mais difícil ainda continuar subindo mas irei compartilhar com vocês cada fase desse caminho.
---
SEQUENCIA DE VITÓRIAS
No caminho entre a Silver I e o Gold III eu acabei melhorando o meu desempenho e consegui encaixar uma sequência de vitória que me rendeu muitos pontos de liga e me impulsionou para frente. Meus alugueis foram vem úteis e isso também foi um sinal de que estou reaprendendo e dominando as estratégias. O fato bom de entrar em uma win streak é que você vai ganhando mais pontos de liga e subindo mais rapidamente o ELO.

BATALHAS HONESTAS
Bom, apesar de ter esse reforço tremendo que são as cartas lendárias graças as mecânicas de regras do @splinterlands em várias batalhas eu tive que usar composições a quais eu não pude ter a vantagem dos summoners lendários. Separei essa batalha pois foi através da pura estratégia que consegui a vitória.
O Xenith Monk se provou um excelente tank neutral útil em batalhas de pouca mana, com ele consegui dominar essa partida, mesmo tento que passar pelos escudos de meu inimigo e torcendo para que o Ajax dele não procasse o bloodlust.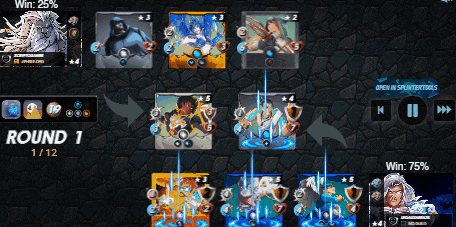 ---
RECOMPENSAS ATÉ AGORA
Ainda não tive nada muito "WOW QUE RECOMPENSA INCRIVEL" mas até o momento só abri baús de silver league então não era de se esperar algo fantástico realmente, acho que o melhor até o momento foi o Summoner do elemento life Franz Rufmane, ele é uma carta que tenho visto com alguma frequência durante as batalhas de silver então tenho certeza que é uma excelente carta para se ter e ir acumulando.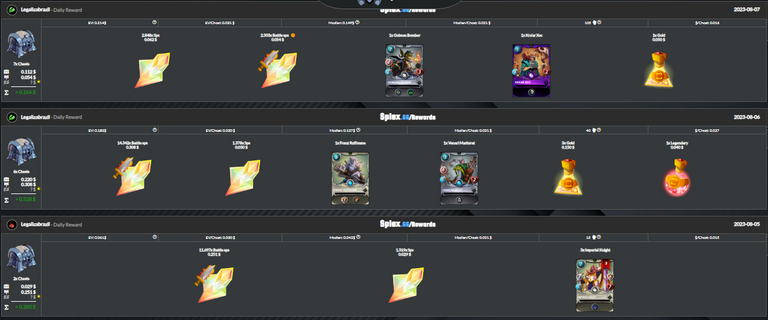 ---
FINALMENTE CHEGUEI
Depois de longos 3 dias e duas sessões de alugueis eu finalmente consegui chegar até o GOLD III e agora posso me preparar para essa nova liga! Nos próximos posts vou compartilhar como vou fazer para continuar subindo na liga gold, agora com um limite de level maior vou precisar de cartas mais fortes também, como disse anteriormente esse é só metade do caminho!


ENGLISH VERSION




Good night my friends, today the post brings a very happy news! Finally I @legalizabrazil managed to reach the GOLD III league again after a few days and several posts hahaha. It was really hard but it all worked out! But that's only halfway there, my real goal is still to reach the GOLD I league and spend some time there reaping some rewards, but for now I'm pretty happy because I won't need to renew another lease for the Silver league! This time I will be able to rent directly to compete in the gold league!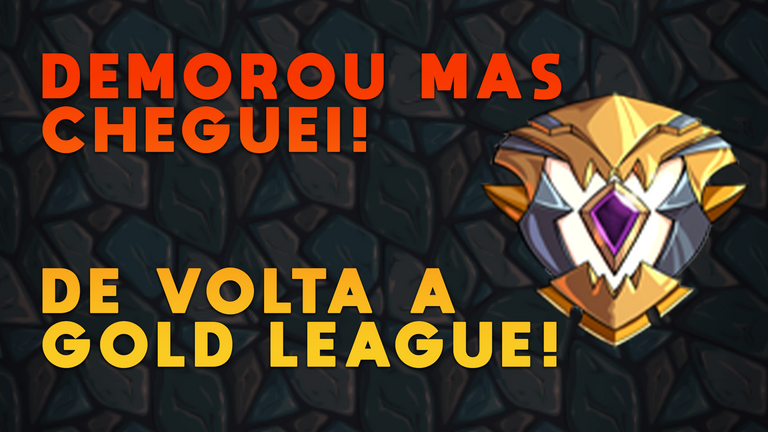 img sources: Splinterlands and freepik
LONG AND HARD WAY
For those who followed my last publications, they saw how difficult it was and how much I suffered against opponents who used good and solid compositions in the Silver League. I shared some reports of matches, summoners and strategies that made the difference. I ended up spending a lot of DEC, but in the end I managed to move up in ELO and reach the Gold League, I know it will be even harder to keep going up but I will share with you each step of the way.
---
WIN SEQUENCE
On the way between Silver I and Gold III I ended up improving my performance and managed to put together a winning streak that earned me a lot of league points and propelled me forward. My leases were coming in handy and that was also a sign that I am relearning and mastering the strategies. The good thing about going on a win streak is that you earn more league points and increase your ELO faster.

HONEST BATTLES
Well, despite having this tremendous reinforcement that are the legendary cards thanks to @splinterlands rules mechanics in several battles I had to use compositions which I could not have the advantage of the legendary summoners. I separated this battle because it was through pure strategy that I achieved victory.
Xenith Monk proved to be an excellent neutral tank useful in low mana battles, with him I managed to dominate this match, even trying to get past my enemy's shields and hoping his Ajax didn't cause the bloodlust.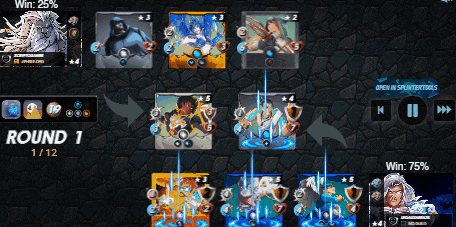 ---
---
REWARDS SO FAR
I still haven't had anything very "WOW WHAT AN INCREDIBLE REWARD" but so far I've only opened silver league chests so I wasn't expecting anything really fantastic, I think the best so far was the life element Summoner Franz Rufmane, he's a card that I've seen quite often during silver battles so I'm sure it's an excellent card to have and accumulate.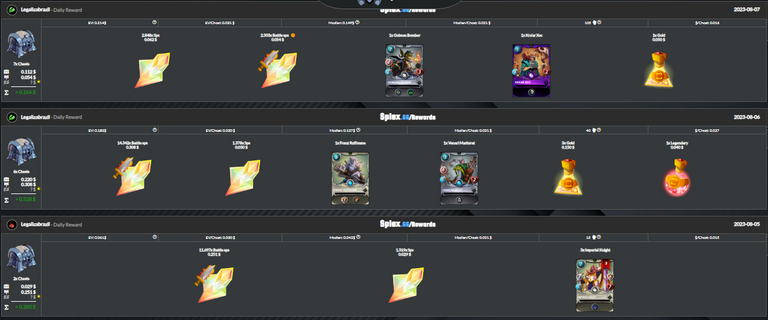 ---
I FINALLY ARRIVED
After a long 3 days and two rental sessions I finally made it to GOLD III and now I can prepare for this new league! In the next posts I'll share how I'm going to keep going up in the gold league, now with a higher level limit I'll need stronger cards too, as I said earlier this is only half of the way!
---
---