[ENG/PT-BR]My new IN-GAME INVESTMENT strategy and MANAGING MY ASSETS // Minha nova ESTRATÉGIA DE INVESTIMENTO no jogo e GERENCIAMENTO de meus ativos

Hello Splinterlands Family @legalizabrazil here and want to thanks for the support from the hive eco community, and the ones who care and always remind us not to give in to complacency and always present interesting content.!
In this post i will share a compilation of my purchases in this month and also talk a little bit more about my new investments strategy. Also will share how i'm managing my assets beyond the cards, i want you guys opinion about my choices and if you want sugest any aspect that i can improve, be my guest!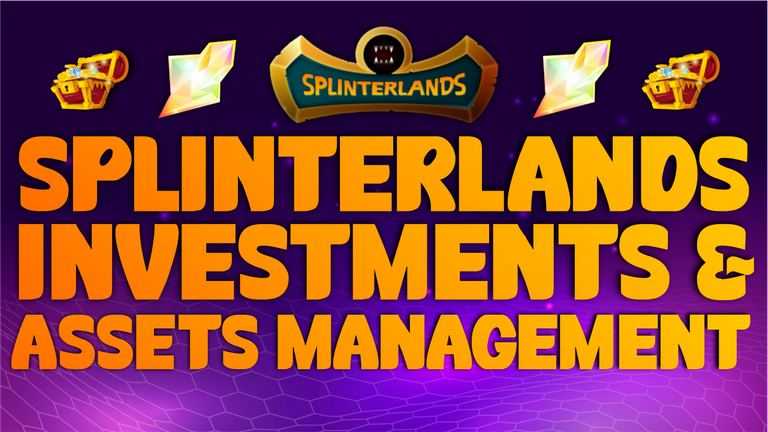 DISCLAIMER: THIS IS NOT A FINANCIAL ADVISE, DO YOUR OWN RESEARCH AN INVEST BY YOUR OWN RISK.
• MY OLD IN-GAME INVESTMENT STRATEGY •
Well, if you guys usually read my posts i was struggling in the GOLD LEAGUE having to pay high values by renting cards in order to keep on the GOLD LEAGUE, i was spending about 120 - 170 DEC per day and my only way to recover was if got lucky in the daily rewards.
---

• MY NEW IN-GAME INVESTMENT STRATEGY •
I had 32,360 CP when April started, and during the first days until the last season i was doing that strategy of rent to play at gold in my main account @legalizabrazil, but i wasn't happy with the expenses of renting and also all the work and frustration involving the rents.
I have did some maths and realized that i wasn't thinking economically, i mean to stay at gold league and get some more daily quest reward i was spending a lot of DEC.
So i noticed that if i split my CP to a secondary account i would be able to open 4 quest chests for day if i stay at SILVER III in 2 accounts. Since @splinterlands team said over and over again that mult account is allowed i figured out that this was what i have to do.
---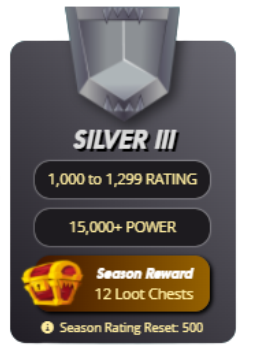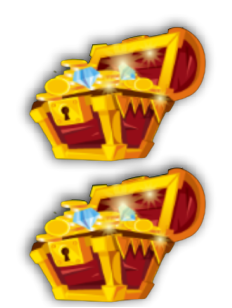 WHY STAY AT SILVER III ?
Of curse i'm at Silver III because i haven't enough CP. But why splint in 2 accounts instead of go to SILVER II? It's because to reach Silver II there is a gap of 25k CP between III and II and you will open +1 Chest. But in Silver III you need 15k CP to open +2 chests. So, for sure at this point is better to me split between those 2 accounts.
---
Also by staying at SILVER III in both accounts i will not need to spend any DEC on renting, it's a snowball effect again and in that way i'm sure that i will accumulate much more earnings than taking the risk of having no return through the rewards.
So, that's currently my IN GAME INVESTMENT STRATEGY, in that way i will open 4 daily chests for day and 24 chests at EOS. I will probably start to run another account when i get more 15k CP available.
Another factor that I took into account was the % chance of drops in the SILVER III league, which is the same as the GOLD, DIAMOND and CHALLANGER. The only thing that hasn't the same percentage is the booster packs drops, but i can handle this.
In Silver League the POTION (25%), DEC (25%), and CARDS(50%) drops chances are the same as GOLD+ Leagues.

---

• MY APRIL'S PURCHASES AND CARD DROPS •
My last goal was to buy all the chaos legion cards and i have less then 5 legendary to buy and also the Quix The Devious but i will frozen this goal for now, since i don't need those cards to stay at silver.
I have a new goal set, to have another account on Silver III and in order to do this third account on SILVER III i need to reach another 15K CP and I'm almost getting it.

---
CARDS BOUGHT DURING APRIL
I have bought some cards to delegate to this second account, and also cards to have at least one lvl 2 summoner and i have chosen Thaddius Brood. That way i will stay solid at SILVER LEAGUE III in my secondary account @splinterism. A total of US$ 53,97 spent and 3810 CP acquired. Looks like i paid too much for CP, but some of those cards was the ones missing in my main account.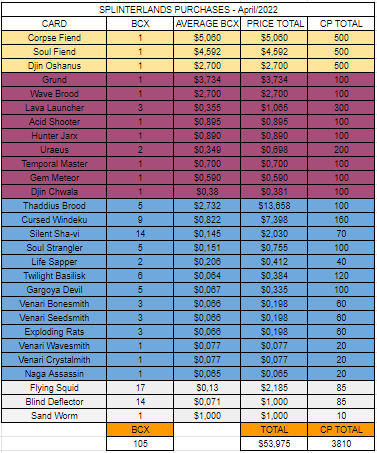 REWARDS FROM DAILY AND EOS DURING APRIL
I have won a total of 1940 CP valuated at US$6,98. 1 Harklaw, 1 Venary Bonesmith GF and 2 Pelacor Deciever GF as the best drops of April.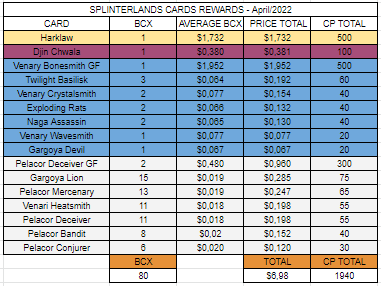 MY ASSETS MANAGEMENT
SWAP.HIVE:SPS
For this month i will also start in diesel pools. I want to keep my assets and to make the most of them during this time i have decided to keep then in a place where i can take some yield. The assets that i'm intend to hold is SPS and HIVE.

I really don't know what to expect, i honestly know just a little bit about impermanent loss but the main reason that i'm doing this is because i want to hold those assets.
Not counting the SPS that is in the diesel pool, I still have 1,693 SPS, most of it in stake and I'm preserving some in liquidity. I'm considering to buy SPS because of the upcoming events.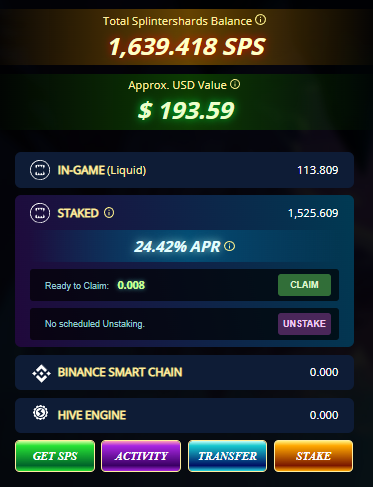 SPT
I read about stake, pools, delegation and how to make the most of SPT token. Take me a long time and a lot of experience shared by other players to decide what i would do with my SPT tokens.
Right now my decision is to make a own SPT curator profile, and spend the VP only for splinterlands posts, for sure i will not do things like vote for myself and it will be clear at my curator's page account. Pretend to do this manually and by doing that i will be able to find more articles about splinterlands or even the hidden ones and upvote them at my job as a curator for @splinterlands.

I'll be sure to report all of my earnings next month.

• FINAL CONSIDERATIONS •
I'm excited with this new in game strategy, i know that the fact of not spend any DEC will be good for me right now and i will use that DEC to buy more cards. For now i will focus in deals with a good DEC/CP rate. Buying cards with a good rate of cost and benefits will be my main task along this month.
Also looking forward for the upcoming events involving SPS, such as the release of Rift Watchers who will demand SPS in order to buy packs. Also the end of SPS airdrop will surely be another big event for the token.
About the DIESEL POLL, this will be my first experience with Splinterlands Tokens at a pool. I already had a position in Risingstar pool and it was positive. Let's see how my earning will perform until next month!
That's it guys, looking forward to see how my assets and earning will perform this month!
See you guys at the Battlefield!



PT-BR


Olá Família Splinterlands @legalizabrazil aqui e quero agradecer o apoio da comunidade hive eco, e aqueles que se importam e sempre nos lembram de não ceder à complacência e sempre apresentar conteúdo interessante.!
Neste post vou compartilhar um compilado das minhas compras deste mês e também falar um pouco mais sobre minha nova estratégia de investimentos. Também vou compartilhar como estou gerenciando meus ativos além dos cartões, quero a opinião de vocês sobre minhas escolhas e se quiserem sugerir algum aspecto que eu possa melhorar, fique à vontade!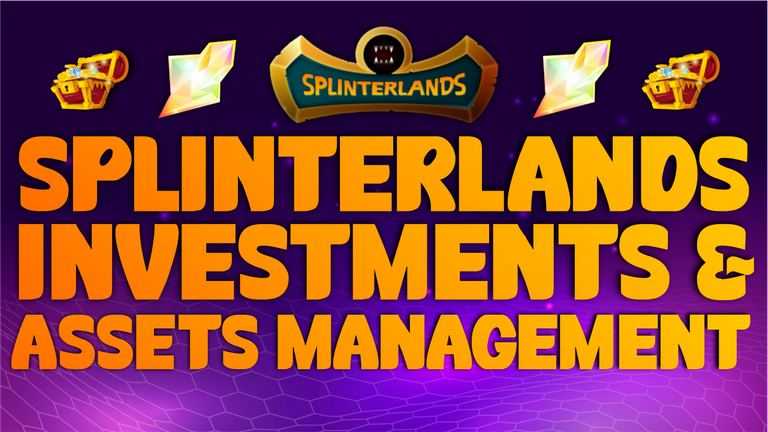 • MINHA ANTIGA ESTRATÉGIA DE INVESTIMENTO NO INGAME •
Bom, se vocês costumam ler meus posts eu estava lutando na GOLD LEAGUE tendo que pagar altos valores alugando cartões para continuar na GOLD LEAGUE, eu estava gastando cerca de 120 - 170 DEC por dia e minha única maneira de recuperar era se tiver sorte nas recompensas diárias.
---

• MINHA NOVA ESTRATÉGIA DE INVESTIMENTO NO JOGO •
Eu tinha 32.360 CP quando abril começou, e durante os primeiros dias até a última temporada eu estava fazendo aquela estratégia de aluguel para jogar no gold na minha conta principal @legalizabrazil, mas não estava feliz com as despesas de aluguel e também com todas as trabalho e frustração envolvendo os aluguéis.
Eu fiz algumas contas e percebi que não estava pensando economicamente, eu pretendo ficar na liga de ouro e ganhar mais recompensas diárias de missões eu estava gastando muito DEC.
Então eu notei que se eu dividir meu CP para uma conta secundária eu poderia abrir 4 baús de missões por dia se eu ficar no SILVER III em 2 contas. Desde que a equipe @splinterlands disse repetidamente que a conta múltipla é permitida, descobri que era isso que eu tinha que fazer.
---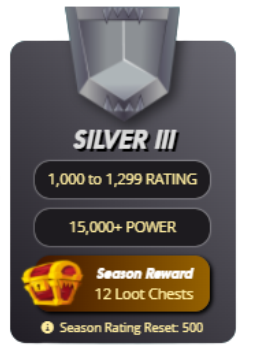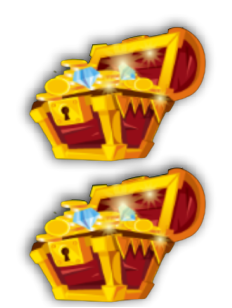 POR QUE FICAR NO SILVER III ?
Claro que estou no Silver III porque não tenho CP suficiente. Mas por que splint em 2 contas em vez de ir para SILVER II? É porque para chegar ao Prata II há uma lacuna de 25k CP entre III e II e você abrirá +1 Baú. Mas em Silver III você precisa de 15k CP para abrir +2 baús. Então, com certeza neste momento é melhor me dividir entre essas 2 contas.
---
Também ficando no SILVER III em ambas as contas não precisarei gastar nenhum DEC com aluguel, é um efeito bola de neve novamente e dessa forma tenho certeza que vou acumular muito mais ganhos do que correr o risco de não ter retorno através do recompensas.
Então, essa é atualmente minha ESTRATÉGIA DE INVESTIMENTO NO JOGO, dessa forma vou abrir 4 baús diários por dia e 24 baús na EOS. Provavelmente começarei a executar outra conta quando tiver mais 15k CP disponíveis.
Outro fator que levei em consideração foi a % de chance de drops na liga SILVER III, que é a mesma do GOLD, DIAMOND e CHALLANGER. A única coisa que não tem a mesma porcentagem é a queda dos boosters, mas eu posso lidar com isso.
Na Silver League, as chances de drop de POTION (25%), DEC (25%) e CARDS (50%) são as mesmas das ligas GOLD+.

---

• COMPRAS DE ABRIL E DROPS DE CARDS •
Meu último objetivo era comprar todas as cartas da Legião do Caos e tenho menos de 5 lendários para comprar e também o Quix The Devious mas vou congelar essa meta por enquanto, pois não preciso dessas cartas para ficar em prata.
Tenho uma nova meta definida, ter outra conta no Silver III e para fazer essa terceira conta no SILVER III preciso atingir mais 15K CP e estou quase conseguindo.

---
CARTÕES COMPRADOS EM ABRIL
Comprei algumas cartas para delegar nesta segunda conta, e também cartas para ter pelo menos um invocador lvl 2 e escolhi Thaddius Brood. Dessa forma, permanecerei sólido na SILVER LEAGUE III na minha conta secundária @splinterism. Um total de US$ 53,97 gastos e 3810 CP adquiridos. Parece que paguei muito caro pelo CP, mas alguns desses cartões eram os que faltavam na minha conta principal.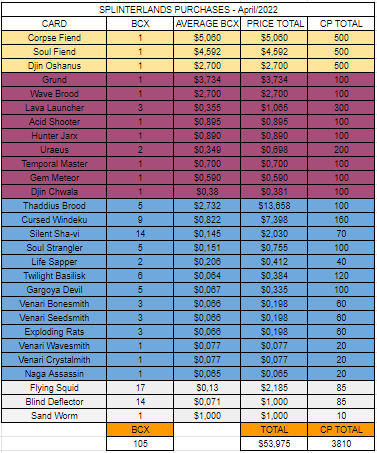 RECOMPENSAS DIÁRIAS E EOS DURANTE ABRIL
Ganhei um total de 1940 CP avaliados em US$ 6,98. 1 Harklaw, 1 Venary Bonesmith GF e 2 Pelacor Deciever GF como os melhores drops de abril.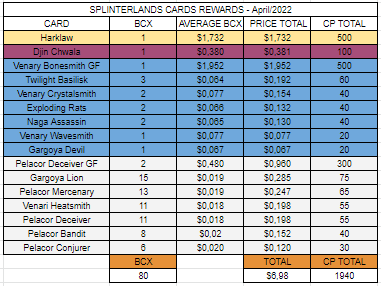 GESTÃO DE MEUS ATIVOS
SWAP.HIVE:SPS
Para este mês também começarei em DIESEL POOL. Quero manter meus ativos e para aproveitá-los ao máximo durante esse tempo decidi mantê-los em um lugar onde possa obter algum rendimento. Os ativos que pretendo deter são SPS e HIVE.

Eu realmente não sei o que esperar, eu honestamente sei um pouco sobre perda temporária, mas a principal razão pela qual estou fazendo isso é porque quero manter esses ativos.
Sem contar o SPS que está no pool de diesel, ainda tenho 1.693 SPS, a maior parte em jogo e estou preservando alguns em liquidez. Estou pensando em comprar SPS por causa dos próximos eventos.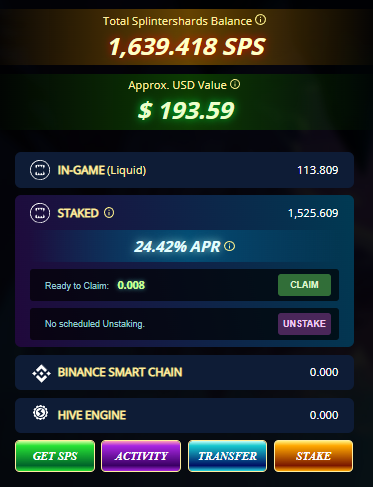 SPT
Li sobre stake, pools, delegação e como aproveitar ao máximo o token SPT. Levei muito tempo e muita experiência compartilhada por outros jogadores para decidir o que eu faria com meus tokens SPT.
No momento minha decisão é fazer um perfil próprio de curador do SPT, e gastar o VP apenas para posts de splinterlands, com certeza não farei coisas como votar em mim e ficará claro na conta da minha página de curador. Finja fazer isso manualmente e fazendo isso poderei encontrar mais artigos sobre splinterlands ou até mesmo os ocultos e votar neles no meu trabalho como curador do @splinterlands.

Vou me certificar de relatar todos os meus ganhos no próximo mês.

---
---