Lendários são bons, porém muito caros! A diferença dos Lendários! [PT-BR/ENG]
Muito boa noite a todos da comunidade @hive-br, quem vos fala é @legalizabrazil mais uma vez trazendo um pouco da minha jornada em @splinterlands! No meu ultimo post eu compartilhei ter chegado até a liga Silver I. Depois de alguns dias de jogo, muita dificuldade eu havia alcançado o rating suficiente para a liga! Mas como vocês sabem eu não pretendo parar na Silver I, então eu continuei jogando para tentar alcançar a liga GOLD I que é meu real objetivo. Nesse post vou compartilhar mais um pouco sobre como tem sido essa jornada para alcançar novamente o meu lugar favorito!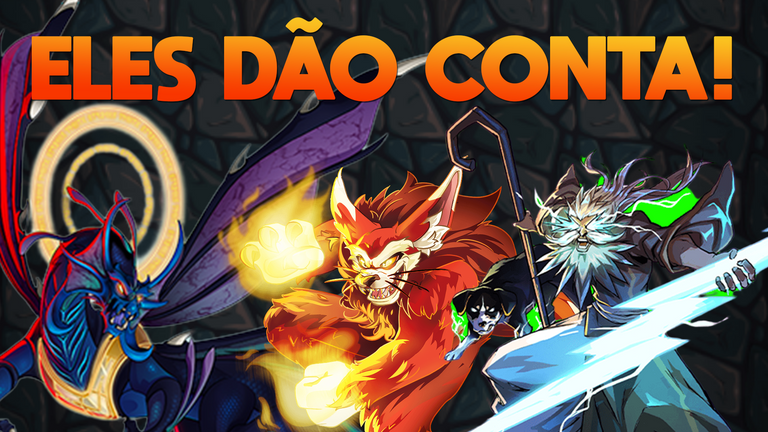 img sources: Splinterlands and freepik

---
ALTOS GASTOS
Bom, eu voltei a jogar com mais de 4 meses sem sequer abrir o jogo e por isso eu fiquei meio "enferrujado", acabei por perder alguns conhecimentos em estratégias e também não acompanhei o meta game do jogo. Para correr atrás do atraso eu acabei alugando mais de uma composição e summoners lendários caros para chegar até o Gold 1.
---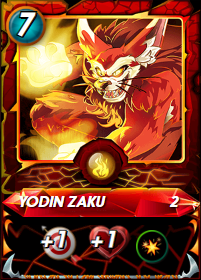 Uma das aquisições mais caras que fiz foi o aluguel do Yodin Zaku lvl 2, que é o nível necessário para atingir o lvl máximo de cartas da liga silver, além dele eu também aluguel algumas cartas que faltavam na minha coleção, para jogar com fortes composições eu precisava de alguns reforços principalmente de cartas ranged que iriam utilizar o buff do Yodin e aumentar o seu valor. O deck do elemento fogo foi onde eu acabei gastando mais grana, consultando o @peak-monsters, para jogar com a composição por 2 dias eu acabei gastando pouco mais que 500 DEC em forma de aluguel. Mas essa composição foi extremamente útil para me ajudar no Grind e com ela foi onde tive a maior taxa de vitória.
---
Além dele eu também aluguei outros dois Summoners lendários que eu vi bastante durante as partidas e percebi que se eu alugasse eles eu iria aumentar o meu nível de competitividade, primeiramente eu aluguei o Immortalis invocador do elemento earth que traz algumas vantagens em partidas que necessariamente irão utilizar invocadores com dano mágico, em uma batalha de earth vs earth por exemplo ele é uma das melhores escolhas pois a composição de earth está muito focada em dano mágico atualmente.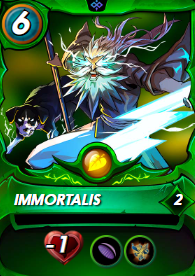 Outro invocador que eu acabei sofrendo algumas derrotas foi o Possibilus The Wise, percebi que ele se torna muito útil em algumas regras e faz uma ótima sinergia com algumas cartas especificas. Ela acaba sendo um ótimo recurso para partidas que usam o elemento água graças a suas skills.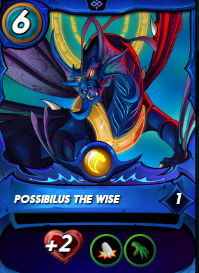 UMA COMPOSIÇÃO QUE QUERO APRENDER
Durante minhas partidas no caminho da Silver I eu percebi um summoner e uma composição que praticamente me derrotou todas as vezes que eu a enfrentei, é uma composição do elemento água que trás uma estratégia bem elaborada baseada em alto poder de cura e ressurreição. O Summoner principal é o Grandmaster Rathe que tem habilidades excelentes para essa estratégia especifica. Mas um monstro ideal para ser usado nesta composição é a Adelade BrightWing que desempenha o papel fundamental de reparar o escudo e ressuscitar o primeiro monstro abatido, isso ajuda a dar um sustain muito forte para o tank.
Além dela, duas outras cartas desempenham o papel de fornecer uma cura elevada, o Uriel The Purifier e a Venari Crystalsmith com essas duas cartas na composição a cura fica absurda, parando para analisar são 3 cartas de suporte que ainda conseguem executar dano no inimigo.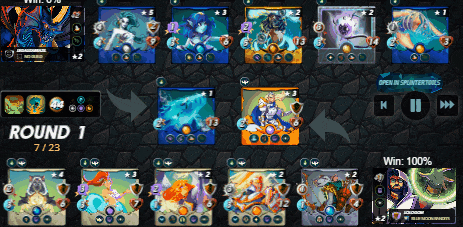 ENGLISH VERSION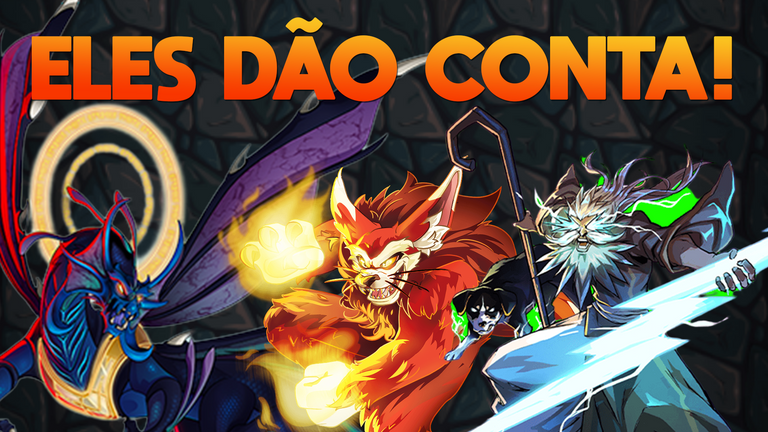 Very good night to all of the @hive-br community, this is @legalizabrazil once again bringing you a little bit of my journey at @splinterlands! In my last post I shared that I made it to the Silver I league. After a few days of playing, it was very difficult for me to reach enough rating for the league! But as you know, I don't intend to stop at Silver I, so I kept playing to try to reach the GOLD I league, which is my real goal. In this post I'm going to share a little more about how this journey has been to reach my favorite place again!

HIGH EXPENSES
Well, I've been playing for over 4 months without even opening the game and that's why I got a little "rusty", I ended up losing some knowledge in strategies and I also didn't follow the game's meta game. To catch up with the delay, I ended up renting more than one composition and expensive legendary summoners to reach Gold 1.
---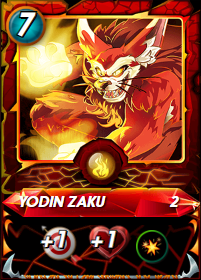 One of the most expensive purchases I made was renting Yodin Zaku lvl 2 , which is the necessary level to reach the maximum lvl of silver league cards, in addition to it I also rent some cards that were missing in my collection, to play with strong compositions I needed some reinforcements mainly from ranged cards that would use the buff of Yodin and increase your value. The fire element deck was where I ended up spending the most money, consulting @peak-monsters, to play with the composition for 2 days I ended up spending just over 500 DEC in rent. But this composition was extremely useful in helping me in Grind and with it was where I had the highest win rate.
---
In addition to him, I also rented two other legendary Summoners that I saw a lot during the games and I realized that if I rented them I would increase my competitiveness level, first I rented Immortalis, invoker of the earth element, which brings some advantages in games that will necessarily using summoners with magic damage, in an earth vs earth battle for example it is one of the best choices because earth's composition is very focused on magic damage currently.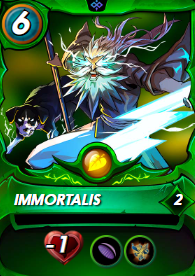 Another summoner that I ended up suffering some defeats was Possibilus The Wise, I realized that he becomes very useful in some rules and makes a great synergy with some specific cards. She ends up being a great resource for games that use the water element thanks to her skills.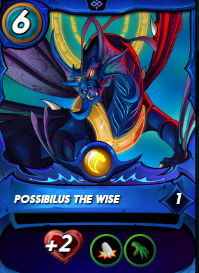 A COMPOSITION I WANT TO LEARN
During my matches on the way to Silver I I noticed a summoner and a composition that practically defeated me every time I faced it, it is a composition of the water element that brings a well-elaborated strategy based on high healing and resurrection power. The main Summoner is Grandmaster Rathe who has excellent abilities for this specific strategy. But an ideal monster to be used in this composition is Adelade BrightWing which plays the key role of repairing the shield and resurrect the first downed monster, this helps to give a very strong sustain for the tank.
In addition to her, two other cards play the role of providing high healing, the Uriel The Purifier and the Venari Crystalsmith with these two cards in the composition the healing is absurd, stopping to analyze there are 3 support cards that still manage to perform enemy damage.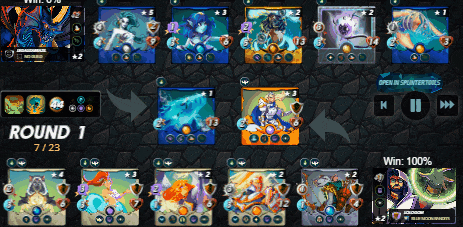 ---
---