A week experience in Splinterlands
Just drop by to say "Hi!" to everyone that i have start to play Splinterlands in 1 weeks, I supposed.
I was introduce by one of the youtuber who mentioning play-to-earn NFT gaming. The game he highly recommend was Axie however it was too tough / risky for to invest few hundred for a game from my opinion. While Splinterland is the 3rd game he mention and after view it on few more youtuber like Luke, Dwayne and many few more I have make up my mind in my asss and decide to give it a try in Splinterlands.
Initial investment of $10 and why the hell I couldn't win DEC when i wining the fight.
Yes, you are correct I have join after the rule change whereby you no longer gain DEC in winning fight in Bronze 3.
This let me re-think should i invest additional $10 into the game in order to climb in the way of buy / rent card into Bronze 2? And yes, I think I will invest additional as I say this is not only game but somesort of investment.
My thinking was this game has the ability to let me play-to-earn instead of pay-to-win in previous game.
I have been playing many card game such as Yugioh, Pokemon and many more either in physical or even digital format. Yes you can argue that the physical card are sellable however I not too sure where I put the card (or even the card has been throw by my parent) or even is there a market for the old card? I might be wrong, but yes we are now in new era that NFT should be the next trent.
Do a bit of begging here if anyone would kind enough to deligate some bronze playable card for my IGN: leijun987 it will be much appreciate.
Thank you for stopping by to say hi.
Thank you Splinterlands.
P/S: I just got lucky for my 1 week chest rewards. Cheer :)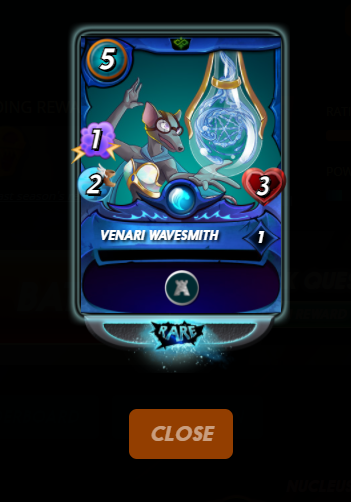 ---
---