2 New CUB Kingdoms! | SPS-BNB Kingdom & BTCB-BNB BakerySwap Update (Action Required)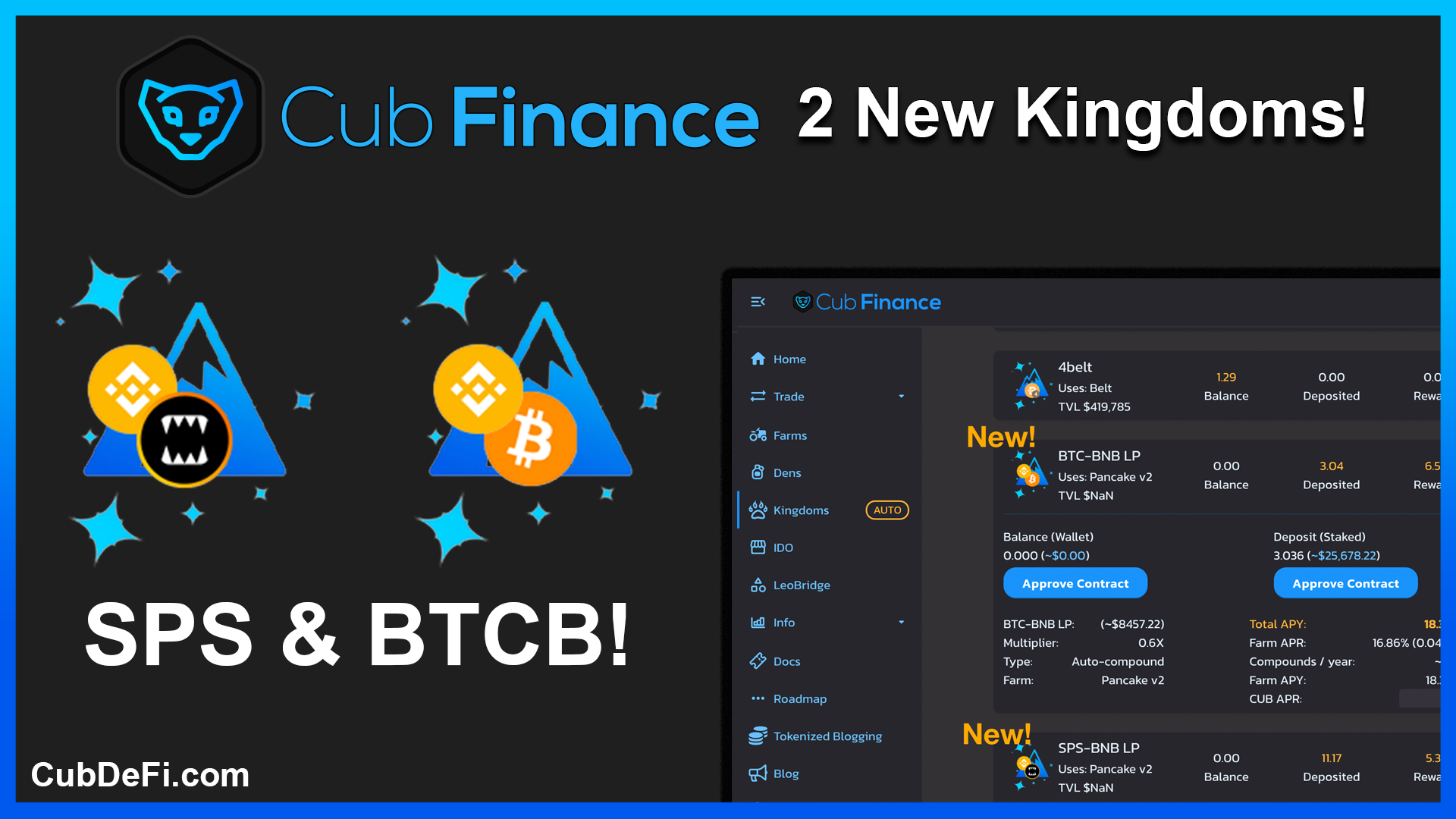 New SPS-BNB Kingdom!

We're excited to partner once again with @splinterlands - who have been doing incredible things in the DeFi/BSC space.
They're attracting a lot of liquidity and attention with their SPS token. Their SPS-BNB liquidity pool was also picked up by PancakeSwap and is generating yield on PCS Farms.
Because of this, we're able to deploy an SPS-BNB Kingdom! As long as SPS-BNB remains on PCS and generates CAKE farming rewards, the Kingdom will remain open.
SPS-BNB may also have another farm on an external platform in the near future. We plan to support their Kingdom wherever it may roam going forward.
*New! BTCB-BNB Kingdom

You may have seen that Bakeryswap recently updated their BTCB-BNB Farm. This lowered the APY that farm generates and we've decided to migrate off Bakeryswap altogether.
Fortunately, PancakeSwap has an incredibly lucrative BTCB-BNB Farm. On PCS, the base APR is ~20%.
Add this with our CUB Multiplier and 25-35% or greater APY can be expected from BTCB-BNB LPs!
---
ACTION REQUIRED!

If you are in the BTCB-BNB Bakery Kingdom, please migrate your liquidity to the BTCB-BNB PCS Kingdom. To do this, just:
Find the BakerySwap Kingdom (Bottom of the Page with Red Text)
Withdraw From the Kingdom Vault
Click "Add Liquidity" to visit the Bakery Swap liquidity page (Altneratively, visit the Remove Page directly: https://www.bakeryswap.org/#/remove/ETH/0x7130d2a12b9bcbfae4f2634d864a1ee1ce3ead9c)
Connect Wallet, Select BNB
Head to the PCS Kingdom and then add liquidity to PancakeSwap (https://pancakeswap.finance/add/BNB/0x7130d2a12b9bcbfae4f2634d864a1ee1ce3ead9c) then re-deposit in the BTCB-BNB Kingdom. For more steps on adding liquidity, see the bottom of this post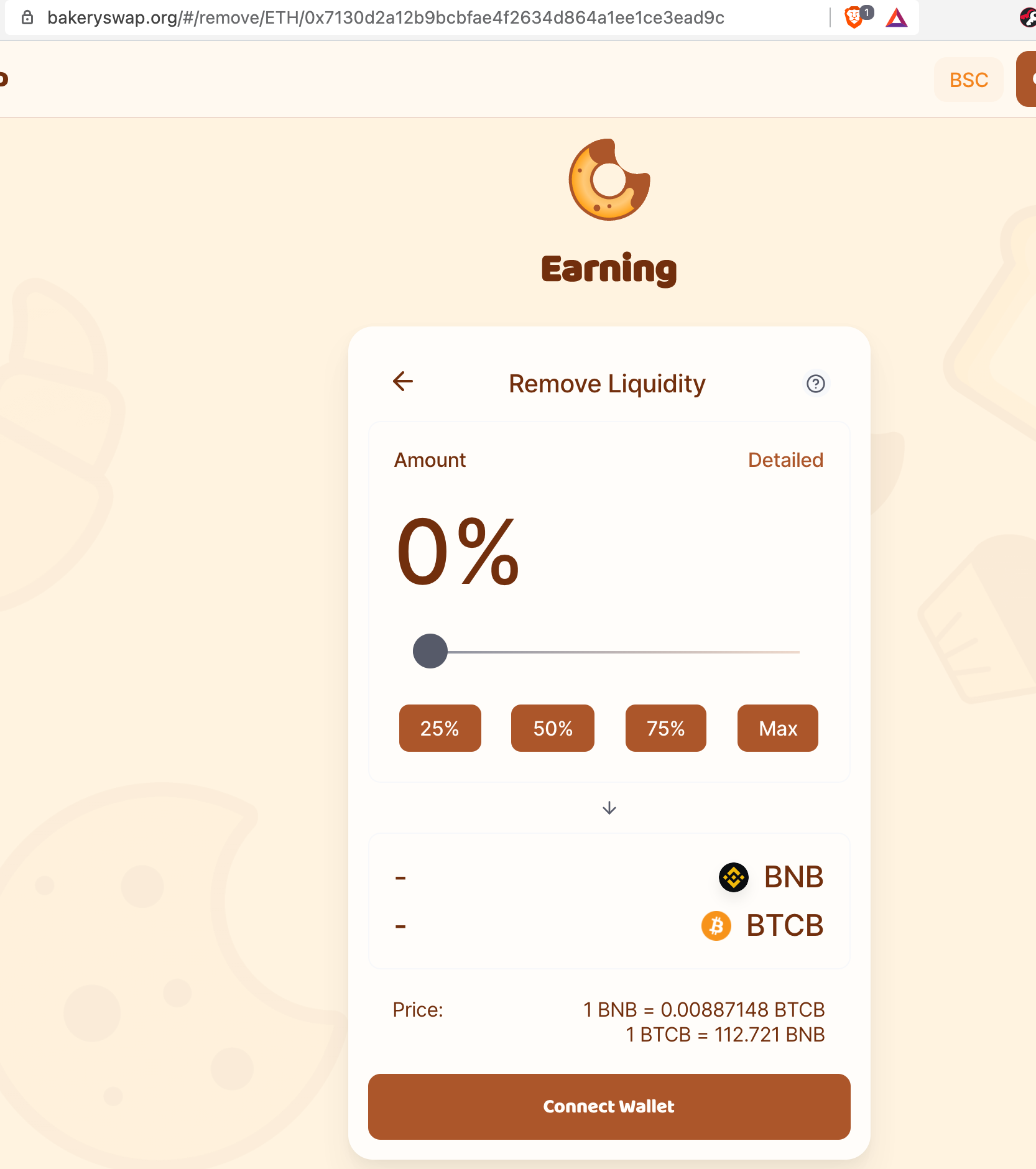 ---
Greater Total Addressable Market on the PCS Version
The BTCB-BNB farm on PancakeSwap has over $92 million USD staked. The addressable market for this Kingdom is MASSIVE!

Remember: CUB is running on a new value capture ecosystem that we've been building for several months now.
Kingdoms were the first major innovation in this direction. Rather than one-time deposit fees, we've now deployed autocompounding, cross-composable smart contracts for yield farming.
These contracts take an ongoing management fee during the compounding process. The fee applies only to the rewards generated by the Kingdom contract (i.e. CAKE rewards on the BTCB-BNB PCS Kingdom). The fee is collected into a pool where it autonomously buys and burns CUB every single day.
If you track the number of CUB Burned on the https://cubdefi.com homepage, then you'll see it constantly increasing.
One of our primary goals moving forward is to deploy new Kingdoms, update existing Kingdoms and market the Kingdoms platform to a wider audience.
This will help us achieve a higher Kingdoms TVL (Currently at $4.6M USD). The higher this TVL grows, the more management fees are generated by Kingdoms vaults. The more management fees generated, the higher the daily CUB burns.
A smaller fee is also taken, converted into BNB and then distributed to CUB Kingdom stakers. This is relatively low, but is constantly growing. With a high TVL (say, $50M+), we'll see these become increasingly relevant!
How to Add Liquidity to a Kingdom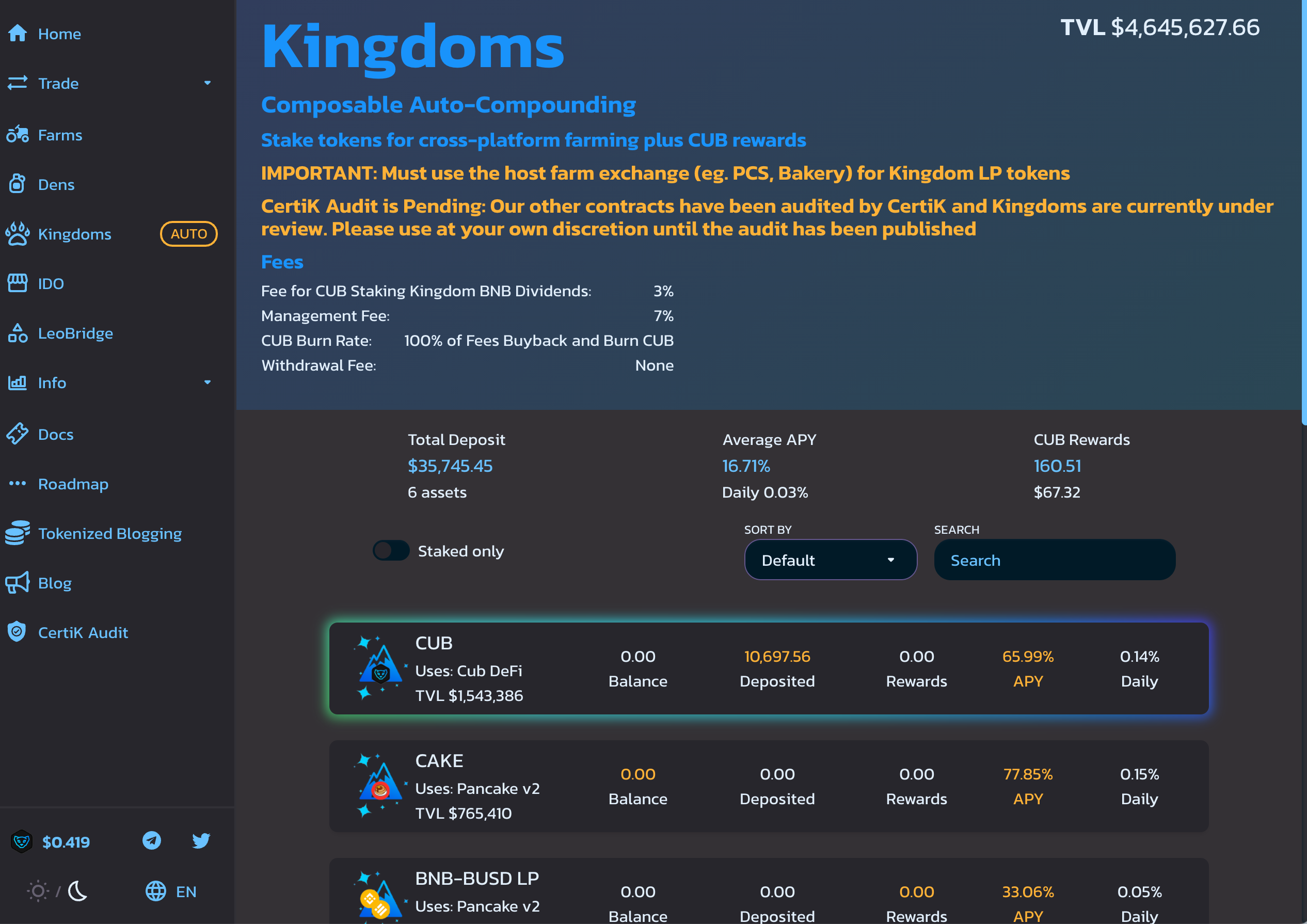 Step 2). Click the "Add Liquidity" Button to Visit the Parent Farm and Get LP Tokens

Step 3). Approve Contract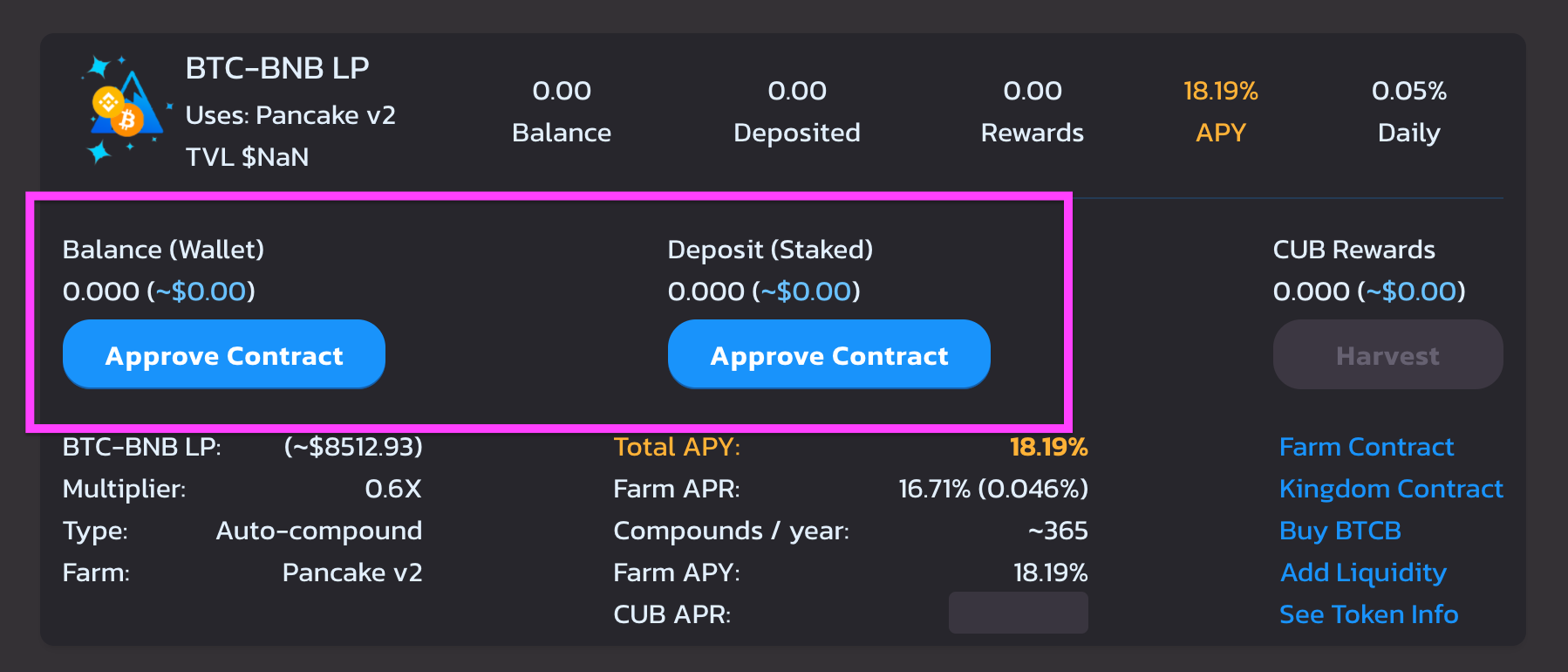 Step 4). Deposit LP Tokens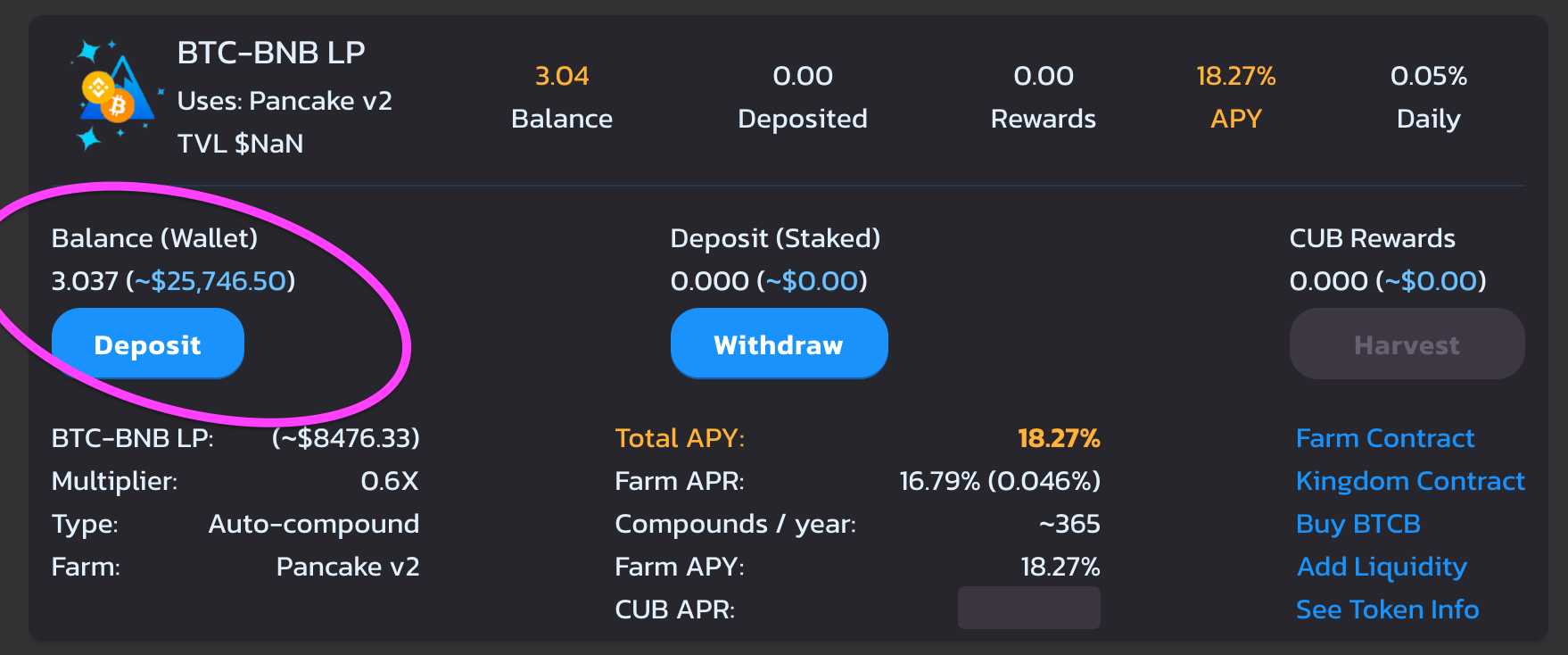 That's it! Welcome to Autocompounding Kingdoms. Now your base position (BTCB-BNB, SPS-BNB, etc.) will autocompound and grow on its own. The CAKE rewards they generate are autonomously converted back into BTCB-BNB or SPS-BNB and added to your position.
On top of that, liquid CUB harvests are also generated over time.
Questions or Need Help?
Leave a comment below or better yet - use the new Tech Support Ticket system we've deployed on LeoFinance's Discord Server!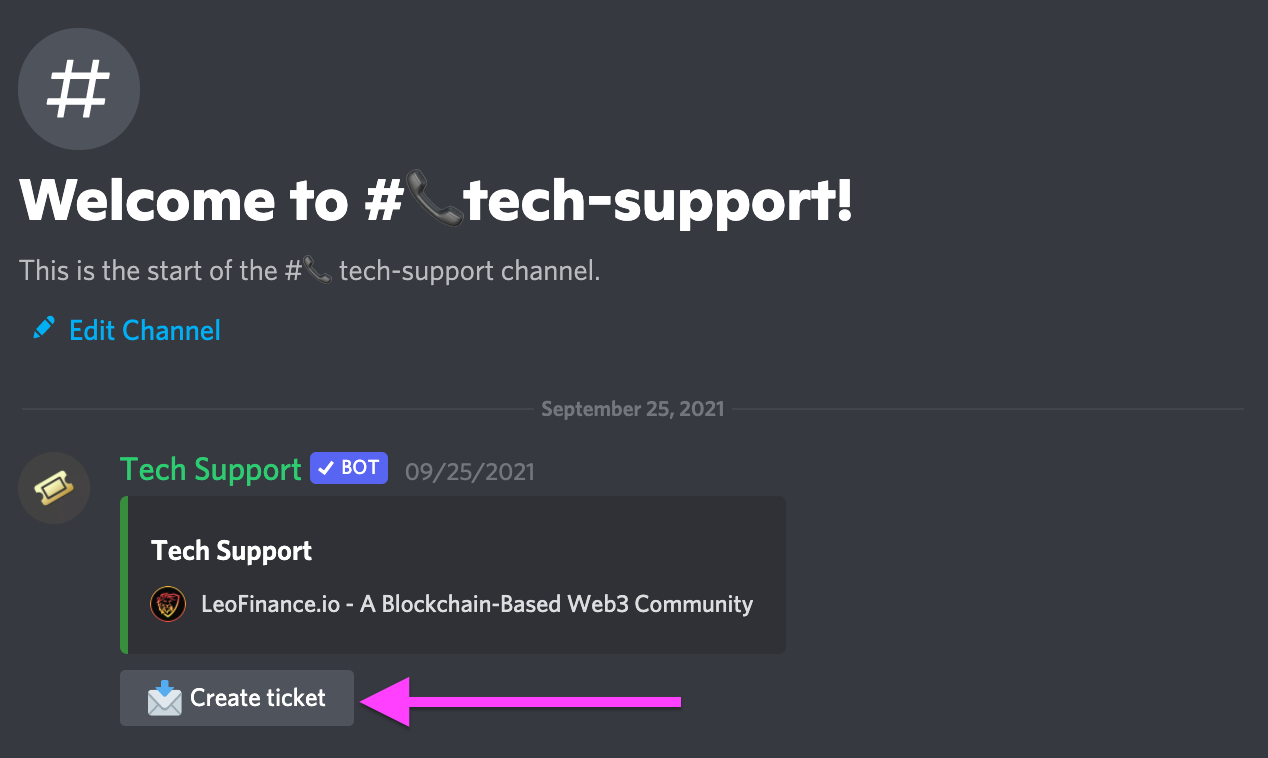 ---
Note: there are 2 temporary issues with the Kingdoms UI data feed that we're fixing right now:
The Multiplier and CUB APY portion of rewards display is lower than the actual rewards being paid out. The 2 new Kingdoms unbalanced the way we display CUB rewards on the UI
The SPS-BNB and BTCB-BNB Kingdoms are showing blanks for TVL and CUB APY however they still have both TVL and CUB APY (just not shown on the UI)
We're working on these UI issues right now and a new build will be pushed to the website shortly 🦁

LeoFinance is a blockchain-based social media community that builds innovative applications on the Hive, BSC and ETH blockchains. Our flagship application: LeoFinance.io allows users and creators to engage and share content on the blockchain while earning cryptocurrency rewards.
Earn a 16% APR on HIVE POWER and Support LeoInfra's Onboarding Efforts by Delegating HP to @leo.voter (Currently at 2M HP). We Use this to Claim Accounts and Delegate RCs to Newly Onboarded Users + Daily LEO Payouts to Delegators
Posted Using LeoFinance Beta
---
---