Splinterlands Share Your Battle Challenge: GIANT ROC!
Splinterlands Share Your Battle Challenge: GIANT ROC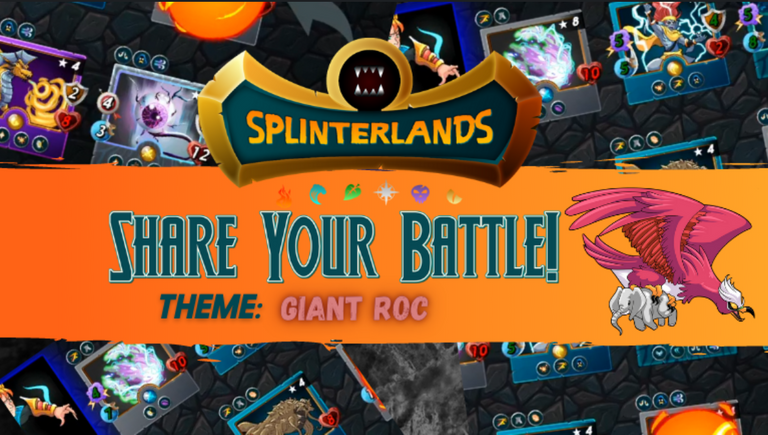 This week we will focus on... WELL, we don't really need to focus much, considering the size of this thing. The GIANT ROC is absolutely massive, considering that it is clutching an actual elephant in its talons! Proof of that below in the card art! But let's not get ahead of ourselves just yet. What is the deal with Reach units and the Fire Splinter? There are so many! Not the least of matters being that they're all actually quite good. We've got the very popular and still not overrated Fineas Rage, the brand new Radiated Brute, then we've got big ROC here as well as the Magma Troll... and... the absolutely brilliant and somewhat overlooked Aganju, who costs only 1 mana (please make Aganju a weekly challenge!). Small honorable mention goes to the very popular Lava Launcher which, as a Close Range card, acts like a Reach and is actually quite fantastic as well. So about giant birds...
Let's have a look at the card art!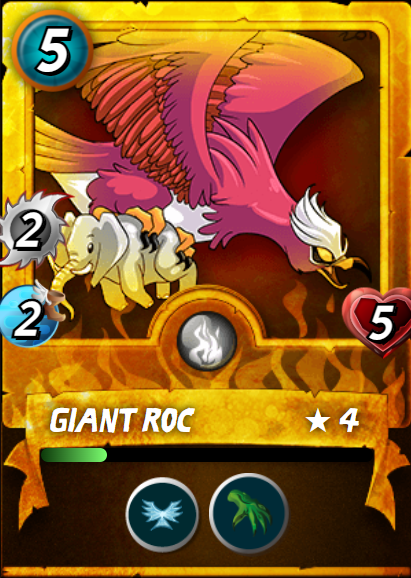 Yes that is an ELEPHANT.
---
My opinion on the card design: Not that my opinion matters, but I find the design rather interesting. Now, I know that doesn't say much, but the reason I say interesting is that I like some parts of it, some have me curious, and others I am not particularly fond of. I don't like the fact that the giant ROC illustrators didn't take the opportunity to really make some amazing eyes for a creature this absolutely massive. I have no issue with the color of the feathers, but I do find that they unfortunately do not match very well with fire splinter card color scheme. Now let's move onto what I do like: I love the elephant! It looks so happy and optimistic in the talons of this gigantic bird! Maybe it's just bein taken for a trip? This is a beta card since I found the alpha one too expensive, and I have to say it is in-line with a lot of the beta card illustrations, so overall I give this one a positive rating. Great job! A really big high-five!
My History with this card: This card was made available to me as a starter card when I began playing this game. To those of you newer to the game, that was before the release of Chaos Legion. Before that, we had playable status on all Beta cards of common and Rare rarity. I used it quite frequently before I bought a Fineas Rage, and then only used it when there was a very specific reason for Mana, or for Earthquake ruleset, since overall I find that Fineas outperforms Giant Roc and is stronger for its mana cost at low levels.
Official Lore: "From far away, a Roc may be mistaken for a normal bird, but once it comes closer its true size can be appreciated. These massive birds never stray from the Burning Lands, most likely due to the warm ground and favorable nesting conditions of the uninhabitable wasteland of The Unknown." -Splinterlands.com
Unofficial Lore: The Roc actually finds its origins in Middle Eastern mythology! It is a gigantic legendary bird said to kidnap elephants and other large animals and eat them. It is mentioned in the famous collection of Arabic stories, The Thousand and One Nights, and by the Venetian traveler Marco Polo, who referred to it to describe Madagascar and other islands off the coast of East Africa. According to Marco Polo, Kublai Khan inquired about the roc in these parts and received a supposed roc feather, which in reality could have been a raffia frond. -Encyclopedia Britannica
Stats from Splinterlands:
Looking at these stats, ...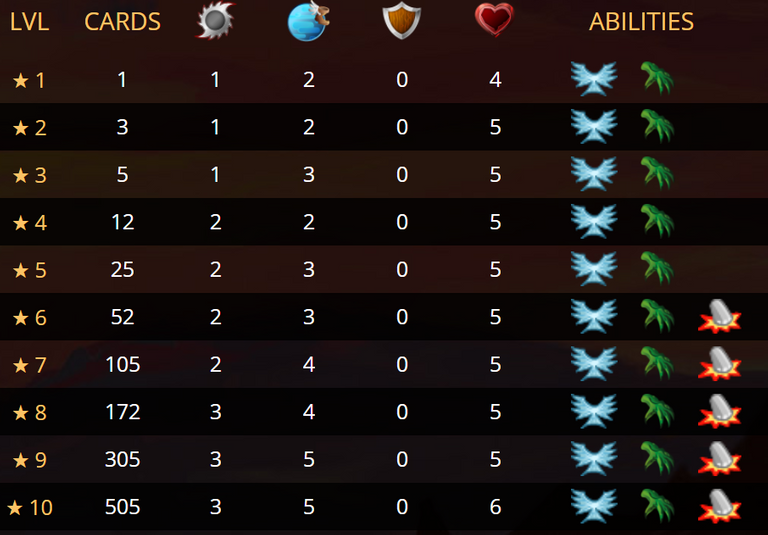 Let's look at the level-ups and note any important milestones:
Base level Stats as seen on the card

An increase of 1 health

An increase of 1 speed

An increase of 1 attack ~ the additonal 1 attack is very important to put pressure on the opposing enemy's frontline unit. This would be the perfect entry point.

An increase of 1 speed.

The addition of TRAMPLE skill ~ Important milestone here. Trample is a somewhat useful skill, that continues to attack the next opponent in line if it defeats the first one that it targetted. This is especially useful of a skill when combined with another card, for example the tank, that also has Trample. Fire Splinter's Molten Ogre comes to mind.

An increase of 1 speed.

An increase of 1 attack ~ another additional attack is, of course, very welcome here.

An increase of 1 speed.

An increase of 1 health.
Recommended level:
Taking these milestones into account, a minimum of level 4 of this card is STRONGLY recommended, since keeping pressure on the opposing frontline in a consistent matter is important, especially against healing units. Level 5 is nice for the additional speed, but not strictly necessary.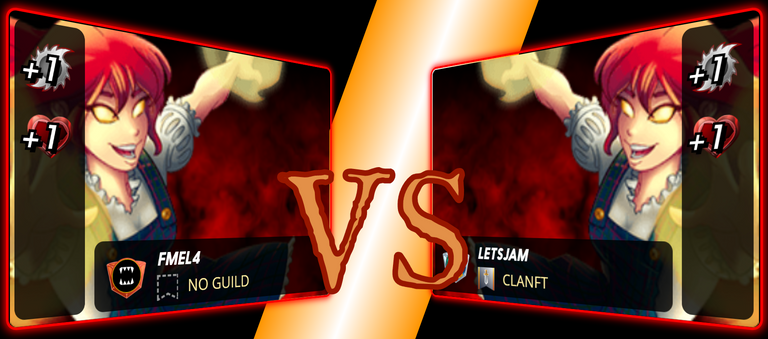 Setting: Ranked match in Silver 2, month of December, 2021
Opponent: FMEL4, using the same summoner and a similar set up (no GIANT ROC though!).
Ruleset was the following....
Total Mana Cost Allowed: 46
Splinters Allowed: Fire, Life, Earth
Special Conditions: Lost Magic

Lost Magic means that no magic attack monsters may be used at all! This is a big hit for Earth faction especially, since its new Summoner, Obsidian, is directly mana-oriented.
Battle Plan
I considered several factors, but the most important here was that there are only three factions that can be chosen. Recent set ups and card priorities for Earth set ups have favored magic using cards quite strongly as of late, due to the addition of their new magic-attack-boosting summoner, Obsidian. Since magic is banned for this match, I considered the possibility of the opponent utilizing Earth as being less likely than otherwise. I thought it might be quite likely that they would use either Fire of Life. Life is very strong, due to its emphasis on ranged, with General Sloan being the new standard selection in Silver league. However, it remains that the majority of Ranged cards in the Life Splinter are relatively low in mana cost, and would therefore not make full use of this match's very high mana cap. It is for this same reason that I not only assumed the opponent would use fire, but also used fire myself! Of course, I took the opportunity to field the GIANT ROC! All things being said, since there's no magic being used, it also meant I would want to gear myself up to protect against physical damage. Let's have a look...
View of the Battlefield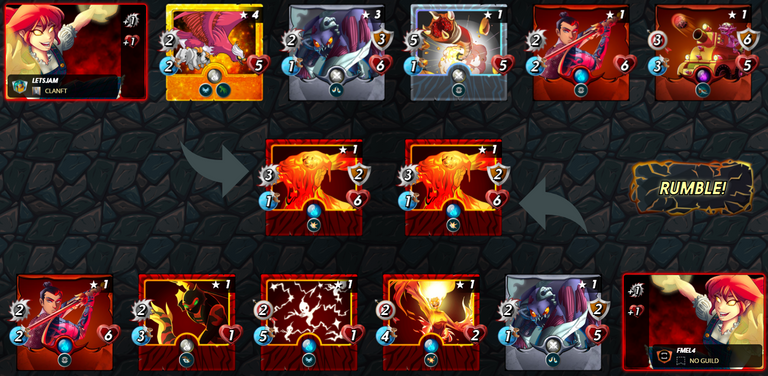 Battle Lineup
Summoner: Tarsa. This is my go-to summoner for fire, and my favorite new summoner overall. I would argue that Tarsa is the strongest of the new summoners, since Fire is very melee-centric, and that one additonal HP is a blessing. This was the clear choice for me, as I usually focus on melee for Fire anyway (don't use this information against me!!).
Position 1: Living Lava. This was the clear choice here, and my opponent knew it as well. The only weakness that this stellar tank has is, of course, magic attacks. Since they are banned, it is the obvious choice here. It has high attack, armor, decent health pool, and it reduces damage from physical attacks and effects. Perfect.
Position 2: GIANT ROC. Of course! I've been wanting to use this card and I rented a gold foil one just for the occasion (also because it is level 4 and gets me that extra +1 melee damage). A reach unit is pretty common for fire, as previously mentioned, so I went for this week's favorite.
Position 3: Disintegrator: This was only a good choice because I expected that my opponent would choose Fire Splinter, and went with the odds that they did not have Yodin Zaku (who specializes in ranged attacks). I figured that lowering the damage of opposing melee units by -1 was worth the spot in the team, even if it has no entry into the actual fight until it gets its turn in line. My opponent agreed!
Position 4: Sand Worm: A very common choice for high-mana matches. I like to put Sand Worm in the middle of the backline, for protection, since it is a very valuable card to have at its massive amount of attack.
Position 5: Tenyii Striker: A card that is quite similar to Sand Worm, for a lower cost and lower amount of damage. I like to put this one behind Sand Worm, since Sand Worm is more valuable to keep alive. They work well together!
Position 6: Lava Launcher: I wanted a tanky unit in the back. Again, I expected the opponent would use fire, and therefore have many attacks going to my backline. I was partially right!
Did it Work?
This was definitely a fun one to watch. Trust me, if you skipped over it, go back and see it. That Spark Pixies dodged SEVEN TIMES. As thematic as it is to say so, I believe the victory here is due to my use of a Reach card in second position, in favor of using Ranged cards lie my opponent did. It would be unfair not to also take into consideration that I had two slightly leveled up units on my side, giving me an advantage in that case. Either way, the use of Demoralize paid off, the combination of two Stealth attackers also paid off, and Living Lava performed beautifully. I still can't believe that Spark Pixies... what a hero.
What did our Weekly Unit do?
I strongly believe that using a Reach card in this match was a key part of the victory. Remember, Tarsa boosts melee attack and this is why it's a better choice to have this than to put in one ranged card instead and throwing away 1 damage.
Based on this information, let's have a quick look at the current market value of this card in our COST ANALYSIS for a Level 1 GIANT ROC:
Beta Version:
Current Low price (1card): $1.269
Current Best price (per BCX): $1.269
Current High Bid: $1.020
Current Market Value: $1.269
Alpha Version:
Current Low price (1card): $6.990
Current Best price (per BCX): $4.808
Current High Bid: $3.750
Current Market Value: $4.808
Recommended Usage
Summoner(s): Tarsa, Malric Inferno. The main purpose of this card is to do melee damage, so a melee damage boosting summoner is the obvious choice here.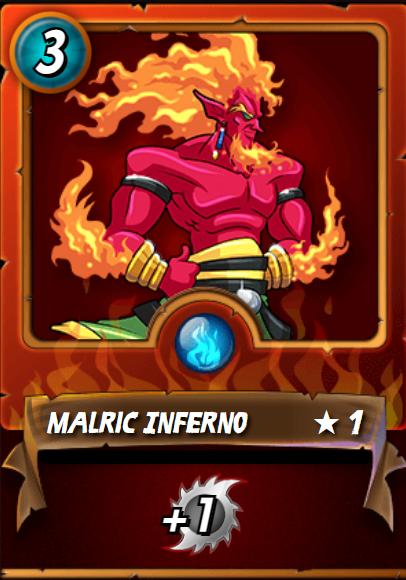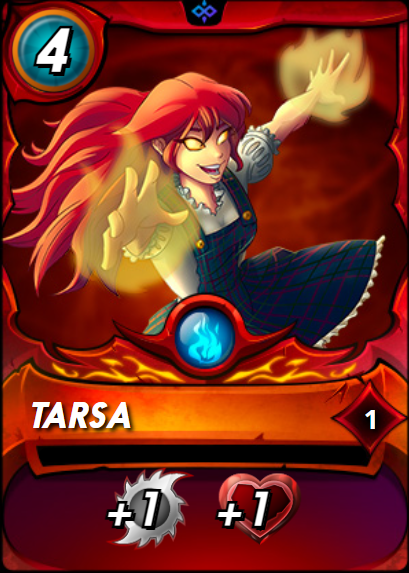 League: I would recommend this card more for Silver league, since it becomes significantly better at level 4 and is a decent replacement for certain situations to some of the other Reach cards that can be used for Fire Splinter. The fact that is is flying is nice and makes it a powerful choice for Earthquake rulesets. Using it in reverse speed at low level would also be quite strong, since combining that with flying could score it a few dodges.
Not Recommended when...
Overall, there are a few scenarios that come to mind in which I would not use particularly recommend using this card. In high mana matches, I would generally recommend to use Fineas Rage instead, and in tournaments I would go with Aganju instead. I also do not recommend it when going against the Water Splinter due to its low speed.
Conclusions
I was neither surprised nor disappointed by the performance of this card, since I used it somewhat regularly when I just started playing.
Personal Opinion
I would use this unit whenever there is an Earthquake ruleset and I choose to use Fire Splinter. I would also use it in scenarios where I find that Fineas is too Expensive and Aganju is too cheap. I think it's pretty legit!

Be sure to join Splinterlands if you enjoy a TCG that allows for a myriad of battle tactics. If you're interested, I invite you to utilize my referral link:
https://splinterlands.com?ref=letsjam
---
---