My Card Collection Optimization: Grum Flameblade and the BIDs on Peakmonsters / Grum Flameblade e le BIDs su Peakmonsters (ENG/ITA)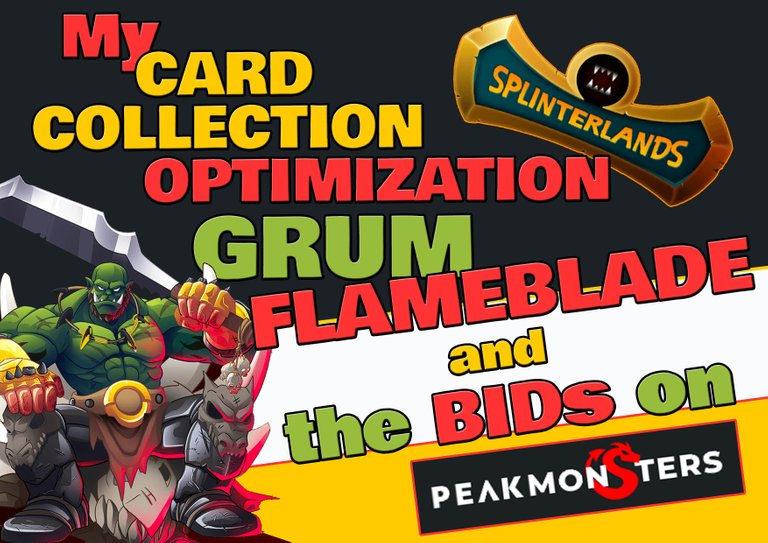 Logo Splinterlands and character image owned by @splinterlands - Logo Peakmonsters owned by @peakmonsters - Edit by @libertycrypto27- Font used is Open Source
---

La versione in italiano è subito dopo la versione in inglese - The Italian version is immediately after the English version

My Card Collection Optimization: Grum Flameblade and the BIDs on Peakmonsters

In the game of Splinterlands, time is marked by seasons which have a duration of 15 days.
The current season is almost over because there are less than two days left.

My short term gaming goal is to return to the Champion leagues of Splinterlands and my minimum goal is the Champion III league.
The requirements to enter the Champion III league are two:
A Collection Power of 500000 points.
A Rating Score of 3700 points.
With less than two days left in the season I am in the Diamond II league, I have a rating score of 3106 points and a Power score of 435440 points.

From the data of the previous image it could seem that I still have to meet both requirements to access the Champion III league but it is not so because in reality the power score that I have available is almost 600000 points but not having reached the rating of 3700 points in previous seasons I preferred to delegate and rent to other players some cards that I do not use in battle in order to earn more DEC tokens that I can reinvest in the purchase of cards of Splinterlands.

So my only obstacle to returning to the Champion III league is my Rating score.
The Rating score can be increased in one way: winning battles against other players.
In order to win more battles and to increase my Rating score to over 3700 points I must continue to increase the battle strength of my card collection and to do so I must continue to optimize my card collection.
By optimize I am referring to the following activities:
selling cards that are of little utility in battle and/or that I never use in battle.
selling cards that are objectively useful in battle but only at a certain level and that I have no intention of upgrading.
the purchase of cards that are useful in battle
In my previous post I shared and explained the reasons for my latest selling and buying choices:
I sold the level 1 Epona card from which I got 71006 DEC tokens
I bought 3 legendary level 1 cards (Chaos Dragon, Baakjira and Uriel The Purifier) and I bought 271 BCX of Chaos Knight card.

Thanks to the sale and purchase transactions, I upgraded 4 cards that will come in very handy in battle and at the same time increased my Power score by + 4775 points.
From the profit I made from selling Epona, I only used about 20000 DEC tokens and I still have 51000 DEC tokens to reinvest in purchasing useful cards in battle and today I decided to share a purchase and upgrade goal of mine and also the purchase method I decided to use.

Objective: Grum Flameblade Upgrade

The card I decided to upgrade is Grum Flameblade.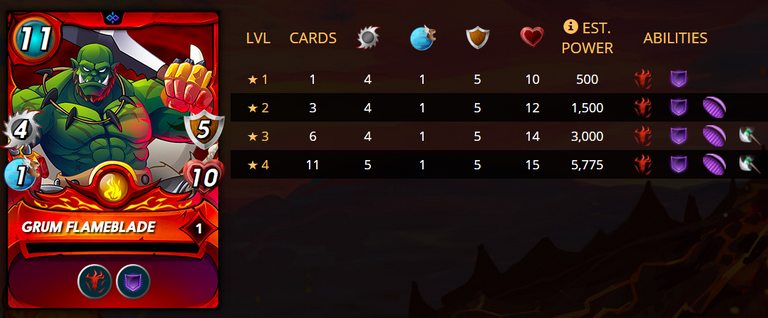 Grum Frameblade is a legendary card from the Chaos Legion edition.
It is a fire element card that has great battle stats:
4 melee attack points
5 armor points
10 life points
2 abilities already starting at level 1: Bloodlust and Void Armor.
By the way, Grum Frameblade is the only card among all the cards in the various editions of Splinterlands that has Bloodlust abilities.
Grum Frameblade also has two weaknesses:
it has a high cost in terms of mama: 11
it has 1 single point of speed.
Based on its battle stats Grum Flameblade is a very useful card when used in battles that have:
a lot of mana available
one or a combination of the following battle rules:

Up Close & Personal
Aim True
Reverse Speed

It increases its utility in battle and also plays well in the presence of other battle rules such as Meleee Mayhem, Lost Magic... but I listed the three previous battle rules because they are the ones that most allow you to eliminate Grum Frameblade's weaknesses.
The level that in my opinion has the best utility/cost ratio is the third level.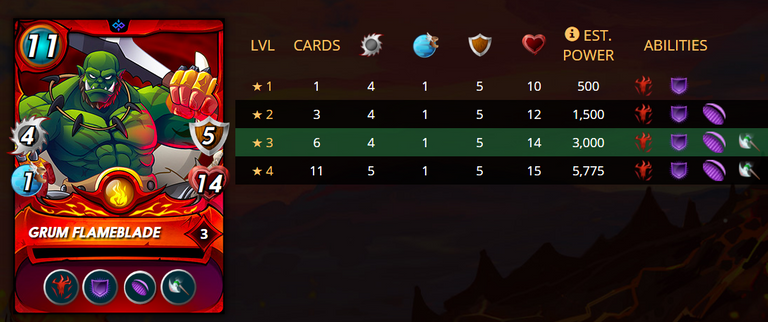 When Grum Frameblade reaches level 3:
He gains two more abilities than level 1: Giant Killer and Void.


reaches a total of 14 life points
In my card collection I have 4 Grum Flameblade cards of level 1.
I have chosen to upgrade my Grum Flameblade to level 3 and in order to do so, I need to purchase 2 level 1 Grum Flameblades which I then need to combine with the other cards I have.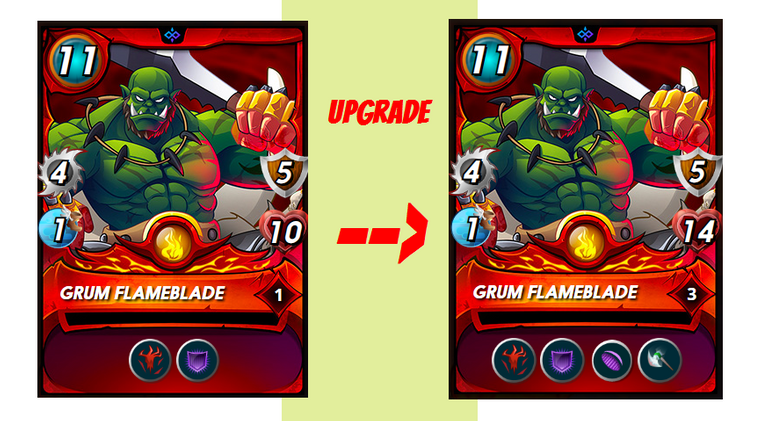 If I decide to buy 2 level 1 Grum Flameblade cards right away, I have to pay a total cost of $19.94.

Splinterlands cards can be purchased using two payment methods:
For the purchase I decided to use DEC tokens and to calculate the value of 19.94$ in DEC tokens I have to consider the current market values of DEC and HIVE tokens.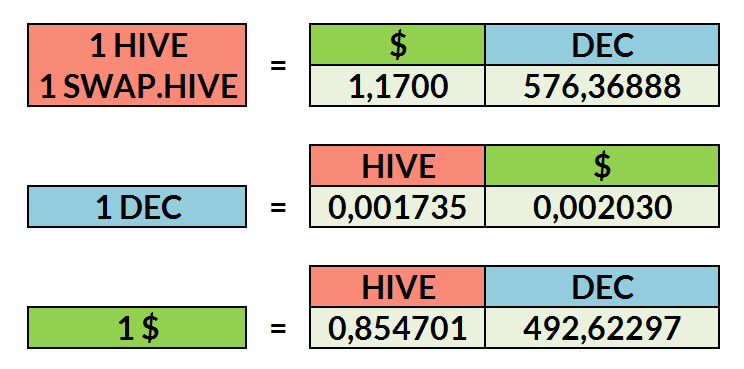 $19.94 corresponds to an equivalent value of 9822.9020 DEC tokens.


Bids (BIDs) on Peakmonsters

To date, I have always used:
Peakmonsters to sell cards and to buy cards via BID purchase offers.
Monstermarkets to buy cards immediately at the market price because Monstermarkets offers a cashback of 3% on the purchase made.
In the case of Grum Flameblade, I decided to use the useful feature of BIDs that only Peakmonsters allows to make.
I decided to make two BID offers instead of buying the cards immediately for two reasons:
First reason: the highest purchase offer (Highest BID) on the market is almost $0.9 lower than the lowest purchase price.
This is a good margin to make two BID offers and try to save money on the purchase.


Second reason: the current value of DEC tokens is low compared to last days and in this situation I prefer to sell cards (to get more DECs) instead of buying but if I decide to buy I want to try to get a possible saving.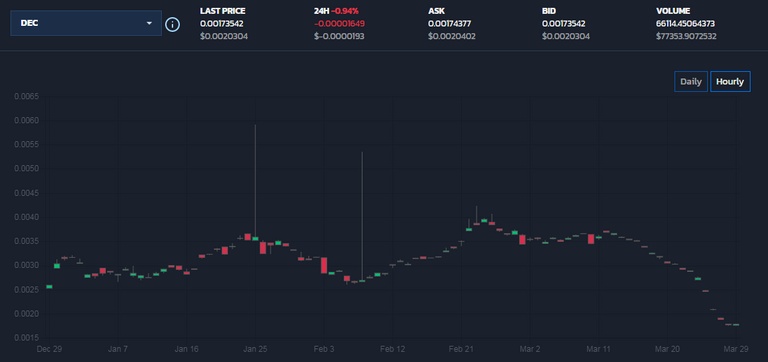 Decision made!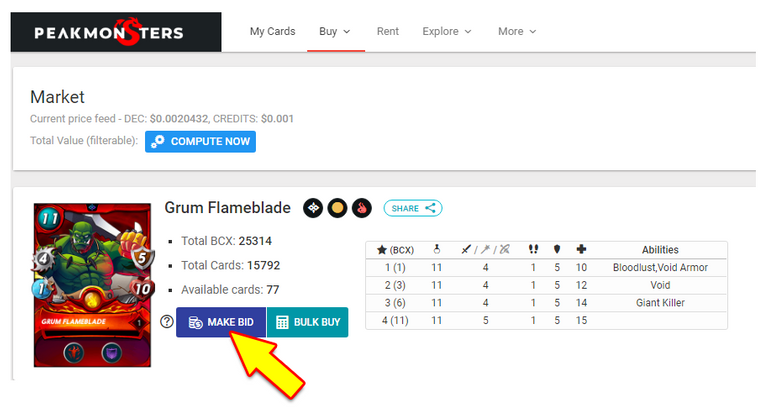 I entered two BIDs worth $9,025 each and in the image below you can see the values I entered in the Peakmonsters BID configuration screen.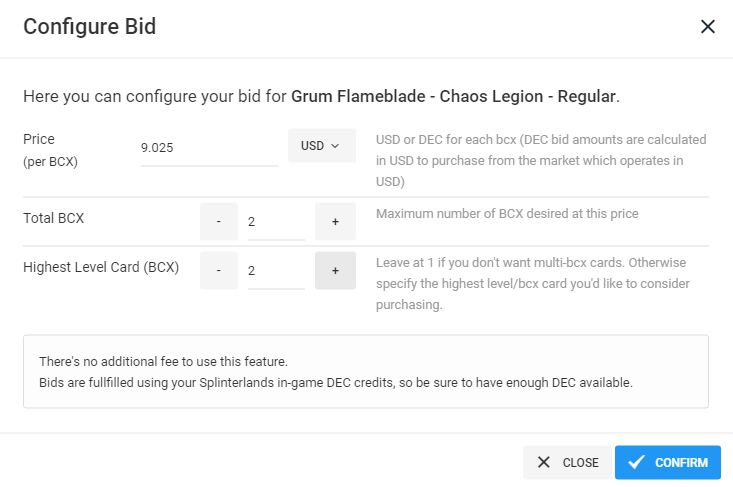 ---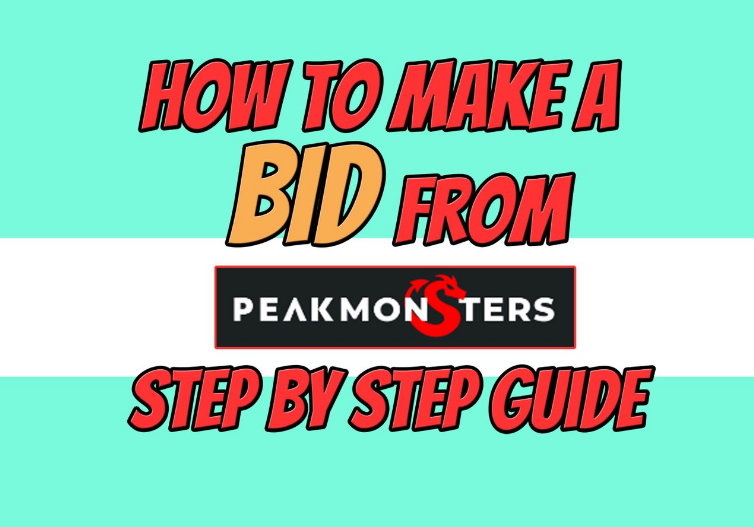 The ability to make BIDs is just one of the many utilities that Peakmonsters provides to Splinterlands players.
If you want to make BIDs on Peakmonsters but do not know how to do you can read the step by step guide that I wrote some time ago:
How to make a BID from PeakMonsters: step by step guide.
---
If my purchase offers are accepted by some seller I will have spent a total of $18.05 instead of $19.94 with a savings compared to the immediate purchase of 8.10% which is even higher than the 3% savings I would have obtained by using Monstermarket.

This purchase, if realized, will also allow me to approach level 5 on Peakmonsters which would grant me a weekly airdrop of 4,327 PKM tokens.

The PKM tokens

The PKM tokens are the utility tokens recently released by Peakmonsters (issuer: @pkm-token).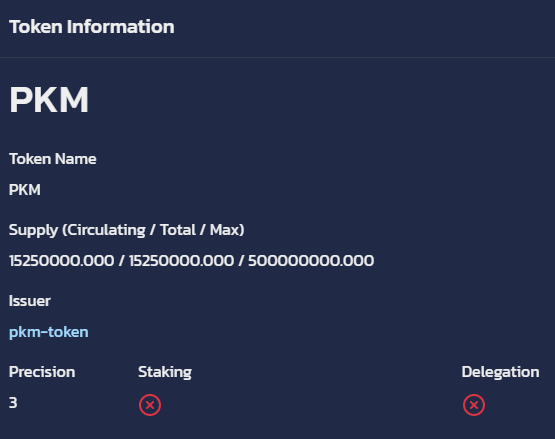 I have received 75 PKM tokens from the initial airdrop and based on my current level on Peakmonsters (level 4) I should be receiving 1,442 PKM tokens each week.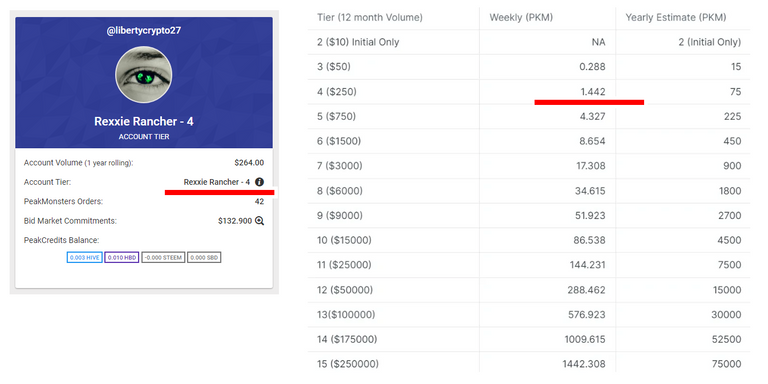 In addition to the weekly airdrop, PKM tokens can be earned as a reward for purchases made using the Buy section of Peakmonsters and the amount of PKM tokens you can receive depends on the purchase values in single transaction shown in the following table.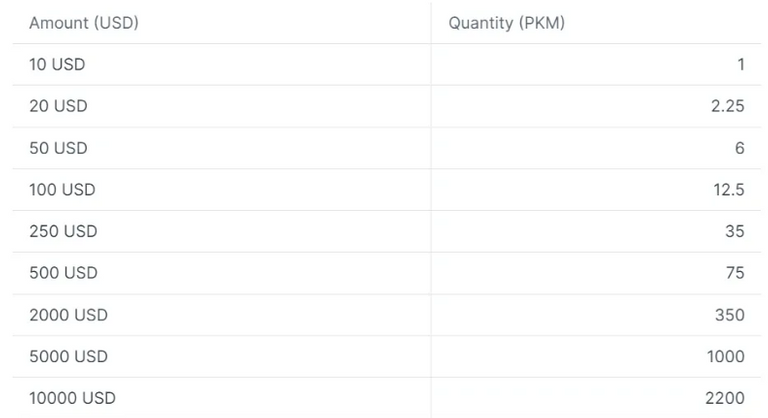 But because the purchase price of Grum Flameblade is less than $10 I will not receive PKM tokens if my purchase is successful but I will still be satisfied because I will have saved an amount of DEC tokens that I can use to buy new cards.

Conclusion

Grum Flameblade's upgrade will allow me to increase the battle strength of my card collection but in order to get back to playing in the Champion leagues of Splinterlands I need to continue investing.
Thanks for reading my post I hope you liked it and thanks for taking your time and if you like, follow me to know my next purchases and read my next posts about Splinterlands.
Splinterlands = Play 2 Earn!


Are you not a Splinterlands player?

Splinterlands is a beautiful game and it has proved to be a very good investment (at least until now) and if you regularly participate to the weekly contests organized by the @splinterlands account you will recover the registration cost (10$) in a short time.
If you decide to register, you can do it from this link:
https://splinterlands.com?ref=libertycrypto27
of course if you'd like to use my refferal link... :)
---
Any game that involves the purchase of cards and tokens is never a simple game but it is also an investment and should be considered as such.
I am not a financial consultant and if you decide to invest in the game of Splinterlands you do it for your own choice, after having made your personal evaluations and considered all possible risk factors.
My advice is to always invest only what you can afford to lose with a light heart.
---
See you on the battlefields of Splinterlands.

A selection of my previous Splinterlands posts

Unless otherwise indicated, the images in this post are screenshots taken from the sites:
https://splinterlands.com/
https://peakmonsters.com/
https://peakmonsters.com/market
https://www.splintercards.com/
https://tribaldex.com/
Images containing calculations, tables and formulas are my property
The font used in my images or edited by me is Open Source
The dividers with the Hive logo in this post were created by me and if you like them you can use them too, the Hive logo is property of https://hive.io/
HIVE ON and Splinterlands ON!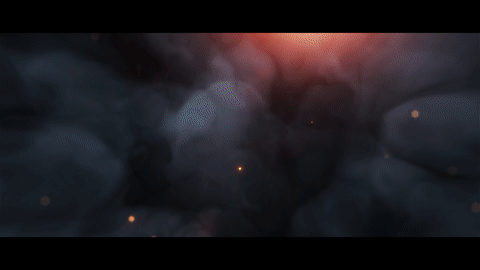 Gif by @splinterlands
---



---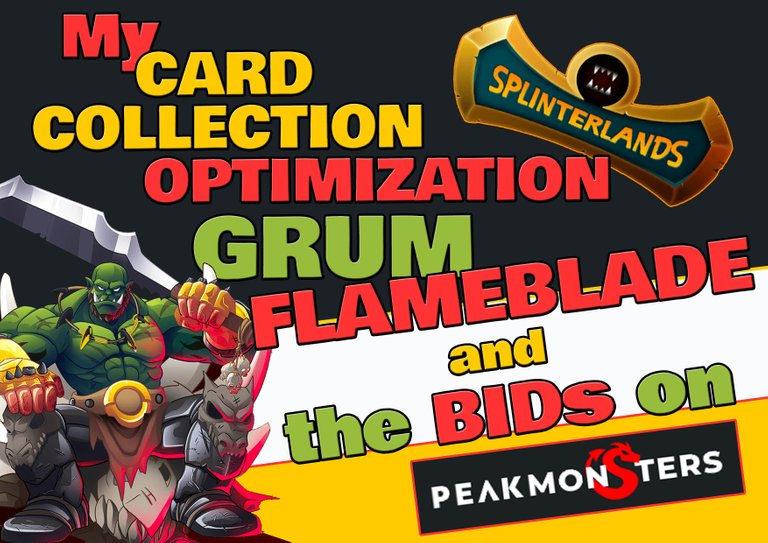 Logo Splinterlands and character image owned by @splinterlands - Logo Peakmonsters owned by @peakmonsters - Edit by @libertycrypto27- Font used is Open Source

Nel gioco di Splinterlands il tempo è scandito dalle stagioni che hanno una durata di 15 giorni.
La stagione in corso è quasi terminata perchè mancano meno di due giorni.

Il mio obiettivo di gioco di breve termine è di ritornare nelle leghe Champion di Splinterlands e il mio obiettivo minimo è la lega Champion III.
I requisiti per accedere alla lega Champion III sono due:
Un Colletion Power di 500000 punti
Un Punteggio di Rating di 3700 punti.
A meno di due giorni dalla fine della stagione sono in lega Diamond II, ho un punteggio di rating di 3106 punti e un punteggio Power di 435440 punti.

Dai dati dell'immagine precedente potrebbe sembrare che devo soddifare ancora entrambi i requisiti per accedere alla lega Champion III ma non è così perchè in realtà il punteggio power che ho a disposizione è quasi di 600000 punti ma non avendo raggiunto il punteggio di rating di 3700 punti nelle precedenti stagioni ho preferito delegare e dare in noleggio ad altri giocatori alcune carte che non uso in battaglia in modo da guadagnare ulteriori token DEC da poter reinvestire nell'acquisto delle carte di Splinterlands.

Quindi l'unico mio ostacolo per ritornare nella lega Champion III è il mio punteggio di Rating.
Il punteggio di rating si può aumentare in un unico modo: vincendo le battaglie contro gli altri giocatori.
Per vincere un numero maggiore di battaglie e per aumentare il mio punteggio di Rating fino a superare il punteggio di 3700 punti devo continuare ad aumentare la forza in battaglia della mia collezione di carte e per farlo devo continuare ad ottimizzare la mia collezione di carte.
Con il termine ottimizzare mi riferisco alle seguenti attività:
la vendita delle carte che sono poco utili in battaglia e/o che non utilizzo mai in battaglia
la vendita delle carte che sono oggettivamente utili in battaglia ma solo ad un determinato livello e che non ho intenzione di potenziare
l'acquisto di carte che sono utili in battaglia
Nel mio precedente post ho condiviso e spiegato i motivi delle mie ultime scelte di vendita e di acquisto:
ho venduto la carta Epona di livello 1 da cui ho ottenuto 71006 token DEC
ho acquistato 3 carte leggendarie di livello 1 (Chaos Dragon, Baakjira e Uriel The Purifier) e ho acquistato 271 BCX della carta Chaos Knight.

Grazie all'operazione di vendita e alle operazioni di acquisto ho potenziato 4 carte che mi tornerranno molto utili in battaglia e allo stesso tempo ho aumentato il mio punteggio Power di + 4775 punti.
Dal guadagno che ho ottenuto dalla vendita di Epona ho utilizzato solo circa 20000 token DEC e ho ancora 51000 token DEC da reinvestire nell'acquisto di carte utili in battaglia e oggi ho deciso di condividere un mio obiettivo di acquisto e di upgrade e anche la modalità di acquisto che ho deciso di utilizzare.

Obiettivo: Upgrade di Grum Flameblade

La carta che ho deciso di potenziare è Grum Flameblade.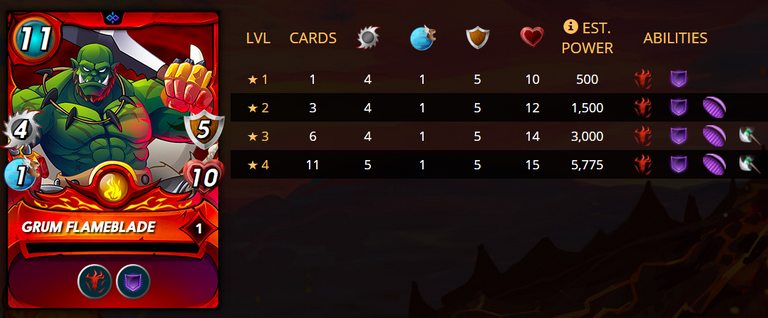 Grum Frameblade è una carta leggendaria dell'edizione Chaos Legion.
E' una carta dell'elemento fuoco che ha delle ottime statistiche di battaglia:
4 punti di attacco da mischia
5 punti armatura
10 punti vita
2 abilità già a partire dal livello 1: Bloodlust e Void Armor
Tra l'altro Grum Frameblade è l'unica carta tra tutte le carte delle varie edizioni di Splinterlands che ha 'abilità Bloodlust.
Grum Frameblade ha anche due punti deboli:
ha un alto costo in termini di mama: 11
ha 1 solo punto di velocità.
In base alle sue statistiche di battaglia Grum Flameblade è una carta molto utile se utilizzata in battaglie che hanno:
molti mana a disposizione
una o la combinazione delle seguenti regole di battaglia:

Up Close & Personal
Aim True
Reverse Speed

Aumenta la sua utilità in battaglia e gioca bene anche in presenza di altre regole di battaglia come ad esempio Meleee Mayhem, Lost Magic... ma ho elencato le tre precedenti regole di battaglia perchè sono quelle che più di tutte permettono di eliminare i punti deboli di Grum Frameblade.
Il livello che secondo me ha il miglior rapporto utilità/costo è il terzo livello.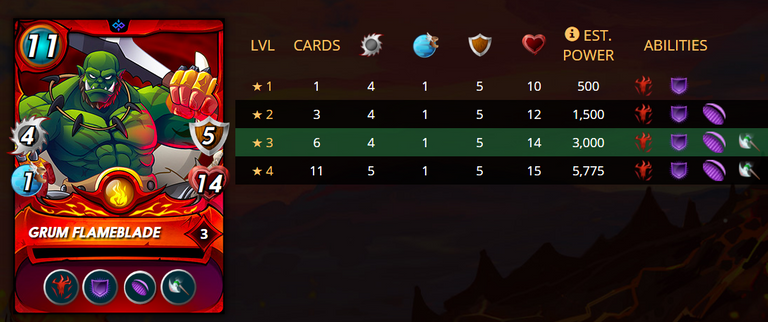 Quando Grum Frameblade raggiunge il livello 3:
acquisisce altre due abilità rispetto al livello 1: Giant Killer e Void.


raggiunge un totale di 14 punti vita
Nella mia collezione di carte ho 4 carte Grum Flameblade di livello 1.
Ho scelto di potenziare il mio Grum Flameblade fino al livello 3 e per farlo devo acquistare 2 Grum Flameblade di livello 1 che poi devo combinare con le altre carte in mio possesso.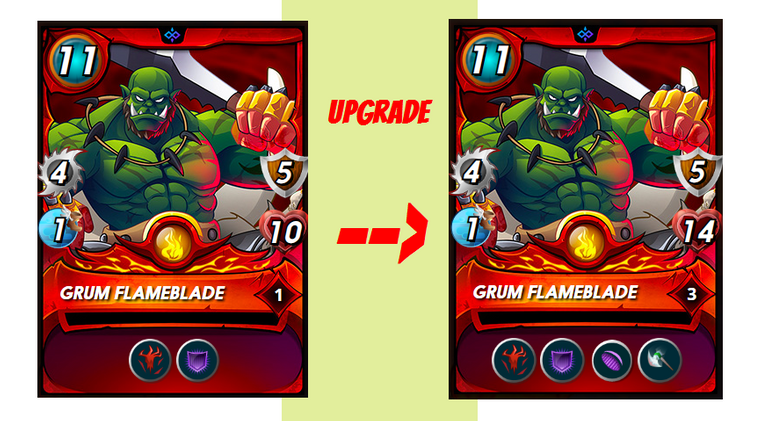 Se decido di acquistare subito 2 carte Grum Flameblade di livello 1 devo sostenere un costo totale di 19.94$.

Le carte di Splinterlands si possono comprare utilizzano due metodi di pagamento:
Per l'acquisto ho deciso di utilizzare i token DEC e per calcolare il valore di 19.94$ in token DEC devo considerare i valori di mercato attuali dei token DEC e HIVE.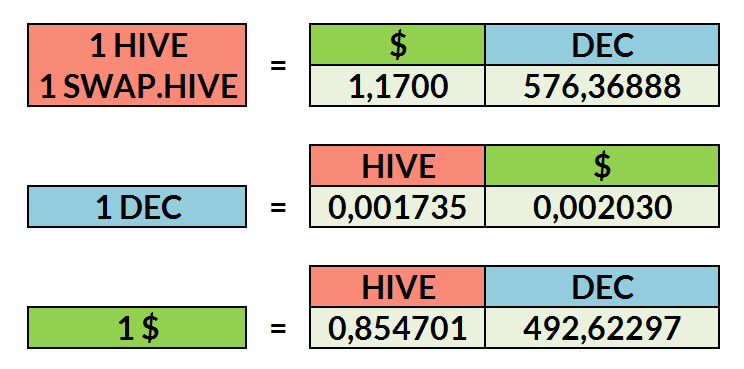 19.94 dollari corrispondono ad un valore equivalente di 9822.9020 token DEC.


Le offerte di acquisto (BID) su Peakmonsters

Fino ad oggi ho sempre utilizzato:
Peakmonsters per vendere le carte e per acquistare le carte tramite offerte di acquisto BID
Monstermarkets per acquistare le carte immediatamente al prezzo di mercato perchè Monstermarkets offre un cashback del 3% sull'acquisto effettuato.
Nel caso di Grum Flameblade ho deciso di utilizzare l'utile funzionalità delle offerte d'acquisto che solo Peakmonsters permette di eggettuare.
Ho deciso di fare due offerte BID invece di acquistare subito le carte per due motivi:
Primo motivo: l'offerta di acquisto più alta (Highest BID) presente sul mercato è inferiore di quasi 0.9$ rispetto al prezzo di acquisto più basso.
E'un buon margine per effettuare due offerte BID e cercare di risparmiare sull'acquisto.


Secondo motivo: il valore attuale dei token DEC è basso rispetto ai giorni scorsi e in questa situazione preferisco vendere (per ottenere un numero maggiore di DEC) invece di comprare ma se decido di comprare voglio cercare di ottenere un possibile risparmio.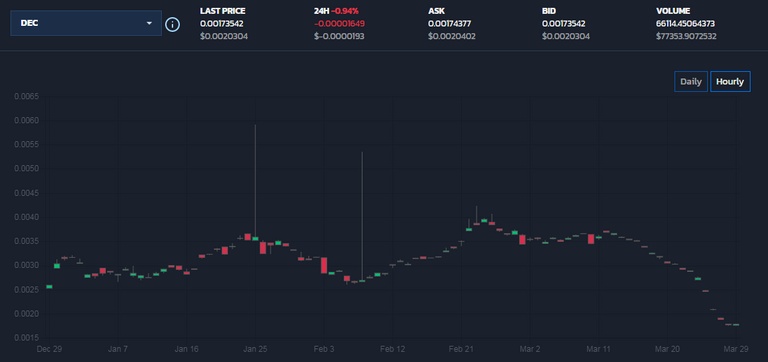 Decisione presa!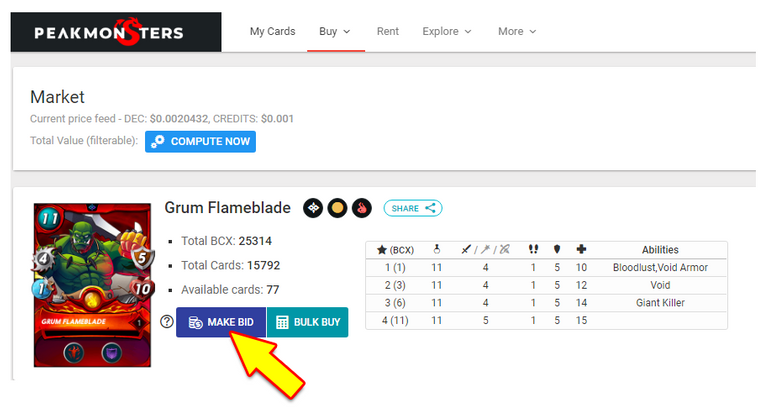 Ho inserito due offerte BID del valore di 9.025$ l'una e nell'immagine seguente puoi vedere i valori che ho inserito nella schermata di configurazione delle offerte di acquisto di Peakmonsters.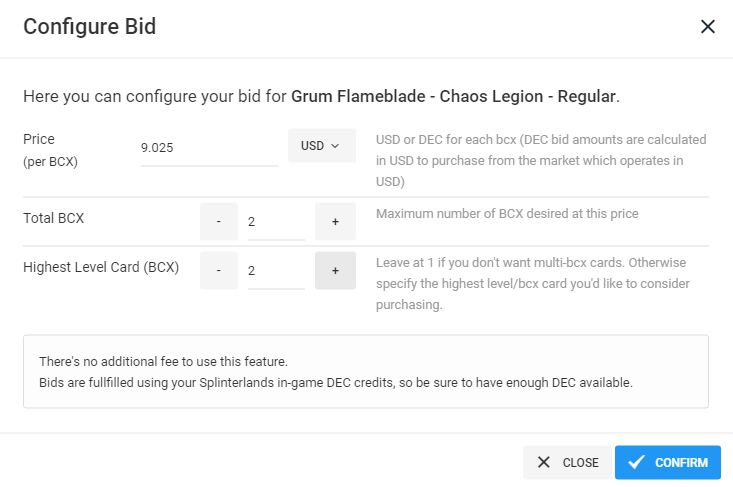 ---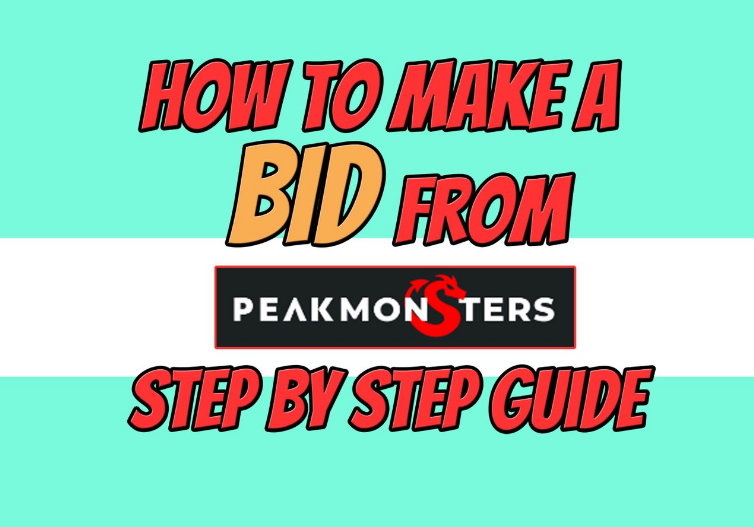 La possibilità di effettuare offerte di acquisto è solo una delle tante utilità che Peakmonsters mette a disposizione dei giocatori di Splinterlands.
Se vuoi effettuare anche tu delle offerte BID su Peakmonsters ma non sai come fare puoi leggere la guida passo passo che ho scritto tempo fa:
How to make a BID from PeakMonsters: step by step guide.
---
Se le mie offerte di acquisto saranno accettate da qualche venditore avrò speso in totale 18.05$ invece di 19.94$ con un risparmio rispetto all'acquisto immediato dell'8.10% che è anche superiore al risparmio del 3% che avrei ottenuto utilizzando Monstermarket.

Questo acquisto, se realizzato, mi permetterà anche di avvicinarmi al livello 5 su Peakmonsters che mi garantirebbe un airdrop settimanale di 4.327 token PKM.

I token PKM

I token PKM sono gli utility token rilasciati recentemente da Peakmonsters (issuer: @pkm-token).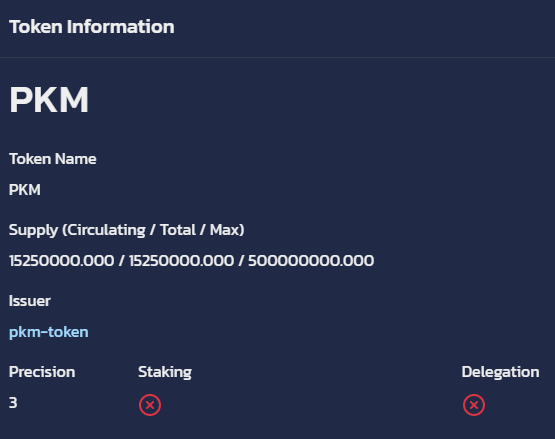 Io ho ricevuto 75 token PKM dall'airdrop iniziale e in base al mio livello attuale su Peakmonsters (livello 4) dovrei ricevere ogni settimana 1.442 token PKM.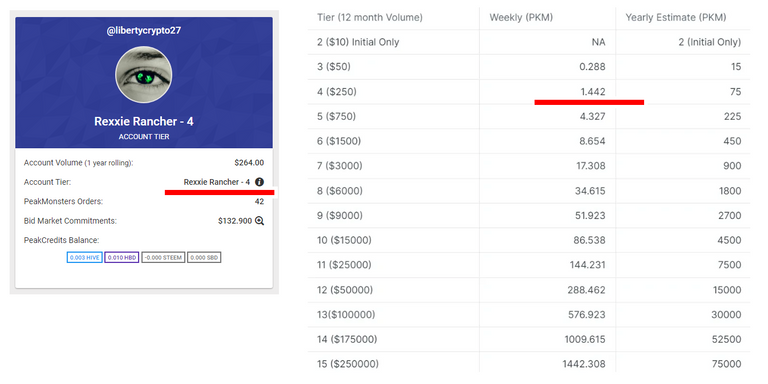 Oltre all'airdrop settimanale i token PKM si possono guadagnare come premio per gli acquisti effettuati utilizzando la sezione Buy di Peakmonsters e il quantitativo di token PKM ricevibili dipende dai valori di acquisto indicati nella seguente tabella.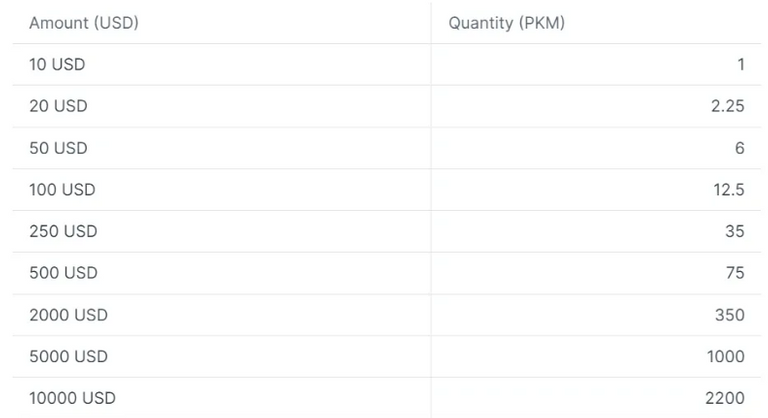 Ma poichè il prezzo di acquisto di Grum Flameblade è inferiore a 10 dollari non riceverò token PKM se il mio acquisto andrà in porto ma sarò comunque soddisfatto perchè avrò risparmiato un quantitativo di token DEC che potrò utilizzare per acquistare nuove carte.

Conclusione

Il potenziamento di Grum Flameblade mi permetterà di aumentare la foza in battaglia della mia collezione di carte ma per tornare a giocare nelle leghe Champion di Splinterlands devo continuare ad investire.
Grazie per aver letto il mio post che spero ti sia piaciuto e grazie per avermi dedicato il tuo tempo e se hai piacere seguimi per conoscere i miei prossimi acquisti e leggere i miei prossimi post su Splinterlands.
Splinterlands = Play 2 Earn!

Non sei un giocatore di Splinterlands?


---
Splinterlands è un bellissimo gioco e si è dimostrato anche un ottimo investimento (almeno fino ad ora) e se partecipi regolarmente ai contest settimanali organizzati dall'account @splinterlands recuperi il costo di iscrizione (10$) in poche settimane.
Se decidi di registrarti, puoi farlo da questo link:
https://splinterlands.com?ref=libertycrypto27
ovviamente se hai piacere ad usare il mio refferal link... :)
---
Ogni gioco che prevede l'acquisto di carte e di token non è mai un semplice gioco ma è anche un investimento e come tale va considerato.
Io non sono un consulente finanziario e se decidi di investire nel gioco di Splinterlands lo fai per tua scelta, dopo aver fatto le tue personali valutazioni e considerato tutti i possibili fattori di rischio.
Il mio consiglio è di investire sempre e solo quello che puoi permetterti di perdere a cuor leggero.

Una selezione dei miei precedenti post su Splinterlands


Se non diversamente indicato, le immagini presenti in questo post sono screenshots presi dai siti:
https://splinterlands.com/
https://peakmonsters.com/
https://peakmonsters.com/market
https://www.splintercards.com/
https://tribaldex.com/
Le immagini che contengono calcoli, tabelle e formule sono di mia proprietà
Il font usato nelle immagini mie o da me editate è Open Source
The dividers with the Hive logo in this post were created by me and if you like them you can use them too, the Hive logo is property of https://hive.io/
---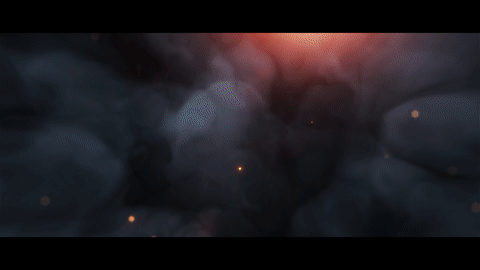 Gif by @splinterlands
---


---
---