My End-of-season considerations + my end-of-season reward / Considerazioni sulla fine di stagione + la mia ricompensa di fine stagione (ENG/ITA)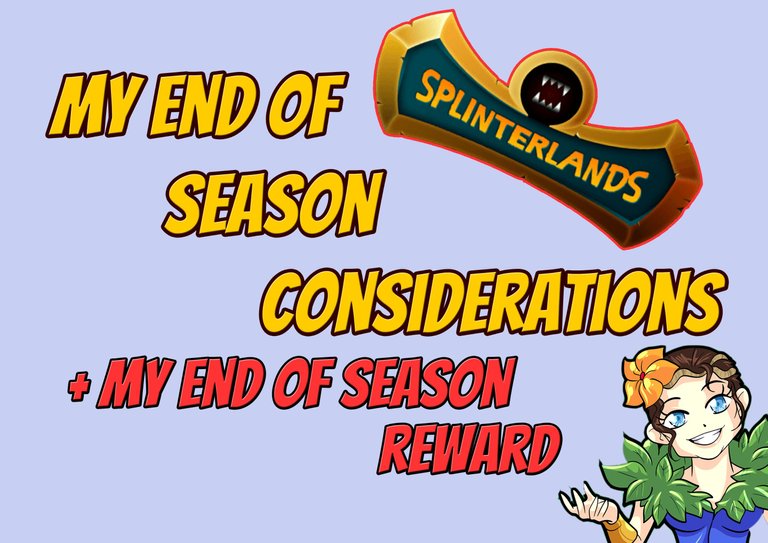 Logo and Card images owned by @splinterlands - Edit by @libertycrypto27- Font used is Open Source
---
La versione in italiano è subito dopo la versione in inglese - The Italian version is immediately after the English version
---
My end of season considerations + my end of season reward
---
Hello Hivers and Splinterlands players,
July 15, 2021 marked the end of another season of my favorite blockchain-based game, Splinterlands.
The one that just ended is my 43 season of Splinterlands.
For several seasons now I have been following my own strategy of renting cards from the Peakmonsters market on the last two days of the season with the goal of increasing my power score and trying to finish the season in the Splinterlands Champion leagues.
The last two days of the season I was able to try the new in-game rental system of Splinterlands and I must say that I found it very good.
For the rental I used the Rentals section of the Peakmonsters website which immediately adapted to the new system.
Renting from the Peakmonsters site is much easier and faster because there are so many filters available that make the whole rental process much more efficient.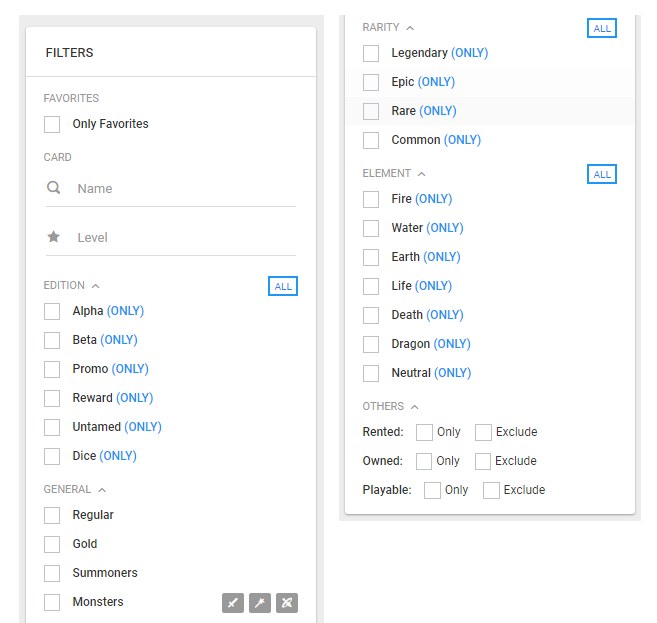 Lately there have been added other very useful filters that allow you to filter the cards by level and so the next time I rent cards I will do the whole operation in even less time.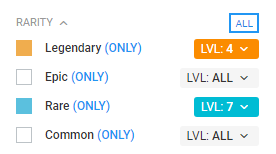 If you use to rent Splinterlands cards my advice is to use Peakmonsters website (https://peakmonsters.com/).
My End-of-season considerations
My goal for several seasons of Splinterlands is to finish the season at least in Champion III league.
My starting point was the Gold I league, a rating score of 2767 points and a power score of 270000 points.
For the second season in a row I failed to reach my minimum goal and had to settle for finishing the season in the Diamond I league.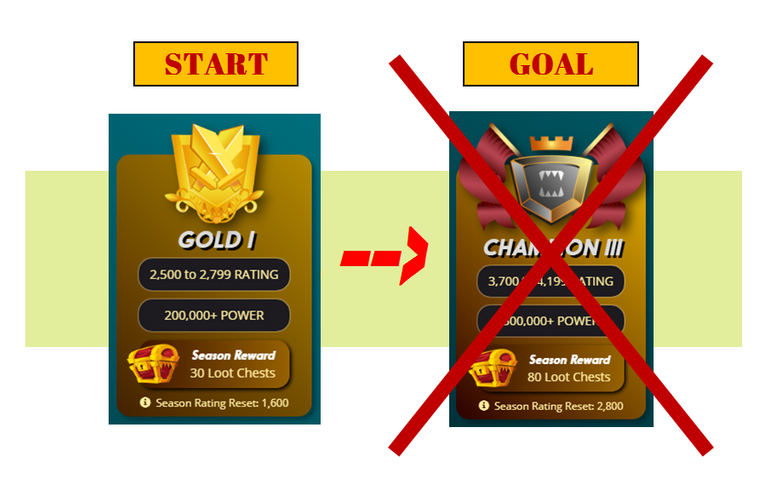 Still, I came very close to my goal because my highest rating score was 3673 points and I was only 27 points away from the Champion III league.

I finished the season at position number 216 in the Diamond league leaderboard and with a rating score of 3336 points.

Compared to the previous season I played 16 fewer battles but slightly improved my win rate from 50.67% to 51.83%.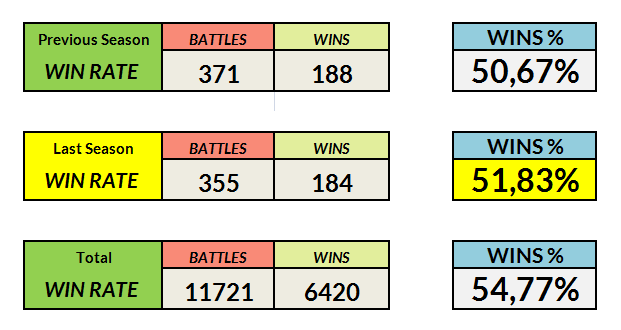 The Power score of my card collection allows me to reach the Diamond III league at most.
In order to have the possibility to access the Champion III league I rented some cards.
In the following list you can see all the cards I have rented since the penultimate day before the end of the season:
Silvershield Assassin ★ 8
I rented a total of 43 cards (5 summoner cards and 38 monster cards).
The cards I rented allowed me to achieve a Power score of 688000 points.
I spent a total of 1923,686 DEC tokens.
Today July 17, 2021 the value of 1923,686 DEC tokens is $2.71 (Highest Bid on Hive Engine/LeoDex/TribalDex).

Despite going over the rental budget I set for myself ($2.2) I didn't reach my goal.
The most expensive card I rented was the Red Dragon card, Level 4 which I rented for one day only and for which I spent 85 DEC tokens.
Like the previous one, this last season was not very positive in terms of my gaming goals.
Will it at least have been positive financially?
---
My end of season reward
---
For finishing the season in Diamond I league I received 60 chests.
In the following image you can see the cards I found inside the 60 chests.
---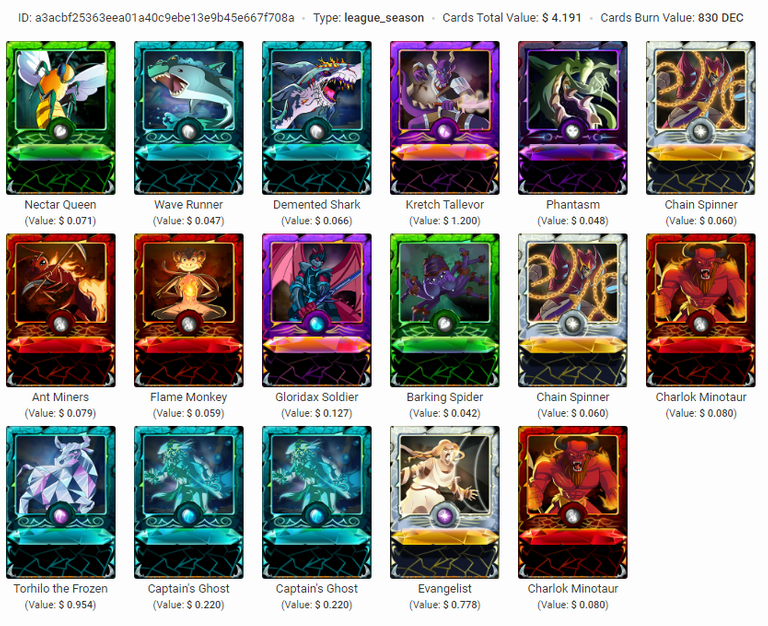 ---
I found 17 cards out of 60 chests.
The chests can contain three types of rewards: Cards, DECs, Potions.
The probability of finding a card in each chest is exactly 1/3, so I was slightly unlucky because I found a below average number of cards: 17 cards instead of 20 (60/3= 20).
I found:
11 common cards
3 rare cards,
3 epic cards (1 summoner card),
no legendary cards
no gold cards
The most valuable card I found is the Kretch Tallevor summoner card which has a market value of $1.2 and a DEC conversion value of 200.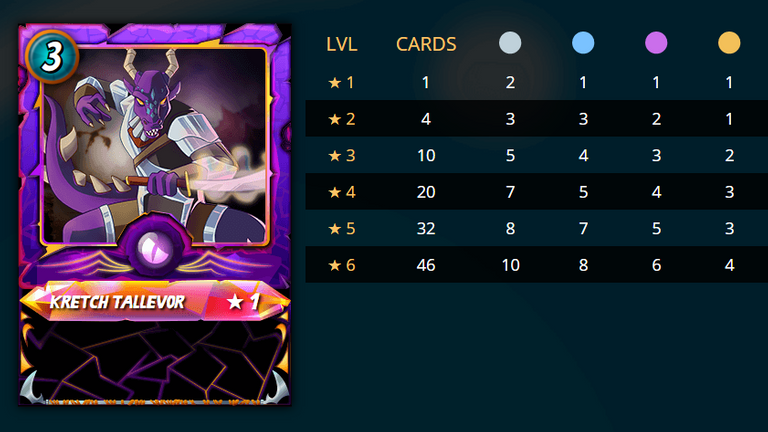 Over the next few days I will be looking to optimize my card collection:
sell cards that I don't use in battle
I will buy cards useful in battle or cards to upgrade cards that I already have in my card collection.
The total value of the cards I found inside the chests is 4,191 $
---
DEC and Potions
---
I also found 16 Potions and a total of 6974 DEC tokens.
Based on the current value of DEC tokens (July 17, 2021), 6974 DEC equals the value of 32.08 HIVE (Highest BID on LeoDex/HiveEngine)

The dollar value of 6974 DEC tokens is $9.82
---
Conclusion
---
Now I'm going to do some calculations to determine the total value of my seasonal reward net of the rental costs I incurred:
total card rental cost: 2.71 $
total value of the cards found in the chests: 4,191 $
total value of DEC tokens found in chests: 9.82 $
After a long time, the value of the total amount of DEC tokens I found inside the chests exceeds the total value of the cards I received as rewards.
Even though I spent more from the card rental than the previous season I close with a profit slightly lower than the previous season.
I made a profit of - $2.71 + $4.191 + $9.82 = +$11,301 (previous season: +$11,618).
I didn't find any legendary cards or gold cards inside the chests but I'm still happy with the reward I received.
I'm also happy to have found 16 potions because I have 47 packs of Untamed cards still to be opened and that I haven't opened yet because I didn't have enough alchemical and legendary potions to use.
---
I hope you liked this post and thank you for reading and taking the time to read it :)
You're not a Splinterlands player?
---

---
Splinterlands is a beautiful game and it has proved to be a very good investment (at least until now) and if you participate regularly to the weekly contests organized by the @splinterlands account you will recover the registration cost (10$) in few weeks.
If you decide to register, you can do it from this link:
https://splinterlands.com?ref=libertycrypto27
Of course if you'd like to use my refferal link.... :)
---
Any game that allows the purchase of cards and tokens is never a simple game but is also an investment and should be considered as such.
I am not a financial advisor and if you decide to invest in the game of Splinterlands you do it for your own choice and at your own risk.
---
See you on the battlefields of Splinterlands.
---
Unless otherwise indicated, the images in this post are screenshots taken from the sites:
https://splinterlands.com/
https://peakmonsters.com/
Images containing calculations and formulas are my property
The font used in my images or edited by me is Open Source
---
HIVE ON and Splinterlands ON!
---

---

---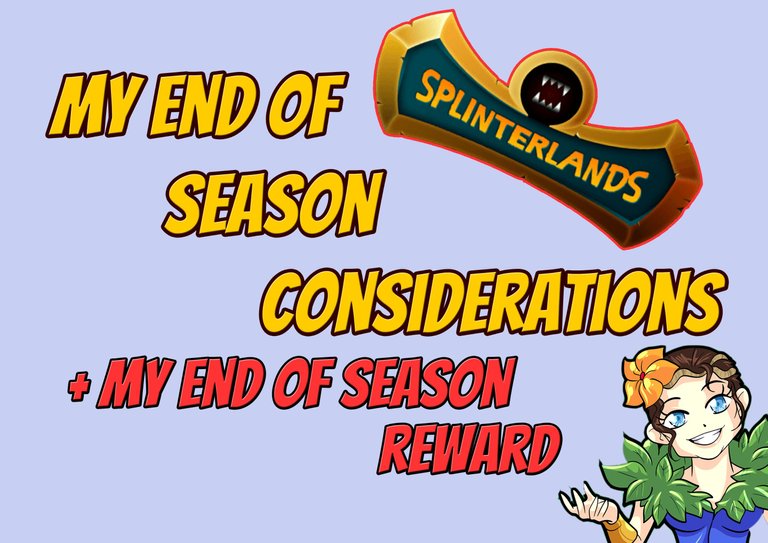 Logo and Card images owned by @splinterlands - Edit by @libertycrypto27- Font used is Open Source
---
Considerazioni sulla fine di stagione + la mia ricompensa di fine stagione
---
Ciao Hivers e giocatori di Splinterlands,
il 15 luglio 2021 è terminata un'altra stagione del mio gioco basato su blockchain preferito: Splinterlands.
Quella appena conclusa è la mia 43 stagione di Splinterlands.
Da diverse stagioni seguo una mia strategia che prevede di noleggiare carte dal mercato di Peakmonsters negli ultimi due giorni della stagione con lo scopo di aumentare il mio punteggio power e cercare di terminare la stagione nelle leghe Champion di Splinterlands.
Gli ultimi due giorni della stagione ho potuto provare il nuovo sistema di noleggio interno al gioco di Splinterlands e devo dire che mi sono trovato molto bene.
Per il noleggio ho utilizzato la sezione Rentals del sito di Peakmonsters che si è subito adeguato al nuovo sistema.
Noleggiare dal sito di Peakmonsters è molto più facile e veloce perchè ci sono tanti filtri a disposizione che rendono tutta l'operazione di noleggio decisamente più performante.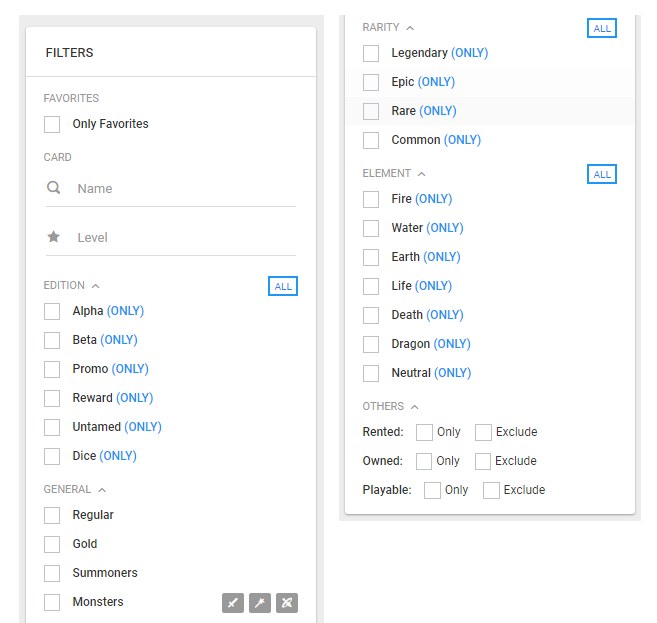 Ultimamente sono stati aggiunti anche altri filtri molto utili che permettono di filtrare le carte anche in base al livello e quindi la prossima volta che noleggerò delle carte farò tutta l'operazione in un tempo ancora minore.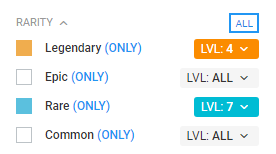 Se usi noleggiare carte di Splinterlands il mio consiglio è di usare il sito di Peakmonsters (https://peakmonsters.com/).
---
My End-of-season considerations
---
L'obbiettivo che mi pongo da tempo per le stagioni di Splinterlands è di terminare la stagione almeno in lega Champion III.
Il mio punto di partenza era la lega Gold I, un punteggio di rating di 2767 punti e un punteggio power di 270000 punti.
Per la seconda stagione consecutiva non sono riuscito a raggiungere il mio obbiettivo minimo e mi sono dovuto accontentare di terminare la stagione in lega Diamond I.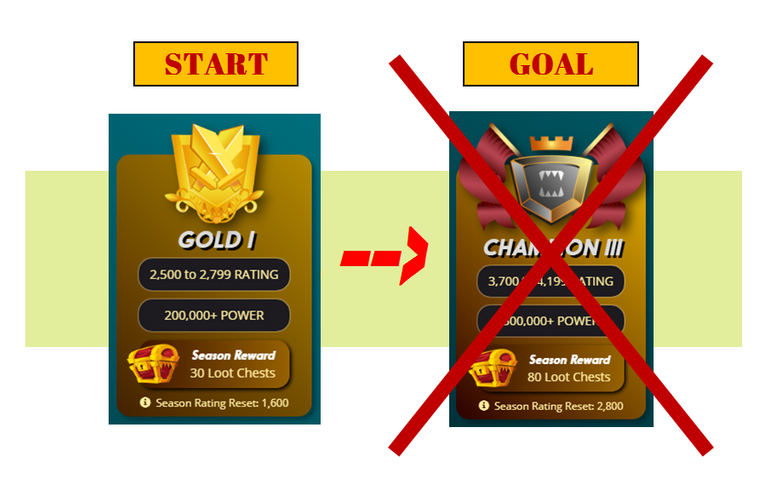 Eppure sono arrivato molto vicino al mio obbiettivo perchè il mio punteggio di rating più alto è stato di 3673 punti e quindi ero a solo 27 punti dalla lega Champion III.

Ho terminato la stagione alla posizione numero 216 della classifica della lega Diamond e con un punteggio di rating di 3336 punti.

Rispetto alla stagione precedente ho giocato 16 battaglie in meno ma ho leggermente migliorato il mio win rate che è aumentato da 50.67% a 51.83%.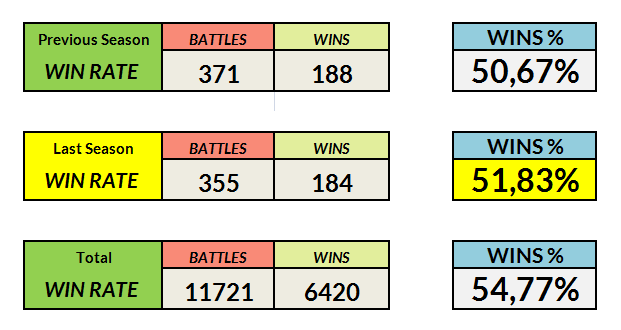 Il punteggio Power della mia collezione di carte mi permette di raggiungere al massimo la lega Diamond III.
Per avere la possibilità di accedere alla lega Champion III ho noleggiato alcune carte dal mercato di PeakMonsters (https://peakmonsters.com/).
Nell'elenco seguente puoi vedere tutte le carte che ho noleggiato a partire dal penultimo giorno prima della fine della stagione:
Silvershield Assassin ★ 8
Ho noleggiato in totale 43 carte (5 carte evocatore e 38 carte mostro).
Le carte che ho noleggiato mi hanno permesso di raggiungere un punteggio Power di 688000 punti.
Ho speso in totale 1923.686 token DEC.
Oggi 17 luglio 2021 il valore di 1923.686 token DEC è di 2.71$ (Highest Bid su Hive Engine/LeoDex/TribalDex).

Nonostante ho sforato il budget per il noleggio che mi ero prefissato (2.2$) non ho raggiunto il mio obbiettivo.
La carta più costosa che ho noleggiato è stata la carta Red Dragon, Level 4 che ho noleggiato per un giorno solo e per la quale ho speso 85 token DEC.
Come la precedente anche quest'ultima stagione non è stata molto positiva per quanto riguarda i miei obbiettivi di gioco.
Sarà stata almeno positiva dal punto di vista economico?
---
La mia ricompensa di fine stagione
---
Per aver terminato la stagione in lega Diamond I ho ricevuto 60 forzieri.
Nell'immagine seguente puoi vedere le carte che ho trovato all'interno dei 60 forzieri.
---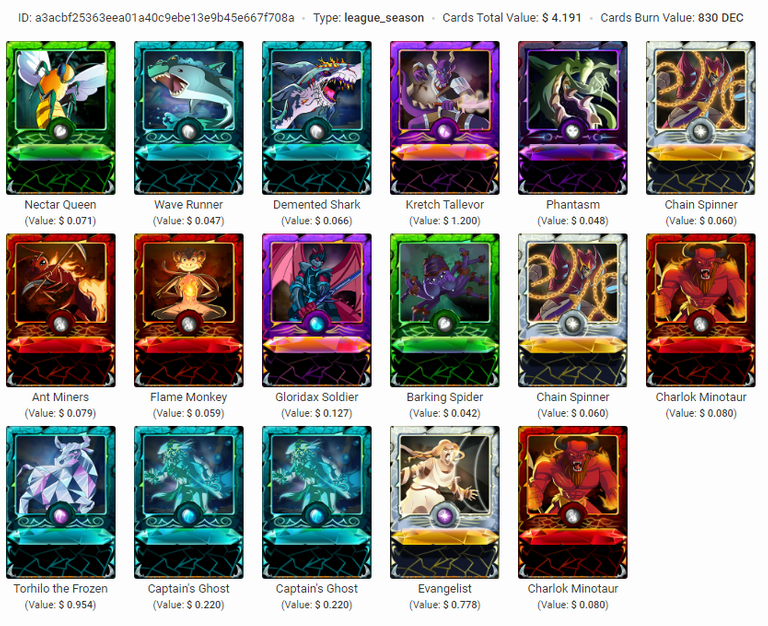 ---
Ho trovato 17 carte su 60 forzieri.
I forzieri possono contenere tre tipologie di premi: Carte, DEC, Pozioni.
La probabilità di trovare una carta in ogni forziere è esattamente di 1/3 e quindi sono stato leggermente sfortunato perchè ho trovato un numero di carte sotto la media (60/3= 20).
Ho trovato:
11 carte comuni
3 carte rare,
3 carte epiche (1 carta evocatore),
nessuna carta leggendaria
nessuna carta d'oro
La carta di maggior valore che ho trovato è la carta evocatore Kretch Tallevor che ha un valore di mercato di 1.2$ e un valore di conversione in DEC di 200.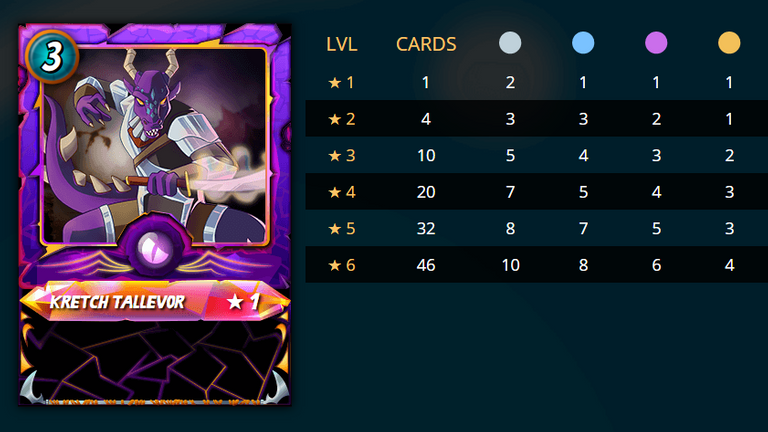 Nei prossimi giorni cercherò di ottimizzare la mia collezione di carta:
venderò carte che non uso in battaglia
acquisterò carte utili in battaglia o carte per potenziare carte che ho già nella mia collezione di carte.
Il valore totale delle carte che ho trovato all'interno dei forzieri è di 4.191 $
---
DEC e Pozioni
---
Ho trovato anche 16 Pozioni e un totale di 6974 token DEC.
In base al valore attuale dei token DEC (17 luglio 2021), 6974 DEC equivalgono al valore di 32.08 HIVE (Highest BID su LeoDex/HiveEngine)

Il valore in dollari di 6974 token DEC è di 9.82 $
---
Conclusione
---
Adesso faccio un po di calcoli per determinare il valore totale della mia ricompensa stagionale al netto dei costi di noleggio che ho sostenuto:
costo totale noleggio carte: 2.71 $
valore totale delle carte trovate nei forzieri: 4.191 $
valore totale dei token DEC trovati nei forzieri: 9.82 $
Dopo tanto tempo il valore del totale dei token DEC che ho trovato all'interno dei forzieri supera il valore complessivo delle carte ricevute come ricompensa.
Anche se ho speso di più dal noleggio delle carte rispetto alla precedente stagione chiudo con un profitto di poco inferiore alla precedente stagione.
Ho ottenuto un profitto di - 2.71 $ + 4.191 $ + 9.82 $ = +11.301 $ (stagione precedente: +11.618 $).
Non ho trovato all'interno dei forzieri carte leggendarie o carte d'oro ma sono comunque soddisfatto della ricompensa che ho ricevuto.
Sono contento anche di aver trovato 16 pozioni perchè ho 47 pacchi di carte Untamed ancora da aprire e che non ho ancora aperto perchè non avevo sufficienti pozioni alchemiche e leggendarie da utilizzare.
---
Spero che questo post ti sia piaciuto e ti ringrazio per la lettura e per avermi dedicato il tuo tempo :)
---
Non sei un giocatore di Splinterlands?
---

---
Splinterlands è un bellissimo gioco e si è dimostrato anche un ottimo investimento (almeno fino ad ora) e se partecipi regolarmente ai contest settimanali organizzati dall'account @splinterlands recuperi il costo di iscrizione (10$) in poche settimane.
Se decidi di registrarti, puoi farlo da questo link:
https://splinterlands.com?ref=libertycrypto27
ovviamente se hai piacere ad usare il mio refferal link... :)
---
Ogni gioco che prevede l'acquisto di carte e di token non è mai un semplice gioco ma è anche un investimento e come tale va considerato.
Io non sono un consulente finanziario e se decidi di investire nel gioco di Splinterlands lo fai per tua scelta e a tuo rischio.
---
Ci vediamo sui campi di battaglia di Splinterlands.
---
Se non diversamente indicato, le immagini presenti in questo post sono screenshots presi dai siti:
https://splinterlands.com/
https://peakmonsters.com/
Le immagini che contengono calcoli e formule sono di mia proprietà
Il font usato nelle immagini mie o da me editate è Open Source
---

---
---
---