The Upcoming changes in Ranked Battles + My latest card upgrades (ENG/ITA)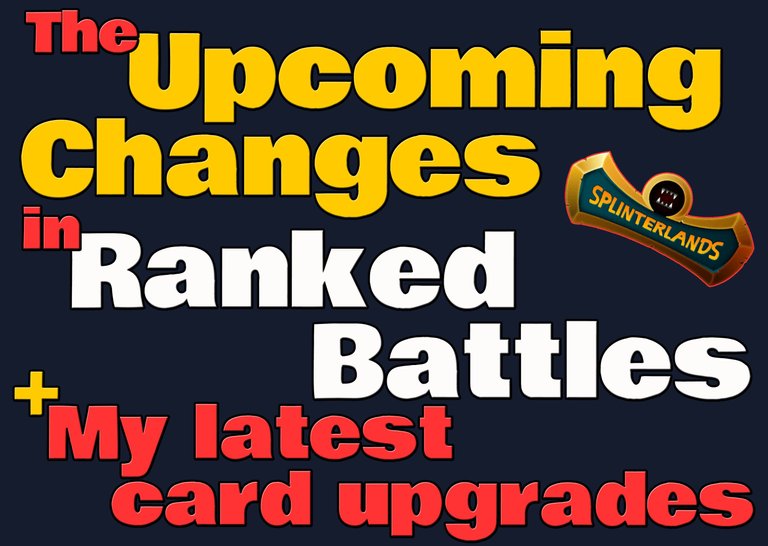 Splinterlands Logo owned by @splinterlands - Edit by @libertycrypto27 - Fonts used are Open Source
---

La versione in italiano è subito dopo la versione in inglese - The Italian version is immediately after the English version

Upcoming changes in Ranked Battles + My latest card upgrades

Yesterday, Splinterlands published a post in which it announced some changes to the Ranked battles mechanisms that will be applied starting next season (February 28, 2023) and will therefore take effect from the end of the season following the current one (mid-March 2023).
These are all changes that I consider to be positive and I thought I would share them in this post by adding some of my own considerations.
The first change relates to the Mana Cap of the various leagues.
There will be no change in the Min Mana Cap which will remain the same at 12.
Instead, the Max Mana Cap in the Novice, Bronze and Silver leagues will change.
For all leagues, the probability of receiving a High Mana Battle** (99 Mana) will be **reduced from 4% to 2%.
I have summarized the upcoming changes to the Mana Cap of Ranked Battles in a table (see image below)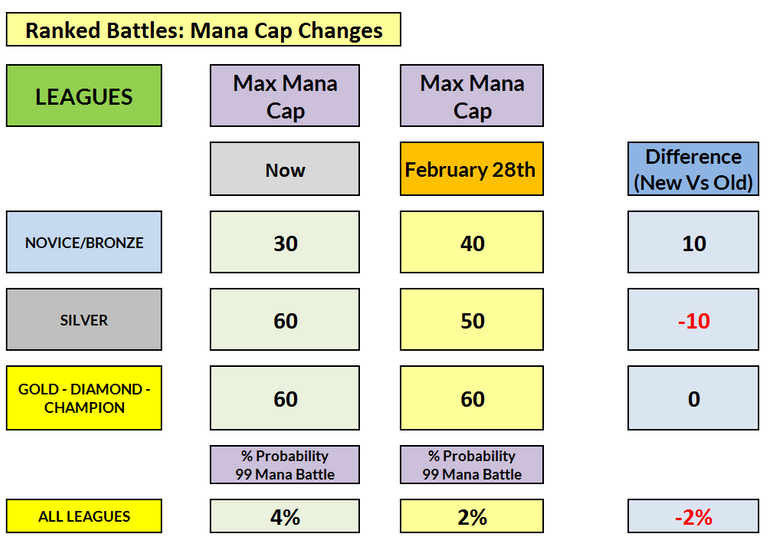 The second change concerns the Season Rating Reset which has been reduced for all leagues except for the Novice league where it has been eliminated.
I constructed a table in which I reported the changes announced by Splinterlands and added 4 columns to show the difference with the old rating reset system.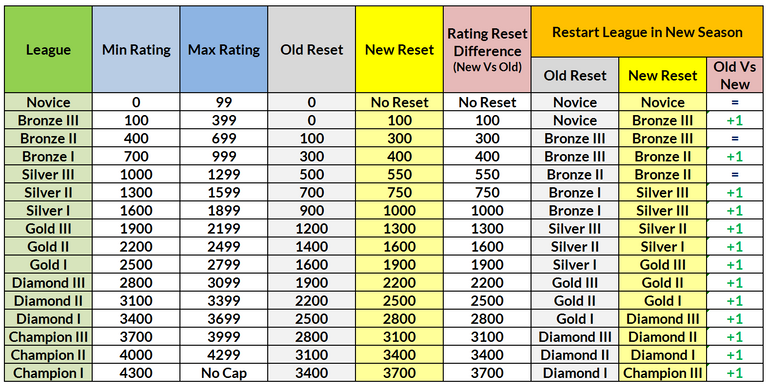 This is a change I really like because it is an incentive to play and advance in the leagues.
When this change is active, those who finish in the Gold I, Diamond I and Champion I leagues will not have to start again from a lower league but will find themselves starting in the same Gold (III), Diamond (III) and Champion (III) league in which they finished the season and will be able to receive better daily rewards (chests and SPS tokens) from the beginning of the season than under the old rating mechanism.
Another change that I like is that those who do not play during an entire season will not have their rating reset and can restart from their previous rating score.
The big news, however, relates to the Novice league which, with the unresettable rating score, will be freed from bots playing in Bronze+ leagues.
A new player will then be able to start his adventure on Splinterlands in the best way possible, and to make it easier to start battles Splinterlands will introduce bots that will have a low average level of play and whose only function will be to improve the experience of new players who, once they pass the 100-point rating score, will no longer be able to return to the Novice league.
The introduction of Splinterlands-owned bots that do not receive rewards but play a useful role in the Splinterlands ecosystem is an idea I really like and is also an idea used successfully in many popular web 2.0 PvP games.
I would love to see the application of these bots expanded to all Splinterlands leagues in the future and all other private bots finally banned.
I don't know if it will happen in the future but I hope so and I like to imagine that I see in this change an initial willingness of Splinterlands to finally ban private bots that in my opinion are absolutely counterproductive to the Splinterlands ecosystem and are counterproductive to the ecosystem of any PvP game.

My latest card upgrades

I also like the upcoming changes announced by Splinterlands also because they will positively impact my current game goal: being able to play in the Diamonds leagues of the Wild format from the earliest days of the season.
Between the two formats Wild and Format I chose to play in the Wild format because it allows me to accumulate more SPS tokens per battle won than the Modern format and because I set an accumulation goal for SPS tokens: 100K SPS staked.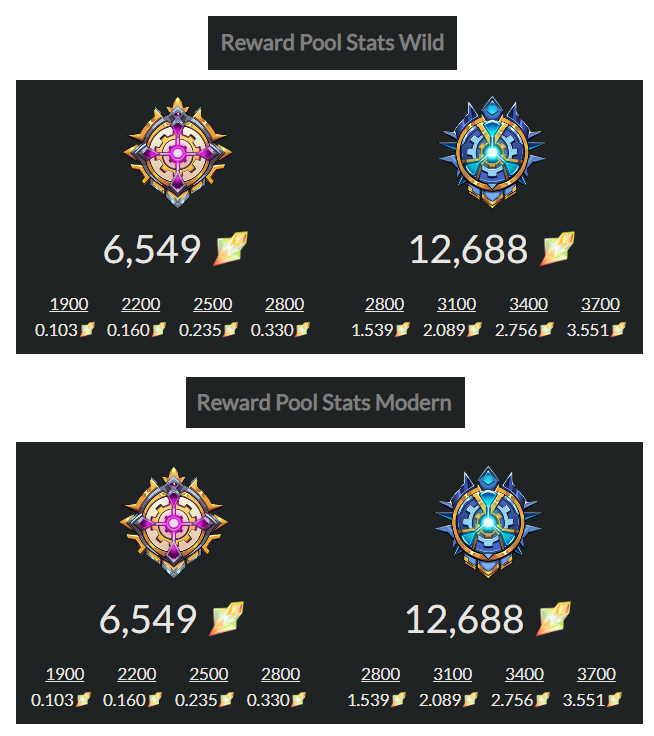 Screenshot from https://splex.gg/tools/reward_pools.
---
For several months now, I have been trying to increase the battle strength of my card collection in order to achieve my game goal, and to do so I have sold cards that I was not using in battle and purchased cards that I found useful in battle.
The effects of the activity of optimizing my card collection have been definitely positive so far.
Until a few months I would finish Splinterlands seasons in Gold League I or I would only get to Diamond League III on the last day of the season while today that there are almost 4 days left until the end of the season I am already in Diamond League III.

My progress is good but still not enough to reach my game goal and I need to keep making purchases/upgrades of useful cards in battle.
In my previous post on Splinterlands, I showed my purchase/upgrade goals related to cards of summoner type and placed some purchase bids (bids) via the Make Bid feature of https://peakmonsters.com/
Many of those purchase bids have been accepted but I still have $65 in purchase bids waiting to be accepted by some vendor.
In my previous Splinterlands post I shared my purchase/upgrade goals related to cards of summoner type and placed some purchase bids (bids) via the Make Bid feature of https://peakmonsters.com/
Many of those purchase bids have been accepted but I still have $65 in purchase bids waiting to be accepted by some vendor.

Thanks to my most recent purchases through Bid offers I have made the apgrade of:
Keyla Frendul: from level 6 to level 7.
Obsidian: from level 6 to level 7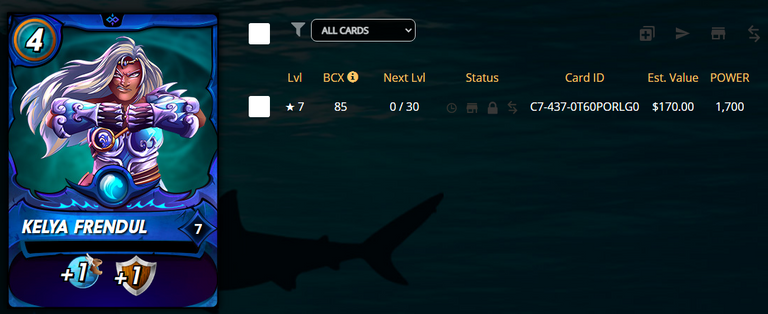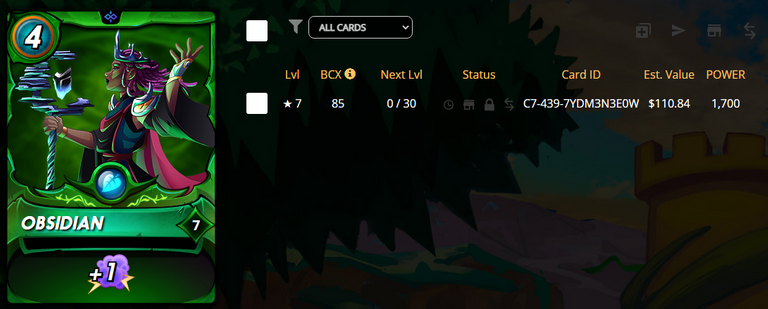 I have not been able to upgrade to level 7 of Tarsa yet because I still have unaccepted purchase offers but I hope they will be accepted soon otherwise I will raise my purchase offers.

Today I am also happy because I was able to achieve another ugrade goal of mine: to upgrade my Delwyn Dragonscale summoner card to level 9.
In my collection I have 1 Delwyn Dragonscale of level 8 + another 53 BCX.
Four days ago I purchased 12 BCX of Delwyn Dragonscale but I miscounted because I needed 13 BCX to upgrade from level 8 to level 9.

I was one BCX short and decided to purchase it right away from https://monstermarket.io/ even though the cost was $0.6 more than I spent to purchase the last 12 BCXs through the bids.

During the last days of the previous season in the Diamond III and Diamond II leagues I could only use one top-level summoner (Daria Dragonscale) to summon my top-level cards.
Today I still have only one maximum level summoner but I have Kelya Frendul and Obsidian of 7 level and I have Delwyn Dragonscale of 9 level that allow me to use my maximum level legendary cards in battle.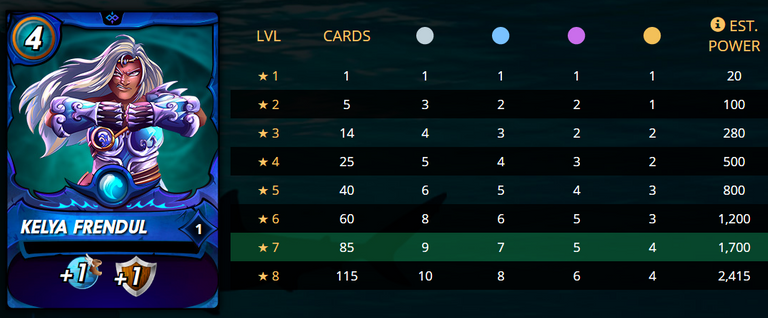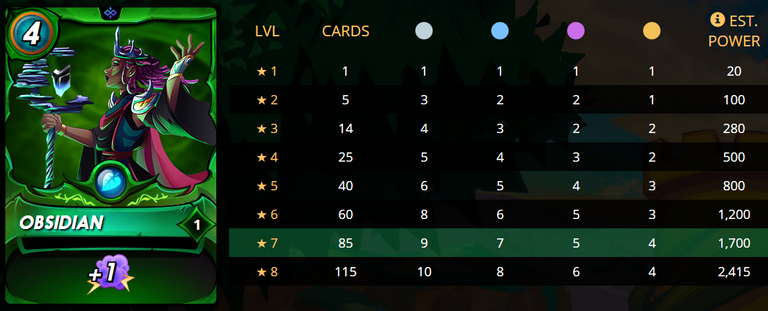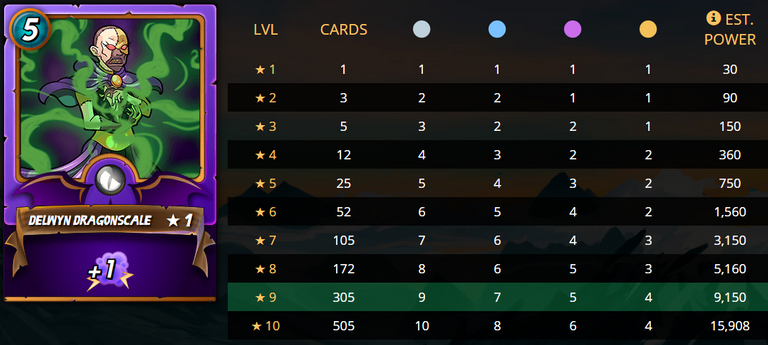 Will these latest upgrades of mine be enough to finish in the Diamond I league this season?
In all probability not but even today I made one more step towards my game goal!
I hope I have given you useful information and thank you for taking the time to read this post :)


Are you not a Splinterlands player?

Splinterlands is a beautiful game and has also proven to be a very good investment for me (at least so far)
If you decide to register, you can do it from this link:
https://splinterlands.com?ref=libertycrypto27
of course if you'd like to use my refferal link... :)
---
Any game that allows the purchase of NFTs and tokens is never just a game but is also an investment and should always be considered as such.
I am not a financial advisor and if you decide to invest in the Splinterlands game you do so by your own choice, after making your personal evaluations and after considering all possible risk factors.
My advice is to always invest only what you can afford to lose with a light heart!
---
See you on the battlefields of Splinterlands.

A selection of my previous Splinterlands posts


Unless otherwise indicated, the images in this post are screenshots taken from the sites:
https://splinterlands.com/
https://peakmonsters.com/
https://monstermarket.io/
https://splex.gg/tools/reward_pools
Images containing calculations, tables and formulas are my property
The font used in my images or edited by me is Open Source
The dividers with the Hive logo in this post were created by me and if you like them you can use them too, the Hive logo is property of https://hive.io/
HIVE ON and Splinterlands ON!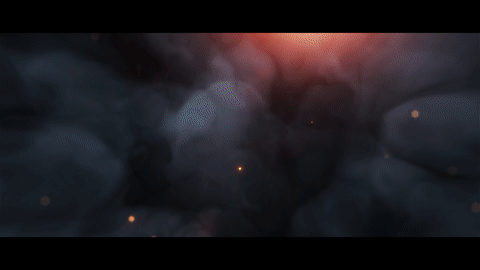 Gif by @splinterlands
---




My Card Collection Optimization: Focus sugli Evocatori e l'utilità delle offerte di acquisto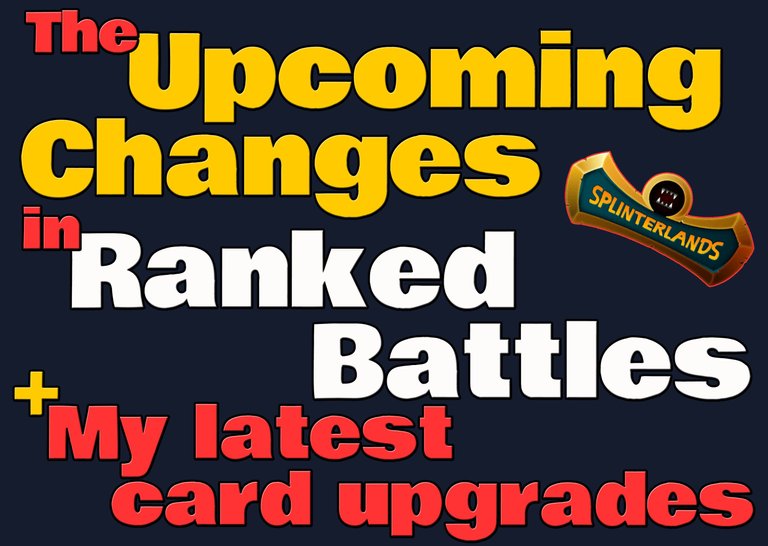 Splinterlands Logo owned by @splinterlands - Edit by @libertycrypto27 - Fonts used are Open Source

Ieri Splinterlands ha pubblicato un post in cui ha comunicato alcuni cambiamenti ai meccanismi delle Ranked battles che saranno applicati a partire dalla prossima stagione (28 febbraio 2023) e che quindi produrranno effetti a partire dalla fine della stagione successiva a quella attualmente in corso (metà marzo 2023).
Sono tutti cambiamenti che considero positivi e ho pensato di condividerli in questo post aggiungendo alcune mie considerazioni.
Il primo cambiamento riguarda il Mana Cap delle varie leghe.
Non subirà modifiche il Min Mana Cap che rimmarrà uguale a 12.
Cambierà invece il Max Mana Cap nelle leghe Novice, Bronze e Silver.
Per tutte le leghe verrà ridotta la probabilità di ricevere una High Mana Battle (99 Mana) che passerà dal 4% al 2%.
Ho sintetizzato le prossime modifiche al Mana Cap delle Ranked Battles in una tabella (vedi immagine seguente)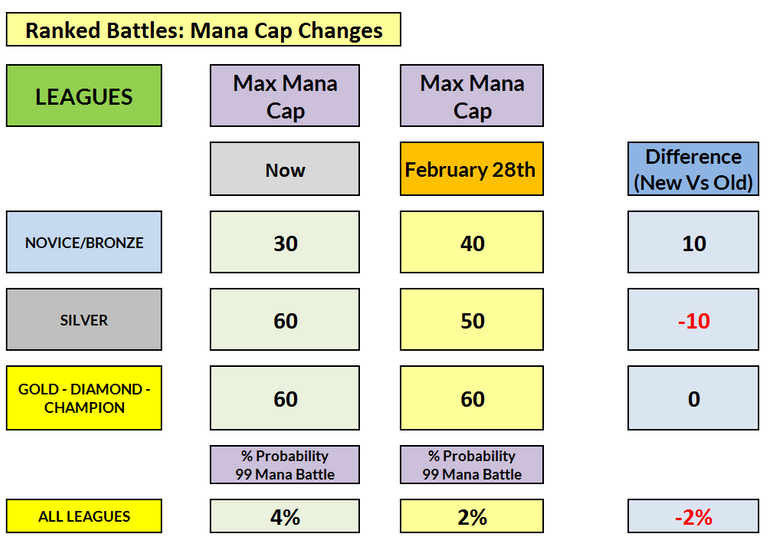 La seconda modifica riguarda il Season Rating Reset che è stato ridotto per tutte le leghe tranne per la lega Novice in cui è stato eliminato.
Ho costrutito una tabella in cui ho riportato le modifiche annunciate da Splinterlands e ho acciunto 4 colonne per mostrare la differenza con il vecchio sistema di reset del punteggio di rating.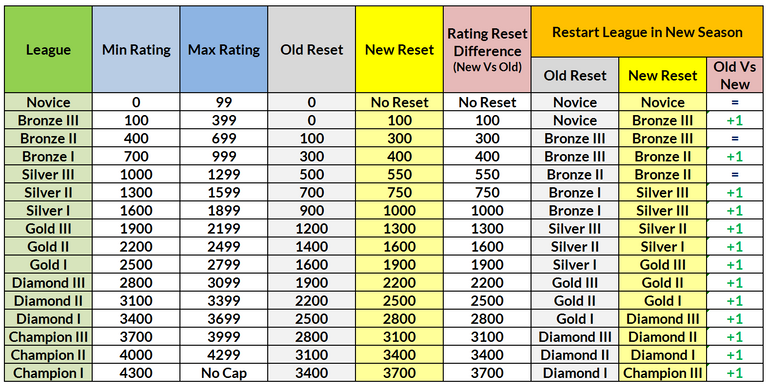 Questa è una modifica che mi piace molto perchè è un incentivo a giocare e ad avanzare nelle leghe.
Quando sarà attiva questa modifica chi terminerà nelle leghe Gold I, Diamond I e Champion I non dovrà ripartire da una lega inferiore ma si ritroverà a partire nella stessa lega Gold, Diamond e Champion in cui ha terminato la stagione e potrà ricevere fin dall'inizio della stagione ricompense giornaliere migliori (forzieri e SPS tokens).
La grande novità è però relativa alla lega Novice che, con il punteggio di rating non resettabile, sarà liberata dai bots che giocano nelle leghe Bronze+.
Un nuovo giocatore potrà quindi iniziare la sua avventura su Splinterlands nel modo migliore e per facilitare la partenza delle battaglie Splinterlands introdurrà dei bots che avranno un livello di gioco medio basso e la cui unica funzione sarà quella di migliorare l'esperienza dei nuovi giocatori che una volta superato il punteggio di rating di 100 punti non potranno più tornare nella lega Novice.
L'introduzione di bots di proprietà di Splinterlands che non ricevono ricompense ma che svolgono un ruolo utile all'ecosistema di Splinterlands è un'idea che mi piace molto e che è utilizzata in molti giochi PvP web 2.0.
Mi piacerebbe tanto che l'applicazione di questi bots sia ampliata anche a tutte le leghe di Splinterlands e che tutti gli altri bots siano finalmente bannati.
Non so se succederà ma mi piace immaginare di vedere in questa modifica un'iniziale volontà di Splinterlands di bannare definitivamente i bots privati che secondo me sono assolutamente controproducenti all'ecosistema di Splinterlands.

My latest card upgrades

Le prossime modifiche annunciate da Splinterlands mi piacciono anche perchè impatteranno positivamente sul mio obiettivo di gioco attuale: riuscire a giocare nelle leghe Diamonds del formato Wild fin dai primi giorni della stagione
Tra i due formati Wild e Format ho scelto di giocare nel formato Wild perchè mi permette di accumulare un numero maggiore di token SPS per battaglia vinta rispetto al formato Modern e perchè ho fissato un obiettivo di accumulo abbastanza alto per i token SPS: 100K SPS staked.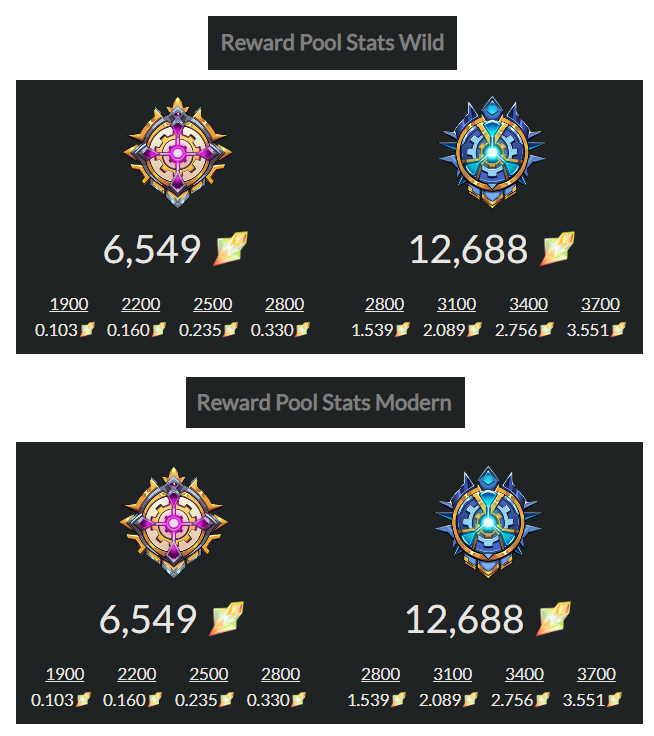 Screenshot from https://splex.gg/tools/reward_pools.
---
Sono diversi mesi che cerco di aumentare la forza in battaglia della mia collezione di carte per raggiungere il mio obiettivo di gioco e per farlo ho venduto carte che non usavo in battaglia e ho acquistato carte che ho ritenuto utili in battaglia.
Gli effetti della attività di ottimizzazione della mia collezione sono stati decisamente positivi fino ad ora.
Fino a qualche mese fa arrivavo in lega Diamond III solo nell'ultimo giorno della stagione mentre oggi che mancano quasi 4 giorni alla fine della stagione sono già in lega Diamond III.

I miei progressi sono buoni ma non sufficienti e devo continuare a fare acquisti/upgrade di carte utili in battaglia.
Nel mio precedente post su Splinterlands ho mostrato i miei obiettivi di acquisto/upgrade relativi alle carte di tipo evocatore e ho piazzato alcune offerte di acquisto (bids) tramite la funzionalità Make Bid di https://peakmonsters.com/
Molte di quelle offerte di acquisto sono state accettate ma ho ancora 65$ in offerte di acquisto che aspettano di essere accettate da qualche venditore.

Grazie ai miei ultimi acquisti tramite le offerte Bid ho fatto l'apgrade di:
Keyla Frendul: dal livello 6 al livello 7
Obsidian: dal livello 6 al livello 7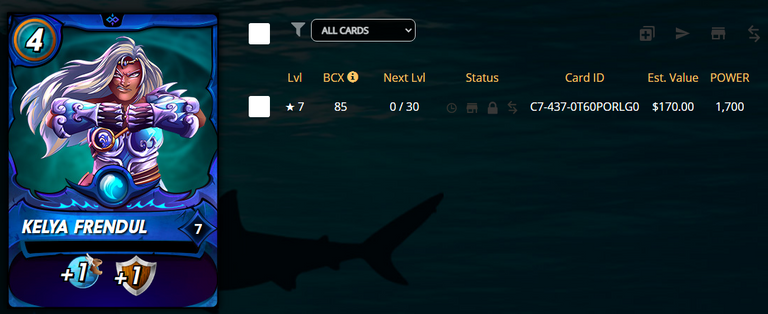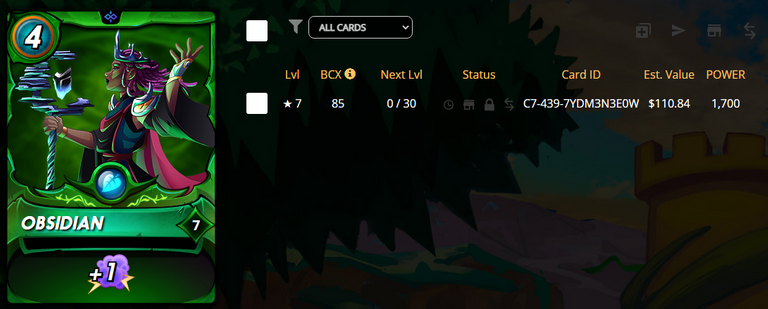 Non ho potuto ancora fare l'upgrade al livello 7 di Tarsa perchè ho ancora delle offerte di acquisto non accettate ma spero che vengano accettate presto altrimenti alzerò le mie offerte di acquisto.

Oggi sono contento anche perchè posso raggiungere un altro mio obiettivo di ugrade: portare la carta evocatore Delwyn Dragonscale al livello 9.
Nella mia collezione ho 1 Delwyn Dragonscale di livello 8 + altri 53 BCX.
Quattro giorni fa ho aquistato 12 BCX di Delwyn Dragonscale ma ho fatto male i conti perchè mi servivano 13 BCX per fare l'upgrade dal livello 8 al livello 9.

Mi mancava un solo BCX e ho deciso di acquistarlo subito da https://monstermarket.io/ anche se il costo è di 0.6$ superiore a quanto ho speso per acquistare gli ultimi 12 BCX tramite i bids.

Nel finale della stagione precedente potevo utilizzare solo un evocatore di massimo livello (Daria Dragonscale) per evocare le mie carte di massimo livello.
Oggi ho ancora un solo evocatore di massimo livello ma ho Kelya Frendul e Obsidian di 7 livello e ho Delwyn Dragonscale di 9 livello che mi permettono di utilizzare in battaglia le mie carte leggendarie di massimo livello.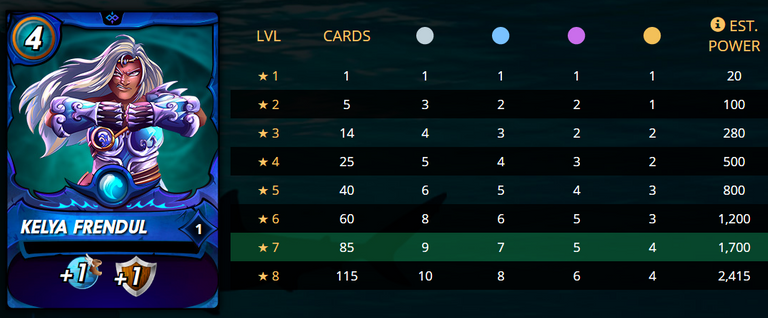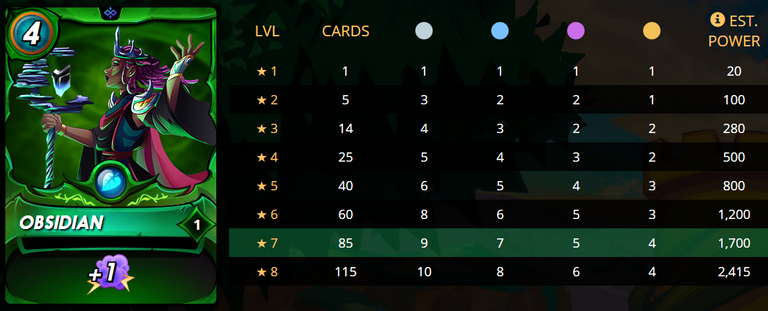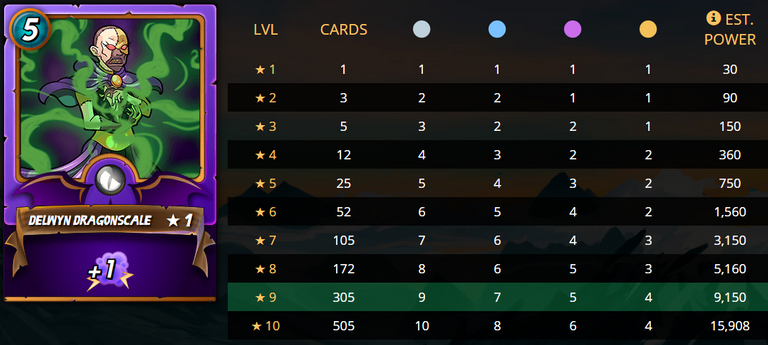 Saranno sufficienti questi miei ultimi upgrades per arrivare in lega Diamond I in questa stagione?
Con molta probabilità no ma anche oggi ho fatto un ulteriore passo avanti verso il mio obiettivo di gioco!
Spero di averti dato informazioni utili e ti ringrazio per aver dedicato il tuo tempo alla lettura di questo post :)

Non sei un giocatore di Splinterlands?

---
Splinterlands è un bellissimo gioco e si è dimostrato anche un ottimo investimento per me (almeno fino ad ora)
Se decidi di registrarti, puoi farlo da questo link:
https://splinterlands.com?ref=libertycrypto27
ovviamente se hai piacere ad usare il mio refferal link... :)
---
Ogni gioco che permette l'acquisto di NFT e di token non è mai un semplice gioco ma è anche un investimento e come tale deve sempre essere considerato.
Io non sono un consulente finanziario e se decidi di investire nel gioco di Splinterlands lo fai per tua scelta, dopo aver fatto le tue personali valutazioni e dopo aver considerato tutti i possibili fattori di rischio.
Il mio consiglio è di investire sempre e solo quello che puoi permetterti di perdere a cuor leggero!

Una selezione dei miei post su Splinterlands


Se non diversamente indicato, le immagini presenti in questo post sono screenshots presi dai siti:
https://splinterlands.com/
https://peakmonsters.com/
https://monstermarket.io/
https://splex.gg/tools/reward_pools
Le immagini che contengono calcoli, tabelle e formule sono di mia proprietà
Il font usato nelle immagini mie o da me editate è Open Source
The dividers with the Hive logo in this post were created by me and if you like them you can use them too, the Hive logo is property of https://hive.io/
---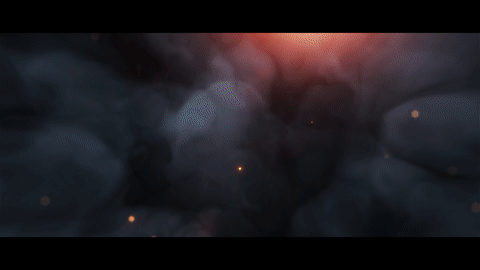 Gif by @splinterlands
---


Posted Using LeoFinance Alpha
---
---