3 is the key - Odd Ones Out - Battle Mage Secrets[ENG-PT]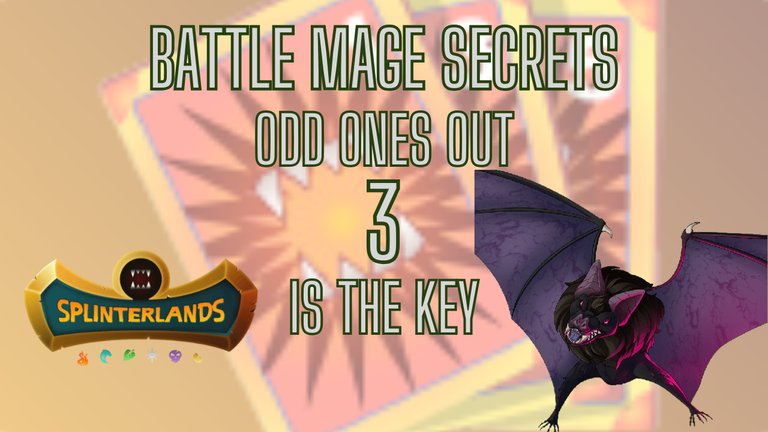 Banner made by me, using Canva
All the images from the banner are from @Splinterlands
---
Clique aqui para ler o post em português!
---
English
In Splinterlands, there are several rulesets that restrict us from using certain monsters. This means that our options are reduced, which can often be a good thing, as the number of choices we have to make is smaller.
The paradox of choice is there to prove it: the more options available, the more likely we are to choose nothing. And then we can end up running out of time without having our team picked, and end up losing a match because of it.
However, there are rulesets that limit it in a not so nice way, and we prefer that it didn't appeared.
That's how it is for me with the rule Odd Ones Out, where only monsters with an odd mana cost can be used.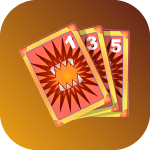 Whenever it appears, I have a hard time putting my teams together, because it feels like something is missing. This is because I usually play with cards with an even mana cost, something I need to improve in my gameplay.
There's also the fact that it's feasible to acquire a certain card through rentals. Monsters that have the Protect ability, in Modern mode and Gold league, can't be used for the most part. There are three options, two of them from splinter Life and one from Water, but only the last one has an interesting price to add to your team.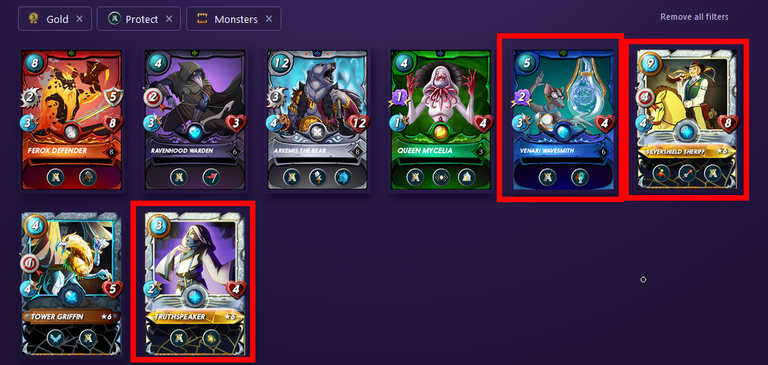 The other two, because they are quite strong and also have a low supply, end up having a high price.
As for the cards that have their own healing, the disparity is even greater. 8 of the 13 are mana pairs, leaving only 5 that can be used.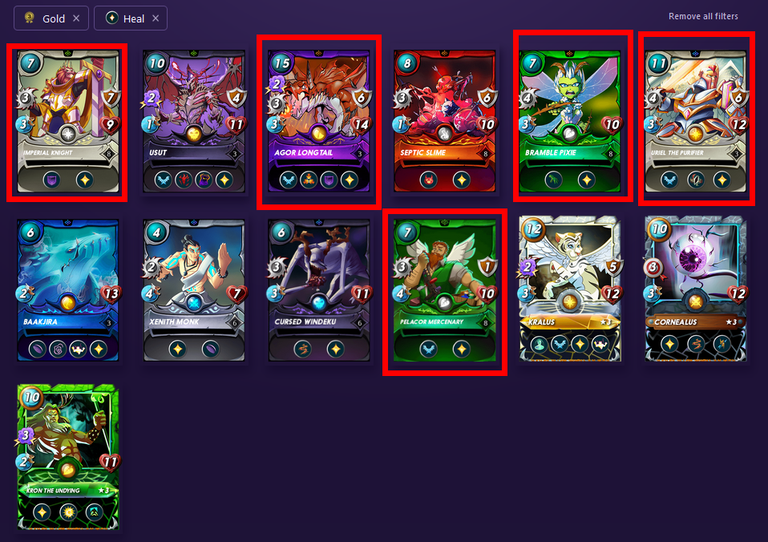 However, when I observed a bit, I realized that there are cards with good abilities that can be used and are extremely viable.
The first is that the most used Sneak monsters are available in this type of rule, including two neutral ones, Uraeus and Sand Worm. This allows you to make a good strategy to attack your opponent's back line, catching them off guard.

The same goes for monsters with Snipe. In this case, not only are they the most used, but most of them have an odd-numbered mana cost.

In the battle I'm about to present, a curious fact happened. All the monsters I used had 3 mana, something I don't remember ever doing in the game.
In addition to the weekly challenge battle rule, two others were present:
Equalizer: the health of all monsters are the same of the monster with the highest health.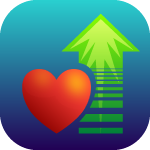 Counterspell: all monsters receive the Magic Reflect ability.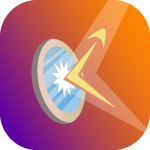 As the summoner, I chose Sthispa. She provides the ability Phase to all my monsters, making them able to dodge magical attacks, just as they dodge Ranges and Meeles.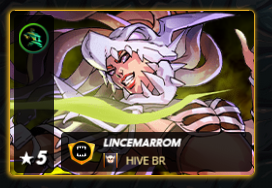 At the front, I've placed the Vampire Bat, which makes all enemy attacks have at least a 50% chance of missing, thanks to the Flying and Dodge, which increase this probability by 25% each.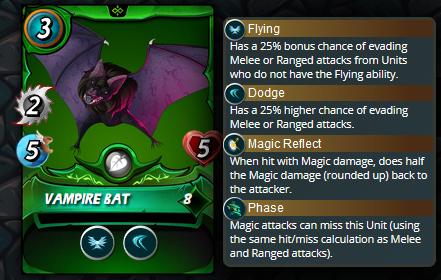 Right behind him came the Fungus Flinger, which increases the opposing team's chances of missing their attacks by another 15%, thanks to the Blind. What's more, if it dies in battle, it increases all the attributes of adjacent monsters by 1 point, thanks to Martyr.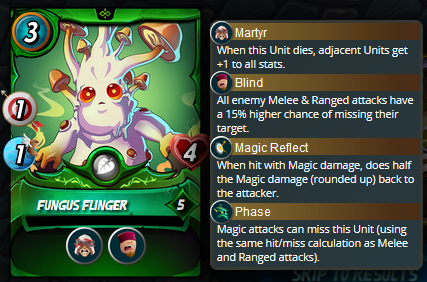 As a result, the entire opposing team would only have a 35% chance of hitting my Vampire Bat, if they have the same speed as him.
Another monster with this last ability that was on my field was Venari Marksrat. It would take all of Sneaks' attacks, since Djinn Biljka, which was in the last position of the back line, has Camouflage, making it impossible to attack if it's not in the front line or if the opposing monster doesn't have Scattershot.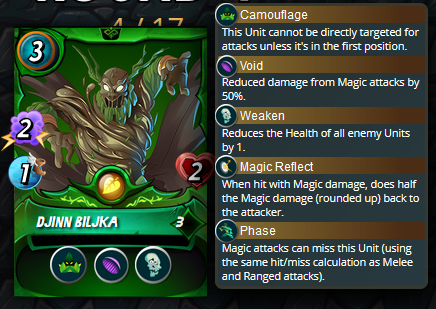 The same goes for the Scavo Hireling, which, as well as not being able to be attacked from behind, regenerates armor points from the monster that has suffered the most damage, with the ability Repair. I confess that I didn't think this was a good choice for me, since most of my team didn't have any armor. However, he did come in handy at a certain point in the match.
And last but not least, in the middle of the back line was Uraeus, who would benefit from Venari's Martyr in order to become even more powerful. As well as being a Sneak, he can also apply Poison on the attacked monster, dealing 2 additional damage per round.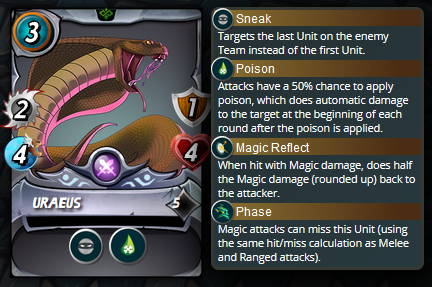 When I started the battle, my biggest concern was Ever-hungry Skull, which, thanks to the Equalizer rule, had 6 life points and 9 armor points, as well as the ability Thorns, which deals 2 points of damage to any attack from Meeles.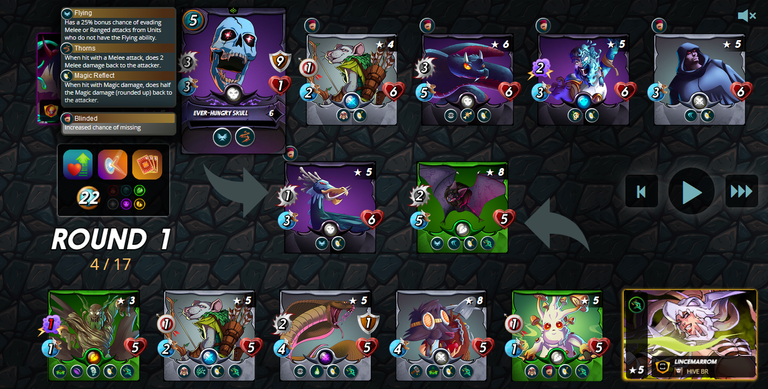 After the first round, my tanker remained intact. No attack managed to hit him, but he would attack the opposing tanker and take damage from the reflect, and that could be a problem for me.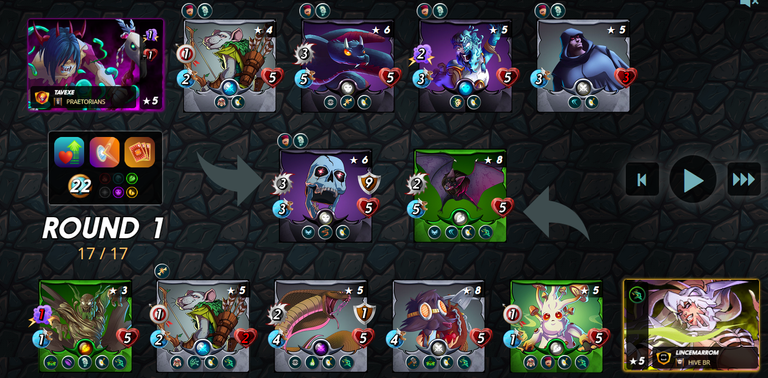 However, he continued the second round dodging attacks, losing 2 life points because of the Thorns.
After that, he ended up succumbing, but he had already done his job, leaving me very close to victory. Meanwhile, my opponent's Sneak hit the armor of mine, but it was regenerated by Scavo, making it impossible for him to win the battle.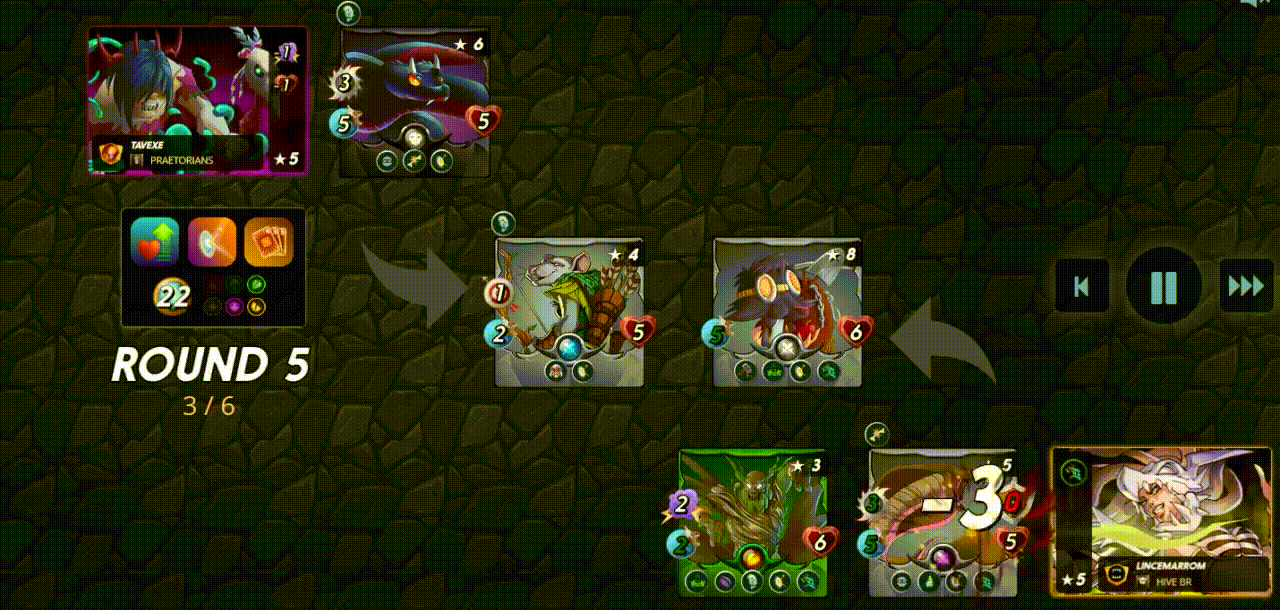 ---
---

Even though the ruleset is somewhat limiting, the monsters with the most commonly used abilities are still the most interesting to field. So the same gameplay principles hold true, regardless of which challenge comes up.
If you can't use the card you're used to, look for substitutes for that function - there's a huge variety that can do this.
---
All the images are from @Splinterlands
Divider By: @freeztag
---
---
Are you not playing Splinterlands yet? Click HERE and play with me!
---

Português
Em Splinterlands, existem diversas regras de batalha que nos limitam de usar certos tipos de monstros. Isso faz com que nossas opções sejam reduzidas, o que por muitas vezes pode ser bom, já que o número de escolhas que precisamos fazer é menor.
O paradoxo da escolha está aí para provar: quanto mais opções disponíveis, maiores às chances de escolhermos nada. E então, podemos acabar esgotando nosso tempo sem ter o nosso time escalado, e acabar perdendo uma partida por isso.
No entanto, existem regras de batalha que limitam de uma forma não tão legal, e preferimos que ela não tivesse aparecido.
É assim para mim com a regra Odd Ones Out, onde apenas monstros com custo de mana ímpar podem ser usados.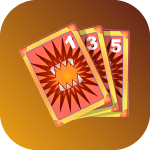 Sempre que ela aparece, sinto uma certa dificuldade em montar meus times, pois parece que falta algo. E o fato disso acontecer, se deve por eu estar acostumado a jogar com cartas com custo de mana par, algo que eu preciso melhorar em minha jogabilidade.
Também existe o fato da viabilidade de adquirir determinada carta por meio de aluguéis. Monstros que possuem a habilidade de Protect, no modo Modern liga Gold, em sua maioria não podem ser usados. Há três opções, sendo duas delas do splinter Life e uma de Água, no entanto apenas a última possui um preço interessante para adicionar em seu time.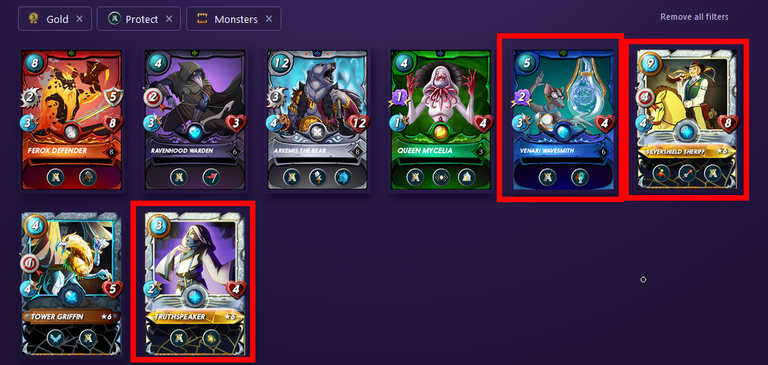 As outras duas, por serem bastante fortes e além disso possuírem uma baixa oferta, acaba por ter seu preço elevado.
Quanto as cartas que possuem cura própria, a disparidade é ainda maior. 8 das 13 são mana par, restando apenas 5 que podem ser utilizadas.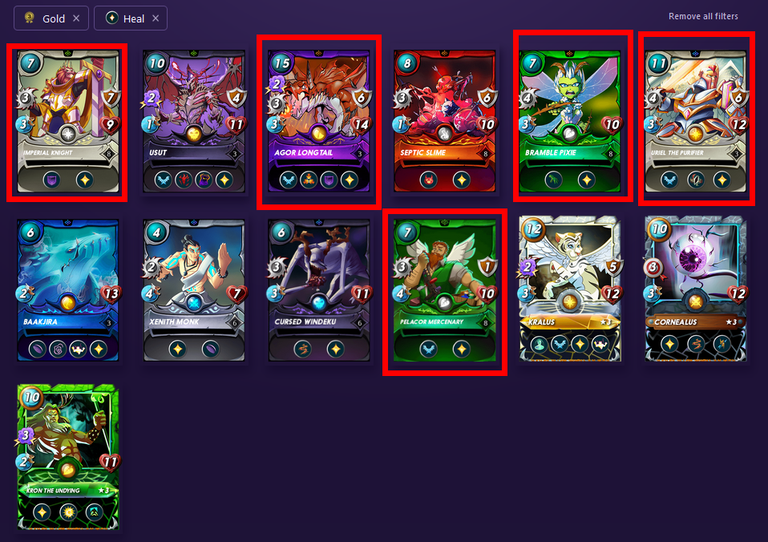 Porém, parando para observar, percebi que existem sim cartas com boas habilidades que podem ser utilizadas e são extremamente viáveis.
A primeira é que os monstros tipo Sneak mais usados estão disponíveis nesse tipo de regra, entre eles dois neutros, Uraeus e Sand Worm. Isso permite fazer uma boa estratégia para atacar a linha de trás de seu oponente, pegando-o desprevenido.

O mesmo vale para os monstros com Snipe. Nesse caso, não só os mais usados, mas como a maior parte deles possui um custo de mana de número ímpar.

Na batalha que irei apresentar, aconteceu um fato curioso. Todos os monstros que utilizei haviam 3 de mana, algo que eu não lembro de ter feito alguma vez no jogo.
Além da regra de batalha do desafio semanal, duas outras estavam presentes:
Equalizer: a quantidade de vida de todos os monstros será a mesma do que possuir a maior quantidade.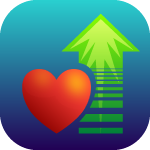 Counterspell: todos os monstros possuem a habilidade Magic Reflect.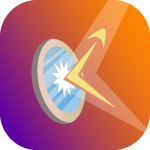 Como invocador, escolhi a Sthispa. Ela fornece a habilidade Phase para todos os meus monstros, fazendo com que eles consigam se esquivar de ataques mágicos, da mesma forma que se esquivam dos Ranges e Meeles.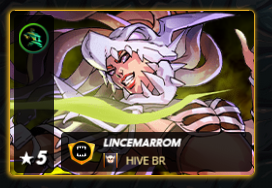 Na frente, coloquei o Vampire Bat, que faz com que todos os ataques inimigos tenham pelo menos 50% de chance de errar, graças ao Flying e Dodge, que aumentam em 25% tal probabilidade cada um.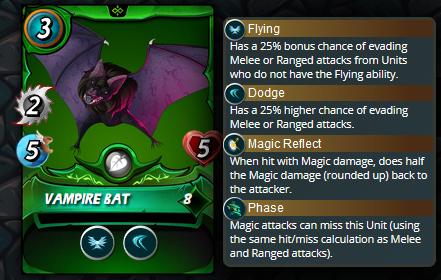 Logo atrás, veio o Fungus Flinger, que aumenta ainda mais 15% as chances do time adversário não acertar seus ataques, graças ao Blind. Além disso, se ele morrer em batalha, aumenta em 1 ponto todos os atributos dos monstros adjacentes, graças ao Martyr.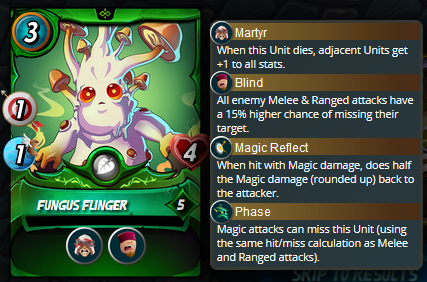 Sendo assim, todo o time adversário teria apenas 35% de probabilidade de acertar meu Vampire Bat, isso se eles tiverem a mesma velocidade que ele possui.
Outro monstro que possui essa última habilidade e estava no meu campo, era o Venari Marksrat. Ele tomaria todos os ataques de Sneaks, já que o Djinn Biljka que estava na última posição da linha de trás, possui Camouflage, sendo impossível de ser atacado caso não esteja na linha de frente ou o monstro adversário não possua Scattershot.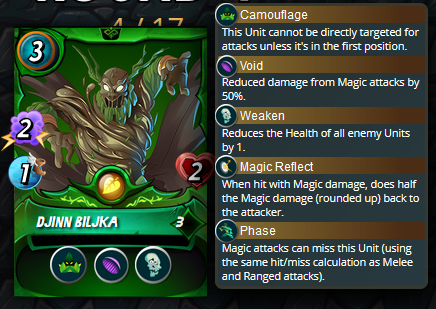 O mesmo valia para o Scavo Hireling, que além de não poder ser atacado na linha de trás, regenera pontos de armadura do monstro que sofreu mais dano, com a habilidade Repair. Confesso que não achei essa uma boa escolha feita por mim, já que grande parte do meu time não havia armaduras. No entanto, ele acabou se tornando útil em determinado momento da partida.
E por último, mas não menos importante, no meio da linha de trás estava o Uraeus, que se beneficiaria do Martyr do Venari para poder ficar ainda mais poderoso. Além de ser um Sneak, ele também pode aplicar Poison sobre o monstro atacado, causando 2 danos adicionais por rodada.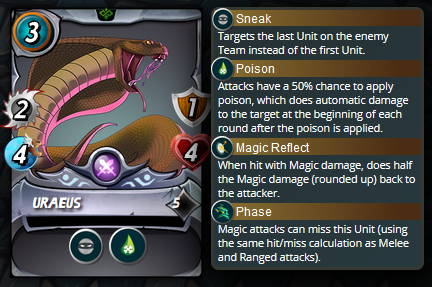 Ao iniciar a batalha, minha maior preocupação era o Ever-hungry Skull, que graças a regra Equalizer, possuía 6 pontos de vida e 9 de armadura, além da habilidade Thorns, que causa 2 pontos de dano sobre qualquer ataque de Meeles.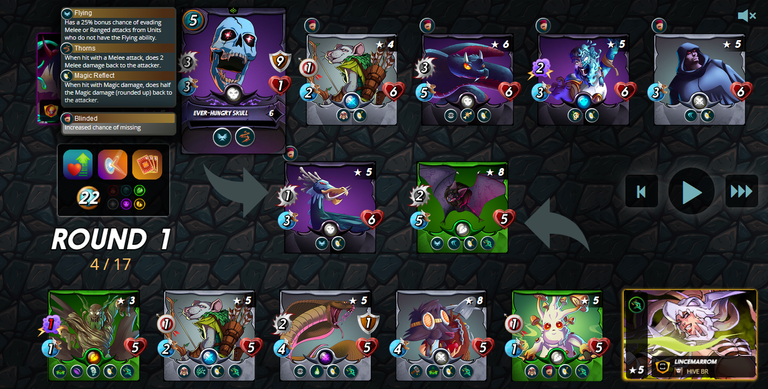 Após a primeira rodada, meu tanker se manteve intacto. Nenhum ataque conseguiu acertá-lo, porém ele iria atacar o tanker adversário e receber danos do reflete, e isso poderia ser um problema para mim.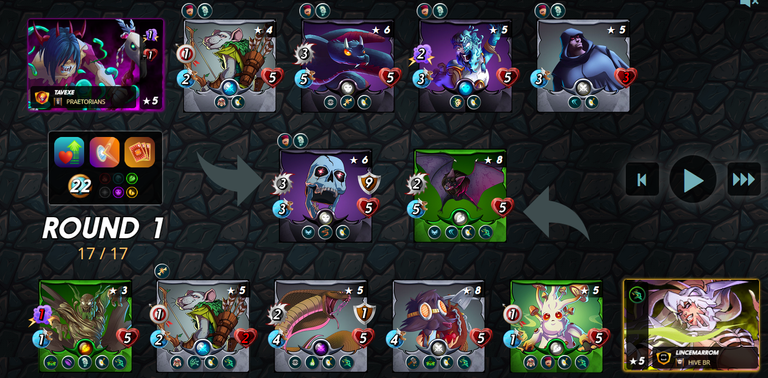 Porém, ele continuou a segunda rodada esquivando-se dos ataques, perdendo 2 pontos de vida por causa do Thorns.
Após isso, ele acabou sucumbindo, mas já havia feito seu serviço, me deixando muito próximo da vitória. Enquanto isso, o Sneak adversário acertava a armadura do meu, mas ela era regenerada pelo Scavo, tornando impossível dele conseguir vencer a batalha.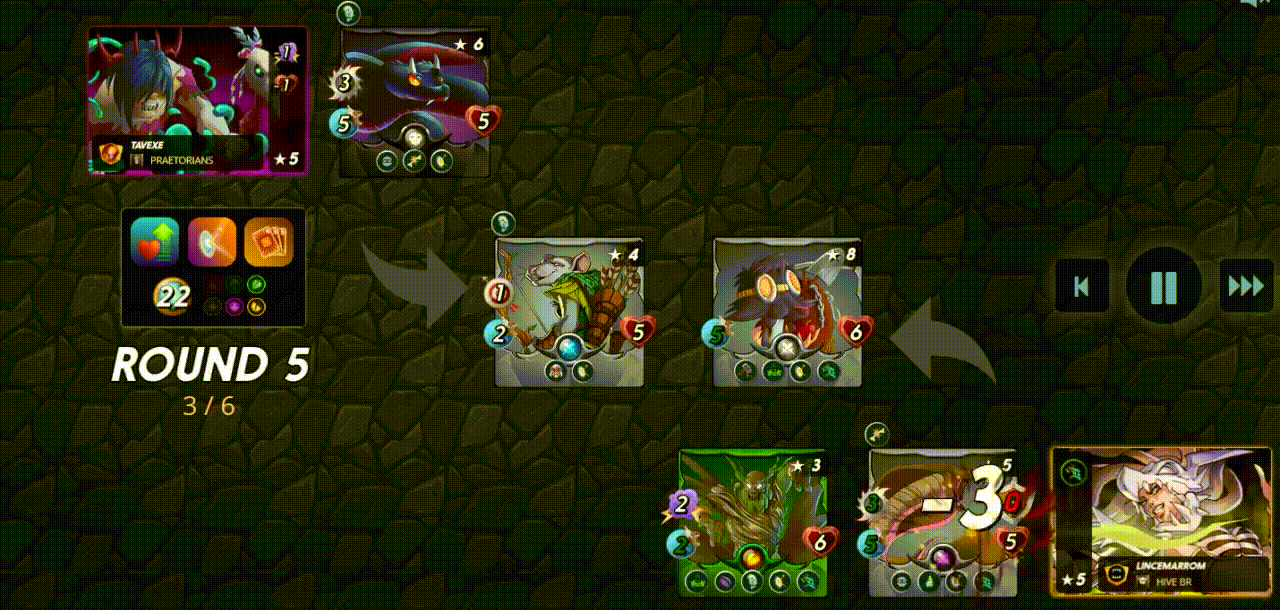 ---
---

Mesmo que a regra de batalha seja um tanto limitante, os monstros com as habilidades mais usadas normalmente continuam sendo as mais interessantes para serem colocados em campo. Então, os mesmos princípios de jogabilidade se mantém, independente de qual desafio aparecerá.
Caso não consiga usar a carta que você tem costume, procure por substitutas para tal função, há uma enorme variedade que podem fazer isso.
---
Todas as imagens são do: @Splinterlands
Divisor do: @freeztag
---
---
Não joga Splinterlands ainda? Clique AQUI e venha jogar comigo!
---
---

---
---
---