Countering Yodin - Splinterlands Social Media Challenge [ENG-PT]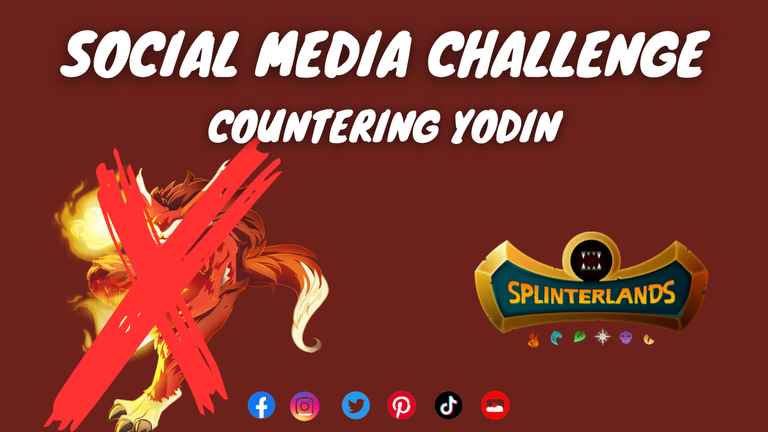 ---
Clique aqui para ler o post em português!
---
English
Within the Splinterlands universe, the most diverse strategies can be devised, and hardly any will be better than the other 100% of the time, since there are battle rules that mean that even the strategy that seems least effective will win out at some point.
However, there are some cards that can bring a greater advantage, giving you a better chance of victory if used in the right way.
Especially with summoners, who provide the most diverse attributes and abilities for your entire team.
One of them, which makes your opponent desperate, is Yodin Zaku. It provides the ability Blast to all monsters of the summoner's user.
This ability deals extra damage to the monsters adjacent to the attacked monster, making it a very high amount of damage in total, which can lead to a relatively quick victory.
However, as mentioned at the beginning of this post, the best strategy won't always work every time.

I was in my daily rankings when I saw in my opponent's recent battles that he had a Yodin. What's more, the rules very much favored using it, so I thought I should try to counter it in any way possible.
The rulesets did not allow the use of magic monsters, and Range-type monsters could attack random targets. Finally, the use of a Gladiator was allowed.
To carry out the arduous task of defeating Yodin, I chose Astral Entity as my summoner, as it provides the ability Dodge to my entire team, giving them a 25% chance of dodging an attack.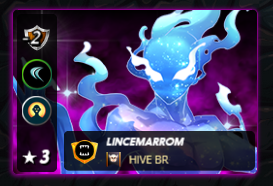 At the front, I placed the Pelacor Conjurer which has Flying, increasing the chances of dodging an attack by another 25%, as well as causing 2 damage to the monster that missed it.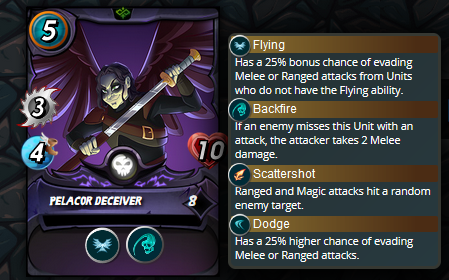 Right behind him, I selected a monster with the same abilities, as well as reducing the attack of all the Ranges on the opponent's field, the Riftwing.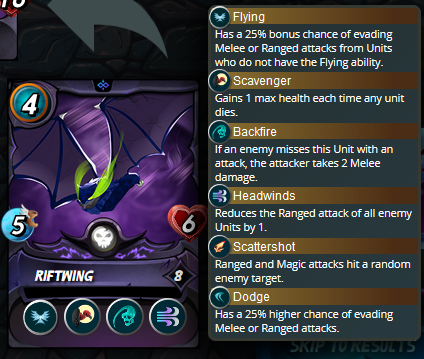 I've also added the Ravenhood Warden, which provides 2 points of armor for the whole team.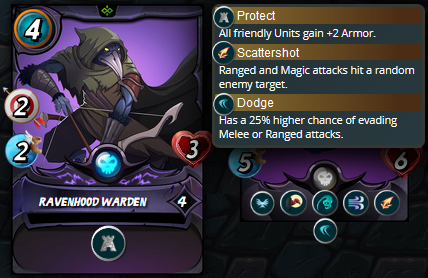 And finally, I chose the gladiator Whistling Damon to help with the damage.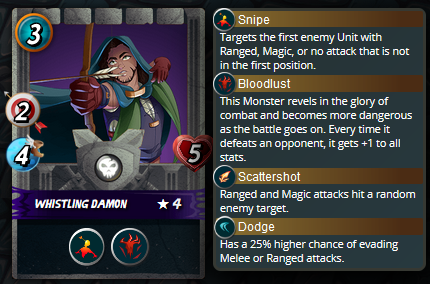 My expectations were confirmed, with a Yodin on the opposing side
In addition, my opponent added two monsters with Snare, which not only remove Flying from monsters that have this ability, but also don't miss attacks on them.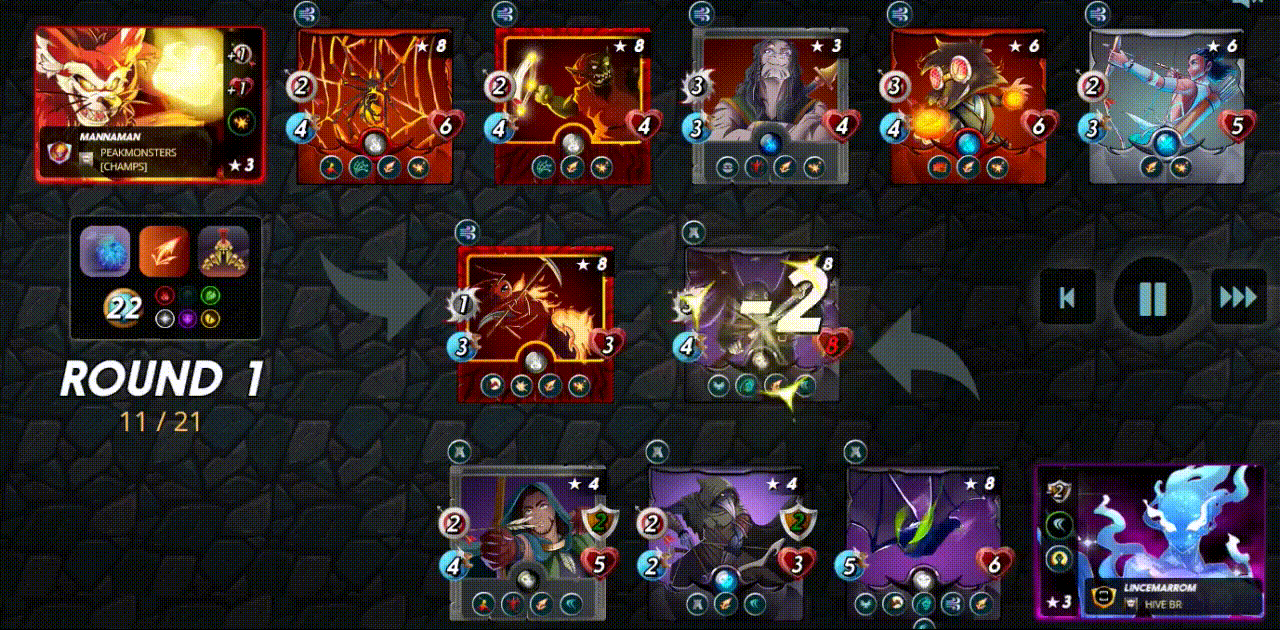 This could ruin my plans, although he could still dodge with Dodge ability.
My team dodged two attacks, leaving two of their monsters with a low amount of life.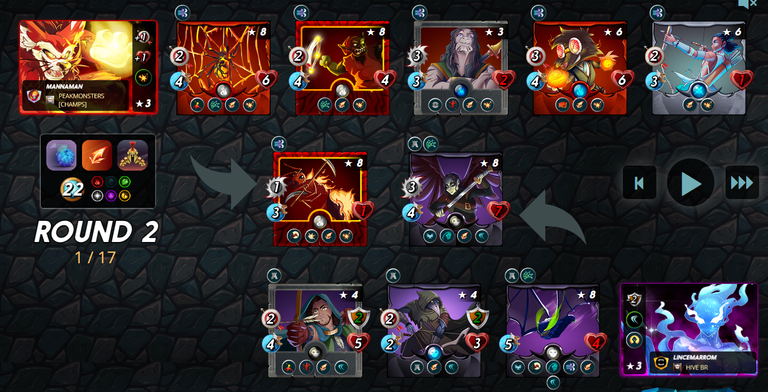 Whistling manages to eliminate the opponent's Sneak, activating his Bloodlust.
After the Ravenhood is killed, my summoner resurrects it, making it provide 2 points of armor for the team again.
At this point, the chances of victory were high, as there was still plenty of life left in my tanker and the Gladiator.
And finally, I managed to come away with the victory, beating one of the strongest summoners in the game.
---
---
---
All the images are from @Splinterlands
Divider By: @freeztag
---
---
Are you not playing Splinterlands yet? Click HERE and play with me!
---

Português
Dentro do universo Splinterlands, as mais diversas estratégias podem ser feitas, e dificilmente alguma será melhor que a outra em 100% das vezes, já que existem as regras de batalha que fazem com que mesmo a estratégia que pareça menos efetiva, consiga ser vencedora em algum momento.
No entanto, existem algumas cartas que conseguem trazer uma vantagem maior, lhe fornecendo uma chance de vitória maior, se for usada do jeito certo.
Especialmente com os invocadores, que fornecem os mais diversos atributos e habilidades para todo o seu time.
Um deles, que gera um desespero para o seu oponente, é o Yodin Zaku. Ele fornece a habilidade Blast para todos os monstros do usuário do invocador.
Tal habilidade, causa um dano extra aos monstros adjacentes ao mosntro atacado, fazendo com que no acumulado, seja uma quantidade muito elevada de dano e podendo causar em uma vitória relativamente rápida.
Porém, como citado no início deste post, nem sempre a melhor estratégia irá funcionar todas as vezes.

Eu estava em minhas rankeds diárias, quando vi nas batalhas recentes de meu oponente, que ele havia um Yodin. Além disso, as regras favoreciam muito o uso dele, então pensei que eu deveria tentar counterá-lo de qualquer forma possível.
As regras de batalha não permitiam o uso de monstros mágicos, além dos monstros tipo Range realizarem ataques com alvos aleatórios. Por fim, o uso de um Gladiador era permitido.
Para realizar a árdua tarefa de derrotar o Yodin, escolhi a Astral Entity como invocador, pois ela fornece a habilidade Dodge para todo o meu time, fazendo com que tenham 25% de chances de se esquivar de um ataque.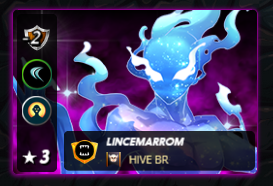 Na frente, coloquei o Pelacor Conjurer que possui Flying, aumentando mais 25% as chances de esquiva de um ataque, além de causar 2 de dano sobre o monstro que o errava.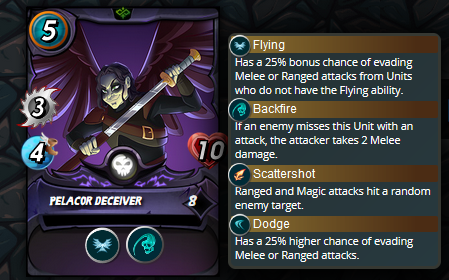 Logo atrás selecionei um monstro com as mesmas habilidades, além de reduzir o ataque de todos os Ranges no campo adversário, o Riftwing.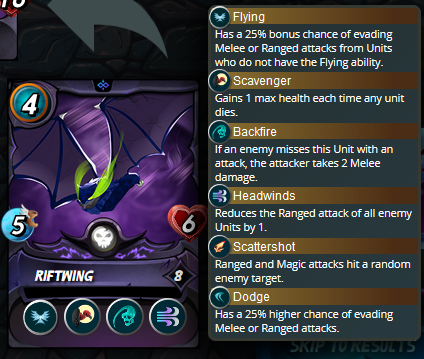 Coloquei também o Ravenhood Warden, que fornece 2 pontos de armadura para todo o time.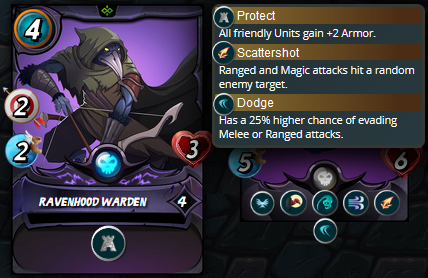 E por fim, escolhi o gladiador Whistling Damon para ajudar no dano.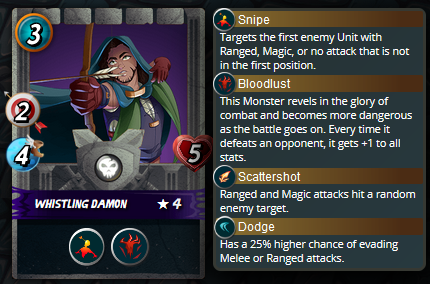 Minhas expectativas se confirmaram, com um Yodin no lado adversário
Além disso, meu oponente adicionou dois monstros com Snare, que além de remover o Flying dos monstros que possuem essa habilidade, não erram ataques sobre eles.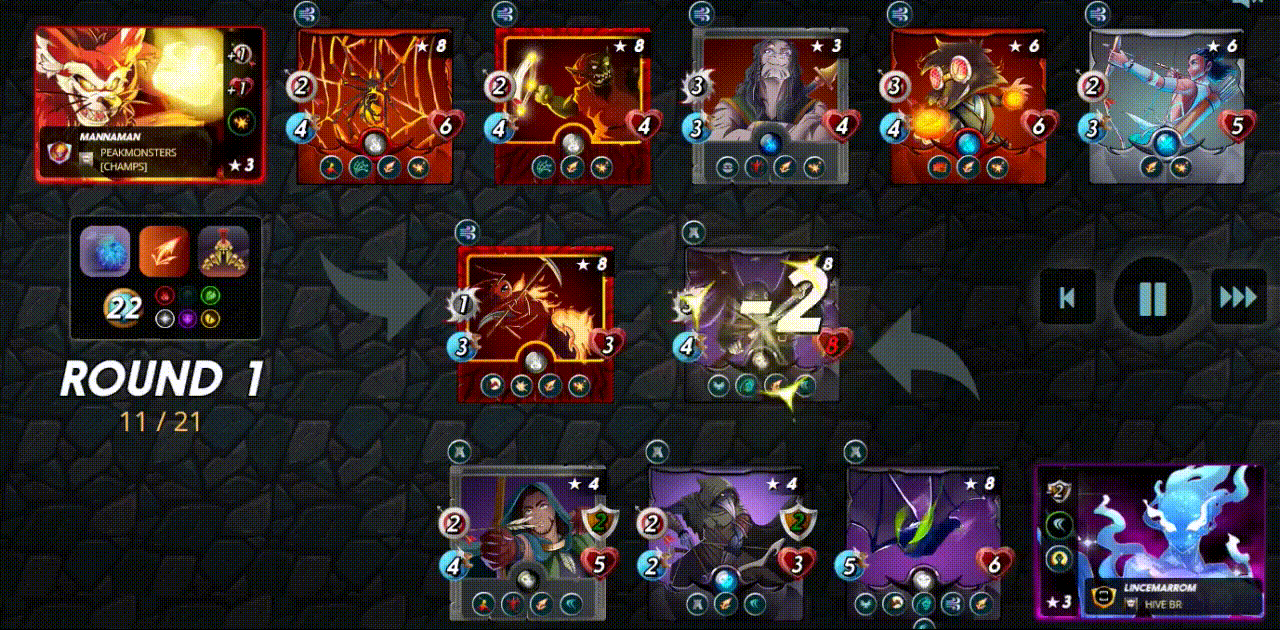 Isso poderia estragar meus planos, apesar de ainda poder se esquivar com o Dodge.
Meu time se esquivou de dois ataques, deixando dois de seus monstros com uma baixa quantidade de vida.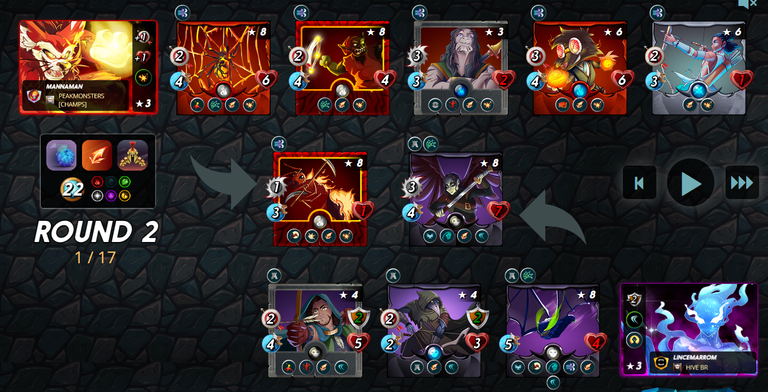 O Whistling consegue eliminar o Sneak adversário, ativando seu Bloodlust.
Após o Ravenhood ser morto, minha invocadora o ressuscita, fazendo com que ele forneça 2 pontos de armadura para o time novamente.
Nesse momento, as chances de vitória eram altas, pois ainda restava bastante vida no meu tanker e no Gladiador.
E por fim, consegui sair com a vitória, conseguindo vencer um dos invocadores mais fortes do jogo.
---
---
---
Todas as imagens são do: @Splinterlands
Divisor do: @freeztag
---
---
Não joga Splinterlands ainda? Clique AQUI e venha jogar comigo!
---
---

---
---
---