Rise of the Commons - Splinterlands Battle Mage Secrets [ENG-PT]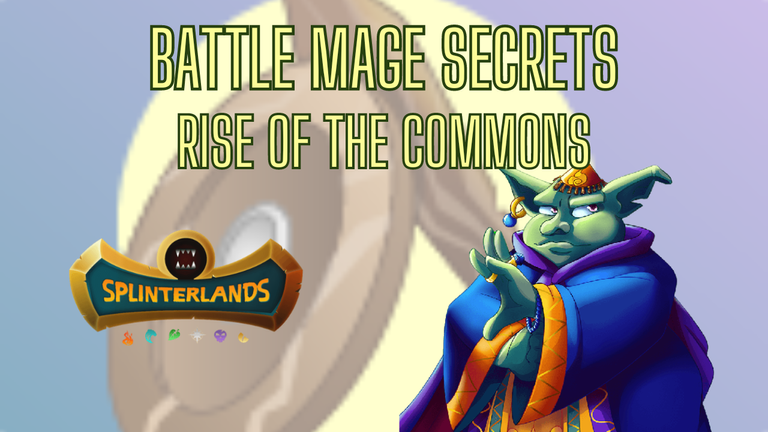 Banner made by me, using Canva
All the images are from @Splinterlands
---
Clique aqui para ler o post em português!
---
English
In the Rise of the Commons ruleset, only common and rare monsters can be used.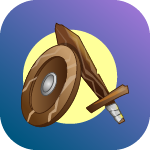 This factor, means that it is often not possible to use the full mana cap available in a battle if it is extremely high, since most of the monsters with a mana cost of 10 or more are epic or legendary.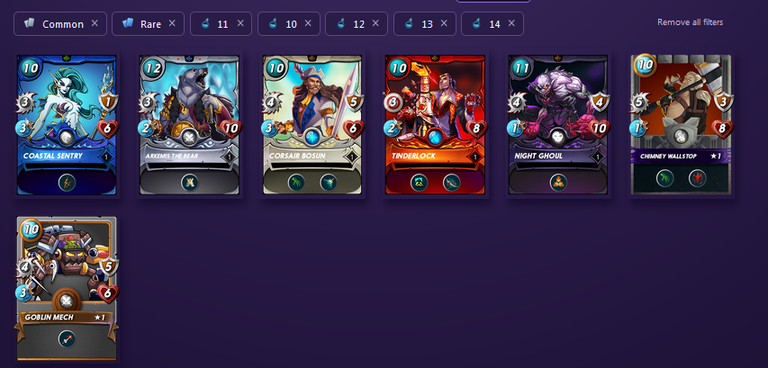 Common/rare monsters with 10 or more mana cost.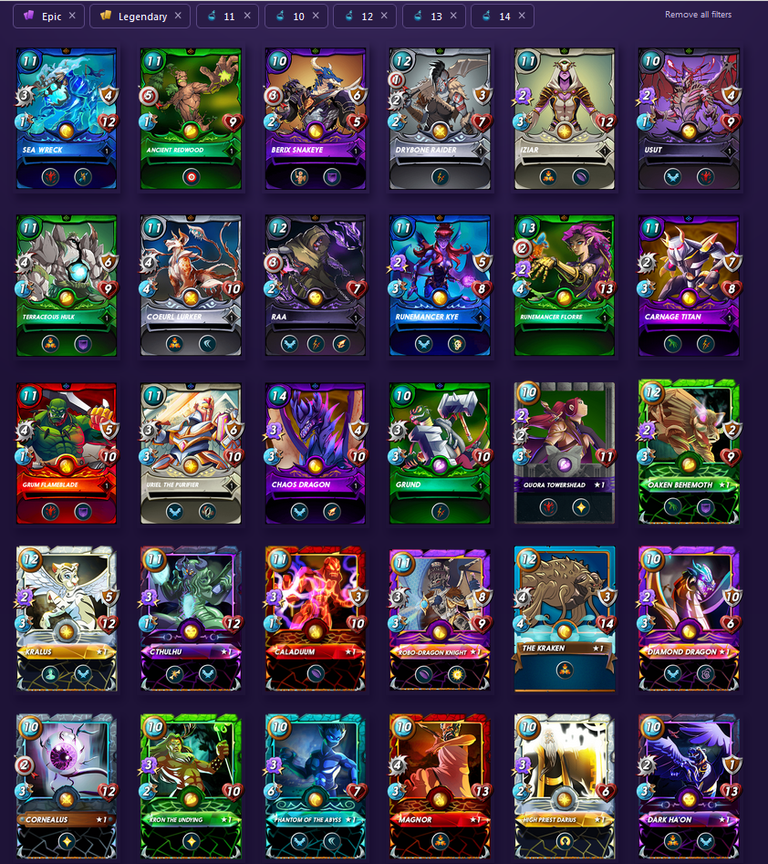 Epic/Legendary monsters with 10 or more mana cost.
The number of strategies is also limited, as a large number of cards will not be available for battle, and many players build their strategies based on monsters of such rarity.
So what's left is to play with what's left.
However, the principles remain the same, as we try to use the best abilities for each ruleset that comes along with the weekly challenge.

In a recent battle, I had to face the battle ruleset of the weekly challenge, as well as:
Noxious fumes: Noxious Fumes: all monsters start the battle under effect of Poison, losing 2 life points each round, with the exception of monsters with Immunity.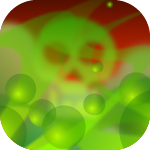 Counterspell: all monsters receive the ability Magic reflect, causing magic attacks to deal damage back to the attacker.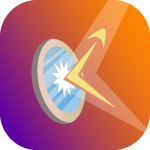 In addition, only two Splinters were available: Fire and Earth.

The mana limit was 29, which gave me a lot of confidence, as I do well in these battles.
So I opted to play with Earth.
As a front line monster, I chose the Pelacor Mercenary, as it can auto regenerate his life.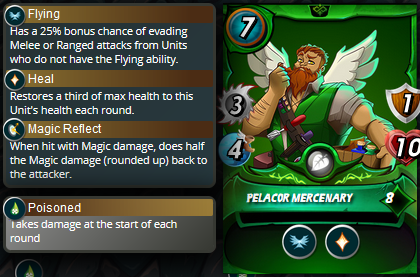 I put two monsters with Martyr behind it. This is a positive point for the Splinter I chose, because the Fungus Flinger, which has Martyr and is of common rarity, allows me to use it, as well as the Venari Marksrat, which is a Neutral splinter and has similar characteristics.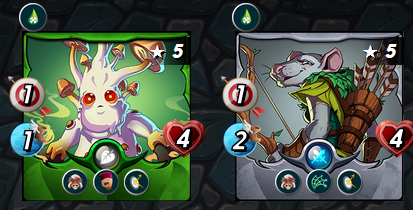 My idea was to place them next to each other so that they would die together and give Pelacor two additional stats, as well as Venari Seedsmith, which was another monster I selected. It gains 1 life point for each monster killed, thanks to the Scavenger ability.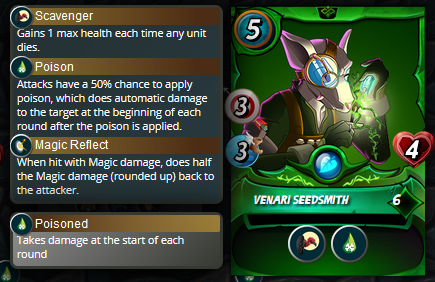 In penultimate position, I left Goblin Psychic. Although it suffers from the Conterspell ruleset because it's a magic monster, it could cancel the healing of the opponent's monster and also heal mine, so it would be quite useful before it left the battle.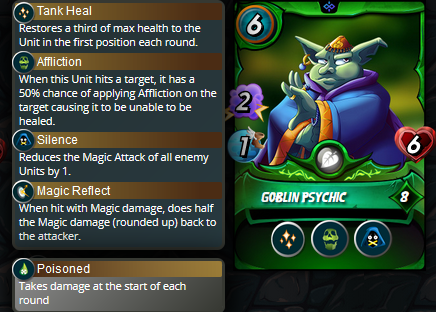 Finally, I put in the Mycelic Morpoid, just to avoid any kind of Sneak that might try to attack my team from the back line.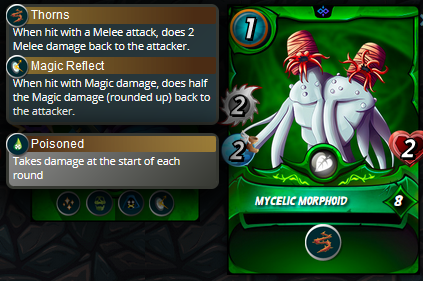 My opponent put the Exploding Rats in front to deal a lot of extra damage at the start of the battle.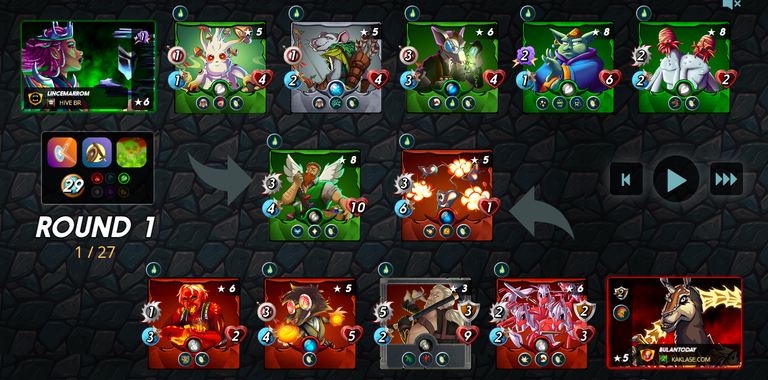 This broke part of my strategy, as the first Martyr was aimed at the Venari Marksrat and not the Seedmith, since the Fungus died before its time.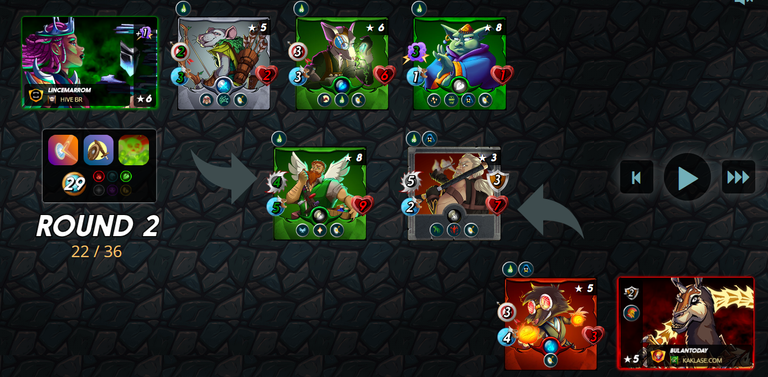 Even so, everything else worked well, with Goblin Psychic causing a lot of damage to my opponent's monsters, who didn't expect to use magic monsters, making it a key part of my victory.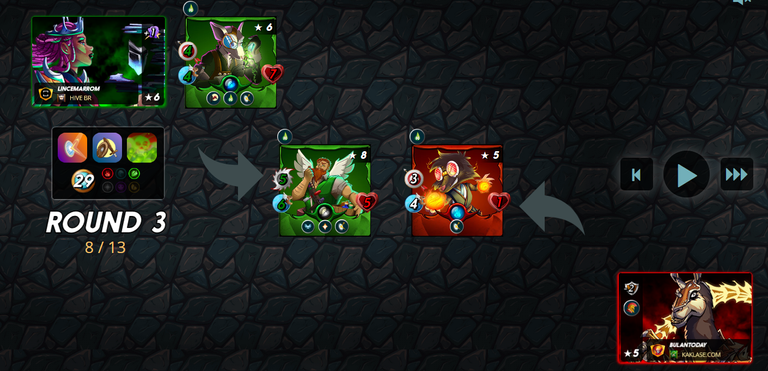 ---
---

In my opinion, one of the best Splinters to use, if not the best, in the Rise of the Commons battle rule is the Earth one. This is because it has more options for monsters with healing abilities, which is one of the strongest abilities in the game.
There's also the possibility of using a monster with Martyr in addition to Neutral and Dragon, so you can create powerful strategies around these abilities.
---
All the images are from @Splinterlands
Divider By: @freeztag
---
---
Are you not playing Splinterlands yet? Click HERE and play with me!
---

Português
Na regra de batalha Rise of the Commons, apenas monstros de raridade comum e rara podem ser utilizados.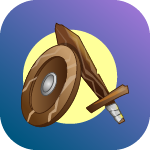 Esse fator, faz com que muitas vezes não seja possível utilizar todo o limite de mana disponível em uma batalha, caso seja extremamente alto, já que grande parte dos monstros com custo de mana maior ou igual a 10, são épicos ou lendários.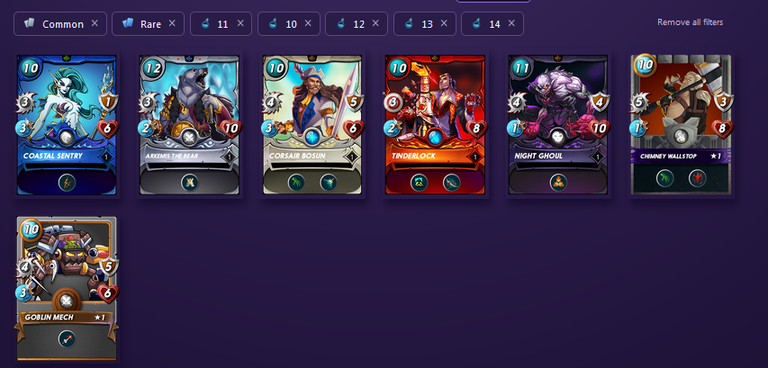 Comuns/Raras com custo de mana maior ou igual a 10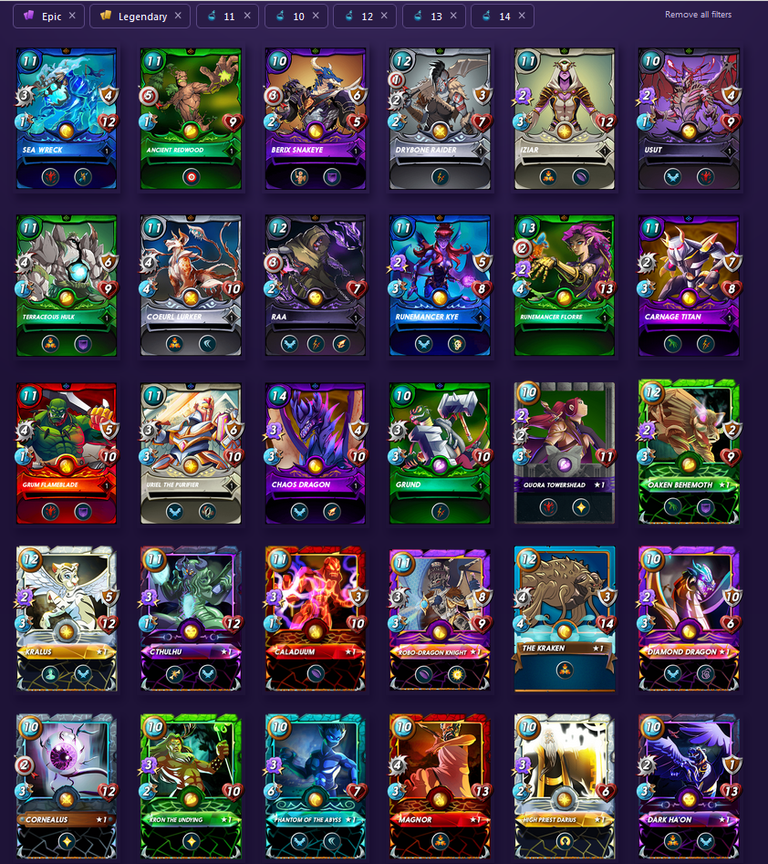 Épicas/Lendárias com custo de mana maior ou igual a 10
O número de estratégias também acaba se limitando, já que uma grande quantidade de cartas não estarão disponíveis para a batalha, além de que muitos jogadores constroem suas estratégias com base nos monstros de tal raridade.
Sendo assim, o que nos resta é jogar com o que sobrou.
No entanto, os princípios seguem os mesmos, procurando utilizar as habilidades mais favoráveis para cada regra que vier junto com a do desafio semanal.

Em uma batalha recente, eu tive que enfrentar a regra de batalha do desafio semanal, além de:
Noxious Fumes: todos os monstros começam a batalha sob efeito de Poison, perdendo 2 pontos de vida a cada rodada, com exceção dos monstros que possuem Immunity.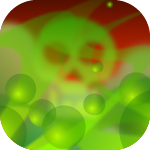 Counterspell: todos os monstros recebem a habilidade Magic reflect, fazendo com que ataques mágicos causem dano de volta ao atacante.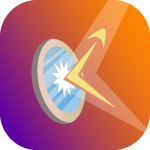 Além disso, apenas dois Splinters estavam disponíveis: Fogo e Terra.

O limite de mana era de 29, que me deixou bastante confiante, pois me dou nessas batalhas.
Então, optei por jogar com Terra.
Como monstro da linha de frente, escolhi o Pelacor Mercenary, pois ele pode regenerar parte de sua vida sozinho.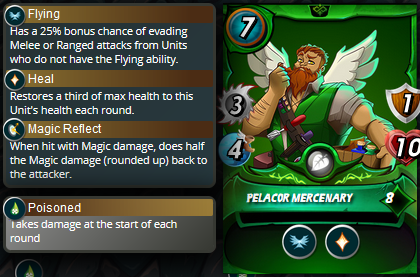 Coloquei atrás dois monstros com Martyr. Esse é um ponto positivo para o Splinter que eu escolhi, pois o Fungus Flinger que possui Martyr e é de raridade comum, me possibilita usá-lo, além do Venari Marksrat, que é de splinter Neutro e possui características semelhantes.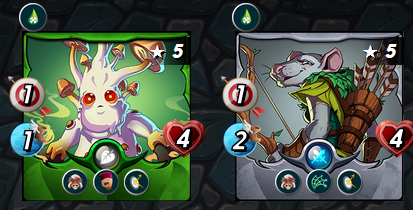 Minha ideia então, era colocá-los um do lado do outro para que moressem juntos e dessem dois adicionais de atributos para o Pelacor, e também para o Venari Seedsmith, que foi outro monstro selecionado por mim. Ele ganha 1 ponto de vida a cada monstro morto, graças a habilidade Scavenger.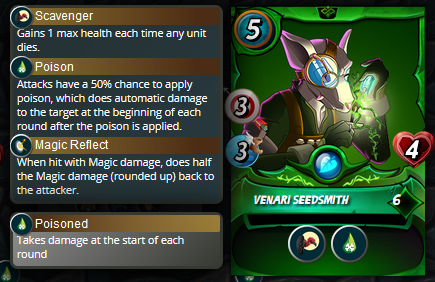 Na penúltima posição, deixei o Goblin Psychic. Apesar dele sofrer com a regra Conterspell por ser de ataque mágico, ele poderia cancelar a cura do monstro adversário e além disso curar o meu, então seria bastante útil antes dele deixar a batalha.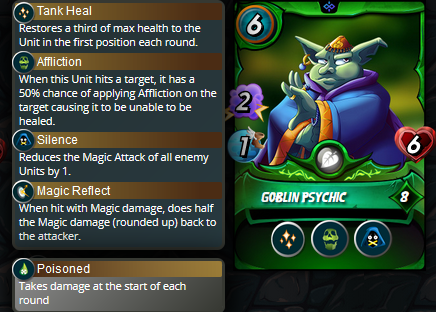 Por fim, coloquei o Mycelic Morpoid, apenas para evitar qualquer tipo de Sneak que pudesse tentar atacar meu time pela linha de trás.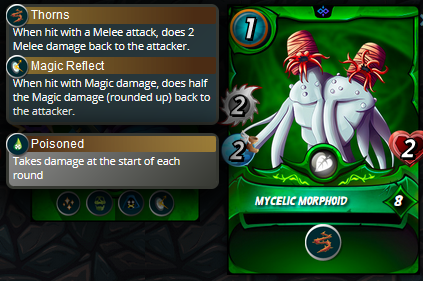 Meu oponente colocou o Exploding Rats na frente para causar um bom dano adicional já no início da batalha.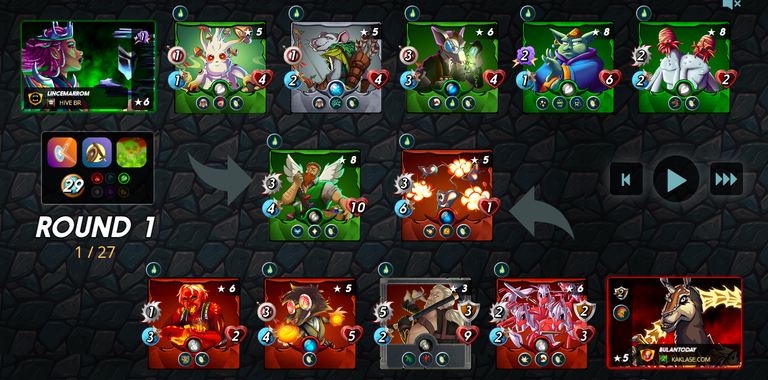 Isso fez com que parte de minha estratégia fosse quebrada, pois o primeiro Martyr foi direcionado para o Venari Marksrat e não para o Seedmith, já que o Fungus morreu antes da hora.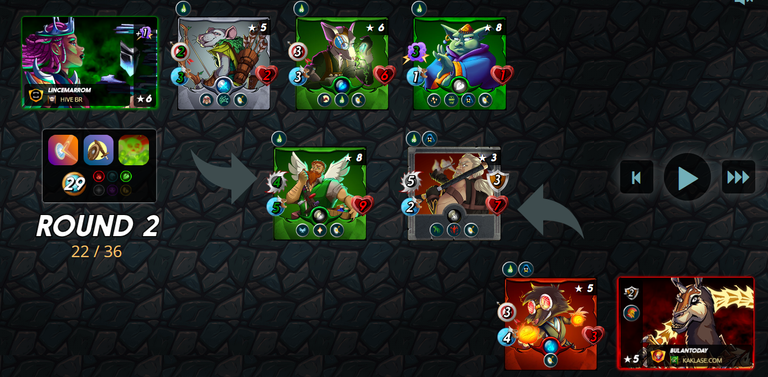 Mesmo assim, todo o resto funcionou bem, com o Goblin Psychic causando bastante dano sobre a vida dos monstros de meu oponente, que não esperava o uso de monstros mágicos, tornando-o assim uma peça chave de minha vitória.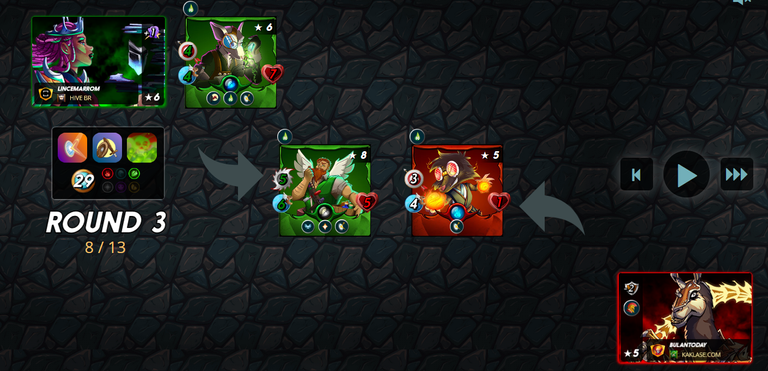 ---
---

Em minha opinião, um dos melhores Splinters para se usar, se não o melhor, na regra de batalha Rise of the Commons é o de Terra. Isso se deve ao fato de possuir mais opções de monstros com habilidades de cura, que é uma das habilidades mais fortes do jogo.
Além também, da possibilidade de usar um monstro com Martyr em adicional ao Neutro e Dragon, podendo criar estratégias poderosas em torno dessas habilidades.
---
Todas as imagens são do: @Splinterlands
Divisor do: @freeztag
---
---
Não joga Splinterlands ainda? Clique AQUI e venha jogar comigo!
---
---

---
---
---