Using speed to hold off attacks - Lost Magic - Battle Mage Secrets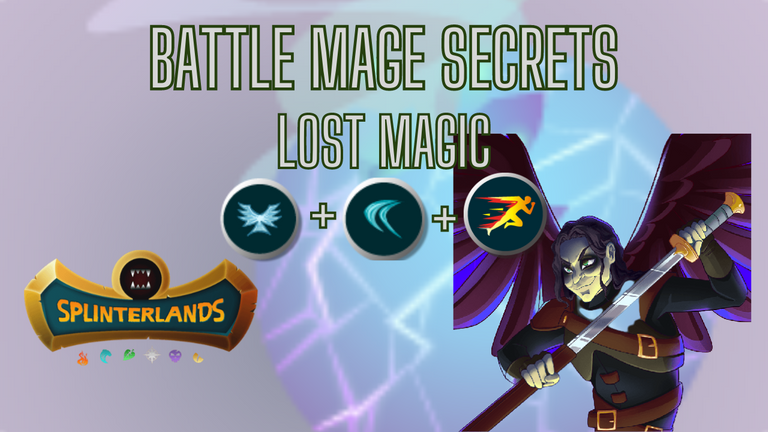 Banner made by me, using Canva
All the images from the banner are from @Splinterlands
---
Clique aqui para ler o post em português!
---
English
Introduction
This is my second post talking about the Lost Magic ruleset. As there are many details and strategies that can be created, I think it's a good idea talking a bit more about what can be done to deal with it.
If you didn't watch the previous post, click here to watch it.
Now I'm going to talk about an extremely important detail in all the Splinterlands battles. Speed.

How to deal with this ruleset by dodging attacks
It determines who will attack first and also the probability that one monster will miss an attack on the other. This last detail becomes even more important for Meele and Range monsters, since we don't have this problem with Magics, unless the monster being attacked has the Phase ability.
For every point less speed you have in relation to the monster you are attacking, you have 10% more chances of missing an attack on it.
And there are abilities that increase these chances even more, regardless of there is or not a speed difference.
The first one I will mention is Flying. The monster that hold it increases the probability of an enemy missing an attack by 25%.

However, if the monster that making the attack also has it, the effect will be canceled.
The second ability is Dodge. It works in the same way as the previous one, but with one small difference.

In this case, there is no way to cancel the effect if the enemy also has it.
The same happens with Blind, but in this case, the chance of dodging an attack increases by 15% only.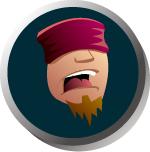 All of this can be countered by a single ability called True Strike. It is present in one of the strongest summoners in the game at the moment, the Byzantine Kitty.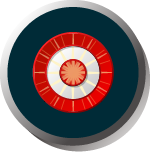 Some monsters also have it, and these are very interesting to have on the field.
There is also a way to nullify the Flying only, through Snare. The monster that has it can attack them without any chance of missing, even with a speed difference.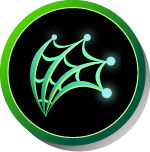 Example
In addition to the weekly challenge ruleset, there was the Holy Protection, which makes all monsters on the field immune to the first attack.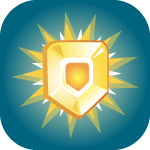 My strategy was focused on increasing the speed of my team, and making the Coeurl Lurker hold off attacks through dodging.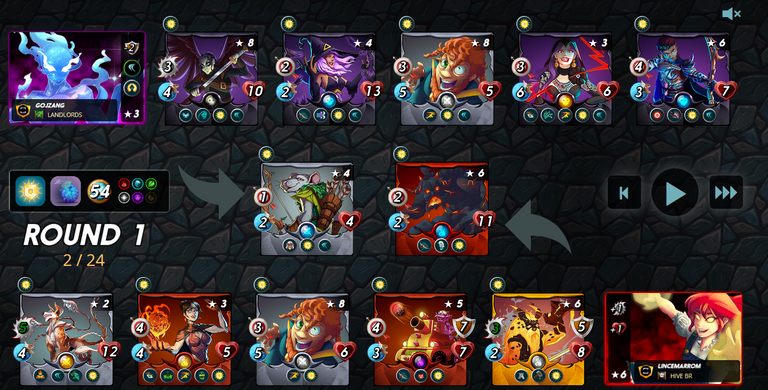 However, my opponent seemed much more prepared than me, combining speed with dodging as well. But in this case he went one step further, adding a monster with Martyr in front, to increase the attributes of the tanker behind.
The combination of Flying + Dodge + high speed seemed extremely strong, but I didn't expect it to be so much...
When I realized, I saw the chance of hitting him was minimal, and I was annihilated by my opponent.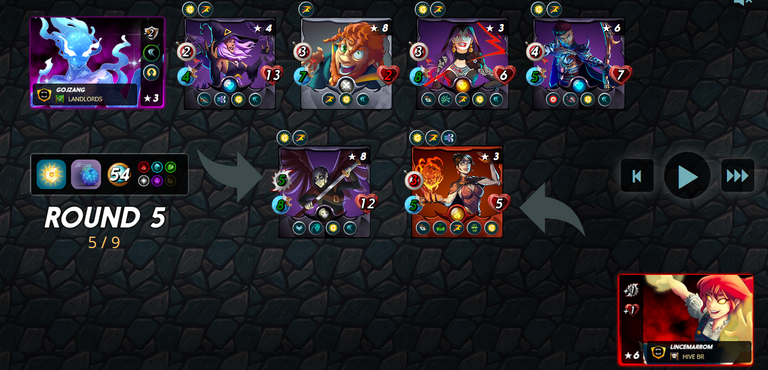 ---
---

Considerations
Abusing dodging abilities, as well as speed, can be an excellent strategy for beating your opponent in the Lost Magic ruleset.
This strategy is really effective as the Shield + Thorns combination, and can even defeat it if you make a strong combination of Flying + Dodge + Backfire + Martyr.
But, there's a lot more complexity involved in building it, and for this reason it may not end up being as interesting to use.
---
All the images are from @Splinterlands
Divider By: @freeztag
---
---
Are you not playing Splinterlands yet? Click HERE and play with me!
---

Português
Introdução
Este é o segundo post falando sobre a regra de batalha Lost Magic. Como há diversos detalhes e estratégias que podem ser criadas, acredito que vale a pena falar um pouco mais do que pode ser feito para lidar com ela.
Se você ainda não viu o o post anterior, clique aqui para vê-lo.
Irei escrever agora sobre um detalhe de extrema importância em todas as batalhas em Splinterlands. A velocidade.

Como lidar com essa regra de batalha se esquivando de ataques
É ela que determina quem irá atacar primeiro e também a probabilidade de um monstro errar um ataque sobre o outro. Esse último detalhe se torna ainda mais importante para os monstros tipo Meele e Range, já que não temos esse problema com Mágicos, a não ser que o monstro atacado possua a habilidade Phase.
Para cada ponto a menos de velocidade que você possui em relação ao monstro que será atacado, são 10% a mais de chances de errar um ataque sobre ele.
E existem habilidades que aumentam ainda mais essas chances, independente se há ou não diferença de velocidade.
A primeira que irei citar, é a Flying. O monstro que a possui, aumenta em 25% a probabilidade de um ataque inimigo falhar.

Mas, caso o monstro que realizar o ataque também a possua, o efeito será anulado.
A segunda habilidade é o Dodge. Ele funciona da mesma forma que a anterior, porém com uma pequena diferença.

Nesse caso, não há como anular o efeito se o inimigo também a possuir.
O mesmo ocorre com o Blind, mas nesse caso, a chance de se esquivar de um ataque aumenta em 15% apenas.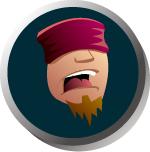 Tudo isso pode ser anulado com uma única habilidade, denominada True Strike. Ela está presente em um dos mais fortes invocadores do jogo até o presente momento, a Byzantine Kitty.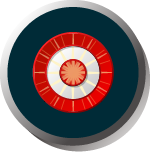 Alguns monstros também a possuem, sendo esses muito interessantes para se ter em campo.
Há também como anular o Flying unicamente, através do Snare. O monstro que detém dela consegue atacá-los sem chances alguma de errar, independente se há diferença de velocidade ou não.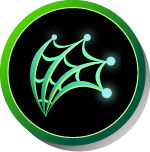 Exemplo
Além da regra de batalha do desafio semanal, havia a Holy Protection, que torna todos os monstros em campo imunes ao primeiro ataque.
Minha estratégia estava focada em aumentar a velocidade do meu time, e fazer com que o Coeurl Lurker segurasse os ataques através principalmente da esquiva.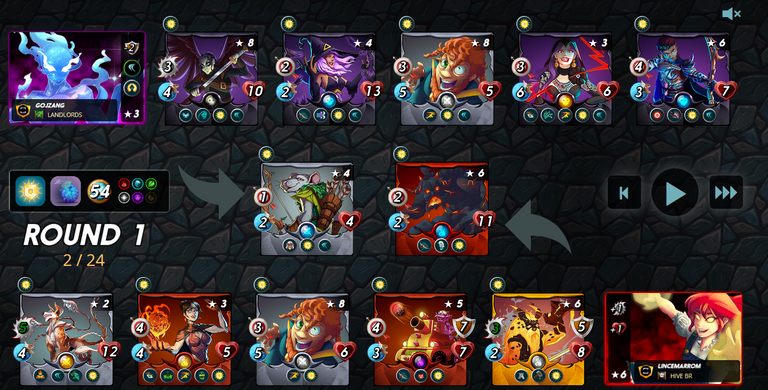 No entanto, meu oponente parecia muito mais preparado do que eu, combinando também velocidade com esquiva. Mas nesse caso ele foi além, adicionando um monstro com Martyr na frente, para aumentar os atributos do tanker que estava logo atrás.
A combinação Flying + Dodge + alta velocidade parecia extremamente forte, mas eu não esperava que fosse tanto...
Quando me dei conta, vi que a chance de acertar um ataque sobre ele era mínima, e assim fui aniquilado pelo meu oponente.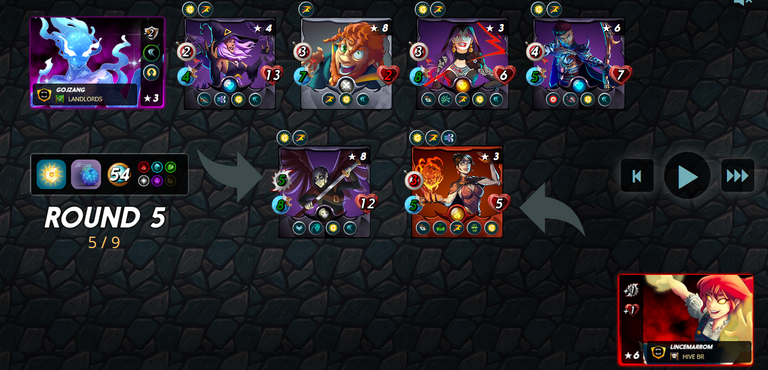 ---
---

Considerações
Abusar das habilidades de esquiva, tão como da velocidade, pode ser uma excelente estratégia para vencer seu oponente na regra de batalha Lost Magic.
Tal estratégia possui uma eficiência tão boa quanto a combinação Shield + Thorns, e pode inclusive derrotá-la, caso faça uma forte combinação de Flying + Dodge + Backfire + Martyr.
Porém, há uma complexidade muito maior em construí-la, e por este motivo pode acabar não sendo tão interessante de ser usada.
---
Todas as imagens são do: @Splinterlands
Divisor do: @freeztag
---
---
Não joga Splinterlands ainda? Clique AQUI e venha jogar comigo!
---
---

---
---
---