[PT/EN] Arkemis the Bear em foco || Arkemis the Bear in Focus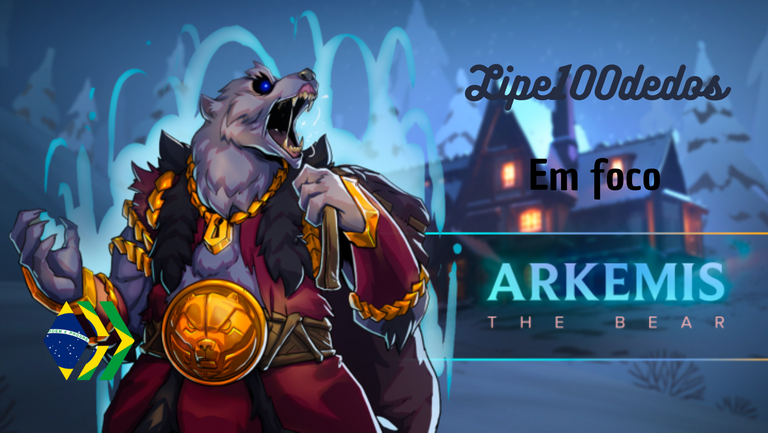 Olá pessoal! Esse é mais um "Em foco", uma serie de artigos analisando uma carta em vários aspectos, como apresentação, status em cada level, sinergias com outras cartas, preços e etc.
E nessa edição iremos analisar "Arkemis the Bear" a carta promo da festa de inverno. Para garantir essa carta incrivelmente forte basta comprar 1pack de Chaos legion, Riftwatcher ou tower defense diretamente do site oficial durante o período promocional, além disso existe 2% de chance de a carta ser uma gold foil tendo uma GF garantida em cada 50packs comprados em uma unica transação. Mais informações no post oficial https://ecency.com/splinterlands/@splinterlands/splinterlands-winterfest-end-of-year-promotion . Então vamos ao que interessa...
Hello guys! This is another "In Focus", a series of articles analyzing a card in various aspects, such as presentation, status at each level, synergies with other cards, prices, etc.
And in this issue we will analyze "Arkemis the Bear" the winter party promo card. To guarantee this incredibly strong card, just buy 1 pack of Chaos legion, Riftwatcher or tower defense directly from the official website during the promotional period, in addition there is a 2% chance that the card is a gold foil having a guaranteed GF in every 50packs purchased in a single transaction. More information in the official post https://ecency.com/splinterlands/@splinterlands/splinterlands-winterfest-end-of-year-promotion . So let's get down to business...

Apresentação || Presentation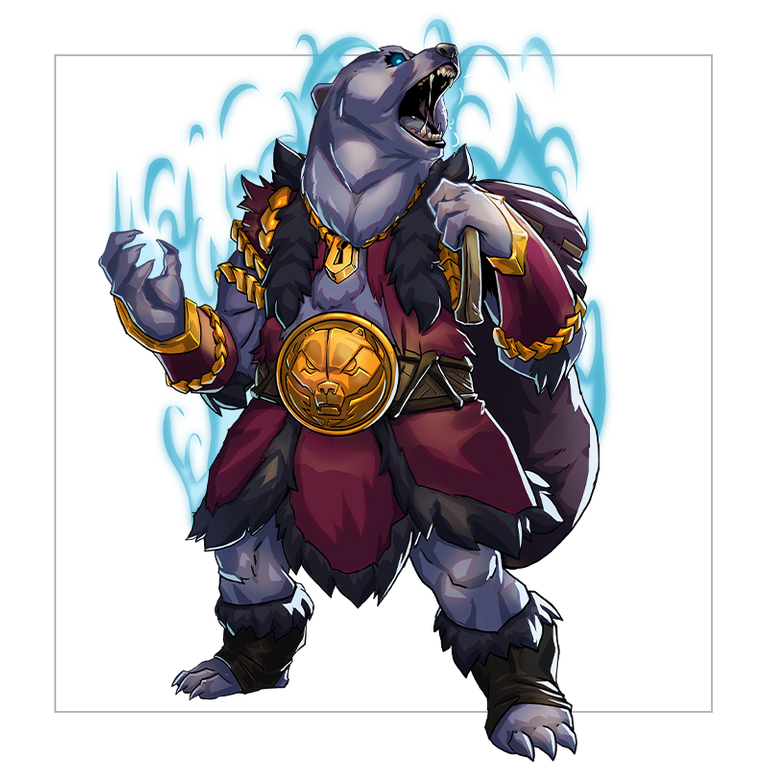 Dessa vez a apresentação será um pouco diferente pela natureza da carta que estamos analisando. Nitidamente o Arkemis the Bear é uma alegoria para o famoso e temido por muitos "Bear Market" a equipe conseguiu criar uma fabula inteligente e nem um pouco sutil que explicita não só como o bear market funciona mas também usa um grande apelo ao também famoso FOMO(Medo de perder oportunidade)então vou recomendar que leiam a lore e vou utilizar elementos da própria fabula para explicitar meus pensamentos sobre o assunto.
Yew foi perspicaz de perceber a oportunidade na visita do urso e a historia dele se espalhou inspirando os corajosos a seguir o sábio conselho, porem no mundo real é necessário tomar cuidado para não investir seu capital em projetos que não tem força para sobreviver ao inverno e ter seu investimento perdido e ter muito mais perspicácia para poder escolher quais projetos se posicionar para sair do inverno multiplicando seu patrimônio em muitas vezes.
This time the presentation will be a little different due to the nature of the card we are analyzing. Clearly Arkemis the Bear is an allegory for the famous and feared by many "Bear Market" the team managed to create an intelligent and not at all subtle fable that explains not only how the bear market works but also uses a great appeal to the also famous FOMO (Fear of losing opportunity) so I'm going to recommend that you read the lore and I'm going to use elements from the fable itself to explain my thoughts on the subject.
Yew was keen to see the opportunity in the bear's visit and the story of him training himself inspiring the brave to follow wise counsel, but in the real world you have to be careful not to invest your capital in projects that don't have the strength to survive to winter and have your investment lost and have much more perspicacity to be able to choose which projects to position yourself to get out of the winter, multiplying your equity many times over.

Status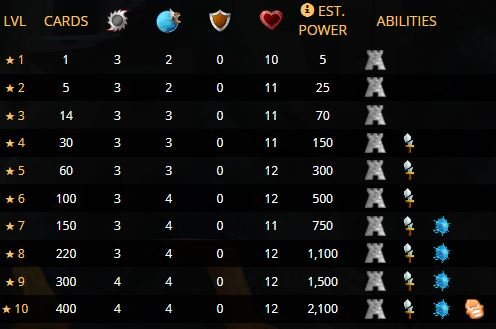 Pela imagem acima você pode ver os status gerais da nossa carta em foco, então vamos destacar ela nos leveis máximos para prata, ouro e diamante/champion.
From the image above you can see the general status of our card in focus, so let's highlight it at the maximum levels for silver, gold and diamond/champion.

Prata || Silver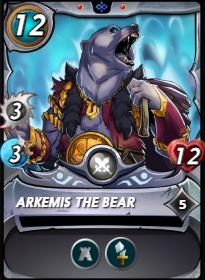 Já no lvl 5 Arkemis apresenta 2 habilidades muito importantes, Protect dando shield para todo o time e Halving que reduz o ataque de quem receber dano dele na metade. Tendo 3 de meelee ataque, 3 de speed e 12 de vida, Arkemis é um tank razoável porem é melhor aproveitado em regras que ele não precise tankar, equal oportunity por exemplo, para poder aproveitar melhor as 2 habilidades.
Seu único defeito é seu alto custo de 12 mana o que impossibilita sua utilização para partidas de pouca mana.
Already at lvl 5 Arkemis has 2 very important skills, Protect giving shield to the whole team and Halving which reduces the attack of those who receive damage from it in half. Having 3 melee attack, 3 speed and 12 life, Arkemis is a reasonable tank but is better used in rules that he doesn't need to tank, equal opportunity for example, to be able to take better advantage of the 2 abilities.
Its only defect is its high cost of 12 mana, which makes it impossible to use it for low mana games.

Ouro || Gold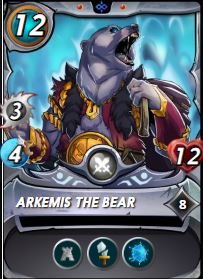 Do lvl 5(Max no prata) pro 8(Max no ouro) os status não se alteram muito ganhando apenas 1 de velocidade e 1 de vida, porem sua nova habilidade forcefield faz dele um tank muito melhor, evitando tomar dano massivo de um único alvo.
From lvl 5 (Max in silver) to 8 (Max in gold) the stats do not change much, gaining only 1 speed and 1 life, but his new forcefield ability makes him a much better tank, avoiding taking massive damage from a single target.

Diamante/Champion || Diamond/Champion
Maximizado o Arkemis ele ganha 1 a mais de ataque e a habilidade enrage, 1 de ataque pode parecer pouco mas somando isso com o enrage ele fica rápido e forte mesmo pros padrões de cartas maximizados considerando que ele é apenas um monstro comun e pode ser usado com qualquer summoner do jogo!
Maximized Arkemis he gains 1 more attack and the enrage skill, 1 attack may seem little but adding that with enrage he becomes fast and strong even for maximized card standards considering that he is just a common monster and can be used with any summoner in the game!

Sinergias || Synergies
O fato do Arkemis ser uma carta neutra abre um leque imenso de oportunidades podendo ser usado com qualquer summoner, porem quero destacar 2 tipos de sinergias, sendo com summoners que dão Void/Void Shield e com regras de partida que permitam ele a atacar sem estar na primeira posição. Vamos olhar cada caso.
The fact that Arkemis is a neutral card opens up a huge range of opportunities and can be used with any summoner, but I want to highlight 2 types of synergies, with summoners that give Void/Void Shield and with game rules that allow it to attack without being in the first position. Let's look at each case.

Grandmaster Rathe /Mimosa Nightshade
No primeiro caso ele torna a habilidade protect excepcionalmente forte, podendo tankar magia e ainda somando 1 de shield a mais, ele pode ser usado na primeira posição ou como suporte em outras posições de qualquer forma tem uma boa sinergia e completando a composição com monstros de habilidade repair.
No segundo caso ele fornece a proteção contra os ataques físicos enquanto a própria mimosa já oferece uma proteção eficiente contra ataques mágicos tendo efeito semelhante ao do Grandmaster.
In the first case it makes the protect ability exceptionally strong, being able to tank magic and still adding 1 more shield, it can be used in the first position or as a support in other positions in any way it has a good synergy and completing the composition with monsters of repair ability.
In the second case it provides protection against physical attacks while the mimosa itself already offers efficient protection against magical attacks having an effect similar to that of the Grandmaster.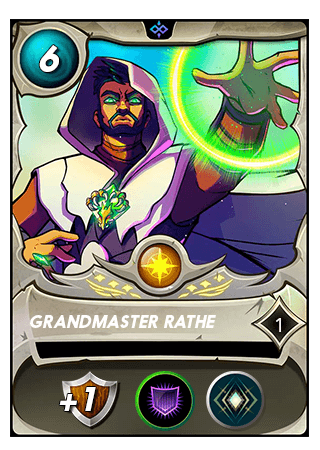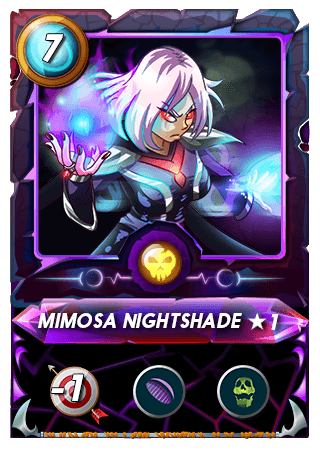 Meelee Mayhem / Super Sneak / Equal Opportunity



Em qualquer uma dessas 3 regras o Arkemis pode cumprir sua função de suporte e ser um tank secundario ou back tank sem perder seu potencial de ataque tornando ele ainda mais forte.
In any of these 3 rules Arkemis can fulfill its support function and be a secondary tank or back tank without losing its attack potential making it even stronger.

Preços || Prices
Para ajudar possíveis estratégias de compra irei deixar os preços atuais para cada lvl da carta em versão regular e gold foil. E também irei colocar estatísticas de menor preço por bcx e distribuição de cartas no mercado.
To help possible purchase strategies I will leave the current prices for each lvl of the card in regular and gold foil versions. And I will also put stats of lowest price per bcx and dealing cards in the market.
Regular Foil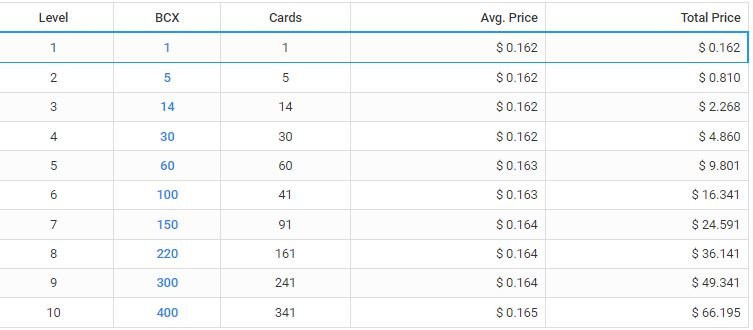 Gold Foil

Distribuition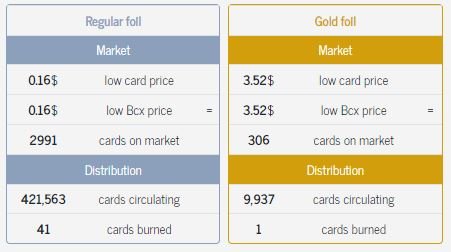 Conclusões || Conclusions
Arkemis é uma carta extremamente atípica que veio pra mandar um recado dos desenvolvedores de splinterlands. Quem vender suas cartas agora e não aproveitar o bear market pra montar sua coleção irá se arrepender. Se isso vai se concretizar ou não ainda não sabemos, mas eu certamente irei melhorar meu posicionamento em splinterlands, embora eu gostaria de poder comprar mais do que vou conseguir.
Essa na minha opinião a comum mais forte até então, mas o que mais me chama atenção é que o modelo de distribuição atípico dela pode nos dar uma dica de como o mercado vai reagir ao fim do print de algumas cartas rewards e do fim da venda dos packs cl. Já que o print dela tem data limitada. Embora é necessário ver que ter um período curto de print não significa ter menos carta em circulação. Em pouco tempo ela já tem 2x mais regular foil que a maioria das comuns da chaos legion, embora tenha menos gf que a maioria delas o que me da a entender que o preço da regular foil está alto pra comprar agora e da gold foil muito baixo. Mas o real preço como eu disse vaoms ver quando o winterfest acabar e pelo menos pra mim vai servir de termometro de mercado. Espero que tenham gostado da analise de hoje, se quiser ver mais conteúdos como esse me segue e se for possível deixe seu upvote para incentivar a criação de bons conteúdos.
Arkemis is an extremely atypical card that came to send a message from the splinterlands developers. Anyone who sells their cards now and doesn't take advantage of the bear market to build their collection will regret it. Whether or not this will come to fruition remains to be seen, but I will certainly improve my placement in splinterlands, although I wish I could buy more than I will.
This in my opinion is the strongest common so far, but what most calls my attention is that its atypical distribution model can give us a hint of how the market will react to the end of the print of some reward cards and the end of sale of cl packs. Since her print has a limited date. Although it is necessary to realize that having a short print period does not mean having less circulation. In a short time it already has 2x more regular foil than most of the chaos legion common ones, although it has less gf than most of them, which makes me understand that the price of the regular foil is high to buy now and the gold foil is very low . But the real price, as I said, we'll see when the winterfest is over and at least for me it will serve as a market thermometer. I hope you enjoyed today's analysis, if you want to see more content like this follow me and if possible leave your upvote to encourage the creation of good content.

You can earn passive income by delegation of tribe tokens to "The Cartel".


Click this banner to join "The Cartel" discord server to know more.

---
---