SHARE YOUR BATTLE Weekly Challenge! GARGOYA SCRAPPER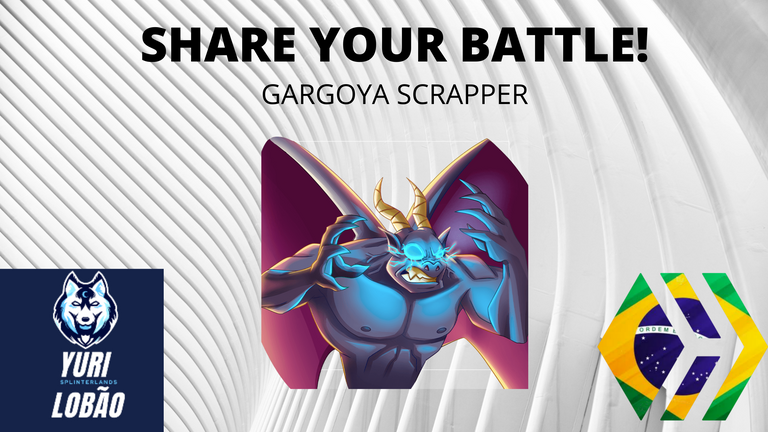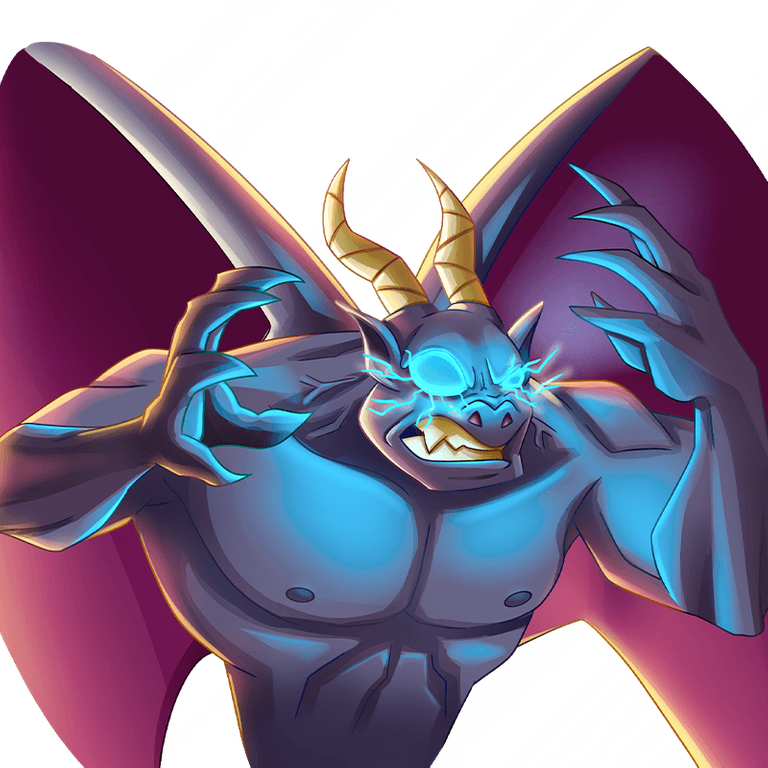 When the Chaos Legion entered the Splinterlands through the rift in Mount Praetorius and laid to ruin the great castle of the Gargoya, many of the stone gargoyles fled across the sea and scattered to other continents. However, some remained in the rubble, searching for a way to rebuild their kingdom. These became known as Scrappers.
Scrappers despise the Chaos Legion for destroying their home. Now, they seek the knowledge to create more of their kind and, using what they learn, build more Gargoya. Across the Splinterlands, they have established workstations to grow their numbers and advance their culture, creating Gargoyas of countless sizes and varieties.
Their ultimate goal is to avenge their fallen brethren, rebuild their home, and see to the defeat of the Chaos Legion.
Shiv pulled the smoldering clay from the furnace with a crooked grin. Gripping the tongs tightly, they turned to the table behind them. Multiple Gargoyan eyes looked on as Shiv maneuvered the heated clay into place. Their eyes followed the movement as it was placed onto the top of a stone creature.
The near perfectly carved stone bust of an incomplete Gargoya stood still. Whispers from the surrounding Gargoya filled the room. Shiv grabbed a dull knife, barely larger than themself and clambered to the top of a ladder next to the creature.
With great precision, Shiv carved holes for eyes, a nose, and a mouth into the newly appointed stone face of the creature. Their work had only just begun.

STATS
GARGOYA SCRAPPER low mana cost card, which makes it interesting in low mana battle, from LV 3 it has VOID that helps a lot against mages.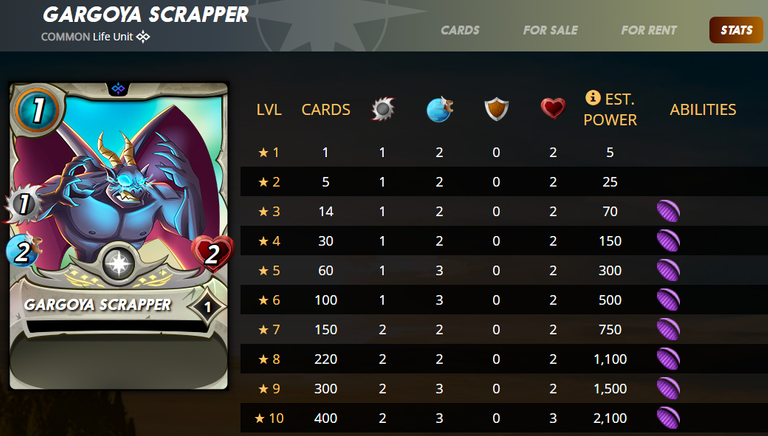 MARKET
In the market there are low values ​​for rent and purchase, on the date of 06/11/2022 with the search in the lowest values ​​costing 44,266 DEC for purchase and 0.1 DEC / DAY already at LV 3 for rent, and can even be used in battles when FOCUS is in the LIFE element.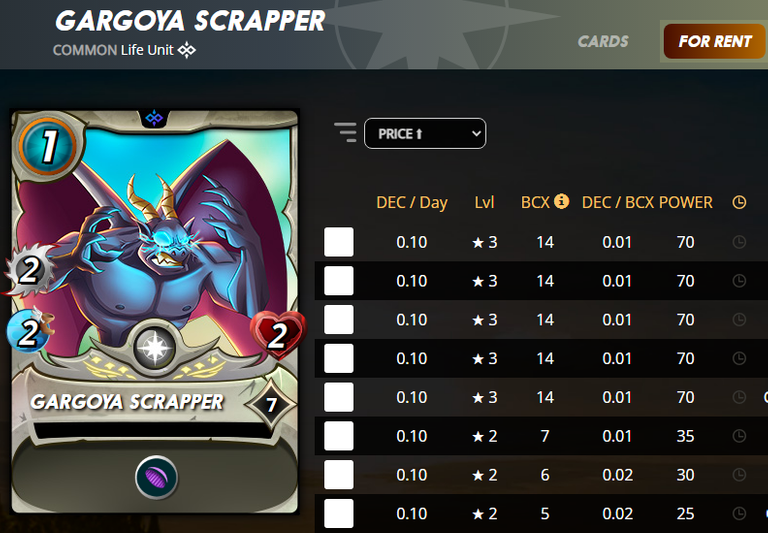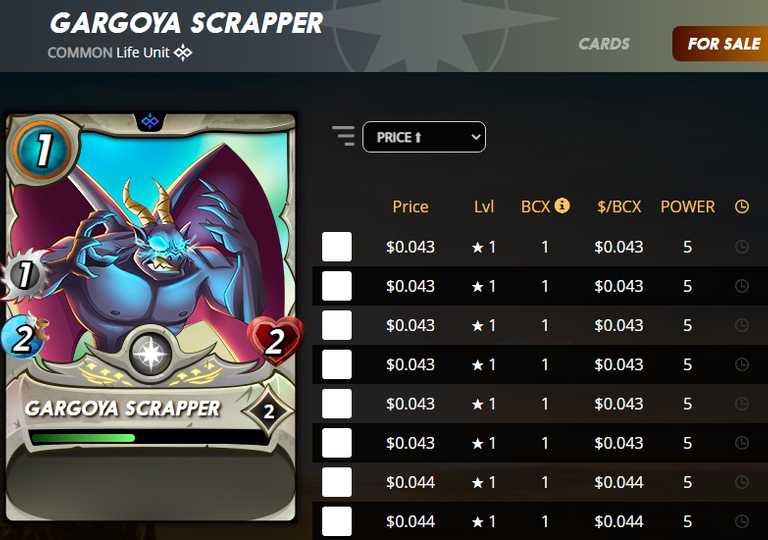 TEAM
I confess that I don't usually use the Elemento VIDA formation, I tried to make a team with high attack power.

| Mother Khala | Sumoner is used a lot for the LIFE element, providing +1 health. |
| --- | --- |
| Gargoya Scrapper | Low mana cost card that I usually use as a joker in battles, can be shield or used for the back line |
| Blinding Reflector | The real battle tank even with low cost has good protection |
| Djinn Renova | Powerful element mage with direct attacks! |
| Cave Slug | Responsible for looking for prey about to die |
| Portal Spinner | Strong marksman that assists firepower |
| Sand Worm | The brutal worm holding on to the back row |

BATTLE
The Rules for Battle are:

| Rule | Description |
| --- | --- |
| Fog of War | Snipe and sneak abilities are gone. |
| Odd Ones Out | Only odd mana cards can be used. Your options to choose cards will be halved. You'll be forced to use cards that you really don't use much. Don't force a build just to win a daily quest. Dragons can be a gamechanger here. |
| Mana | High mana cost, accepts several variations. |
Initially I thought I would have a difficult task when facing the powerful Sumoner Lorna, but my strategy with great attack force worked and decimated the enemy!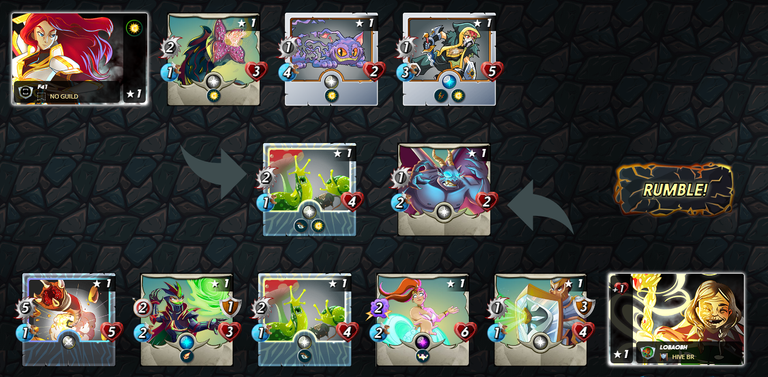 CONCLUSION
Cards like Gargoya are very interesting to have for different strategies, especially with low mana costs as a rule. It is a wild card that can fit into any formation and be very important in the final composition.
Come to the Splinterlands universe,
If you enter my link, leave a comment that I will help.
https://splinterlands.com?ref=lobaobh
@splinterlands @play2earn
Image source: Splinterlands.com, Canva

---
---