SHARE YOUR BATTLE Weekly Challenge! XENITH ARCHER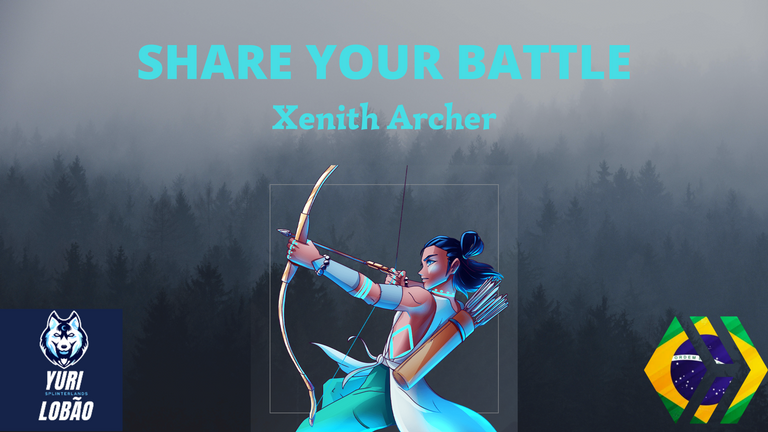 In this week's challenge, the shooter of justice XENITH ARCHER, a NEUTRAL element card with an average cost of 2 mana, with 1 Attack Range, 2 Health and 1 Speed, these attributes in the base Lv 1 card.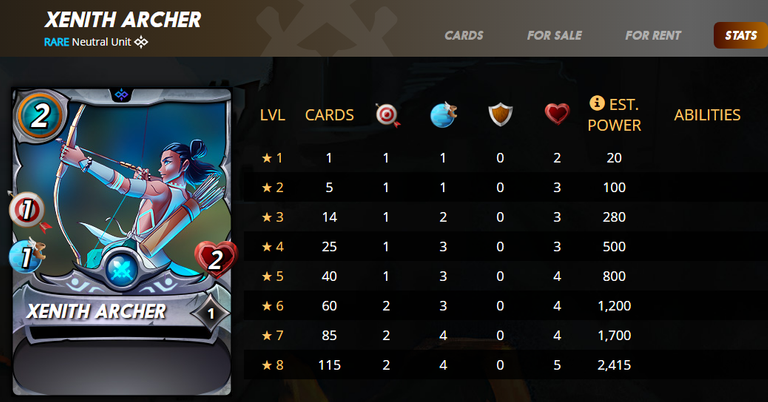 MARKET
It has low cost of both sale and rent, ranging today from the lowest values of 0.10 DEC/day for rent and $0.27 for purchase.
An interesting card to have in your collection or to rent for low mana costs helps in many battles.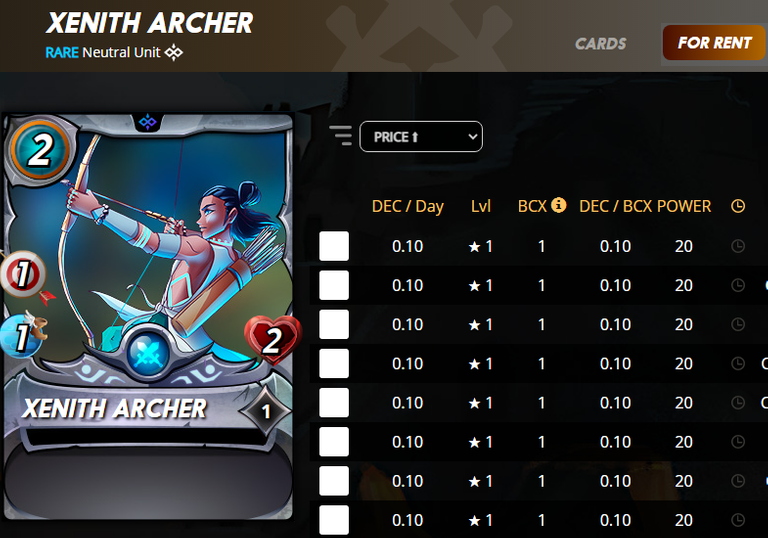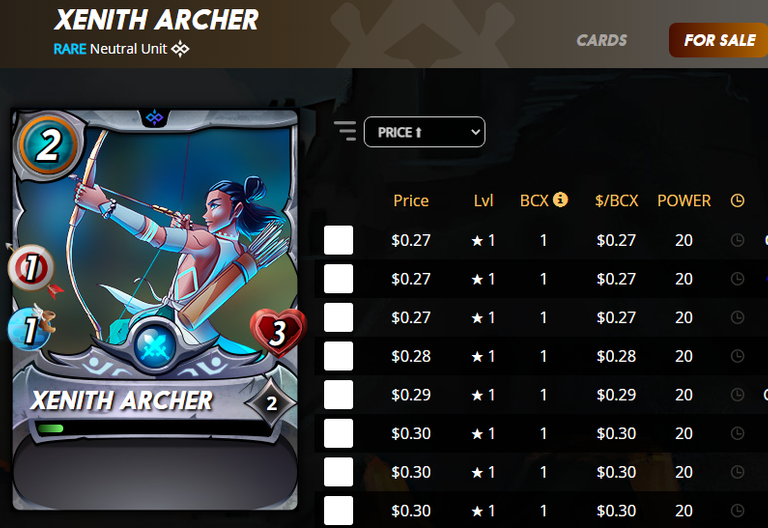 In this battle the mission focus was the EARTH element, so to acquire the maximum RP I rented most of the cards to not have a decrease with the STARTER cards, only Xenith Archer was used without rent:
| CARD | RENT |
| --- | --- |
| Obsidian | 0.10 DEC |
| Unicorn Mustang | 2.91 DEC |
| Khmer Princess | 1.76 DEC |
| Goblin Sorcerer | 4.26 DEC |
| Wood Nymph | 2.50 DEC |
| Enchanted Pixie | 2.97 DEC |
| Xenith Archer | - |
| Total | 14.40 DEC |

TEAM
Team of the EARTH element maximizing my RP gain due to the focus of the day, using the power of magic attacks with a good tank and our wildcard marksman.

| Obsidian | Summoner of the water element that forms +1 magic by combo with other excellent mages of the element |
| --- | --- |
| Unicorn Mustang | One of the best tanks in the game with its excellent protection against magic attacks and great damage |
| Khmer Princess | Magic attack with minimum mana expenditure |
| Goblin Sorcerer | Strategic magic attacks to the enemy's back line |
| Wood Nymph | Combo attacks with excellent tank ally health regeneration ability |
| Enchanted Pixie | Composing attack team with low cost and dodge skill |
| Xenith Archer | The great archer finishing the attack power and holding the back line of possible attacks |

BATTLE
The Rules for Battle are:

| Rule | Description |
| --- | --- |
| Lost Legendaries | Legendary Monsters can't be used. Legendary Summoners are still available though. |
| Mana | Medium mana cost, requires good low cost preference cards to compose the entire team |
A tough battle also against the EARTH element with a similar strategy and cards in common, my strategy is to use the strong magic power combined with the Globlin Sorcerer's back line attacks and manage to heal the Unicorn Mustang before his death.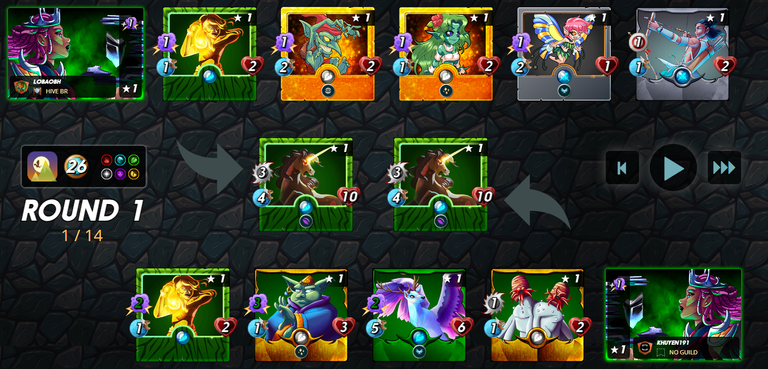 The strategy worked perfectly, with a great importance of the Goblin Sorcerer eliminating 2 enemies in the back line, the Wood Nymph healing keeping our tank in battle and the rest with our attack team bombing the enemy, keeping our entire team alive and with a overwhelming victory.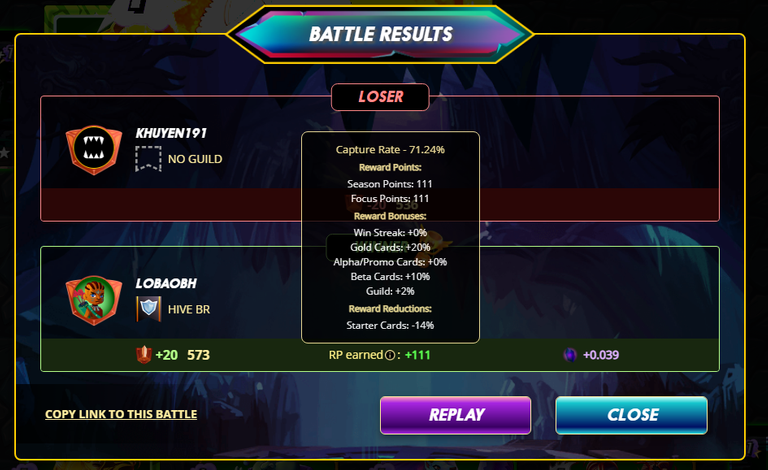 I got good RP points still low because it's the beginning of a season being relegated to the league but the strategy of maximizing RP is good with GF and Beta Cards bonus losing 14% just for Starter Card in this case Xenith Archer that fit like a glove on the team so I ended up using it.

CONCLUSION
Xenith Archer is an excellent card to compose teams with low mana cost or to fit in when there is little mana left to complete a team, as it is of the NEUTRAL element, it fits in any formation and can be considered a wild card in several battles, in addition to providing a small Attack power can be used to counter back-line attacks. I always use it in battles and I intend to obtain it in the future or rent it whenever necessary.

Come to the Splinterlands universe,
If you enter my link, leave a comment that I will help.
https://splinterlands.com?ref=lobaobh
@splinterlands @play2earn
Image source: Splinterlands.com, Canva

---
---