SPLINTERLANDS - BUDGET COUNTER MAGIC FORMATIONS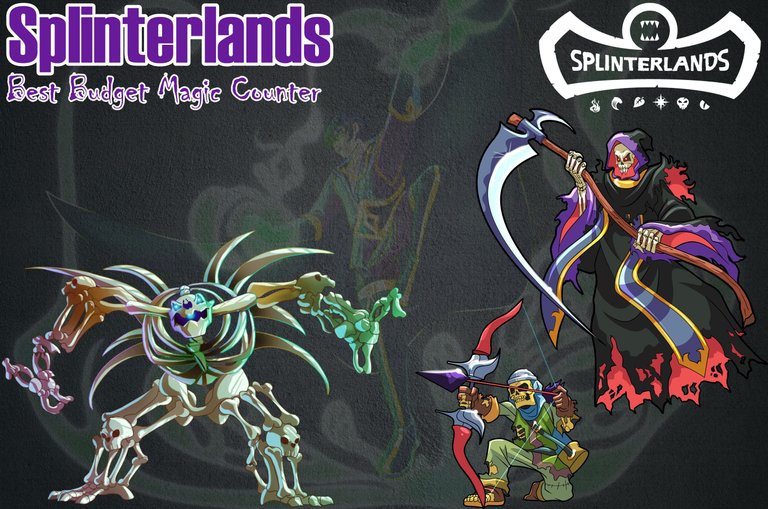 Hello, world and fellow crypto buddies
In this post, we are going to make another promotion post about Splinterlands! As always if you want to make your own entry in the Weekly Social Media Challenge you can enter
here
. Today I decided to take a closer look in Death class and review some good combos that work very well against Magic. Because this post has the purpose to promote the game, I will try to explain what is this crypto game with a few words! If you are familiar with the game skip this part!
So if anyone is new here and doesn't know what the game is about let me explain to you. Splinterlands is a play to earn a game in the NFT world. The game operates in the Hive blockchain and it is a trading game genre! To put it simply it's a card game that whenever you win you earn DEC (basically the crypto-coin of the game), the more you play and you are going up in the ladder, the more rewards you get! If you want to join and take a taste of the game, you can do that for free but if you want to start earning DEC and grind for NFT cards and more rewards you must buy the Summoner's Spellbook. I totally recommend starting your journey today and to help you with that we are going to review today my favorite combo for Ranked games!

MISSION NEUTRALIZE MAGIC MONSTER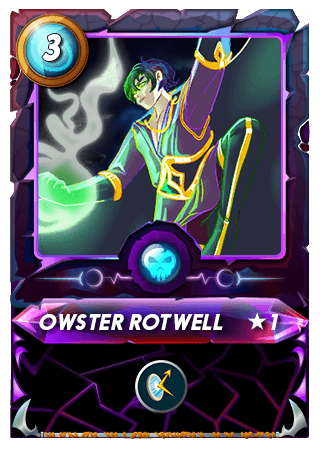 Let's begin with choosing the perfect Summoner, I truly believe that OWSTER ROTWELL is a very good fit because it covers all the things we want. His ability to give all Monsters Reflect Magic damage is just perfect and I consider that his price it's not very high! Of course, there are many options such as Mimosa Nightshade, Jarlax The Undead, Thaddius Brood, Contessa L'Ament, Crypt Mancer, etc. Of course, you should have a variety of summoners before you enter the battle because you will never know the Ruleset of each game but how big your collection is going to depend on your available budget! But the restrictions we set for our today's post are that we need a quality budget summoner and Owster Rotwell fulfills our criteria!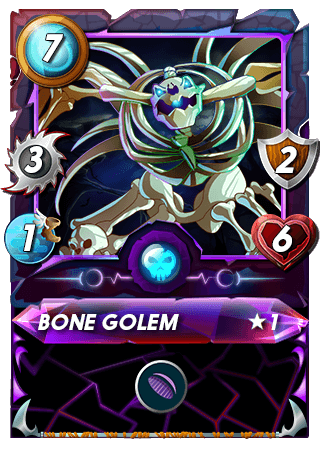 Another critical decision that you are going to make and decide if you win the matchup or not is the selection of your tank! Here there is not a specific go to but the are some very interesting choices! The basic hints in which tank should you use in each battle are the Mana cap and the history of your opponent's battles! If you see that your opponent plays always Magic you should use Bone Golem! This Monster's Void ability with the Magic Reflect from Owster Rotwell is simply unbeatable! But if the mana cap doesn't allow it or you are not sure if your opponent is going full magic there are plenty of options you should use! Some of those are Haunted Spirit, Cursed Windeku, Harklaw, Lord of Darkness, Cthulhu, even Riftwing has worked well on me when there are some rules such as Poison, Earthquake!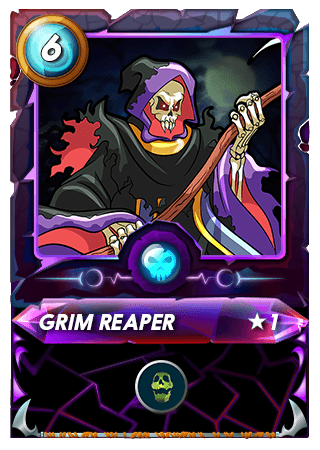 So we've covered up the Summoner and the tank section and the last spot we need to fill it's our Attacker! Let's begin with my favorite one, the Grim Reaper! For 6 mana we get 3 Range Attack, 2 Speed, and 3 Life, but most importantly we get the Affliction ability (Meaning that Enemy monster will lose the ability to Heal if hit by a monster having that ability. I think that there's a 50% chance of afflicting the enemy.) Of course, in this section, there are much more Monsters that can do the job and you can mix n match all you like! I would give you some alternatives that I personally use such as Twisted Jester, Undead Archer, Dark Astronomer, Dhampir Stalker, Ancient Lich, etc. I want to mention too some cards that I found very useful in combat and there are pretty OP especially when they are leveled up! Shadowy Presence and Undead Priest are some of them!

Don't forget to leave your thoughts and questions in the comment section!
If you want to see more of my posts and take participate in future giveaways I am planning, you should FOLLOW me. I will make sure I am going to follow back too!
I will distribute some @lolztoken in the comments!
Images used in this post are owned and open-sourced by splinterlands.com
If you didn't join SPLINTERLANDS yet here is my referral link:
https://splinterlands.com?ref=lofone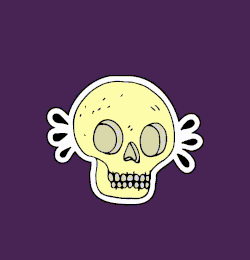 ---
---