SPLINTERLANDS- HIGHLIGHTS FROM THE LADDER
Hello world and fellow Hivers
About a month ago was the last time that I uploaded a post in general and more specifically about Splinterlands. I missed a lot of the feeling I get when I'm writing a post, especially the whole process of playing the actual game, capturing and editing the gameplay, and finally writing the article. The main problem for my absence from the platform is time because of my work schedule I can't spend so many hours on Hive & on Splinterlands. The weekends are a great opportunity to counter this but the last 2 weekends I chose to go on trips and that didn't help at all. Well, I can't make any promises about the future posts that I am going to upload but the sure thing is that I am not going to retire from the platform any time soon. Let's talk now about the theme of today's article and once again we are going to participate in
@splinterlands
' social media challenge and I am going to share with you one of my ranked battles.

The Battle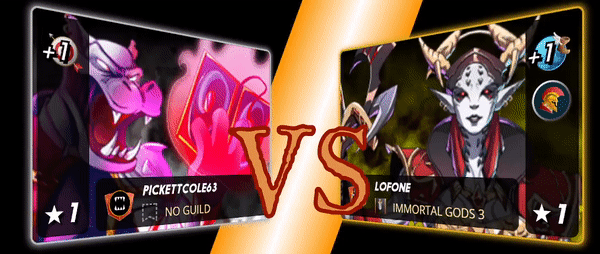 Ruleset

Armored Up: All monsters have 2 Armor in addition to their normal Armor stat.

The available mana cap is unlimited and we can play all classes except Water.

Summoner Selection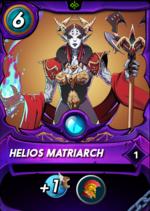 The summoner that I chose for this battle was Helios Matriarch. A pretty interesting summoner that I used for the first time and of course, the main reason that I did that was that it allows the use of a Gladiator card in battle and also the fact that it gives +1 Speed to all of my formations. The only downside was the cost of the card but in this situation, I could afford it. I would recommend using this card if you have some good Gladiator options.

Teams' Formation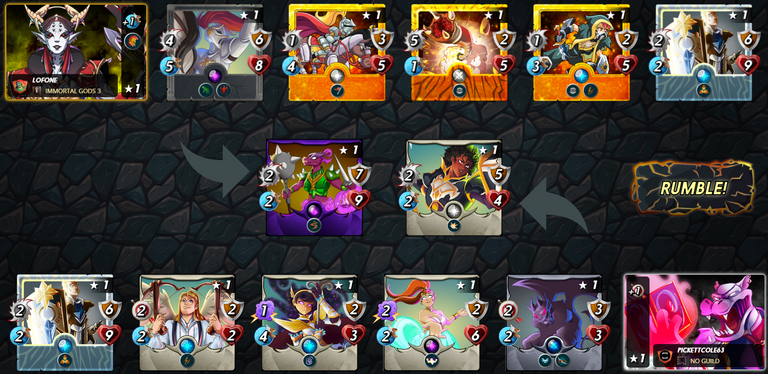 Team presentation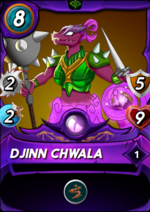 The first card that I chose to enter the battlefield was our main tank Djinn Chwala. Of course one of the main reasons I chose it was the ruleset and more specifically the ability of Thorns. Even at level 1 the stats of this card is pretty great but if you have the chance to play it at higher levels you should do it because it gains more abilities like Enrage at level 4 and Ture Strike at level 6. The reason that I play it at this level is the fact that I just started my grinding from bronze.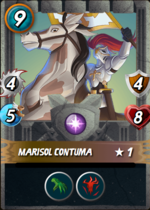 The second card that I decide to use in my formation was the Marisol Contuma and it's part of the Gladiator set of cards and one of the best solutions that you can think of when you want to play a monster with the ability "Reach". It's not the first time that we are going to see this card being played by me because I showcased it again in a Brawl report a couple of months back but I am really excited that I am able to use this monster in the ladder too. I don't believe that I should explain more about the reasons that drove me to select this card because you can clearly understand them just by looking at the pic to the left!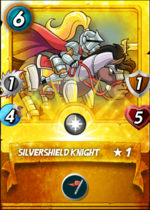 My second entry for the battle was one of my favorite cards Silvershield Knight. The reason I chose this monster is his abilities and more specifically the Inspire ability. As I explained earlier in this matchup all of my cards are at level 1 and of course, you shouldn't play them at this state if you are at a higher rank. That buff on my melee monsters is going to play a significant role in this matchup and help me to achieve victory.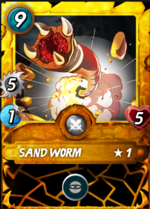 Sand Worm is in third place and this monster could not miss from the formation because we need high damage output in order to put pressure on the backline formation of our opponent. It's pretty obvious that this creature fills all the necessary criteria for this specific battle. Also, as you saw from the presentation of the teams my opponent's damage dealers were at the backline of his formation. That means that we should put some pressure on his backline with some high-damage Sneak monsters.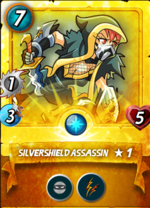 So when we are talking about putting pressure on your opponent's backline and Life Class the answer is pretty obvious and has the name Silvershield Assasin. This card in combination with our formation can deal 4 damage per turn on my opponent's highest-damage dealers. In combination with Sand worm they can completely destroy an entire team all by themselves. Personally, I believe that this card also works pretty well in various formations and battles.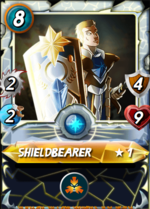 So my off tank in this formation is going to be the Shieldbearer. A very powerful card that has the right ability for the current ruleset, meaning that I want all of the enemy damage dealers to focus on attacking this monster in order to stall my opponent's attack force. Of course, except for the ability, I care a lot about the stats of the card, and as you see it is pretty tanky even at level 1. Usually, I use this card at higher levels but in this situation, I had a limit because of my summoner's low level as I said before.

Watch the Action!
Now you can see the battle below without having an account at Splinterlands! If you want to see the battle at the game, I will leave a link below! I hope you will enjoy the battle and if you have any questions or suggestions please leave a comment!

Here is also a link for the battle on the Splinterlands platform: LINK

Thank you for reading
Don't forget to leave your thoughts and questions in the comment section!

If you want to see more of my posts and take participate in future giveaways I am planning, you should follow me.

I will distribute some @lolztoken in the comments!

Also, you can check out the @thgaming community for more amazing content and rewards!

Make sure to stop by the @thealliance and their discord server, you will find plenty of help and many rewards waiting for you!

Images used in this post are owned and open-sourced by splinterlands.com

Thumbnail was made on canva.com

If you didn't join SPLINTERLANDS yet here is my referral link:
https://splinterlands.com?ref=lofone


---
---