SPLINTERLANDS - TALES FROM SILVER - WOOD NYMPH EDITION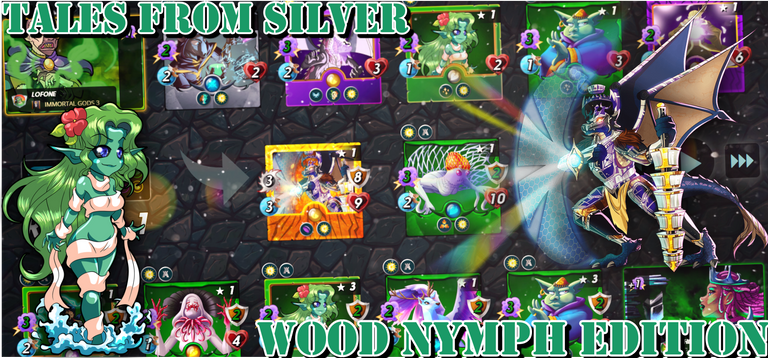 Hello world and fellow crypto buddies,
The duty calls once again and I'm very hyped for this week's challenge because the card we need to promote it's actually a very useful card especially for the current meta! If you want to see more content with this specific card and the current main combo in Earth class go
HERE
. About today's challenge now, if you are following my posts you know it already, but for the new guys, it's called
SHARE YOUR BATTLE Weekly Challenge
. The purpose of the Challenge is to promote the game in a fun and creative way!
So kick back relax and enjoy another episode of Tales From Silver!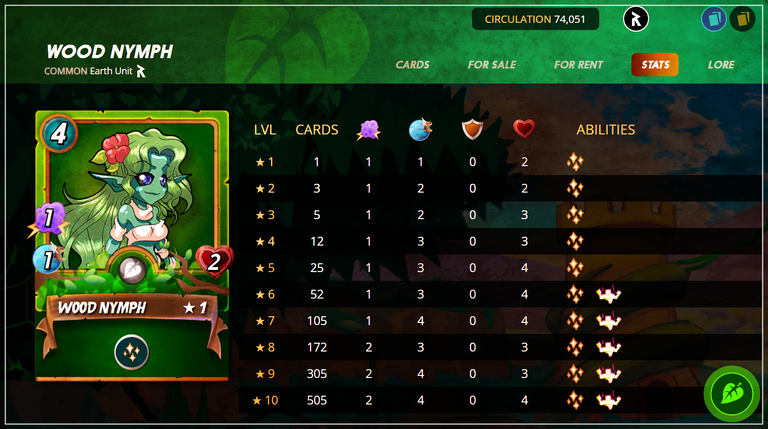 *

Here we can view here the scale of the card, the first minor change at stats we can see is at level 4 with the one extra speed but the significant change is at level 6 with the one extra ability Strengthen. The strengthen ability gives all friendly Monsters extra health. So in my opinion is that if you play at Silver or Bronze don't bother with the level-up versions but if you are playing in Gold rank and above definitely go for 6 level and above.
THE BATTLE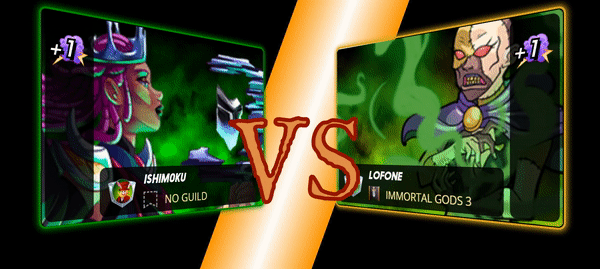 The restrictions we are facing for the current battle have a 42 total mana cap and we can't select half of the classes! The only options we've got are Dragon, Death, and Earth, so a perfect opportunity to try our magic formation! Also, we've got Divine Shield to all Monsters!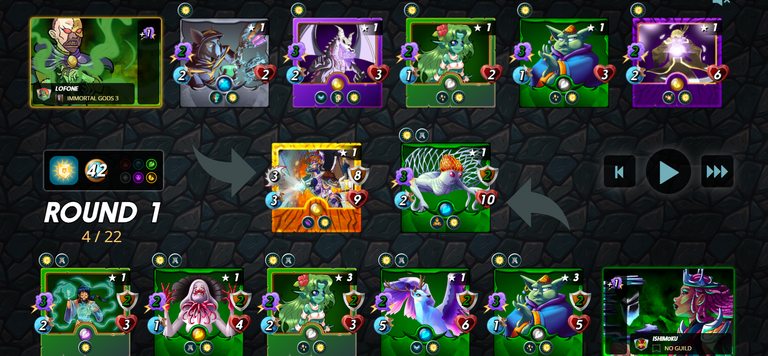 So let's review first the opponent's formation, with first glance we can easily understand that he played also the basic magic combo and filled the remaining spots in his team with some good magic damage minions. But the problem I spot is that he doesn't have a real defender against magic damage and that's going to cost him!
Now let's review our team and we are going to start with the main tank we are using in this battle the Robo-Dragon Knight. I don't believe that needs explanation the reason I used this minion is its stats are OP and have Void (Void means that reduce the incoming magic damage).
The second monster I placed is Venari Spellsmith, not something fancy but it did the job and has a very nice ability Dispel. (Dispel means that when this monster hits an enemy, it clears all positive status effects on that enemy).
The third monster I used is one that I have reviewed many times, the Black Dragon. If you are following my posts you already know the reason I like this minion and it's for its ability Life Leach! ( "Monster's health increases each time it damages an enemy Monster's health in proportion to the damage dealt").
Our fourth pick is our themed monster for this week, Wood Nymph. The reason besides our weekly challenge is that we need that healing ability and the magic damage! I always pair my Wood Nymph with my fifth pick that is Goblin Psychic the two of them together with deal tremendous heal to our tank!
At the last spot, we've got another favorite monster the Gloridax Magus. The ability Blast in combination with the magic damage is pretty useful in any situation! Also its health it's good if the opponent has sneak minions!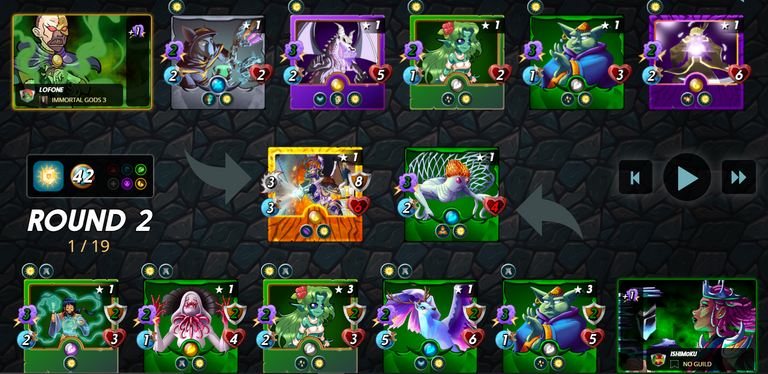 We can see that his tank it's going to die at Round 2 even he has 2 healers behind it. Also, his healer Goblin Psychic is misplaced.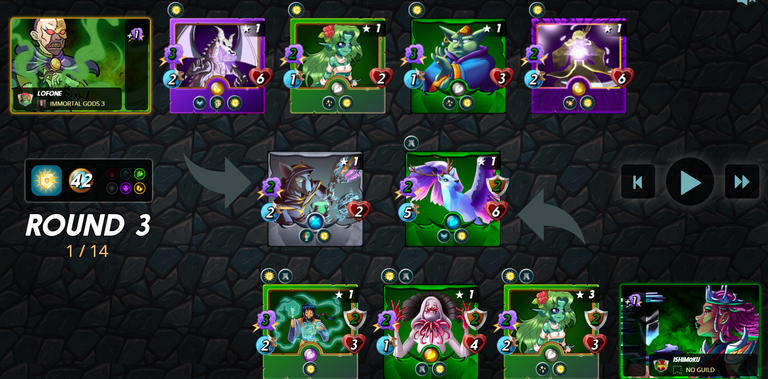 At just Round 3 we have eliminated his tank and one of his healers!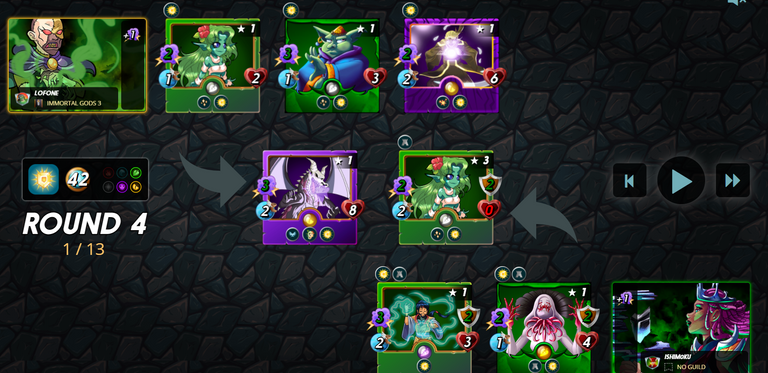 At this point he is in a very tough spot because he has lost all of his healers and tank minions and the main sources of damage are pretty weak in health.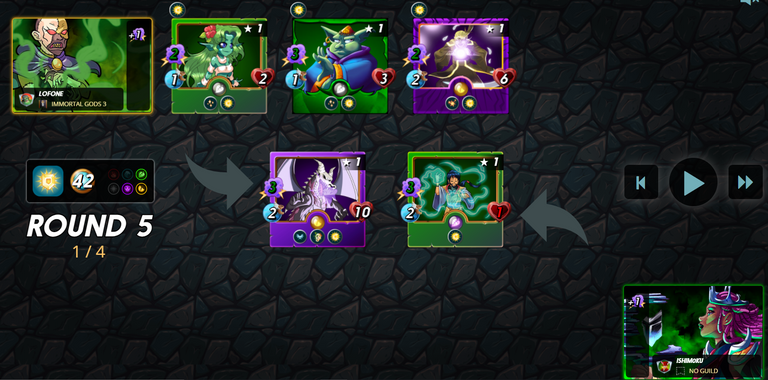 The battle was over and we've got the precious W.
THE LINK FOR THE BATTLE : HERE


Don't forget to leave your thoughts and questions in the comment section!

If you want to see more of my posts and take participate in future giveaways I am planning, you should definitely FOLLOW me. I will make sure I am going to follow back!

I will distribute some @lolztoken in the comments!

Images used in this post are owned and open-sourced by splinterlands.com

If you didn't join SPLINTERLANDS yet here is my referral link: https://splinterlands.com?ref=lofone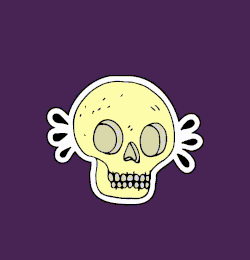 ---
---