Claim your Peakmonsters PKM Tokens! ENG/ESP
ENGLISH:
PKM PEAKMONSTER TOKEN IS HERE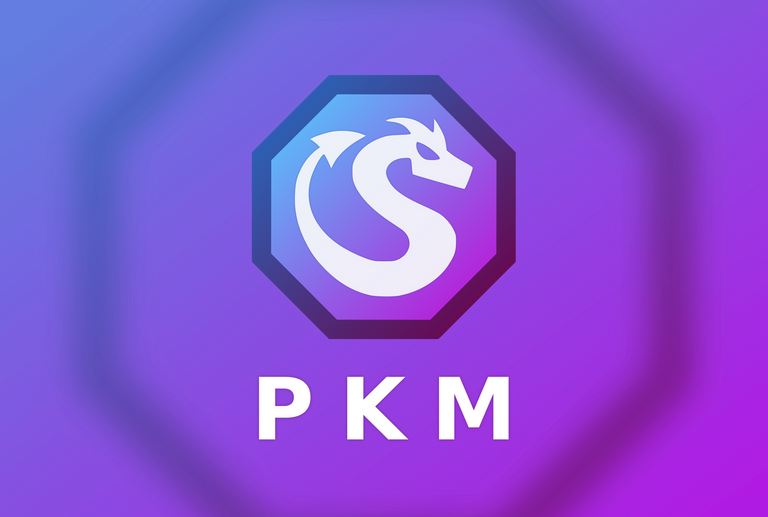 I always try to be aware of everything related to @splinterlands, especially anything that could be an investment opportunity or take a position.
Several days ago @peakmonsters announced the launch of its token PKM within the planned uses for the token is to determine with whom its profits will be shared, to create exclusive tournaments for Peakmonsters users and to validate the creation of new special features for loyal Peakmonsters users.
How can you be a creditor to PKM airdrops?
As specified in their whitepapper which I 100% recommend you read, the main mechanism to obtain them will be through the massive airdrop , this amount will be based on the purchases you made in the last 12 months through its platform.
Here you can see that the distribution will be based on levels.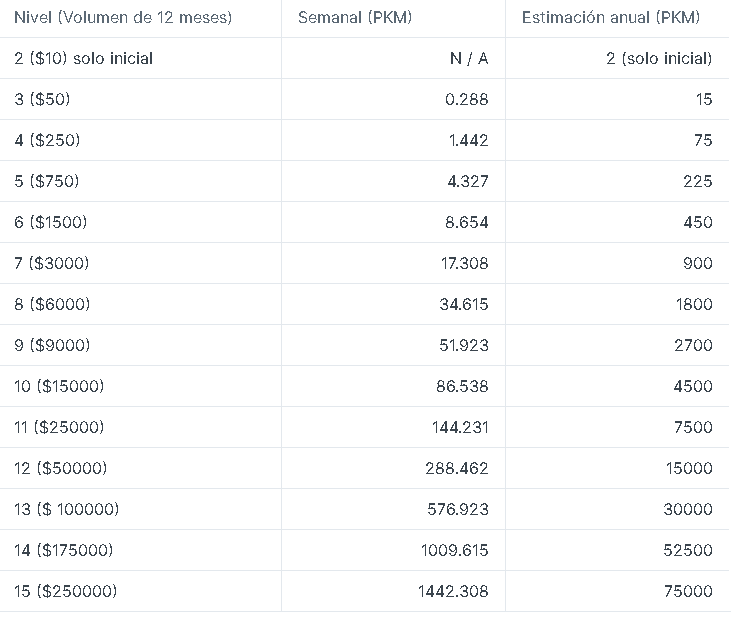 ---
So if you came to buy by that means and you are within any of the previous levels, I share these simple steps so that you can confirm how much you got in the airdrop.
The first thing you have to do is log in at https://peakmonsters.com/ you can do it with @keychain once you are there go to your profile.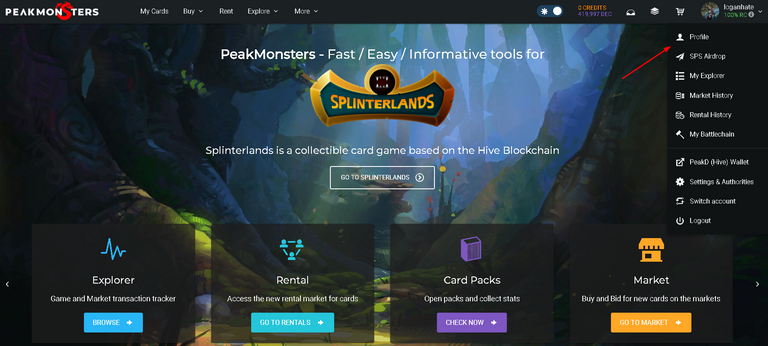 ---
Once in your profile you will be able to confirm your volume of purchases within your market and you will be able to get an idea of ​​how much PKM you got. Anyway if you want to confirm in the tabs below select PKM AIRDROP and it will show you your airdrop history.

---
Once there you can be sure of having your new Tokens in your possession. On this occasion I received 15 PKM since my purchase volume was 95 USD in the last 12 months and that placed me within level 3.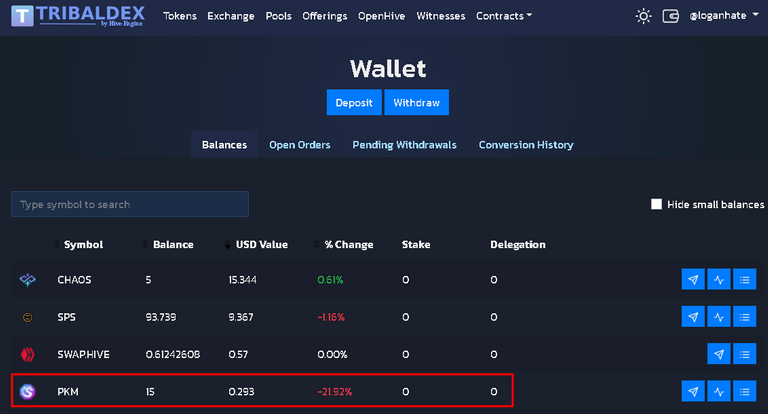 ---
Although the token currently has a market value of $0.02097960, it is still early to speculate on its revaluation in the future. But taking into account that Peakmnster is one of the essential tools for making card offers, with the best tool for selling and renting your cards, there is no doubt that part of the success that Splinterlands has had is due to the ease of some alternative projects to This one that makes the user experience easier and more pleasant, is a token that would not hurt to follow up.

---
Finally, at @tribaldex, the liquidity pool of the PKM/SPS pair is now available and as of March 24, the rewards will be released for all those who contributed liquidity to the pool.
In conclusion, you can now check whether or not you have PKM and make the best decision regarding this, I think it is a great move by the peakmonster team, it put direct competition to the exquisite refund offered by @monstermarket, which I confess that I have used a lot more to buy my cards.
I hope this post can help you in something and if so, thanks in advance for the feedback.
ESPAÑOL:
PKM EL TOKEN DE PEAKMONSTER ESTÁ AQUÍ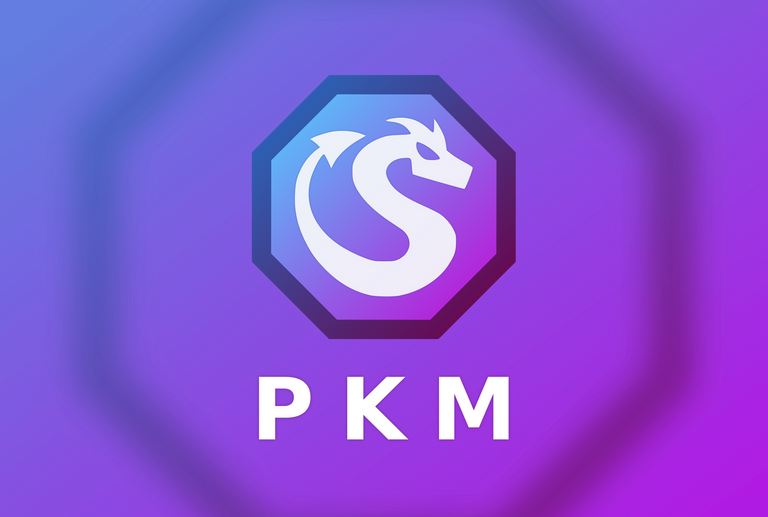 Siempre trato de estar al tanto de todo lo relacionado a @splinterlands, sobre todo lo que pueda ser una oportunidad de inversión o de tomar posicionamiento.
Hace varios días @peakmonsters anunció el lanzamiento de su token PKM dentro de los usos que se tienen planeados para el token está el determinar con quien se compartirán sus ganancias, crear torneos exclusivos para usuarios de Peakmonsters y validar creación de nuevas características especiales para usuarios leales a peakmonsters.
¿Como se pueden ser acreedor a los airdrops de PKM?
Tal como lo espesifican en su whitepapper el cual recomiendo 100% que lo lean, el principal mecanismo para obtenerlos será a través del airdrop masivo, esta cantidad estará basada en las compras que realizaste en los ultimos 12 meses a través de su plataforma.
Aquí pueden ver que la distribución estará basado en niveles.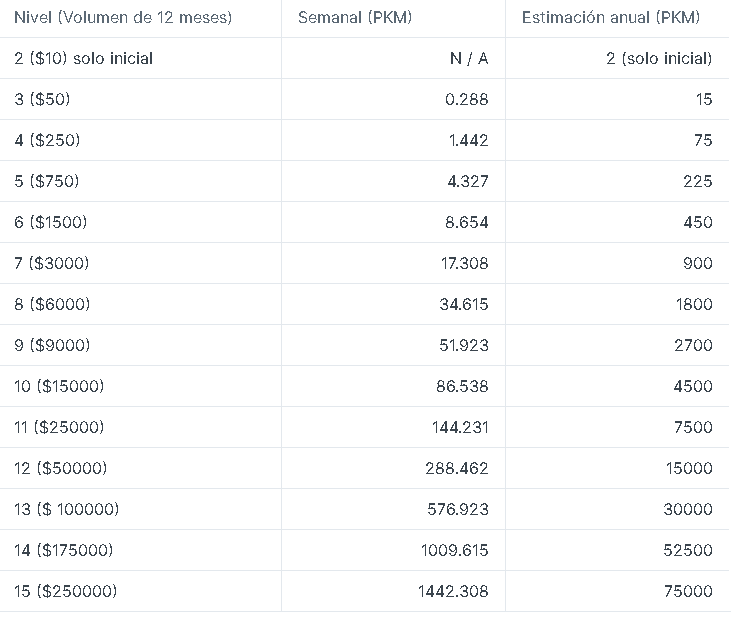 ---
Así que si llegaste a comprar por ese medio y estás dentro de alguno de los niveles anteriores, te comparto estos sencillos pasos para que confirmes cuanto te toco en el airdrop.
Lo primero que tienes que hacer es loguearte en https://peakmonsters.com/ puedes hacerlo con @keychain una vez que estes ahí ve a tu perfil.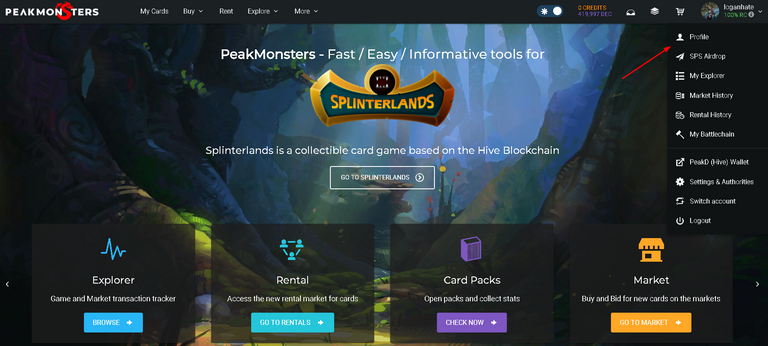 ---
Una vez en tu perfil podrás confirmar tu volumen de compras dentro de su mercado y podras darte una idea de cuanto PKM te toco. De cualquier forma si deseas confirmar en las pestañas de abajo selecciona PKM AIRDROP y te mostrará tu historial de airdrops.

---
Una vez ahí podrás tener la certeza de tener tus nuevos Tokens en tu posesión. En esta ocación me tocaron 15 PKM ya que mi volumen de compras era de 95 USD en los últimos 12 meses y eso me hubicaba dentro del nivel 3.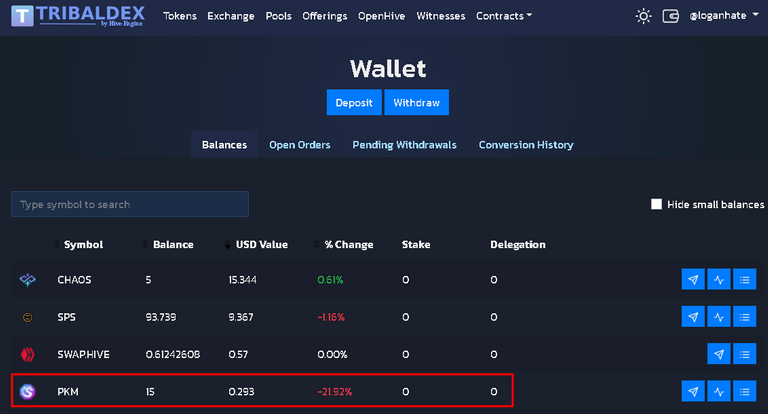 ---
Si bien el token en estos momentos tiene un valor en el marcado de $0.02097960 aun es temprano para especular su revalorización en el futuro. Pero teniendo en cuenta que Peakmnsters es una de las herramientas imprescindibles para realizar ofertas de cartas, con la mejor herramienta para vender y rentar tus cartas, no cabe duda que parte del éxito que ha tenido Splinterlands se debe a la facilidad de algunos proyectos alternos a este que hacen mas fácil y grata la experiencia al usuario, es un token que no vendría mal darle seguimiento.

---
Por último en @tribaldex ya está disponible la pool de liquidez del par PKM/SPS y a partir del 24 de marzo se liberarán las recompensas para todos los que aportaron liquides a la pool.
En conclusión ya puedes revisar si tienes o no PKM y tomar la mejor decisión con respecto a esto, creo que es una gran jugada del equipo de peakmonster, le puso competencia directa al rembolso exquisito que te ofrece @monstermarket del cual confieso que he utilizado mucho mas para comprar mis cartas.
Espero pueda ayudarte en algo este post y si es así gracias de ante mano gracias por el feedback.
---


---
---