The Pelacor Bandit - Another undervalued card
Hello friends, I posted about the reward card, Revealer. Now let's talk about the Pelacor Bandit.
The Pelacor Bandit I believe is undervalued at $.012/BCX. The reason for this is there so much supply. However, this reward card will be soon be out of print so make sure you have what you need at the league you're playing.
Let's check out it's abilities.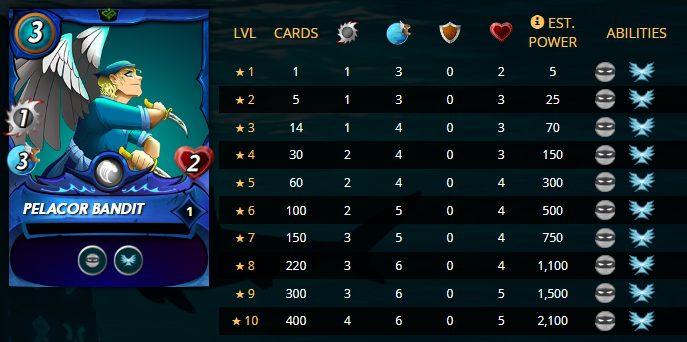 It's a sneak card which I primarily use against Earth magic and Light archer teams but he is also great against other splinters. At level 1 it has Flying. I'm playing in Silver and Gold League so I have him at level 5. As you can see, he has 2 attack and 4 speed. Coupled with Flying, he can dodge a lot of attacks while dealing decent damage against the opponent.
Check out the battle below and see the Pelacor Bandit in action. It dodged the enemy sneakers and snipers to keep my team alive.
https://splinterlands.com?p=battle&id=sl_f259330497e3ead66e4e5121bee2fa17&ref=logen9f
Thanks for reading and have fun with Splinterlands!
---
---