Battle Mage Secrets Weekly Battle Challenge! (Explosive Weaponry)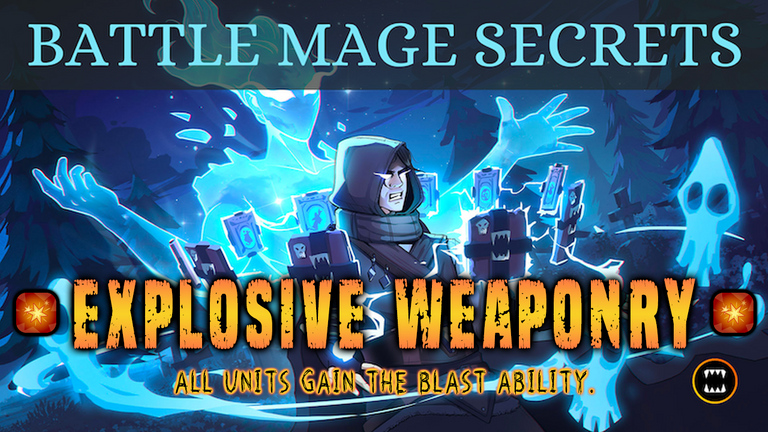 ---
I love the idea that the Weekly Battle Challenge changed instead of featuring a monster to represent a ruleset. It is so good to do something different than usual and I hope they will continually do this in the future. The best way would be to mix these challenges, so every week would be more interesting.
This week we need to show a ruleset, which is the Even Stevens and the way I used it to my (dis)advantage in the Battle I played. 😇
My only problem with this new system is that it is very difficult to do battles with the specific ruleset featured for the week challenge, because it is random what you are going to get and even if you have that ruleset you need to win it somehow, which is not always easy. 😏

| | |
| --- | --- |
| All units gain the Blast ability. | |
| Additional damage is equivalent to main damage divided by 2, rounded up. | |
The best strategy is to have fast monsters with Snipe, Sneak, Opportunity. For defense, Shield and Void will always come in handy and if you have a summoner who gives some Armor is amazing. This ruleset makes my team strong as one of the best Summoner in the game, which is Yodin who has this ability on its own.
I like this ruleset a lot, because it allows me to use different strategies than my usual ones and if my opponent doesn't pay attention for this kind of ruleset they will be obliterated within seconds. 😁

---

---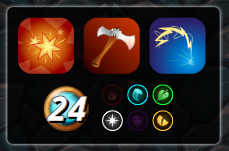 | Ruleset | Description |
| --- | --- |
| Explosive Weaponry | All Monsters have the Blast ability. |
| Melee Mayhem | Melee attack Monsters can attack from any position. |
| Lost Magic | Monsters with Magic attack may not be used in battles. |
This was a low mana cap battle, so I had to be careful what to bring, because the Blast damage is very powerful as it indirectly damages the monsters next to their targets. I was thinking to pick the Obsidian, but the problem was that the Lost Magic ruleset is completely counter the Magic attack damages, so my only option were Kelya or Quix if I want to take advantage of his Dhampir Infiltrator.
My strategy was to build a solid front and try to kill my opponent monsters from his back quicker than he does, which is a good tactic in case he will try to strengthen his tank and off-tank as well. 😊
---

My lineup and the decision behind it!
---
Summoner
Quix the Devious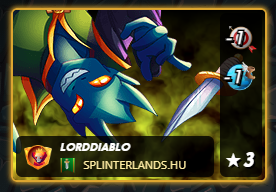 I have chosen Quix the Devious for this battle, because if my opponent will think like me than he would choose Kelya and fast monsters to kill my monsters backwards. Quix will counter the Speed buff from Kelya and he will decrease the Ranged attack to all the enemy monsters by one. 😊
---

---
Main Tank
Baakjira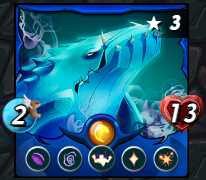 Baakjira is an amazing tank and his cost is only 6 mana. All of his abilities are amazing, but the best one is his Heal and high Health. The Void helps him to sustain against the incoming Magic damages and the Slow will reduce the Speed of all the enemy monsters by one. 😎
---

---
Damage Dealer with Reach and Reflection Shield
Tide Biter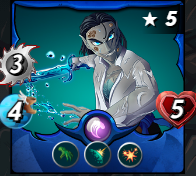 The Tide Biter is the best monster against the Blast damage, because he has the Reflection Shield ability, which will help him to protect against the Blast damage. On level 5 he has 3 Melee damage, which is amazing in the Melee Mayhem ruleset and anyhow he also has Reach as well. 😉
---

---
Main Sneaker
Dhampir Infiltrator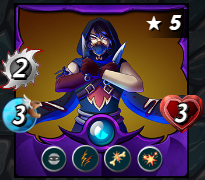 I do not use very often the Dhampir Infiltrator, but I always rent him as you never know when you are going to need her. She has Sneak, which means that she will always target the last creature from the opponent backline and she will attack twice thanks to her Double Strike ability. The Blast will increase her damage output by a lot and the only thing I need to make sure that she will live as long as possible.
The Cripple is just the cherry on top, which means that each time an enemy is hit by the Infiltrator it will lose one maximum health. This ability is pretty amazing against high Health creatures. 😇
---

---
Quick Sneaker
Pelacor Bandit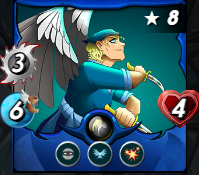 The Pelacor Bandit is one of the best old reward card, because he is quite fast also has the Sneak ability, so he will attack the last enemy monster and are able to Fly, which will provide an extra +25% chance of evading against any incoming Melee and Ranged attacks. 😁
---

---
Sneak Poisoner
Uraeus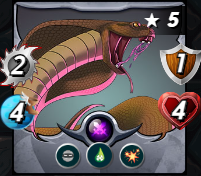 The Uraeus is a great card, because he can quickly remove the backline monsters from my opponent team thanks to his Sneak ability. On Level 4 he receives Poison, so all of his attacks have a chance to apply poison, which does automatic damage to the target at the beginning of each round after the poison is applied. 🤢 (It will be 2 damage in every end of the round.)
The Poison ability is triggered 50% of the time. Poison does damage at the end of the turn and is not affected by shield or void.
---

---
Backline Protector
Hardy Stonefish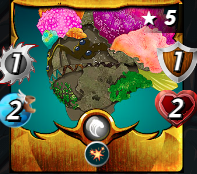 The Hardy Stonefish is a one mana cost monster to protect my backline a little bit from the enemy Sneak monsters. The Melee Mayhem ruleset will allow him to attack from the back, but I do not think he will survive long enough to do that! 😅
---

---

Click on the picture for the replay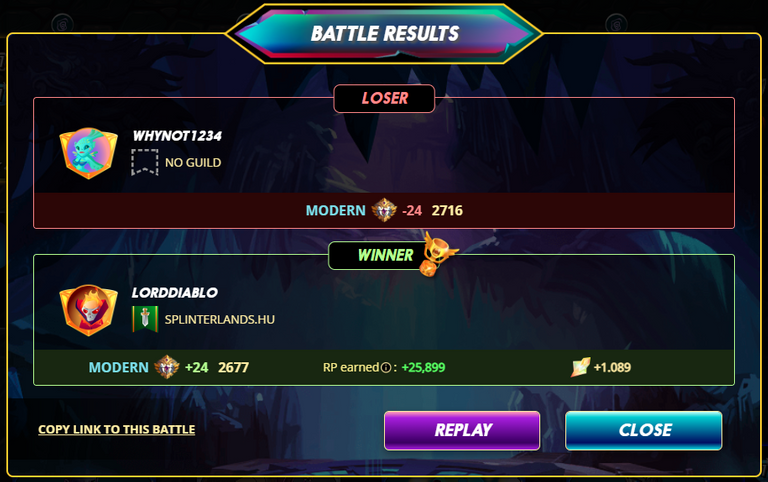 My strategy was to have quicker monsters than my opponent has to take advantage of the Explosive Weaponry ruleset. My opponent picked Kelya as I was expecting it, so we equally countered each other monsters. 😊
In the first round there was a lot of damage being dealt and none of the monsters died by enemy monsters! Unfortunately my Hardy Stonefish got Poisoned and died at the end of the round.
In the second round two of our monsters died and luckily my team managed to kill his Igor Darkspear, because he stunned my Baakjira and he was unable to heal himself for one round.
The third round was very important, because I had to kill his Uraeus in order to have a chance for this battle and luckily my Infiltrator didn't miss him and managed to destroy him. 😁
Even though the Angelic Mandarin has the Triage ability my Infiltrator has four damage against his three heal, but most importantly the Cripple will eventually kill him by reducing his maximum Health.
My opponent couldn't do anymore damage on my monsters and the Cripple finished off the rest of his monsters and made me win this game. 😎
---

---
I like to help new players 😉, so if you are just starting this game and you can use my referral link to sign-up and also write me a message on Discord (LordDiablooo#3750), so I will send you 100 DEC and few key cards (delegated for an entire season) to kick off your career in Splinterlands. 😊
---
If you would like to use some of my dividers I have created for your blog feel free to use them following this link. 😉
---
Thank you so much 🙏 that you took the time to read my Weekly Battle Challenge.
I hope it was informative and you liked it. 🤞
---
---