Getting Ready for Chaos
Accumulating credit ammo.
So, the general sale of Splinterlands Chaos Legion packs is roughly eight days away now, and since I haven't had the chance to gather enough Chaos Legion packs until now as my airdropped Vouchers are just not enough to do the trick, I figured I should start accumulating some Credits for when the general sale commences.
I've been putting a lot of thought into it and looking for the most effective way of utilizing my assets in order to make the most of the upcoming airdrops and the potential swings fueled by the hype around those, with $HIVE, $HBD, $DEC and $SPS being some of the most significant factors of the equation.
I guess you can never make the perfect trade, but you don't need a crystal ball to know that people will start buying up $HIVE over the next couple of days. Let's just hope $BTC won't ruin the party.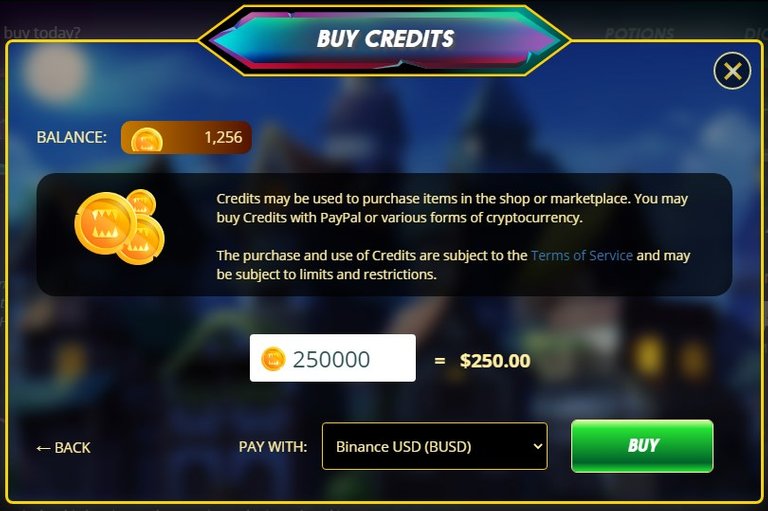 I bet there's a lot of Splinterlands-Credits-stacking going on at the moment, as pretty much everyone I know is waiting for the general sale in order to pull the trigger and get those Chaos Legion packs without having to use Vouchers. I am no better.
No amount of Credits is enough.
1,000 Splinterlands Credits equal $1, and each pack will cost 4,000 Credits during the general sale, so I took some profits from my daily BSC-related hustle and poured another 250 BUSD into the game. That should be enough to grant me 60 packs plus some potions on day one. I was intending to use my HBD author rewards to buy packs, but thankfully I took some successful trades yesterday and I no longer have to.
I will be looking to stack around 200 Chaos Legion packs in total, so it's good there is still some time left.
I've already bought 7 Chaos Legion Packs on this phase using airdropped and purchased Voucher tokens and opened them all, but I am planning to keep some of the packs I will acquire during the general sale unopened. This way I will boost my daily airdropped SPS amount and also have the chance to sell them at a higher price once they sell out.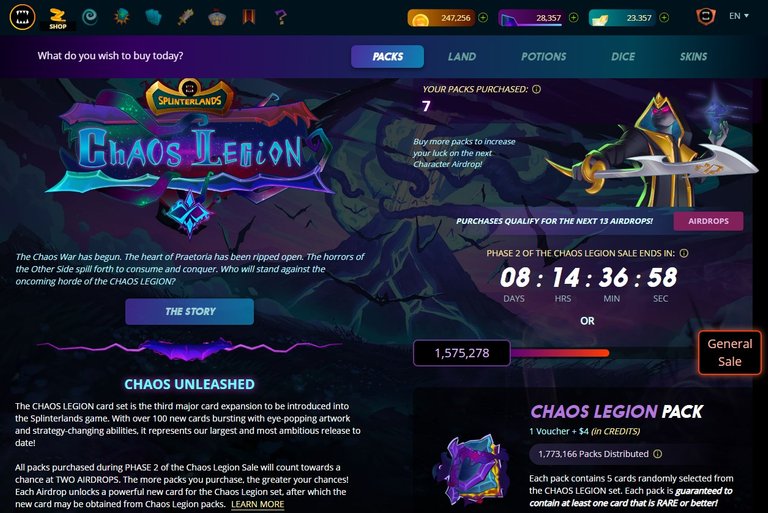 I also acquired another 15 packs on hive-engine even though it wasn't what you would call the best trading decision; the hunger for more was real and I couldn't wait. I believe the real fun will begin once the majority of Chaos Legion packs has been opened, but we will see how this plays out.
Win-win scenario.
In any case, I will be happy with my loot, as holding more in-game assets translates into more passive income, plus owning a powerful deck makes it much easier to join higher leagues and thus earn better rewards. Of course, let's not forget how addictive opening packs can get. Unfortunately I haven't been very lucky with my openings so far, as I've only managed to get my hands on one legendary card. Stacking up potions as we speak.
I am also stacking as much $DEC and $SPS as I can, as both assets have been taking a beating for quite some time now, and I believe this will change once the general sale ends and there are no more packs to buy. The team has some very interesting plans for the future of $SPS and I believe we will see the token racing again, and more $DEC means more $SPS airdropped on a daily basis. Growing and moving in all directions.
Splinterlands has been killing it so far, and with everything currently in the works and the pace at which the play-to-earn industry is growing, I believe we are gearing up for a spectacular 2022. Thats just my humble opinion though.
I was late to the party, but I'm in it for the long haul. The effect of the game's success on the price of $HIVE has been spectacular, and I believe there will be more of the same a few months down the road. Now it's time to get back to battling!
That sums it all up for now.
---
Never forget!
NFA - DYOR
---
Have a good one everyone!
@lordneroo
Posted Using LeoFinance Beta
---
---