How to Add Liquidity in Splinterlands Pools on Hive Blockchain (Step-by-Step Guide)
Splinterlands game does not leave any stone unturned when it comes to potentially earn rewards through its diverse economy, and this rewarding ecosystem regularly updates to bring new opportunities for the players.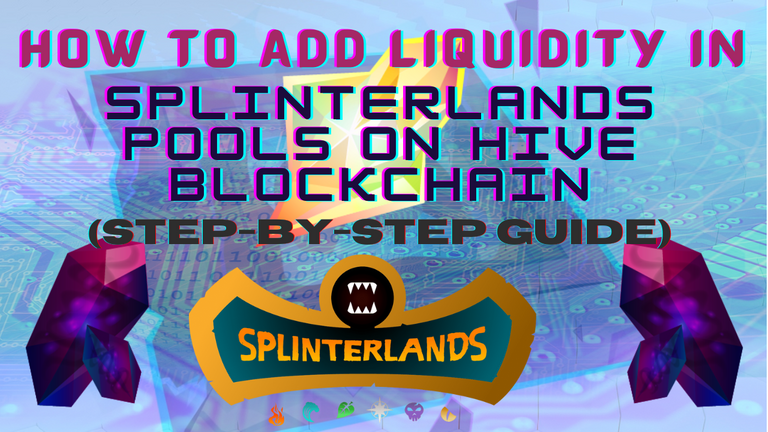 I have also discussed the diverse nature of rewards a month ago in my Rental Philosophy in Splinterlands article, and 2 months ago in Generating SPS Profits in Splinterlands just to give our gaming community heads up on this journey of rewards and yields.
I try my best to keep this guide simple and comprehensive, so that every player of the game and investor learn about this earning opportunities. This comprehensive tutorial will provide you with much information to easily setup any Splinterlands pool of your choice.

Liquidity Pools
A Liquidity pool usually consists of 2 different tokens of equal value, these tokens are merged into a single asset through a smart contract as a pair, this pair is known as liquidity. These pools enable swapping of tokens from one token to another and vice versa.

Splinterlands Liquidity Pools
After the end of SPS airdrop rewards, there was a strong need of incentivizing the players with new ways of earnings DEC and SPS. Therefore, Splinterlands team provided different liquidity pools on some popular blockchains including Hive-Engine, where anyone can participate in these pools by providing liquidity and earn rewards in the game.
These pools are very interesting because they provide 3 types of rewards. When an investor adds the liquidity, he earns 1) in-game rewards in the form of DEC, SPS, Voucher, or in a combination of 2 assets, 2) portion of fee earned from swaps, and 3) BEE tokens.

How to Set Up a Liquidity Pool
Setting up a liquidity pool on Hive blockchain via Splinterlands is pretty simple and if you follow the instructions you may have your pool up and running within few minutes.
Step 1:
First of all sign in to your Hive Keychain wallet, you'll need Keychain for approvals and sign ins during the course of adding liquidity into a pool.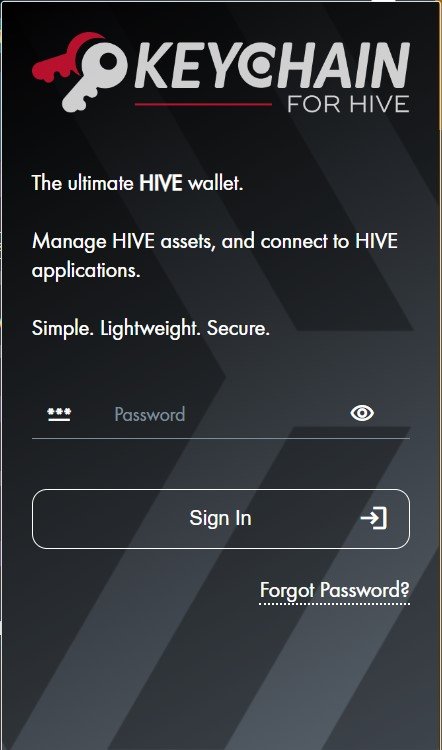 Step 2:
Open Splinterlands.com website, go the shop and click "MANAGE" button to access the Dashboard.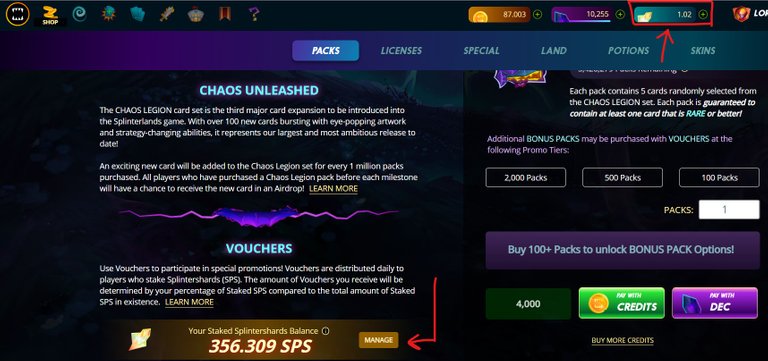 Or alternatively click on the SPS balance to access the Dashboards as shown in the above image.
Step 3:
Once you are in the Dashbaord, click on the
"POOLS"
button to open the liquidity pools page.
Step 4:


Now, we are in the liquidity pools section, here we can see different pools pertaining to Hive and other blockchains.
Since, SPS-SWAP.HIVE pool provides a nice juicy return, we'll select this pool and add a small liquidity to learn the process and become a liquidity provider to earn some SPS rewards.
Step 5: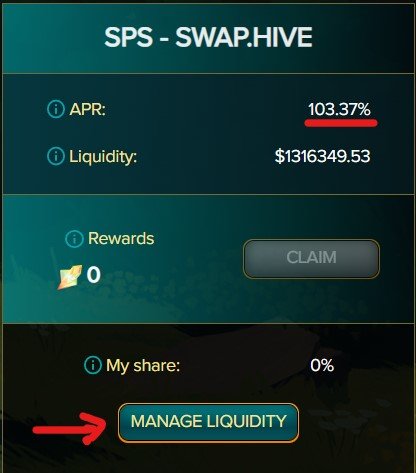 Observe everything in the above image. It is a SPS-SWAP.HIVE pool, current APR (Annual Percentage Rate) is 103.37%, available liquidity in USD is $1316349.53, Rewards will be available after adding liquidity and takes around an hour to appear, and My share shows 0% as we don't have added anything yet.
Now, click on "MANAGE LIQUIDITY" button, it will open a new page where we'll add the liquidity.
Step 6:
You'll be redirected to https://tribaldex.com/dieselpools/add, make sure you are on the correct page as shown below.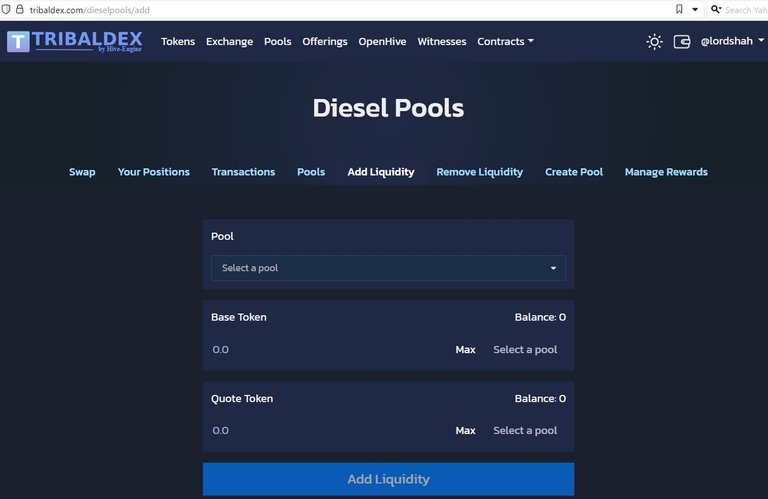 We will select the correct pool from drop-down menu under the 'Pool'.
Step 7:
It is time to calculate how much liquidity we can add into the pool. Add an amount of SWAP.HIVE in "BaseToken" section, it will automatically show us the exact amount of SPS in "Qoute Token" section.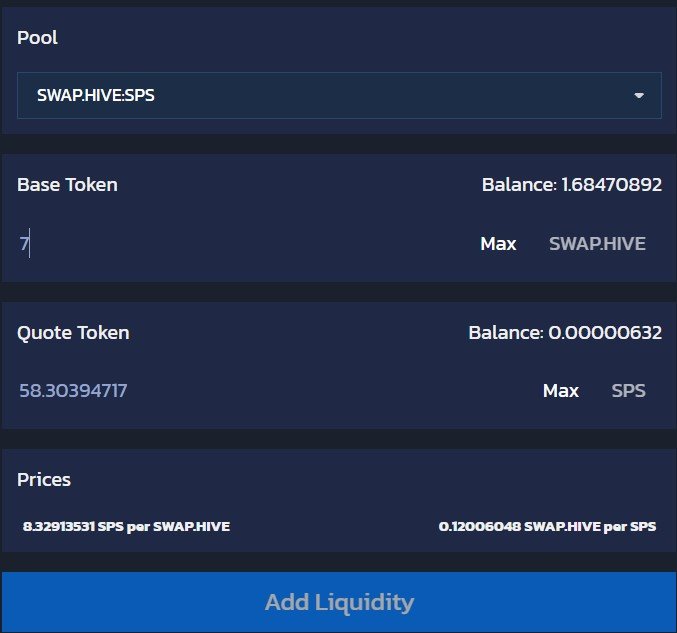 We'll add 7 HIVE, which requires an equivalent amount of 58.303 SPS.
Note: Quote Token price fluctuates continuously due to the volatile nature of crypto and buying & selling occurrences in the market. It is better to buy a few fractions more than quoted price, or you'll end up reducing the amount of base token.
Step 8:
As we know, we are adding 7 SWAP.HIVE and an equivalent amount of 58.303 SPS into the liquidity pool, and to obtain these amounts we need around 14 HIVE to be deposited into the wallet of a decentralized exchange.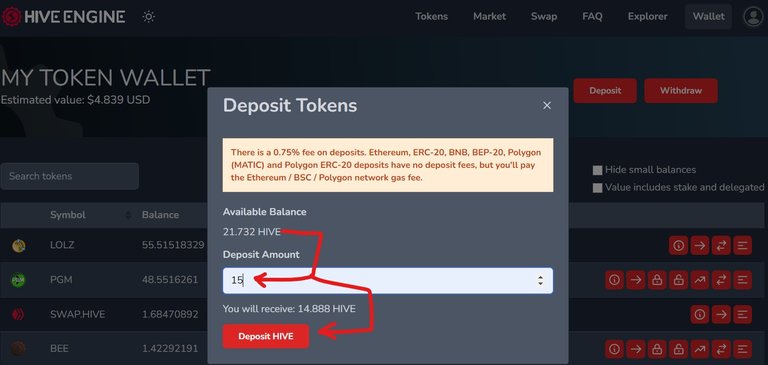 Here, we are doing this through
https://hive-engine.com/
DEX on Hive blockchain. To have enough funds, we are transferring 15 liquid HIVE from our primary wallet into H-E wallet. Click the "Deposit HIVE" button and approve the transaction through Keychain, soon the funds transferred from primary wallet will appear as 14.88 'SWAP.HIVE' token into DEX wallet after cutting the transfer fee.
Step 9:
Now, we go back to TribalDex Diesel Pools Website (https://tribaldex.com/dieselpools/) and swap SWAP.HIVE for SPS to have an equivalent amount of both token to add the liquidity.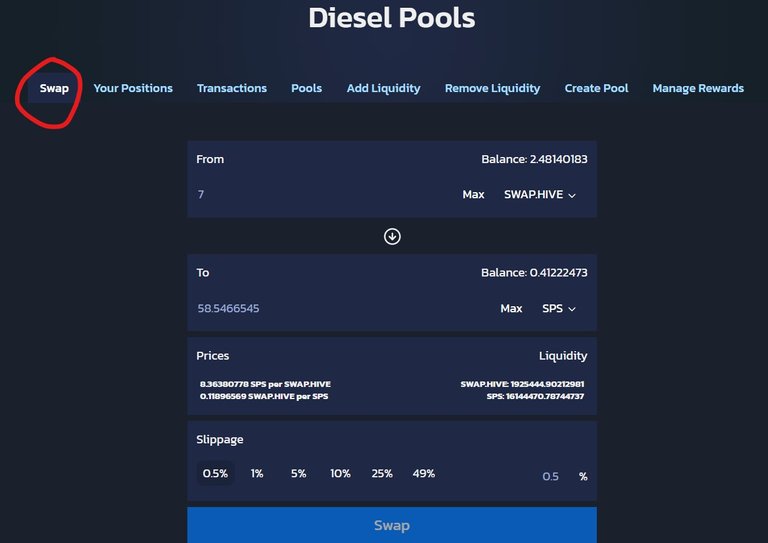 As we have some SWAP.HIVE, click "Swap" section, and select SWAP.HIVE in 'From' section and SPS in 'To' section from the drop-down menu.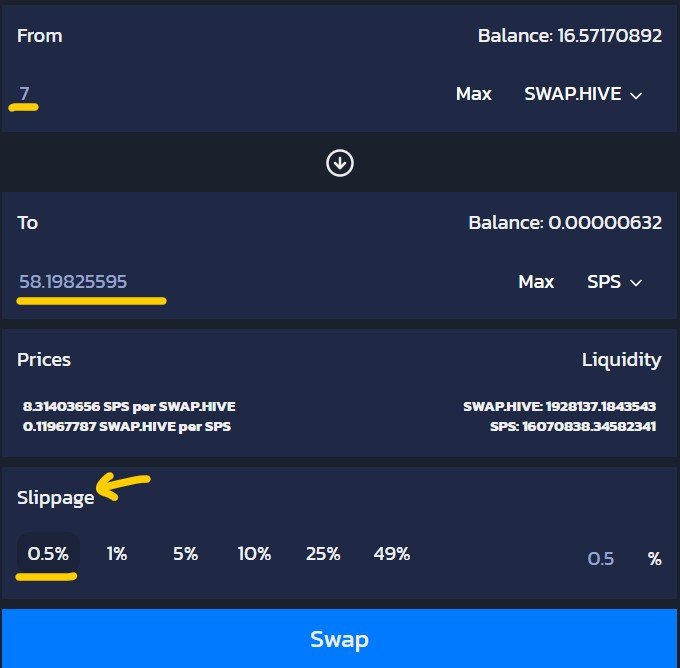 Now, we'll add the amount in 'From' section, required SPS equivalent will appear in the 'To' section. We keep the slippage as default and click 'Swap' button and approve the transaction when Keychain pops up.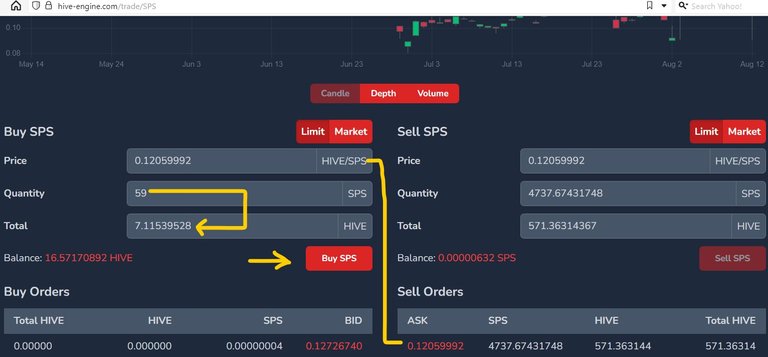 An alternate method is shown in the above image, where we may use
https://hive-engine.com
's market to trade our SWAP.HIVE for SPS.
Both methods are valid, since the liquidity requires equivalent value of both tokens available in the DEX's wallet.
Step 10:
We have acquired the equivalent amount of SPS and SWAP.HIVE, and we are ready to add our both tokens into the liquidity pool of SWAP.HIVE:SPS.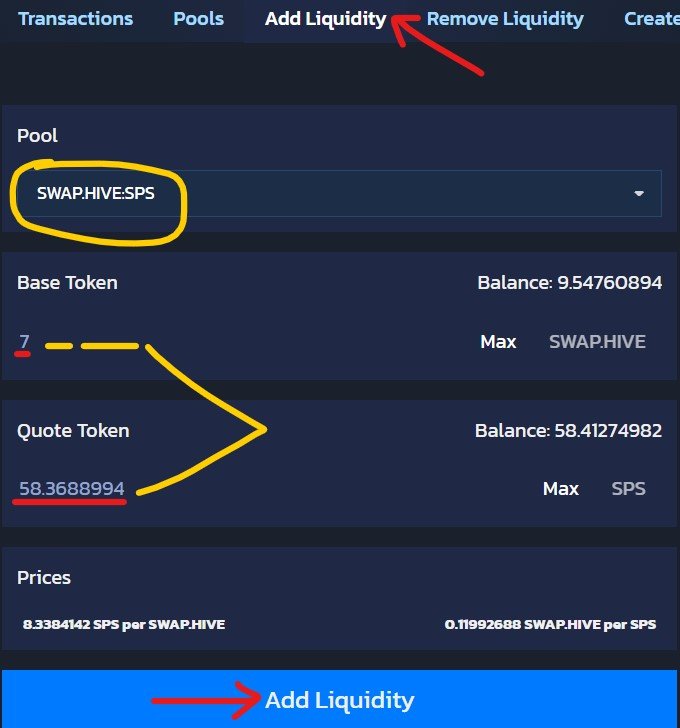 Now, we select SWAP.HIVE:SPS pool from the list of available pools, then we add the desired amount in 'Base Token' section, in our case it is 7 SWAP.HIVE and around 58.3 SPS. Now, we click "Add Liquidity" button, Keychain pops up and we'll approve the transaction.
Confirmation Message: Wait a little bit, a confirmation of the transaction will appear if the adding liquidity gets successful.


As we can see the green bar on the right slides in as a "Success" message. Congratulation, we are now one of the liquidity providers in the pool SWAP.HIVE:SPS or SPS-SWAP.HIVE.
Step 11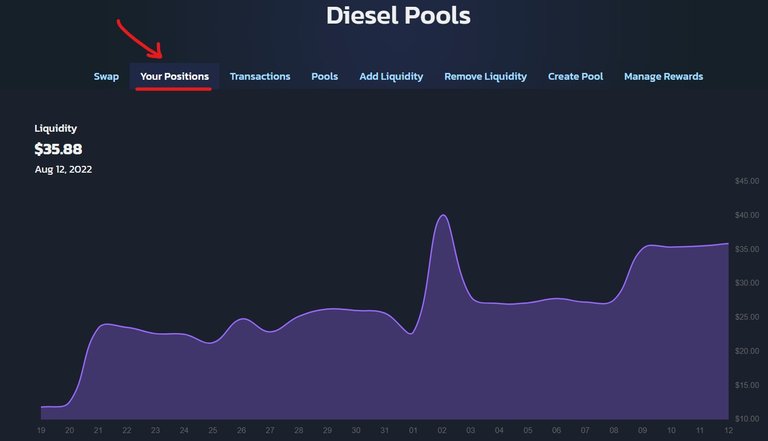 Now, we go to "Your Positions" page to see our liquidity in action.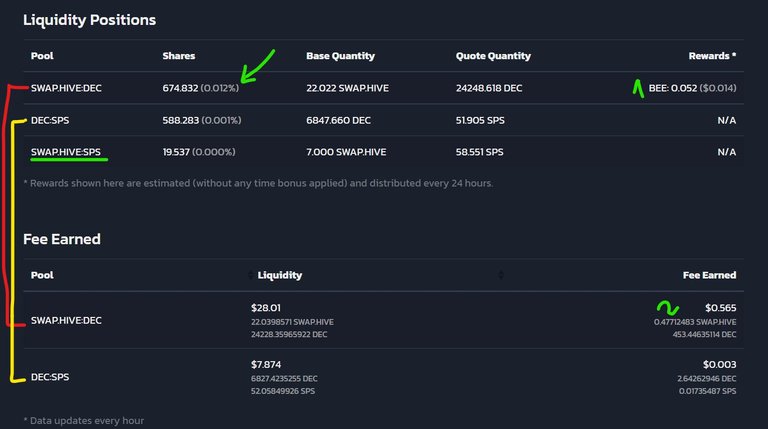 As we see in the above image that our liquidity has been added successfully into the pool, but we have not earned any fee or BEE rewards.
It takes some time to get our first earning, so we need to be patient. But, we have 2 other Pools already, those have earned some fee and BEE rewards.
Have a look at our SWAP.HIVE:DEC pool, which has a nice pool share and earns both BEE and fee. These 1 and 2 rewards are TribalDEX's rewards. Let's find out our Splinterlands in-game rewards.
Step 12
Now, we go back to https://splinterlands.com and open the pools page to see if we have earned any reward.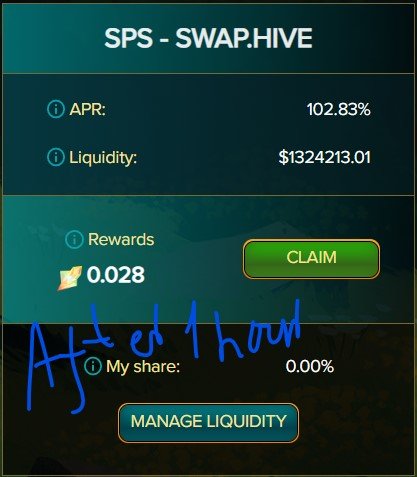 Wow! After an hour, we see our SPS rewards accumulating in in-game SPS - SWAP.HIVE pool, we can even claim our first earning as liquid SPS.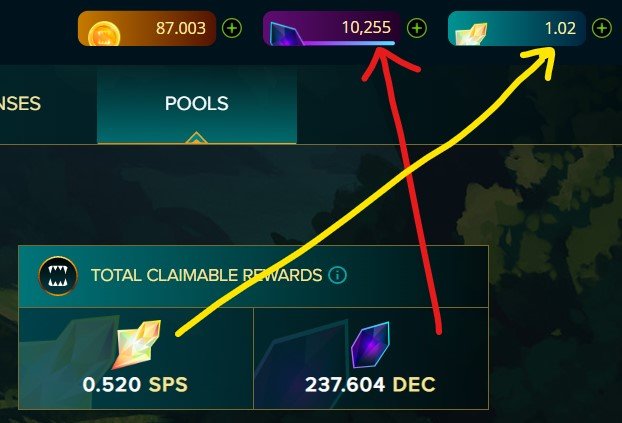 As we have 2 different pools already set up, we have some cool DEC and SPS rewards for claims.
When we claim any of the rewards, it will add up and appear in our Splinterlands wallet as shown in the above image.
---
My Pools:

In the above image, we can see the current position of all 3 liquidity pools and my share in each pool, as I have more money invested in DEC - SWAP.HIVE pool, therefore it has 0.01% share, while other pools have kind of a very tiny shares that is why they don't show any percentage at the moment.
Providing liquidity in Splinterlands pools feels much better than SPS Airdrop, since each position provides trio of rewards if we have the right sized pool share.
I hope you'll enjoy this post and give your feedback in the comment section.

DISCLAIMER: This is a tutorial for information and learning purpose only, and must not be considered as a financial advice or any sort of endorsement. Thanks

Want to join Splinterlands Adventures, click the image to visit the game website: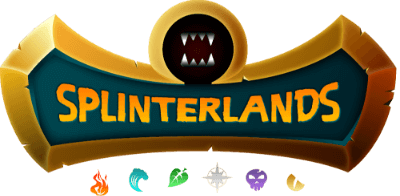 Show your support in the comment section for my Splinterlands content.
Page Cover is designed in Canva.com
Page Break Line Courtesy: Kindpng.com
Pool images Courtesy: Splinterlands.com
DEXs and Diesel Pool images from: hive-engine.com, and tribaldex.com
---
---