An Unlikely Duo; The Living Lava & The Magi of Chaos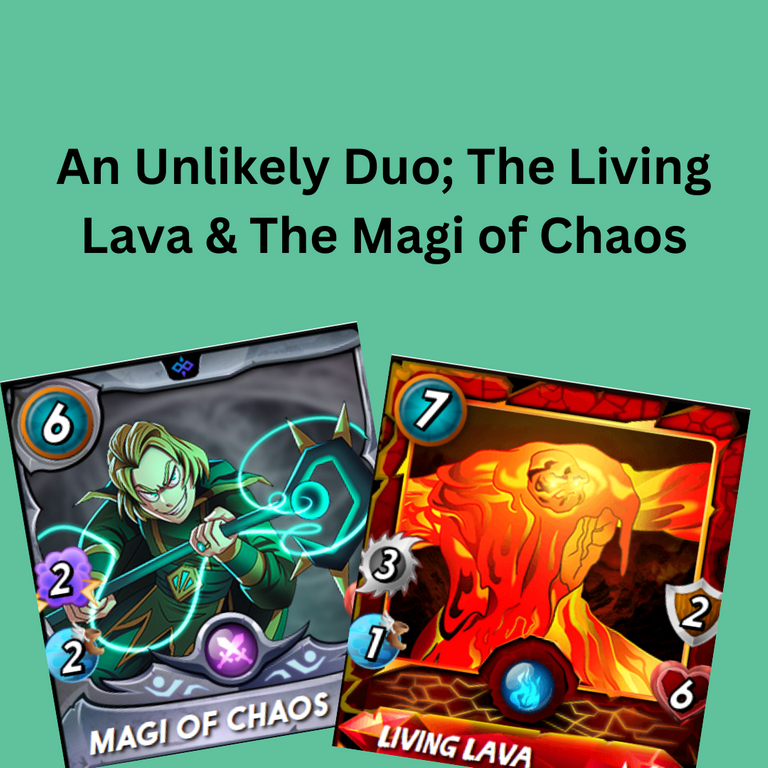 An Unlikely Duo; The Living Lava & The Magi of Chaos
Sometimes, let's face it, Splinterlands is all about finding synergies - cards who go together and ultimately use their combined strengths to overcome the foe! Sometimes, however, it is more about making tactical decisions and finding combinations which really do becoming perfect partners.
For me, one of those synergies is The Living Lava & this week's card of the week, The Living Lava. I want to use today's post to showcase how this unlikely duo can work wonders when paired in the same team.
To get started, let's consider The Magi of Chaos
This is a card which is really strong, but perhaps a little bit unassuming. You'll notice that he's an EPIC card in the CHAOS LEGION. But, more than that, he's a neutral card. This means that he is able to be used in every splinter, except where neutrals are excluded.
His attack, you'll note, is particular impressive as he throws at Level 1 x2 magic bolts. This is a powerful attack in the lower leagues, and in GOLD league, he throws +3 which certainly is able to do some significant damage to an enemy line-up. His speed is probably his biggest drawback, and at 6 mana he's not cheap - but he's certainly worth having in your team if the mana cap allows it.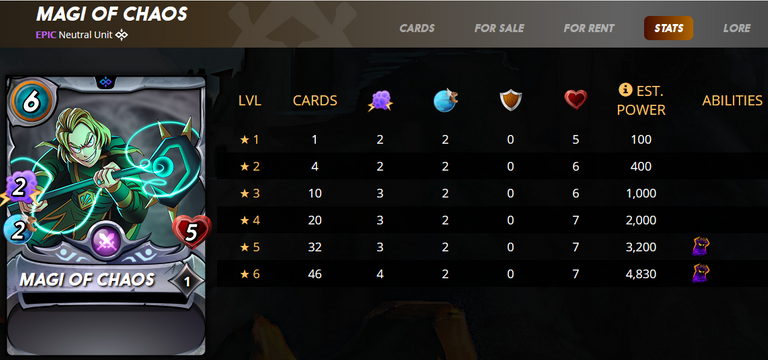 From an investment point of view, you'll notice that this card isn't cheap at $1.70 per card, and, to get this guy to Level 3, it would cost $17 - however, as you need 46 cards to max him out, with only 33,000 in circulation, it seems to me that this card is certainly one for the future, especially as those print numbers come down. That said, you can rent this card at Level 1 for around 2.5 DEC per day, or only 10 DEC a day for a L3 which will give you access to the +3 damage. All in all, not too shabby.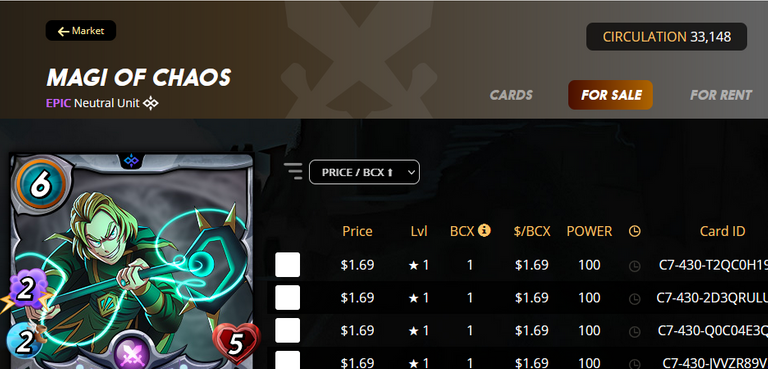 Now, let's explore his perfect partner, The Living Lava - which is a lot more rare, at a print of only 12,500. I guess you'd say he's a third of the print of the Magi, and 3 times the price! But this card is such a strong tank. Take a look at him! I really love him for his +3 melee damage, and his defensive SHIELD ability which will weaken all hits thrown onto him. In a nutshell, this card is brilliant for defence. Being part of the UNTAMED edition has made him more rare, and he is great in low mana games, but in high mana games he is less effective. Over the long term, I'm less convinced about his ability to grow in price as an asset.

The Strategy:
This one is easy - put the SHIELD out front to protect my magic attackers. While my opponent's struggle to take down my Living Lava, my magic bolts will be hopefully ripping through my opponent's attack!
Now - the ruleset where I thought this PERFECT PARTNERSHIP would work well had no modifications and 30 mana total. I had seen my opponent enjoys playing the DEATH splinter and often put the THORNS skill out the front.
To counter this, I played TARSA - a really great summoner as he will give each of my cards an additional +1 health, while increasing their melee attack. My SERPENTINE SPY also benefits from this extra power - and as he's buried in the team with quick speed, he'll be looking to knock cards out of the battle before they even get a chance to try and hit me. At the rear of my team, I play my FIRE ELEMENTAL - this is a really good card to have at the back of the line-up, because he will be able to BLAST hit my opponent's tank and his off-tank. And, to partner up with my MAGI OF CHAOS, I play the DJINN APPRENTICE. I wanted their magic bolts to work in tandem to rip through my opponent's lines, all while being sheltered by the LIVING LAVA.
You can see straight away though, my MAGIC attackers have lost +1 magic each, as my opponent's summoner has dropped their attack. But, in looking through my opponent's line-up, I can see he doesn't have a lot of depth beyond his own tank, and certainly, he's made a fatal error.
In round 1 my FIRE ELEMENTAL attacked first, and his BLAST damage took health from the VENARI in the off-tank position, this dropped his health to 2. My SEPERENTINE SPY hit next, and killed the VENARI, instead of hitting the CRYPT BEETLE and only just taking his shield. This one was down to my opponent's poor positioning. Meanwhile, I was able to take +8 health from my opponent's CURSED WINDEKU, bringing myself into a really strong position in this line-up by the end of Round 1.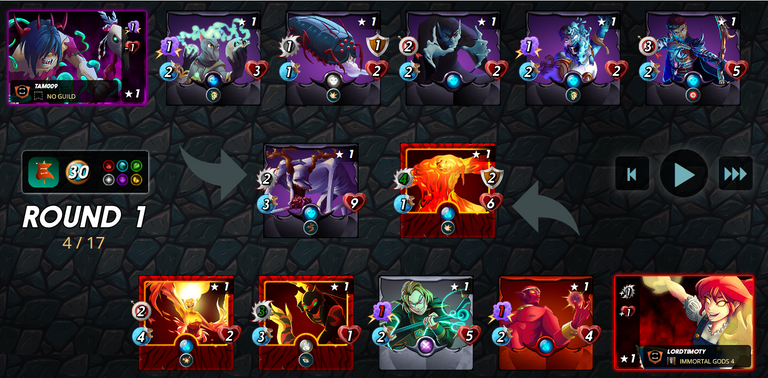 As Round 2 played out, I was able to knock off his CRYPT BEETLE which prompted the SOUL SEARCHER to the tank position, and as he was an archer, he couldn't take his hit. Unfortunately, my LIVING LAVA fell on the last attack of the battle at the hands of the DHAMPIR STALKER. This promoted my DJINN APPRENTICE to my tank position, however, I'm well and truly in the box seat going into Round 3, as I noticed my cards have higher speed - and, if I could promote his DHAMPIR STALKER to the tank position, he'll be unable to attack. To that end, I only need to take 4 health from my opponent.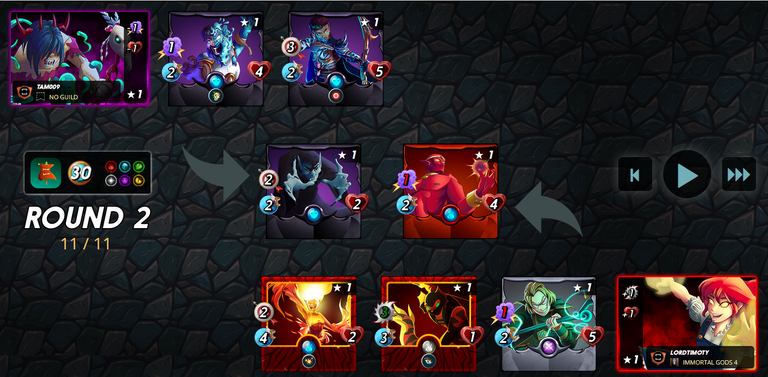 That proved to be the case and as we went into Round 4, my opponent was in a crippled position. and all he could do was watch my remaining cards make quick work of him to seal a strong victory.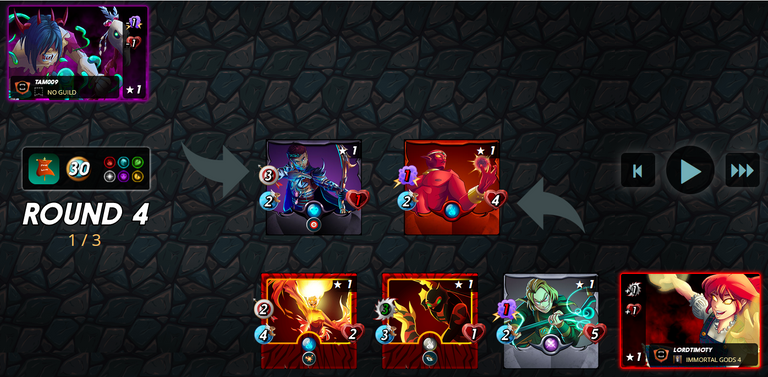 Evaluation:
This win really wasn't about synergies, but about finding a partnership where each card brings a balanced strength to the team. My greatest strength in this battle was my LIVING LAVA's shield as it kept him in the game protecting my back-row, whereas my opponent's CURSED WINDEKU fell quickly. This was largely due to him expecting to hurt me with his THORNS, but as my MAGI of CHAOS and the DJINN APPRENTICE can't be hurt by thorns - his strategy was neutralised. All in all, I'd have wanted my MAGI OF CHAOS to be a bit more of a dangerous weapon in this match, but the THADDEUS BROOD really dropped his power; I guess that's why it's important to play a balanced team.
Want to re-live this battle? Here's the video:
Thanks for joining me for this #splinterchat

Don't forget, you can click here and sign up with my affiliate link.
#splinterlands #spt #play2earn
#oneup #hivegaming #battle #leofinance
#pimp #neoxian
#proofofbrain #thgaming
#leofinance #battle
---
---