Can't BLAST this: Exploring REFLECTION SHIELD.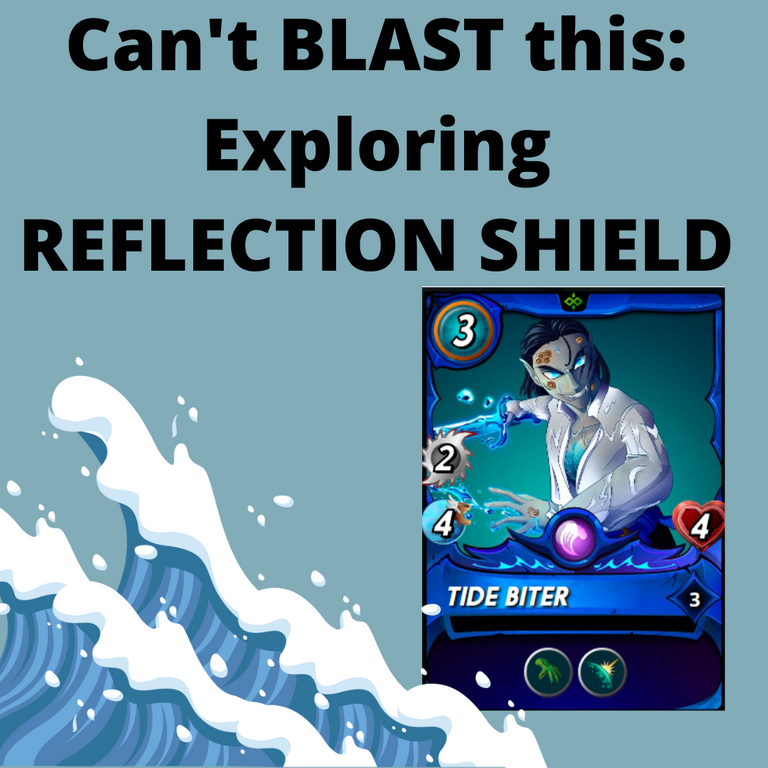 I have to say, when the new REWARDS cards came out, I wasn't necessarily looking at them as my new 'must have' cards - but I've been having a closer look at TIDE BITER, and using him in a few different battles - and the verdict: I've come to really love him. In this post I will explore the card, but also, think about how it could be used strategically.
First up, let's check out the card. Mine is Level 3 and this means I can use it at this Level in GOLD LEAGUE, which is where I play:
Looking at the card a little bit closer, there are many things to look at:
The card only costs 3 mana to play. This is awesome! It means that the card will fit into lots of line ups, particularly low mana battles. It is also handy in mid-mana battles too, because it may allow you to play other higher mana cards in the support line.
The card has, at Level 3, 2 melee attack. Straight up, that's solid for a 3 mana card. But, I think this is all about strategy - as a number of cards like the DEMENTED SHARK or RIVER HELLONDALE often end up in my lineup, meaning that TIDE BITER will push to +3 melee. From that perspective, at 3 mana = 3 attack, this guy is a bargain!
You'll notice this guy has awesome speed; 4 boots will likely let him hit pretty early on in the battle, and when paired with KELYA FRENDUL, he'll pop to +5 boots and be a super speedy asset.
This card only has 4 health, but from the off-tank position this allows him enough scope to survive a hit or two.

But wait, there's more...
Have you seen this card's skills? Let's look at what they do just a little bit closer:
REACH: I love this skill; and the truth is, I usually play the FLYING SQUID in the off-tank position because that card has REACH. The skill means that this card can hit from the 2nd spot - which is really great at smashing your opponent's tank!
REFLECTION SHIELD: This is an absolutely strategic gem! Beyond GEM! You see, the REFLECTION SHIELD means that if an opponent has cards with BLAST, or in a BLAST ruleset, this card will NOT take on any of the BLAST damage. That huge! Think about the possibilities in a BLAST ruleset - you can BLAST your opponents and start destroying the backrow; your opponent can't touch you!
Let's look a bit at the investment case then. This is the part I like to think of as the #leofinance deep dive:
Now, this graphic is an interesting one to look at. You see, these five cards are all EPIC and are REWARD cards. They also share the same PRINT quota, at 400,000 total. The first four cards have printed 50% of their total run, whereas TIDE BITER is only about 5% printed. This is worth thinking about in terms of the current price levels. The reason is because it seems that TIDE BITTER, with lower PRINTING, is worth about the same as the other EPIC cards, but - on the surface, he actually looks the weakest. I think this is actually because the REFLECTION SHIELD is misunderstood. That said, I think that this card price will drop at the end of the season - and this will provide significant opportunities to buy up! Even if you just purchased for CARD POWER, it's cheap! My expectation is that this card price will drop, before appreciating over time - even if it takes until his print run running out. I also see a lot of value in URAEUS, given he is a common card.
All I needed then, was a battle to see this SKILL, REFLECTION SHIELD, in action. Here's the one I found:
In this battle I had lots of MANA to play with - which meant that I could play whichever cards I wanted, but I still played the 3 mana TIDE BITER, because I notice that this is a BLAST battle, and I wanted to use his REFLECTION SHIELD to frustrate my opponent's offense. I was yelling out, 'Bring it on' and playing defense as offense - especially with the other part of this battle, TRUE HIT, which means that EVERY hit will land, or in other words - you can't dodge, therefore, BLAST was going to be deadly.

Let's start by looking at my entire line-up:
In this battle, I wanted to play SPEED - this is also important for BLAST - because the quicker you can try and attack your opponent, the more likely you can kill cards before they even get a chance to attack in the battle. Part of this is KELYA FRENDUL who gives all the cards in my desk +1 boots. That said, I'll be quick - because I had the DIEMONSHARK out the front - he's a beast of a tank, and he also has ENRAGE which will pop his speed and his attack, the latter to +5 melee. I also play RIVER HELONDALE, which will push my TIDE BITER to +3, DIEMONSHARK to +4 and my DEEPLURKER to +5 melee. This will be a smashing battle, which will be supported by +4 magic between my DJINN OSHANUS and RIVER HELLONDALE, and the +3 Arrows from my GARGOYA DEVIL.
In total, I will be playing +13 melee, +4 magic and +3 arrows for a total of 20 damage. This is great; it will mean that I will have high BLAST damage too.





Have a look at the battle replay, then we'll look at it in a bit more detail:


Start of Round 1:
As the battle gets underway, I notice my opponent has played a couple of cards which impacts on speed - he clearly had the same idea as me! But I also take note of his attack - keeping in mind my total attack was 20. My opponent has +6 melee, +2 magic and +13 boosted arrows for a total of 21 - but, delivered through 7 attacks, and 7 blasts, to my 6. This has the potential to be very close - and for BLAST to destroy my back line.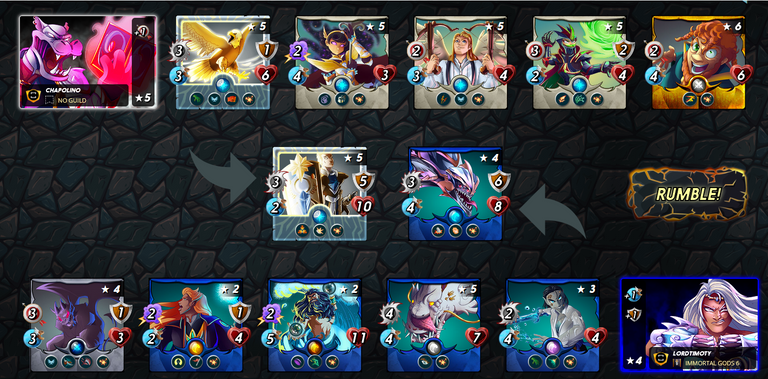 Start of Round 2:
At the end of Round 1, this battle was already very much looking like my win. You see, I will take down my opponent's SHIELDBEARER on the first hit of Round 2 - and in Round 1, my BLAST damage was able to kill both his EAGLE and his TIME MAGE. My DIEMONSHARK's first hit will take the SHIELDBEARER and 3 damage from my opponent's PELACAR, and then, finishing off the trail of this team will be simply a case of a few hits.
Now, during Round 1 - my DIEMONSHARK was actually killed, but the RIVER HELLONDALE revival brought him back to life. Despite his fall - did you notice the remainder of my team was left in a very strong position?
The secret? My TIDE BITER's REFLECTION SHIELD was absording the damage - in the case of this battle, he was the absolute game changer. The reason is because he actually would have died before my DIEMONSHARK, and taken the REVIVE - this means that my tank and off-tank would have been otherwise defeated in Round 1 and we'd be looking at a very, very different battle.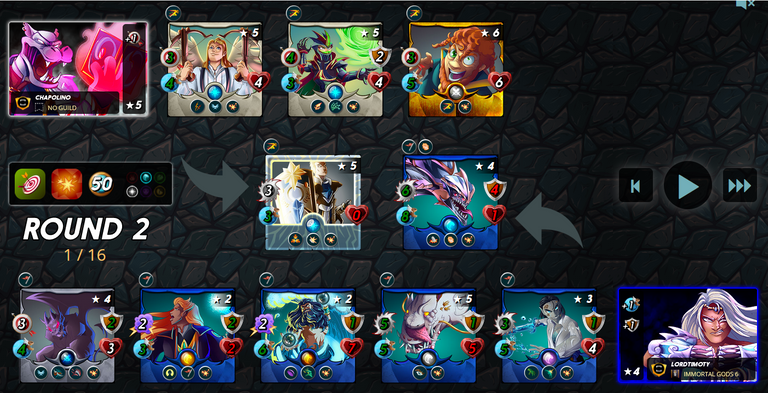 End of Round 2:
Then, by the end of Round 2, my team has finished off the line-up and have taken the win. This all goes to show how devastating the BLAST skill is, but also, the potential of TIDER BITER's REFLECTION SHIELD to allow you to dominate a team, which on paper, was far more significantly leveled up than mine.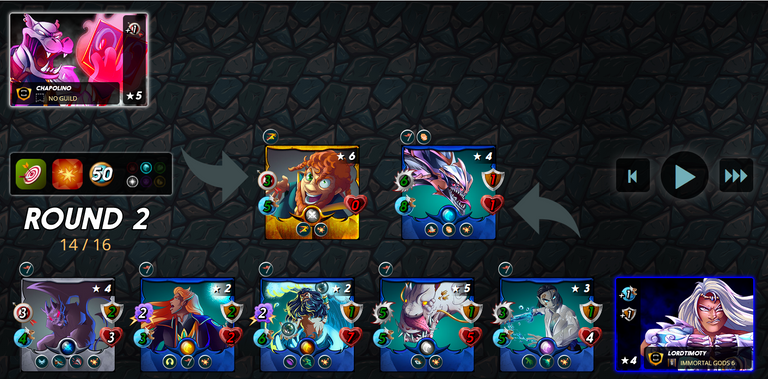 Evaluation:
TIDE BITER's REFLECTION SHIELD is beyond awesome, but as it is a nice skill that has just been introduced into the game, I think it is largely unknown by the game - YET, because I think as it becomes more widely used in battles, people will start to see that it will change the game and make it impossible, or near enough, to beat in a BLAST battle. This would be a BLAST battle in the sense of a ruleset, but also, when vs'ing someone like YODIN ZAKU. I have to keep looking at this skill and its potential to change up my strategies.

Don't forget, you can click here and sign up with my affiliate link.
#splinterlands #spt #play2earn
#oneup #hivegaming #battle #leofinance
#pimp #neoxian #archon #palnet
#proofofbrain #thgaming
#leofinance
---
---