Checking out QID YUFF and his PIERCE (Spoiler: he's not that good).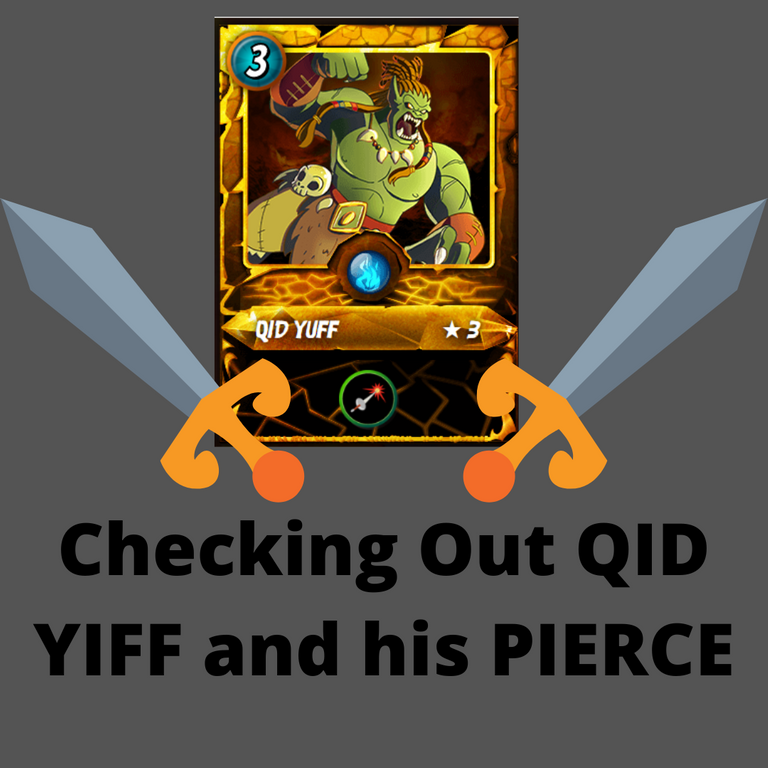 Thanks for joining me today for another SPLINTERCHAT. Today, I was given the FIRE SPLINTER as my FOCUS - and for me, that usually means renting a YODIN and off I go. Today, I wanted to explore something different - and that was using a summoner I've never used before - QID YUFF. He isn't one you see around a lot, but he has quite the interesting skill, PIERCE. Let's check him out then, because he's worth a closer look.
Here's the card I rented:
And what you'll immediately notice is that I was able to pick up a Level 3 QID YUFF for 6.33 DEC. In anyone's book, that's an absolute bargain, as being a SUMMONER, every time I use this guy in battle, I will also receive the gold foil bonus.
At Level 3, I can play Level 4 common, Level 3 rare and Level 2 epic and legendary cards. And, every single card I play will take on the PIERCE skill. This is a really remarkable good skill because it will allow me to hit my opponent's armour, and - if my attack is higher than the armour, it will then continue to take my opponent's health.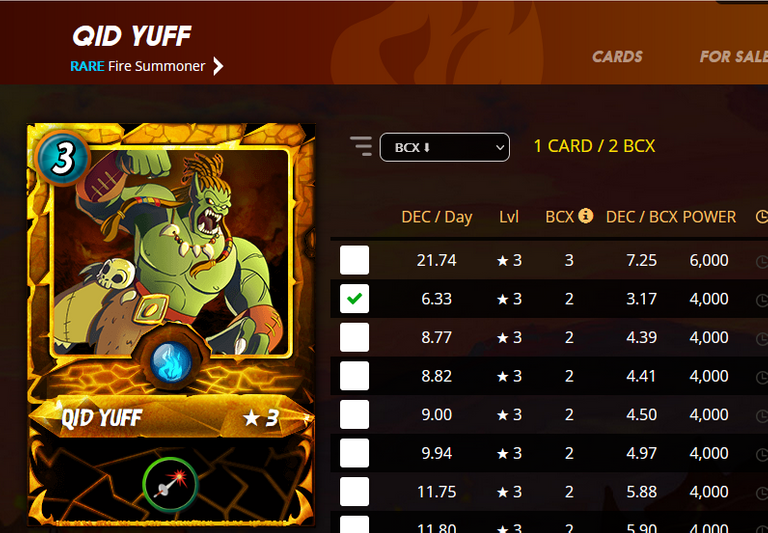 It raises the question then, what do battles with this guy look like? Is he a valuable asset? Let me share this first battle - where a ruleset has been perfect to set up a victory. The ruleset gives all my cards SNEAK, and allows SLOW to go first. Looking at the field, the most annoying part of my opponent's line up is QUEEN MYCELLA who gives all his cards SHIELD. By using PIERCE, it means that my GRUMM and LIVING LAVA, who both do more than 2 damage, will be able to hit my opponent's shield, and then drop some armour.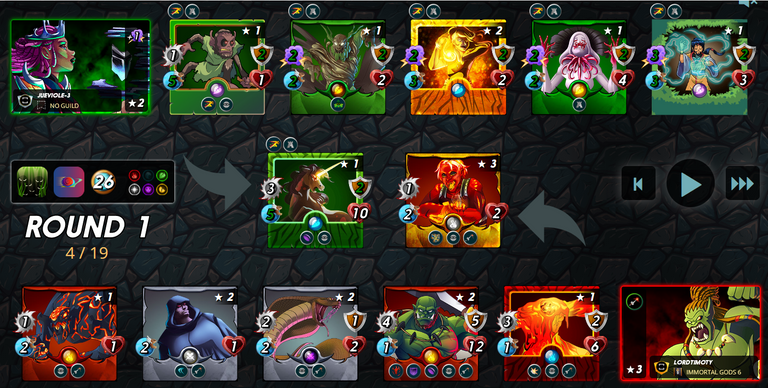 And you can see, Round 1 was incredibly effective for my deck, as not only did I take down my opponent's rear attack, my GRUMM's bloodlust was able to be activated and I'm just about to drop my opponent's QUEEN MYCELLA. It was a very good round, and it set me up for the win. By the end of Round 2, my GRUMM will have used his BLOODLUST again - and my opponent will be down to only two attacking cards. Needless to say, QID YUFF's influence in this battle was strong.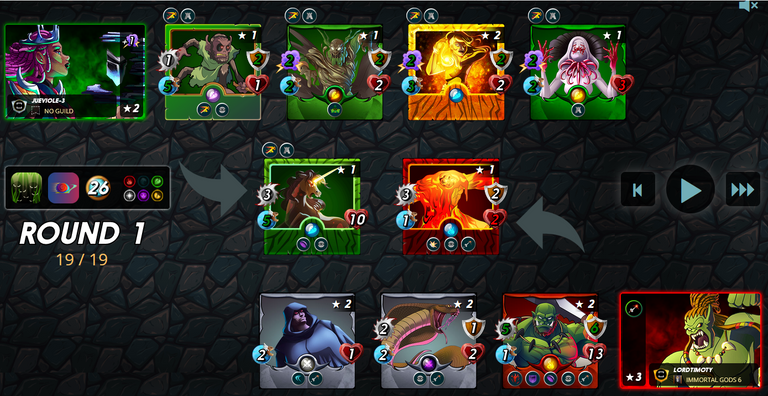 And then again, I was able to find another scenario where QID YUFF is incredibly useful, and that is when I come up against KELYA FRENDUL - KELYA gives all his deck +1 armour, so the PIERCE ability is brilliant because it will discard the +1 armour and start working on taking health. In this battle you can see that all of my opponent's deck was without armour, until KELYA gave them armour, while 5 of my cards have +2 attack, who will now be able to do 2 damage. This battle turns into another very good win.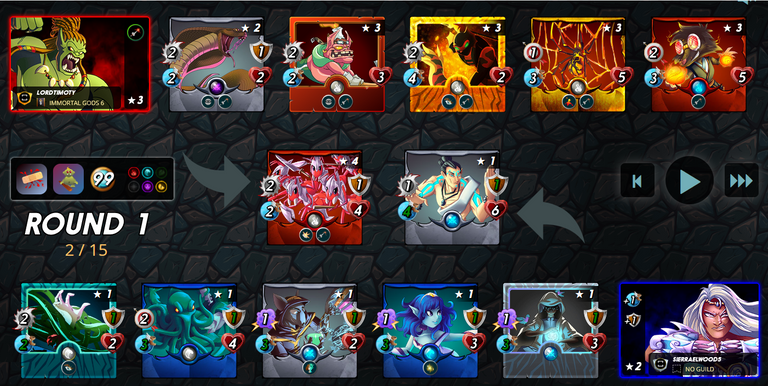 Evaluation:
I really wanted to like QID YUFF, and I was able to find a number of battles today where he was really effecitve, but the truth is, my log today was filled with losses. You see, the QID YUFF at Level 3 is really cheap at 6 DEC, but the truth is, it may be because you're actually quite limited with the cards you can play. The biggest problem was my strategy was largely about playing SNEAK attackers, and you can see that both URAEUS and the KOBOLD MINER, along with my SERPENTINE SPY all have 2 attack only. Typically then, if I was vs'ing a QUEEN MYCELLA line-up, that would neatly take the 2 armour on each, and no real advantage of the PIERCE would be experienced.
Similarly vs'ing KELYA FRENDUL teams, if I was to attack - the PIERCE would not let me 1 hit kill my opponent, as generally, the card would have 2 health. This means I'd still need 2 attackers to effect the kill. In that sense, it wouldn't matter if I just did 1 hit to take 1 armour, and a follow up to kill. It seems to me then, that for QID YUFF to be truly an effective weapon, or at least, more than I experienced him, I'd need to rent him at Level 5 or Level 6. This will allow me to play much higher level cards with higher attack - and that will make all the difference as higher attacking power will result in the ability to strike my opponent's armour, and take all his health for a 1 hit knock out!!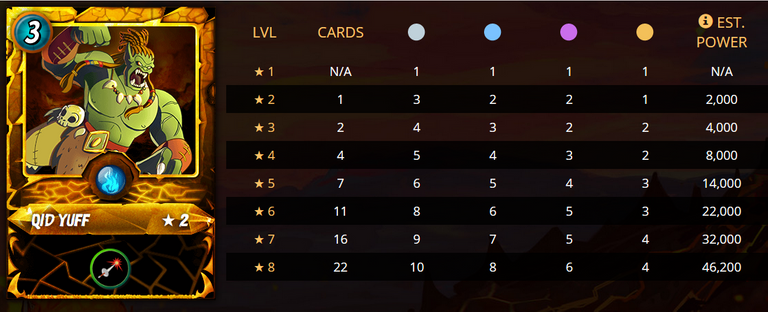 This is not, however, a cheap proposition - you'll remember that I only paid 6 DEC for my Level 3 GOLD QID YUFF, but his price jumps up significantly thereafter, as you would need to pay 77 for a Level 5 QID - or, while the level 6 is 366, there is a cheeky Level 7 on the market for 100 DEC. Bargain!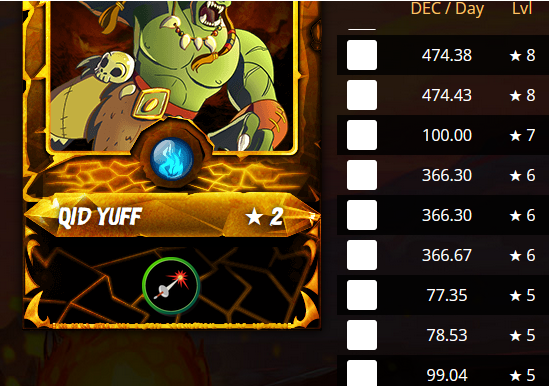 It seems them, that I might have been better renting this guy as a regular print, as I can pick up a Level 5 for only 9 DEC, or a Level 6 for 25 DEC! The strategy may well be then to put the difference between the gold/regular print into renting stronger cards to pair him with.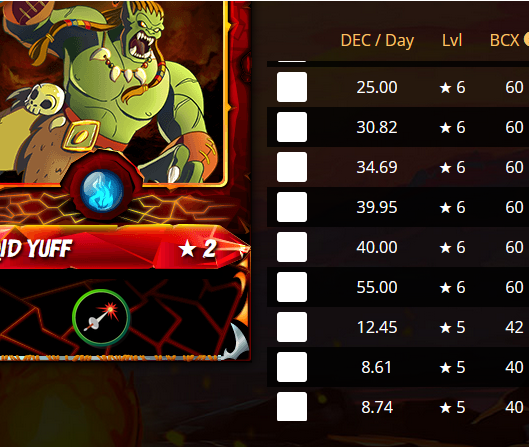 So my playing with QID YUFF today came up with a couple of conclusions:
A level 3 rental is useless in GOLD, you need to get him at a higher level.
This guy only works if you can play cards with high attack to be able to produce one hit kills. Without these, you're far better with TARSA or YODIN.
While a gold foil may be fancy, sometimes the better value is in renting a normal print to maximise your potential to #play2earn.
Perhaps a sneaky reminder to myself: it's probably not worth renting this guy again, I don't have the right strategy to really make him sing. I'll just waste ECR and there is not value in doing that!

Don't forget, you can click here and sign up with my affiliate link.
#splinterlands #spt #play2earn
#oneup #hivegaming #battle #leofinance
#pimp #neoxian #archon #palnet
#proofofbrain #thgaming
#leofinance #battle
---
---