Finding Synergy: Transforming XENITH ARCHER into a BLASTING BEAST (And a couple of calculations about potential ROI)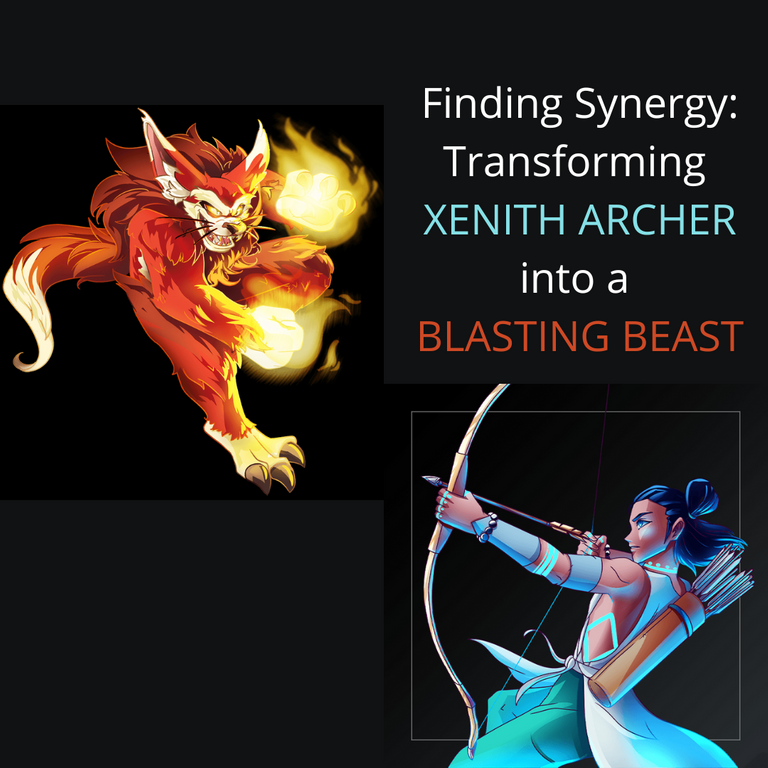 In today's blog I will be discussing SYNERGY - and finding a bit of extra oomph in one of the game's most underrated archers, the XENITH ARHCER. By making some good choices with my summoner and pairing XENITH ARCHER with YODIN ZAKU I will be showing you a strategy to overcome some incredibly strong lines ups!
If you want to race ahead and check out the battle I'll be profiling, you can do so by jumping on this link: https://splinterlands.com?p=battle&id=sl_b68a39d9acb885a1d0c67aa2576845d9&ref=lordtimoty
Otherwise, strap yourself in, because we're going to be checking out one of my new favourite offensive assets!
Let's start by checking out my card, which I currently hold at Level 1:
You'll notice that this card is part of the COMMON card classification. That makes this card absolutely golden, because it can be used in battle in every splinter.
The next thing about this card that stands out is it's low mana cost, at only 2 mana, it will fit in a lot of your line-ups.
The card shoots for 1 damage - look, this isn't amazing, and it's why we need to find some synergies with this card to improve it. However, given the card costs 2 mana, the return isn't too bad in those terms.
The card has some issues with speed, you'll notice it only has 1 speed - which means it will be attacking late in a battle, however, it's quite common you will see a ruleset where SLOW GOES FIRST, and in those battles, this card becomes quite a useful guy to put into your back line.
The card's health is poor at only 2 - however, the mana cost of the card needs to come into consideration again, as the card can be thought of as providing a bit of a shield for more offensive assets in your line-up, either as a rear-guard or sitting in front of them in a line-up.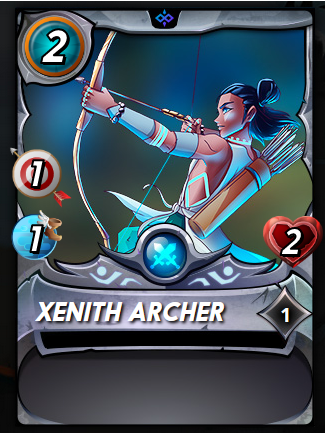 #LEOFINANCE
So what's the investment advice on this card?
Well, not too bad. You see, this card is a COMMON CARD with only 5 CARD POWER - and a lot of BETTER common cards are selling for 1 cent! But the supply of this card at 74,000 is perhaps keeping the price elevated and you'd need 22 cents to pick up this little guy. That said, in the market their is not a lot at that cheaper price - and, if you wanted to buy multiples, you'd soon be paying a 20% premium and needing to purchase at 27 cents. In short - this card has the potential for its price to skyrocket. If you wanted to play this card at MAX level in the GOLD LEAGUE, you'd need 60 cards combined to make it Level 6, and that would have the further benefit of raising this card's attack to 2 arrows!
You would think then that this card would offer quite a good return from rentals, and you'd be right! Check it out - if you paid $13 to get a Level 6 card, you could rent it out for 60 DEC for 1 day!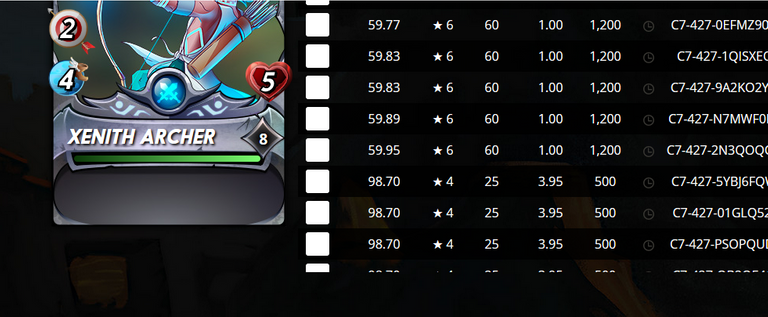 Which, if you were to look at the return, it's not bad. On current DEC prices, you would return 2.5 HIVE from the rental in a 30 day month. That's around a $1.35 on current HIVE prices, making this an absolutely stunning return on investment.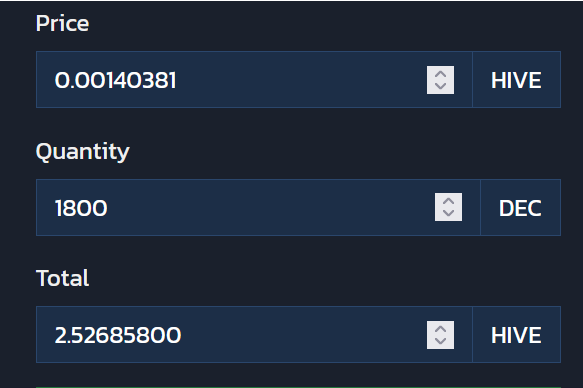 But enough about the financial numbers, let's have a look at what makes this XENITH ARCHER BLAST like a BEAST - and to do that, we need to look no further than YODIN ZAKU:
The reason this card works so well with XENITH ARCHER is because of the way he enhances the card:
XENITH ARCHER's attack moves from +1 to +2 Arrows.
XENITH ARCHER's health moves from +2 to +3 which will probably help him survive a SNEAK attack.
XENITH ARCHER gains the BLAST ability - now this means she will move from doing just 1 damage, to now doing +2 damage on the tank, and then blasting for +1 damage - totaling 3 damage! That's a 300% improvement on the original card - and, notably, you'd put this little guy into the BEAST category!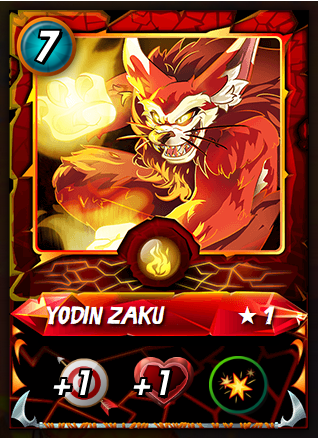 All that's left to do then, is to find a battle to see this guy fly!
And what a battle I got myself into. There is a lot to like about this ruleset though, you'll notice that every card in the battle will have DIVINE SHIELD - this is great for a blast ruleset because it means I will take away my opponent's shields quicker than he will take mine! It also lets me play archers in the tank position - not a bad scenario really, and at 32 mana - this kind of line-up benefits from some cheap cards like the 2 mana XENITH ARCHER.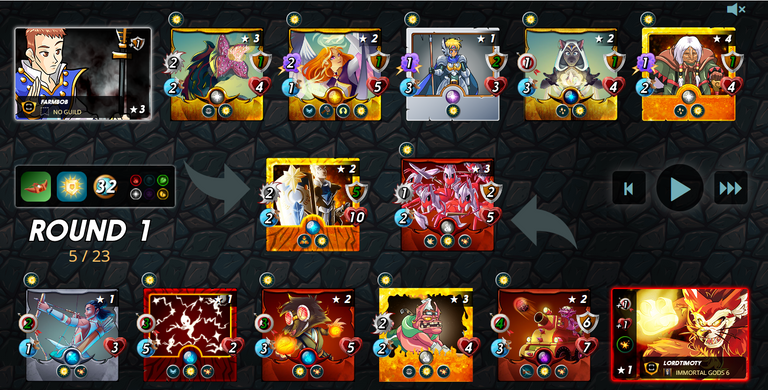 My Line-Up:
Beyond YODIN ZAKU as my SUMMONER, I play:
TANK: ANTOID PLATOON. I love this guy because he has SHIELD, which will give him some increeased longevity in a battle, but he is weak vs MAGIC attacks. Looking at how this battle opens up, I am looking slightly vulnerable to my opponent's +4 magic team.
OFF-TANK: The epic LAVA LAUNCHER - this is a great card because it has high attack, high speed, high armour and high health. What more could you want in a card?
BACK-UP: KOBOLD MINER - This guy is really helpful, like the XENITH ARCHER he only costs 2 mana to play, but he certainly packs a punch! This makes him a great candidate to use in any line-up.
ARCHING TEAM: SCAVO FIREBOLT and SPARK PIXIES form a really strong team in combination with my XENITH ARCHER, the reason is that the three together will be throwing +8 arrow damage at the tank each round, and a further +5 arrow damage at the off-tank. When you pair this will the LAVA LAUNCHER, you can see that I'm going to be dangerous!
Reviewing my opponent's team:
YIKES! This line-up from my opponent is particularly amazing, the reason is because he is playing two HEALERS and a further card to restore his TANK's armour. The strategy is simple: keep the tank with taunt alive and slowly destroy my line-up. It would be nearly unbeatable EXCEPT my BLAST will be the key - as my opponent will be wasting his RESSURECT on the LIFE LEECH in the off-tank position! EVIL LAUGH.
Check out the full replay here:


End of Round 1:
At the end of the first round, you can see that the situation we find ourselves in looks very much like where we started - but, that's a little bit too oversimplified. You see, I was able to have taken down by opponent's LIFE LEECH - and this was key, because it meant ADELAIDE BRIGHTWING used the RESURRECT skill to bring that card back to life - whereas the strategy would prefer to RESURRECT the tank. This battle is starting to look like it is turning in my direction - and the key thing about blast is that you start to take out the back-line while you're working on the TANK.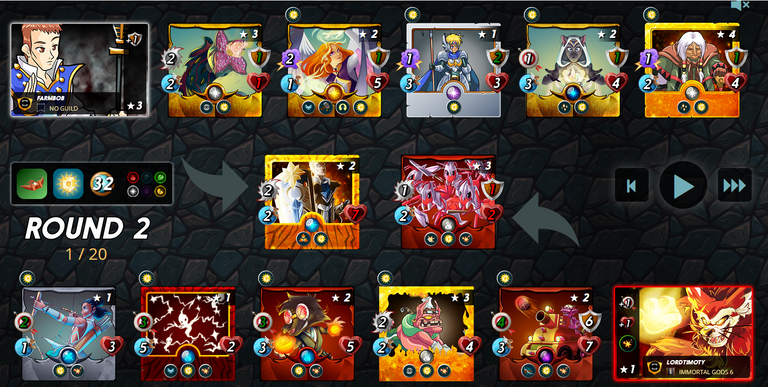 End of Round 2:
Round 2 was more eventful than it looked. I was able to re-knock my opponent's LIFE LEECH over, and take ADELAIDE BRIGHTWING's DIVINE SHIELD and ARMOUR. Meanwhile, I lost my own tank. That said, this battle is set up for my to finally drop the TANK and look to expose the back-line further. My opponent played a strategy that seeks to kill an opponent slowly and maintain his tank. The BLAST was important because it allowed me to manipulate the back-line. And, the TAUNT ability actually worked against my opponent, because it meant my KOBOLD MINER was attacking the front, rather than splitting my attack.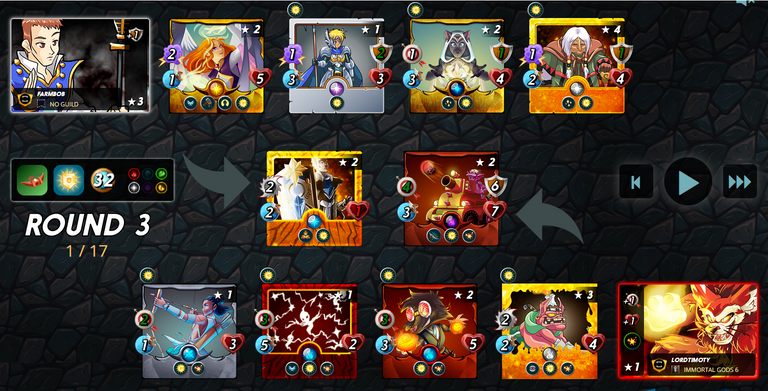 End of Round 3:
This round was really solid for me, as it allowed me to finally drop my opponent's TANK. I've now also taken the DIVINE SHIELD off all of my opponent's cards, as the KOBOLD MINER's SNEAK finally hit the back of the line-up. From here, I will be able to seek to make some significant progress as my attack will likely take ADELAIDE BRIGHTWING quickly as my speed is stronger than my opponent - and in doing so, I will be looking to dismiss the low health cards in the back-line.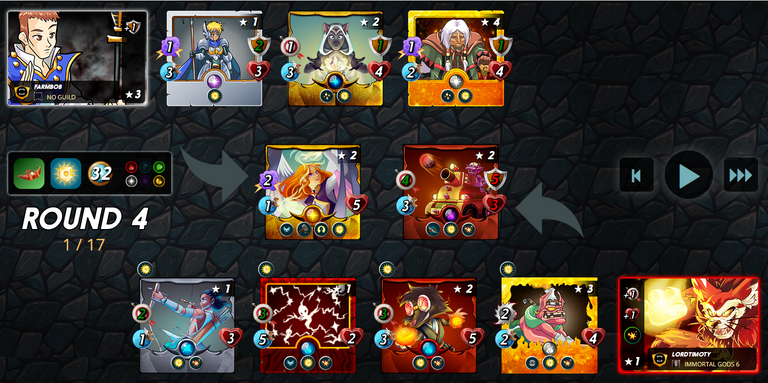 End of Round 4:
Round 4 actually turned the battle a little bit into my opponent's direction. ADELAIDE BRIGHTWING dodged an attack and having the two healers behind him have allowed him to maintain his LIFE. That said, heading into ROUND 5 I will be hoping that my PIXIES will get off the first hit of the round and finally drop him. Let's see how it goes. If the PIXIES miss, this battle will be hard to win as ADELAIDE BRIGHTWING will restore his armour and health.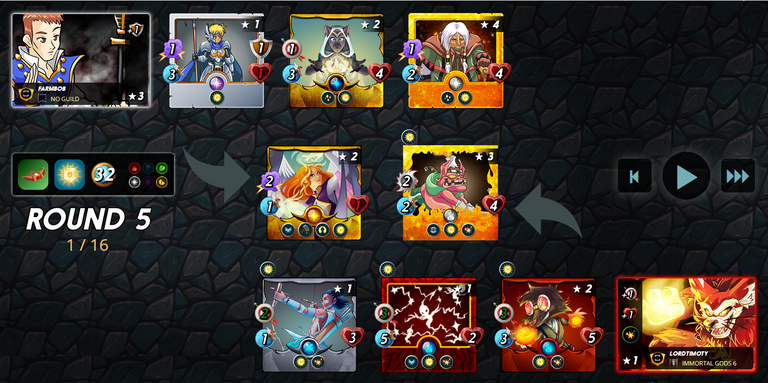 End of Round 5:
This was the break-through round of the match, as the PIXIES was able to get ADELAIDE with his first hit, and take the off-tank's armour. From there, my SCAVO FIREBOLT was able to take all 3 health from my opponent, exposing his VENARI to the TANK position. The frustration of this battle was that my opponent could continually heal the front-line. However, when his back-line cards were brought forward, I had enough attack to be able to kill my opponent's cards in one hit, and when that happened, I was able to rip through three cards in one round - and then, take my opponent's final card in the first hit in Round 6 to move towards victory.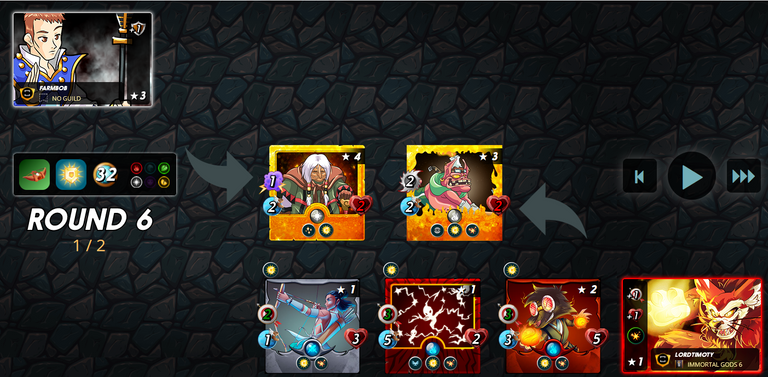 EVALUATION:
In every battle, no card is an island. This means that cards can't win a battle by themself, which is why it is so important to find synergies. In this way, XENITH ARCHER is a pretty ordinary card, but by pairing him with YODIN ZAKU, he becomes absolutely a BEAST.
It is also worth thinking about the value of cards working as part of a team - and in this case, I was able to play four archers with a total attack of +12 arrows, and a total blast of +7 arrows. By placing XENITH ARCHER in this team, he is part of that onslaught of damage, and he made up an incredible part of this team.
I like XENITH ARCHER, and this challenge made me realise I only have this card at Level 1, I'm starting to think about how I might go about developing this card further. He's a good one!

Don't forget, you can click here and sign up with my affiliate link.
#splinterlands #spt #play2earn
#oneup #hivegaming #battle #leofinance
#pimp #neoxian #archon #palnet
#proofofbrain #thgaming
#leofinance
---
---