Katrelba Gobson - The GOLD FOIL BRAWL Beast!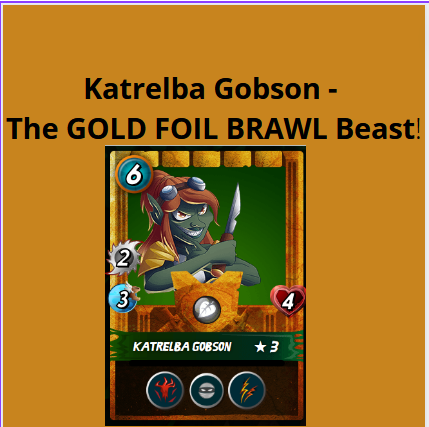 Hey Splinterfriends
Today I want to think about BRAWLS. It is actually a topic that has been on my mind a lot lately, as my guild has moved to TIER 2 and it was time for me to step up. In short, I played the BRONZE slot for like six months in a row, barely missing a brawl. But as we've gone up, I've taken on the GOLD FOIL only fray, playing at SILVER level. For those of you trying to put a number on it, it's Fray #15.
Now, this is a particularly interesting fray, and the reason for that is I went from having access to nearly every GLADIATOR card, to now having access to just three. And, as you might have guessed by now, one of those GOLD FOIL gladiators is Katrelba Gobson. I'm actually rather lucky, because I like this card, and often played her in my former bronze fray.
For those of you unfamiliar with this card, let's check her out. And you'll notice that she's pretty amazing:
She is a 6 mana card, which is moderate for a card, but as you'll see, she's worth that cost.
She has two melee attack, which is reasonabe, especially when you consider that she has the DOUBLE STRIKE ability, this means that she will hit TWICE every round. This is particularly useful for taking armour on one hit, and health on the next.
She has +3 speed, which is decent enough, and ensures she will attack early on in a battle.
The biggest weakness of this card is her 4 health, as it does make her vulnerable.
You'll notice that this card has the SNEAK attack, which means that she will target the rear of your opponent's line, looking to quickly knock out supporting cards and making the tank vulnerable.
The key part of this card is, however, her Bloodlust. This skill is amazing, as it will increase her stats every time she kills a card. This is significant given she has DOUBLE STRIKE, she'll move from hitting +4 melee each round to +6! You can start to see that she will have the power to rip through an opponent pretty quickly!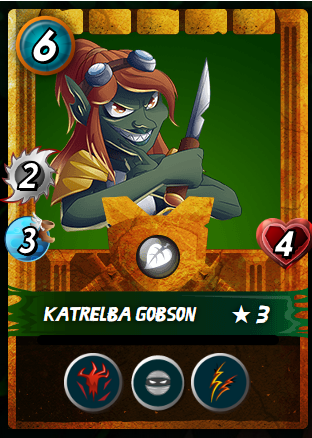 This then leads us to a battle I wanted to share, to show you how she is able to earn her BEAST status in GOLD FOIL only competition. Let me take you through my line-up.
Line Up




For this battle, I opened with Daria Dragonscale.
This is an amazing summoner because he gives each one of your cards +1 melee. For my Katrelba, that's absolutely game-changing, as it pushes her stats to +3 melee x 2! That means she'll be hitting for +6 melee (only to increase as she gains scalps!)
I then put the DJINN CHWALA out front. He's a great tank as a consequence of his THORNS ability, and his high armour and health. In short, he's a great card, and will go into the battle with +4 melee, which makes him incredibly dangerous.
I then followed up with Mycelic Infantry - In this battle which was EVENS only, I didn't have a lot of options to play in the EARTH splinter, but I recognised the need to protect Katrelba, so I sandwiched her between two cards on each side in order to give her the opportunity to get her BLOODLUST to activate. The Mycelic Infantry has the SHIELD ability, which allows him a lot of longevity when he's in the tank position.
Behind my Katrelba I play the DHAMPIR INFILTRATOR, now this is a great card, and you'll notice it's statas and SNEAK/DOUBLE STRIKE ability mirror Katrelba's. This is great, because it will allow them to work in tandem with each other. That's +6 melee damage each, or +12 between them. You can see my intention in this battle is to hit hard and knock out that back-line quickly.
And then finally, I play the PSYCHIC GOBLIN. He's a healer, so that's a great benefit to my tank cards, but more than that, he has the AFFLICTION skill, which curses an opponent and doesn't allow them to be healed. Nothing worse than when that happens, right?
The #LEOFINANCE run down on these cards:
The summoner is too expensive to buy at over $400 a card, but he does rent out at Level 3 for 80 DEC a day, which isn't too bad. In contrast, the rest of this team is cheap! You can pick up a DJINN Chwala for around $4, while the Mycelic Infantry will set you back $2.90 and the Goblin Pyshic $1.90. The Dhampir Infiltrator is a new reward card and you can pick it up for around $3 a card. I own all the monsters in this battle, so the win costs only DARIA's cost, a bargain at 80 DEC! This team, however, is likely to be more expensive in the future, as GOLD FOILS increase the RSHARES players can earn in a battle, and given the limited ECR we all have, you want to maximise your RSHARES every time you win! I'd suggest then, that these cards are worth far more than their current price tag.
Here's how the battle opens:
Right from the get-go, I thought I'd lost. My opponent was actually a brawling BEAST, he went 5-1 in the fray, which was no mean feat given we had opponents with 18,000,000 card power - and it seemed like most of the competitors owned legendary gold foil summoners, including my opponent for this battle! Mostly, I'm concerned that my opponent has played Abadon, my back-line isn't well protected, so in all likelihood, he'd be activating his bloodlust soon, while Countess Sinash had the opportunity ability, allowing her to one-shot kill four of my cards right away. I also felt concerned that KITTY gave my opponent all +2 speed, which meant that there was a good chance they'd be dodging my own attacks. But it is what it is, let's get into the battle.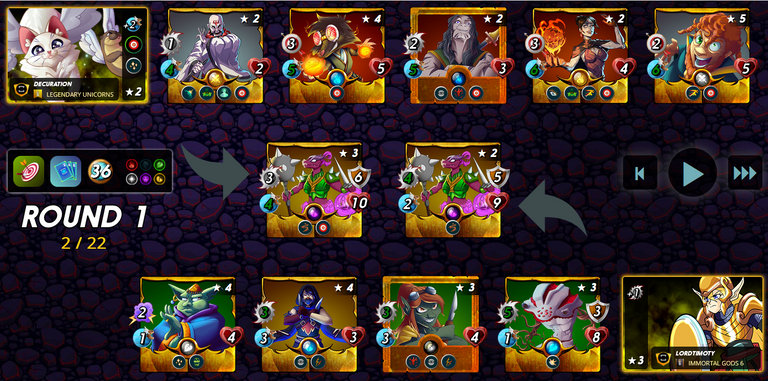 By the end of Round 1, the way the cards fell seemed to benefit my line-up. My DHAMPIR INFILTRATOR was one-hit killed on the very first attack of the battle, so he was kind of useless, and my Goblin Pyschic took damage from Abadon - but more significantly, my KATRELBA was able to hit the Arrow Runner at the back of my opponent's line up twice and this let him activate his BLOODLUST. This is significant, because the only way to get ahead in this battle will be that card being able to grow and grow and grow.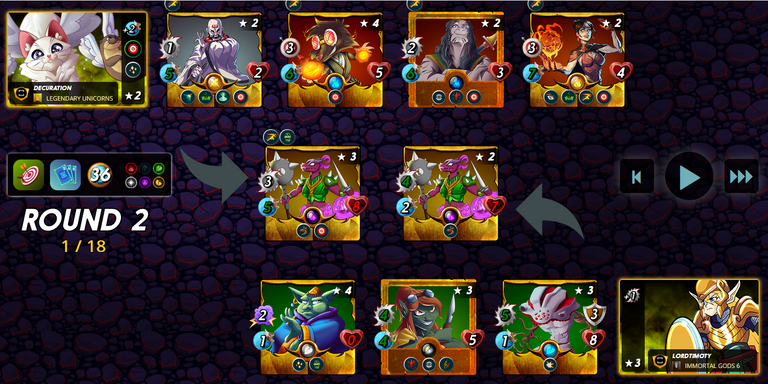 And then ROUND 2 took me from the underdog, to a distinct advantage! You see, my opponent's COUNT SINASH took the first hit and that knocked over my GOBLIN PSYCHIC, which meant that his ABADON missed the chance to BLOODLUST, damaging my Katrelba only. Then, my KATRELBA got her turn. She took 1 hit to kill Abadon, activating her Bloodlust. It also increased her attack to +5, which then allowed her to one hit kill the SCAVO on her second DOUBLE STRIKE attack. Meanwhile, my DJINN CHWALA and MYCELIC INFANTRY had a good round, combining to knock down my opponent's DJINN and bringing forward the 2 health off-tank. You can see where I've stopped this battle that COUNTESS SINASH took the first hit in the battle, but now the tank will fall and promote her to the tank position, where she'll be unable to attack.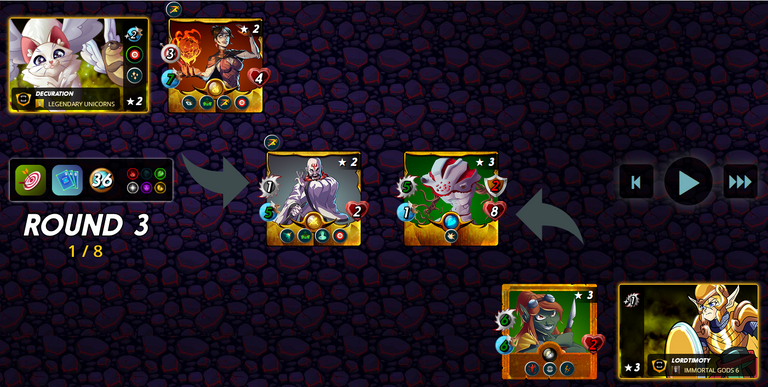 And then Round 3 quickly finishes this battle off. Katrelba took 3 damage from Countess Sinash and then Katrelba attacked. She killed VENATO in one hit, and then Countess with her second - finishing up with 8 attack and 8 speed. Basically, she turned herself into a beast!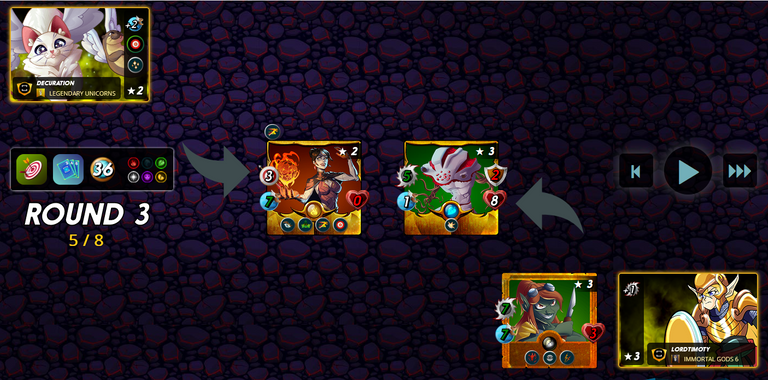 Want to re-live the battle live? Here' the link, jump on it!
Battle Link: https://splinterlands.com/?p=battle&id=sm_lRhdDA8RlWrbRJVI9hMj
Evaluation:
This entire battle was constructed around Katrelba - who, as a GOLD FOIL gladiator is of course a free earned card. She was supported by around $20 worth of other GOLD FOILS, and an 80 DEC summoner, and they combined to set her up to achieve an absolutely perfect victory. This battle showed off just how powerful she is and why you can't judge a card by face-value when it comes to gladiators, but rather, their potential to activate BLOODLUST!

Don't forget, you can click here and sign up with my affiliate link.
#splinterlands #spt #play2earn
#oneup #hivegaming #battle #leofinance
#pimp #neoxian #archon #palnet
#proofofbrain #thgaming
#leofinance #battle
---
---