When the market is DOWN, start buying UP!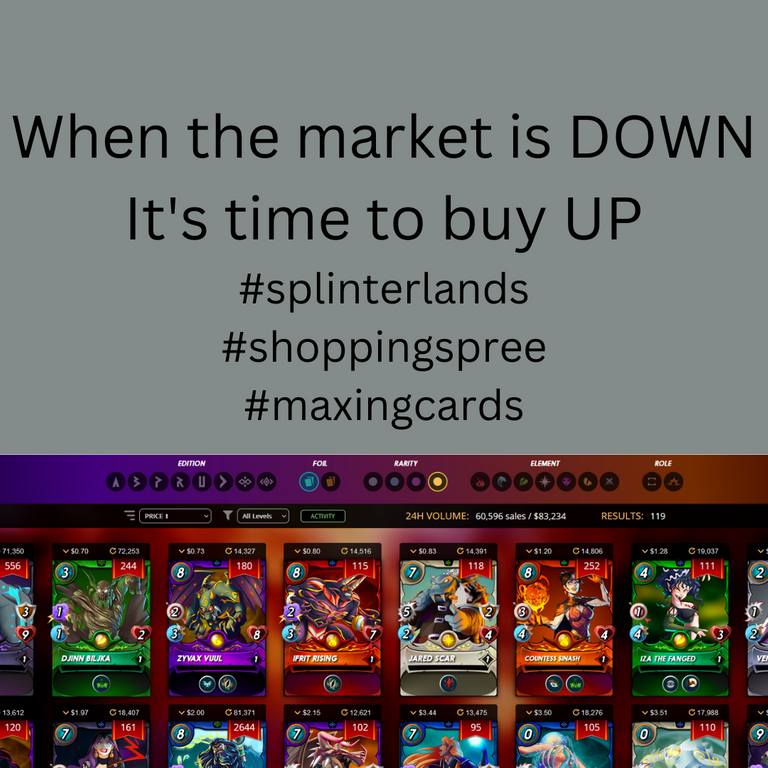 It's been a quiet week for me on HIVE - not much time to be on the blogging side of things, or on the gaming side of things. But this afternoon I had some time to myself to be able to get my head back in the proverbial and literal game - so what else would I do than go on a shopping spree!
Recently, I have been losing a lot to a Jacek team - so I thought, 'Why not join 'em'?' and so I set out to build out a stronger fire splinter, which would allow me the chance to grab a few key rentals to really find some fire!
Here's my shopping list this week:
Countess Sinash
I have to confess, lately I've been putting far too much time into my CHAOS cards, and I forgot about some of the rewards cards! I know, crazy, especially given how good and how cheap a maxed Countess Sinash costs. My Sinash was Level 2, so I had to purchase 8 of these to max her out. This cost me all of $12.72 would you believe?
The reason I wanted this card maxed is because of her BLAST ability - given I intend to pair her with JACEK, That means you potentially do +4 main damage, and a further +2 and +2 each side. The SWIFTNESS skill is also key to boost speed (which Jacek's +2 speed also does!)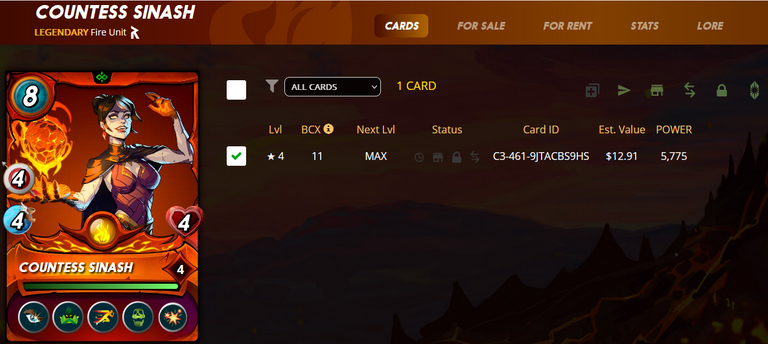 Supply Runner
The Supply Runner is a card I use a fair bit, again because of the Swiftness skill. This is a skill that he pairs nicely with, with Countess Sinash and Jacek - basically turning your team into a speed frenzy!!
This card was already Level 9 - so my purchase today was only 100 cards to max him out, and in doing so, to give me the STRENGTHEN skill which gives all my cards an additional +1 health. I paid a bit more than I should at 8.24 - but I wanted the card finished - and now he is! Bam!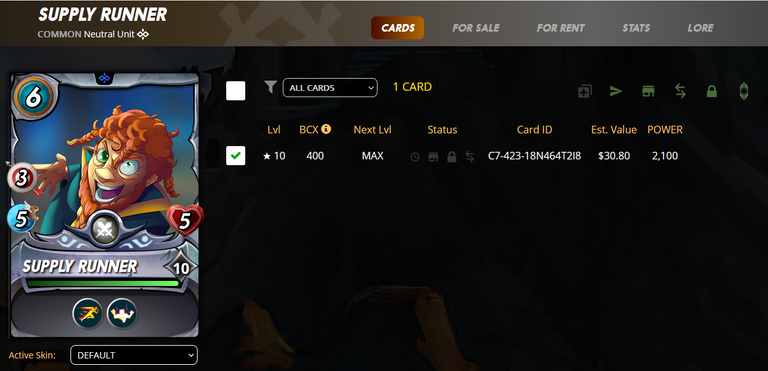 Grum Flameblade
The biggest problem with Grum is his +1 speed; but you know, with Jacek and Countess Sinash and Supply Runner, you can actually push him to +5 speed - in which case, you then have an absolute beast at the front of your line-up!
My Grum was Level 2 before today, but I wanted to buy 8 cards to max him - and they only set me back $28.48 - but the end outcome is increased attack and health stats, but the additional skills to weaken magic attacks is massive, along with the GIANT KILLER. In short, this guy just got better than good!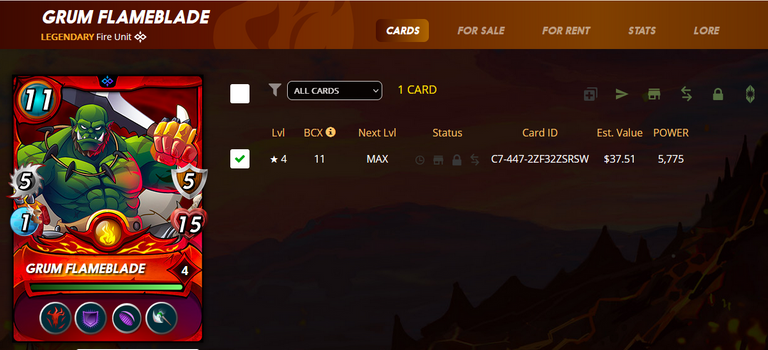 Djinn Inferni
This is a card I particularly like using, but mine was previously only Level 3 - by pushing out to Level 6 I gained access to an extra +1 magic attack, an extra heart of health - but significantly, I picked up the STUN ability. This card wasn't cheap as I needed 36 to max him out, so he put me back $30.13 - but given his usefulness, he's definitely worth having in a line-up - even more so with Jacek in the team, as he has the potential to 1 hit KO many back-liners in an opponent's team.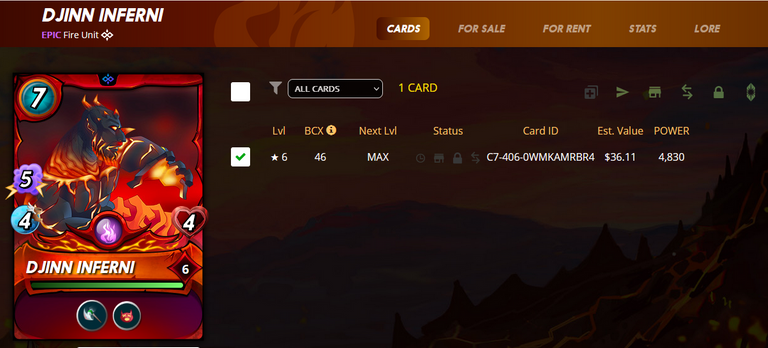 Forgotten One
This was a really necessary upgrade that has been a long time coming. Again, this EPIC card, like the Djinn Inferni, was only Level 3 - so I needed to pick up 36 of this guy, which put a dent in my pocket to the tune of $43.92. That said - it was probably one of the best upgrades as he gained +2 melee attack - along with PIERCE. This is really useful, as his retaliate skill will allow him to smack back many attackers and hopefully knock them out! A useful card to have in the deck!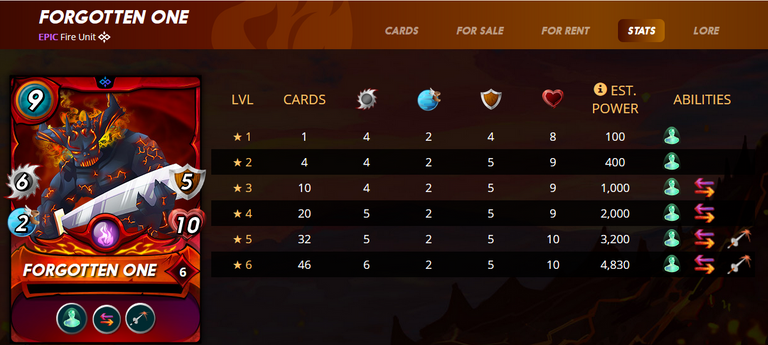 Time Mage
I couldn't believe I didn't have this card maxed out, but that's the truth of it. I only had him Level 6 - to I popped him to max for around $11 and in doing so, gained an additional magic bolt, along with a small health upgrade. I use this card a fair bit, so the extra damage is really useful, especially since he also has the SLOW ability - helpful in getting the early upper hand.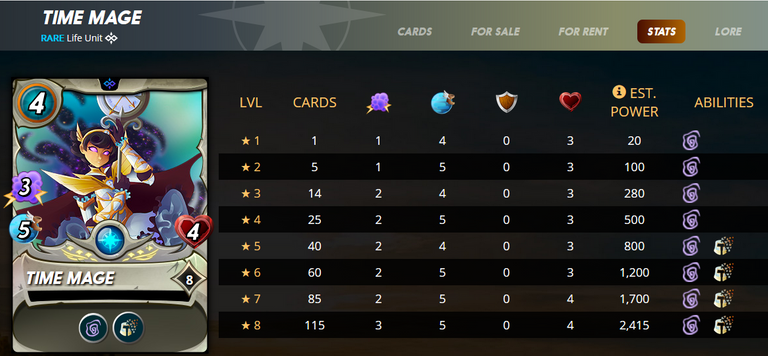 Chaos Dragon
Next up - is a card I use here and there, the CHAOS DRAGON - this was a card I already had at Level 3, so only needed 5 on him to max out. This set me back just short of $25 - but in doing so, allowed me to push this card's magic attack from +3 to +4 - which is incredibly useful, especially since one of his key skills is the BLAST ability.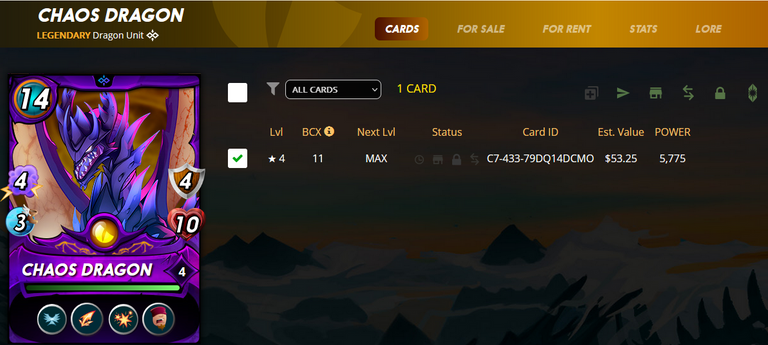 Uriel the Purifier
And finally, Uriel - I ALWAYS play this card. ALWAYS - but the thing is, his stats at Level 3 are identical to Level 4 - the only difference is he has REDEMPTION at Level 4 - this skill hits every enemy card for +1.
I often wondered - was this upgrade worth $25 - and the answer was 'not yet', but it occurred to me, that I use this card with Adelade Brightwing and High Priest Darius all the time - they both have RESURRECT, what this means is, I can have my REDEMPTION trigger 3 times!! That's not +1 extra damage, but +3 - the potential in this is huge and so it became a no-brainer upgrade.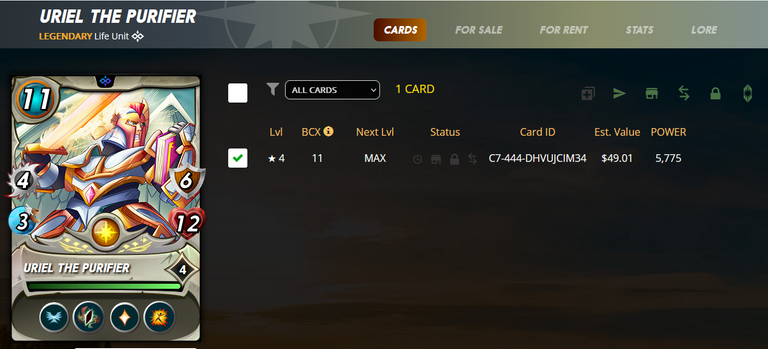 So there you have it, when the market is cheap - you may as well try and buy up and make yourself more competitive - as there was a good chunk of bargains up for grabs. Yah!

Don't forget, you can click here and sign up with my affiliate link.
#splinterlands #spt #play2earn
#oneup #hivegaming #battle #leofinance
#pimp #neoxian
#proofofbrain #thgaming
#leofinance #battle
---
---