WOOD NYMPH Simpsons Style
---
Hi everyone, I'm Lorentm and I'm pleased to share with you my latest artistic creation. As some of you already know, I'm participating in the Splinterlands social media section every week, and this time I decided to do something a little different: a fan art of the character "wood nymph" in the Simpsons style, using Marge Simpson as a reference.
As a fan of the Splinterlands universe, I've always found the different characters that inhabit this world fascinating. And when I saw the "wood nymph" for the first time, I knew I had to do something special to pay homage to her.
I love the animation style of The Simpsons, and I think their aesthetic fits perfectly with the wood nymph. So I set out to make a version of this character as if he were just another member of the Simpson family.
One of the most interesting aspects of this project was adapting Marge Simpson's characteristics to the wood nymph character. I made sure to keep the basic structure of the character, but added details that made him look like a real Splinterlands inhabitant.
The end result was a fun and colorful image that I hope you like as much as I do. I feel very grateful to have the opportunity to share my passion for art with other Splinterlands fans and I hope to continue making more creations in the future.
In short, this experience has taught me that there are no limits to creativity, and that we can always find inspiration in unexpected places. So if you have an idea, go ahead, make it happen and share it with the world!
Hola a todos, soy Lorentm y me complace compartir con ustedes mi última creación artística. Como algunos de ustedes ya saben, estoy participando en la sección de redes sociales de Splinterlands cada semana, y esta vez decidí hacer algo un poco diferente: un fan art del personaje "wood nymph" al estilo de los Simpsons, usando como referencia a Marge Simpson.
Como fan del universo de Splinterlands, siempre he encontrado fascinantes los diferentes personajes que habitan en este mundo. Y cuando vi a la "wood nymph" por primera vez, supe que tenía que hacer algo especial para rendirle homenaje.
Me encanta el estilo de animación de Los Simpsons, y creo que su estética se adapta perfectamente a la "wood nymph". Así que me propuse hacer una versión de este personaje como si fuera un miembro más de la familia Simpson.
Uno de los aspectos más interesantes de este proyecto fue la adaptación de las características de Marge Simpson al personaje de "wood nymph". Me aseguré de mantener la estructura básica del personaje, pero agregando detalles que lo hicieran parecer un verdadero habitante de Splinterlands.
El resultado final fue una imagen divertida y colorida que espero que les guste tanto como a mí. Me siento muy agradecida por tener la oportunidad de compartir mi pasión por el arte con otros fans de Splinterlands y espero seguir haciendo más creaciones en el futuro.
En resumen, esta experiencia me ha enseñado que no hay límites para la creatividad, y que siempre podemos encontrar inspiración en lugares inesperados. Así que si tienes una idea, ¡adelante! ¡Hazla realidad y compártela con el mundo!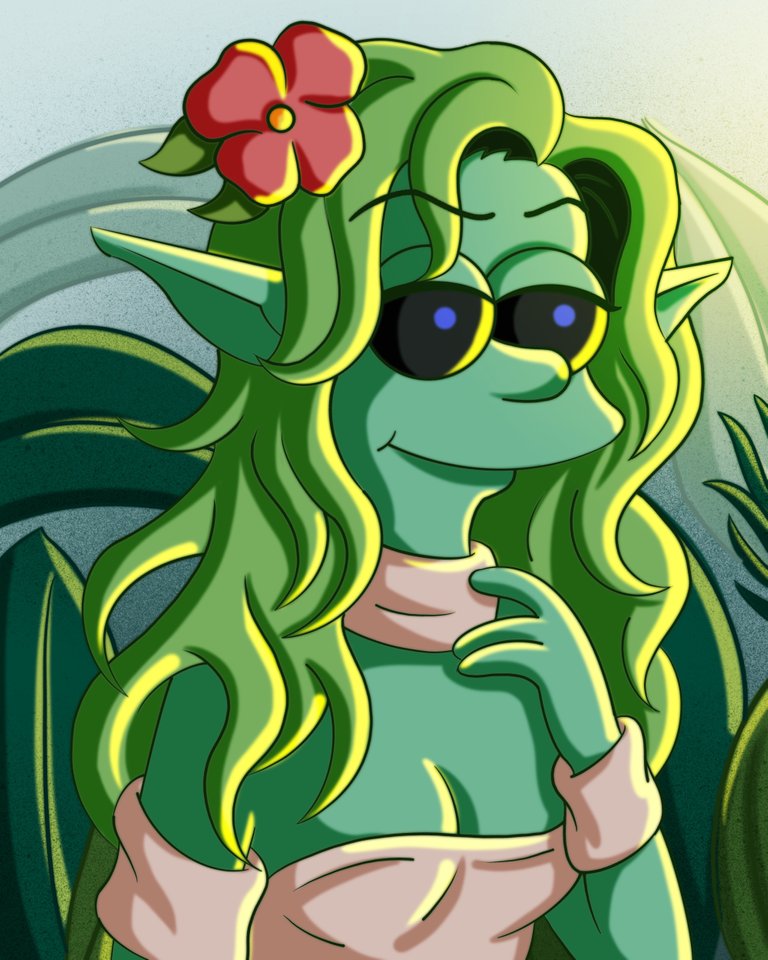 A peculiar new bud appeared at the tips of the highest branches of the Elder Tree. The animals living in the tree watched as the strange buds grew, and in a matter of days, burst open. From each bud zoomed forth a tiny sprite. These Wood Nymphs quickly scattered around Anumun in a frenzy of mischief.
Un peculiar brote nuevo apareció en las puntas de las ramas más altas del Árbol Saúco. Los animales que vivían en el árbol observaron cómo crecían los extraños brotes y, en cuestión de días, se abrieron. De cada brote brotó un pequeño duendecillo. Estas ninfas del bosque se dispersaron rápidamente por Anumun en un frenesí de travesuras..
---
Process / Proceso
To begin with, I started by making some sketches on my digital tablet to experiment with different poses and facial expressions. Once I had a clear idea of what I wanted, I went on to work on the final drawing, on a new layer I did the clean outline.
For the color palette, I was inspired by the original Splinterlands "wood nymph" and used different shades of green and beige to represent it. I added some additional color details to give it a more vibrant and playful touch to match the style of The Simpsons.
For the background, I designed minimalistic greenery that complemented the main image without being too distracting. I used shades of dark and light green to represent leaves and tree branches, but kept the simplicity and clean Simpsons style.
After a few hours of work and final adjustments, the end result was a fun and colorful image that perfectly captured the essence of Simpsons-style "wood nymph".
In short, the process of creating this fan art involved careful planning and detailed attention to colors and composition to ensure that the character and background complemented each other effectively. I hope you enjoyed learning more about how this artwork was created.
Para empezar, comencé haciendo algunos bocetos en mi tableta digital para experimentar con diferentes poses y expresiones faciales. Una vez que tuve una idea clara de lo que quería, pasé a trabajar en el dibujo final, en una capa nueva realice el delineado en limpio.
Para la paleta de colores, me inspiré en la "wood nymph" original de Splinterlands y utilicé diferentes tonos de verde y beige que la representaran. Añadí algunos detalles de color adicionales para darle un toque más vibrante y juguetón que se adaptara al estilo de Los Simpsons.
Para el fondo, diseñé una vegetación minimalista que complementara la imagen principal sin distraer demasiado la atención. Utilicé tonos de verde oscuro y claro para representar hojas y ramas de árboles, pero manteniendo la simplicidad y limpieza del estilo de Los Simpsons.
Después de algunas horas de trabajo y ajustes finales, el resultado final fue una imagen divertida y colorida que capturó perfectamente la esencia de la "wood nymph" al estilo de Los Simpsons.
En resumen, el proceso de creación de este fan art involucró una planificación cuidadosa y una atención detallada a los colores y la composición para asegurar que el personaje y el fondo se complementaran de manera efectiva. Espero que les haya gustado conocer más sobre cómo se creó esta obra de arte.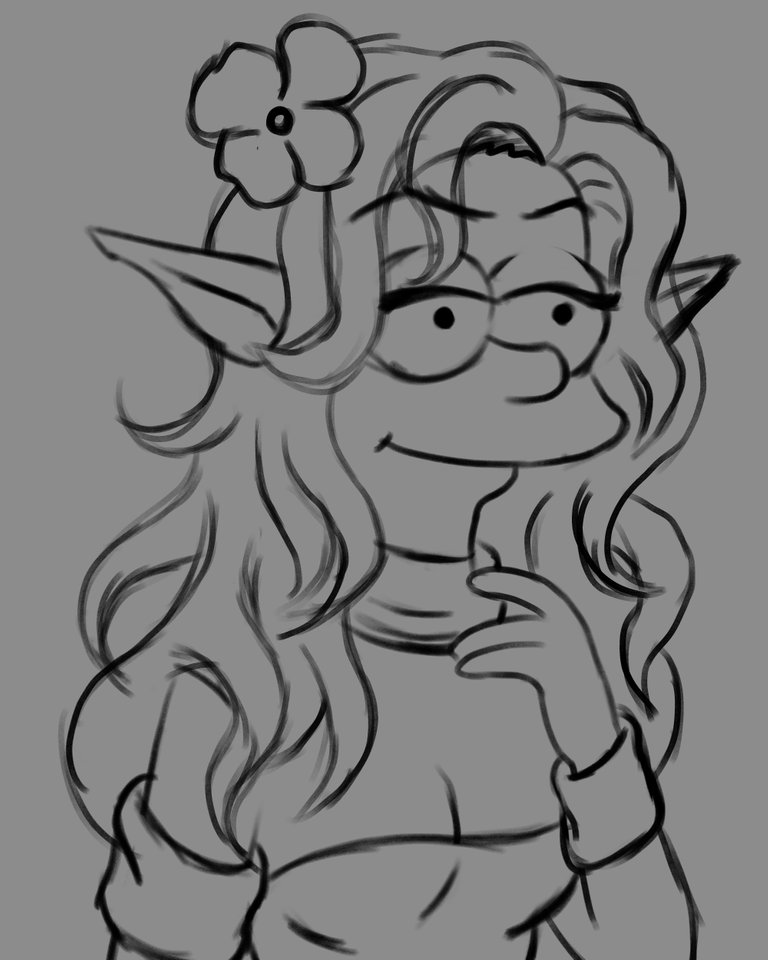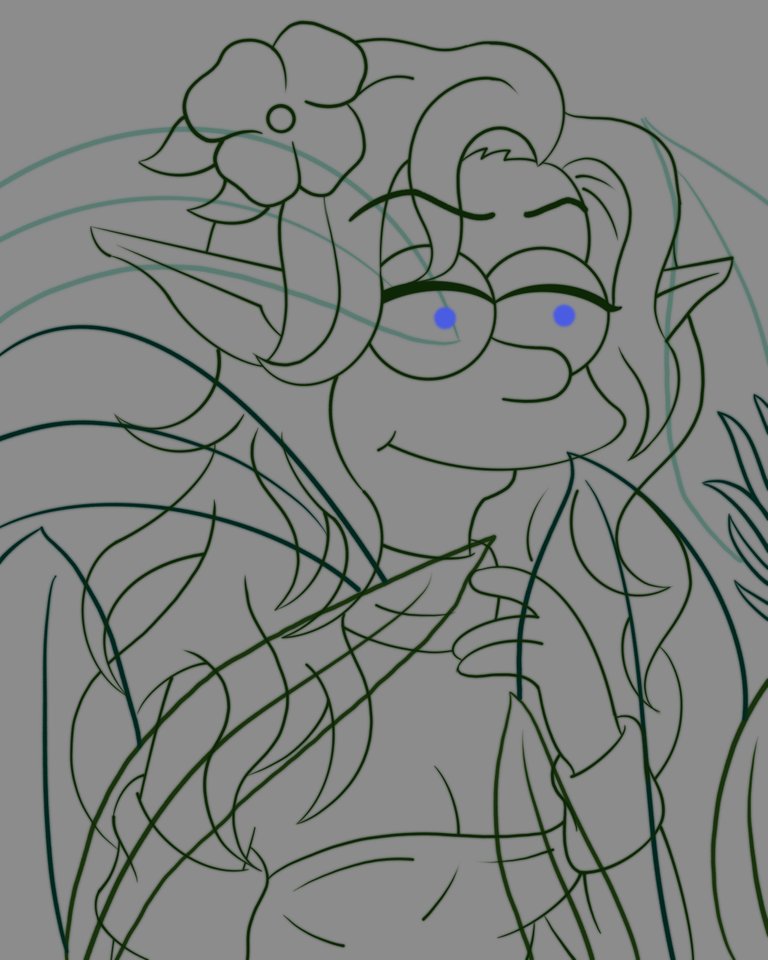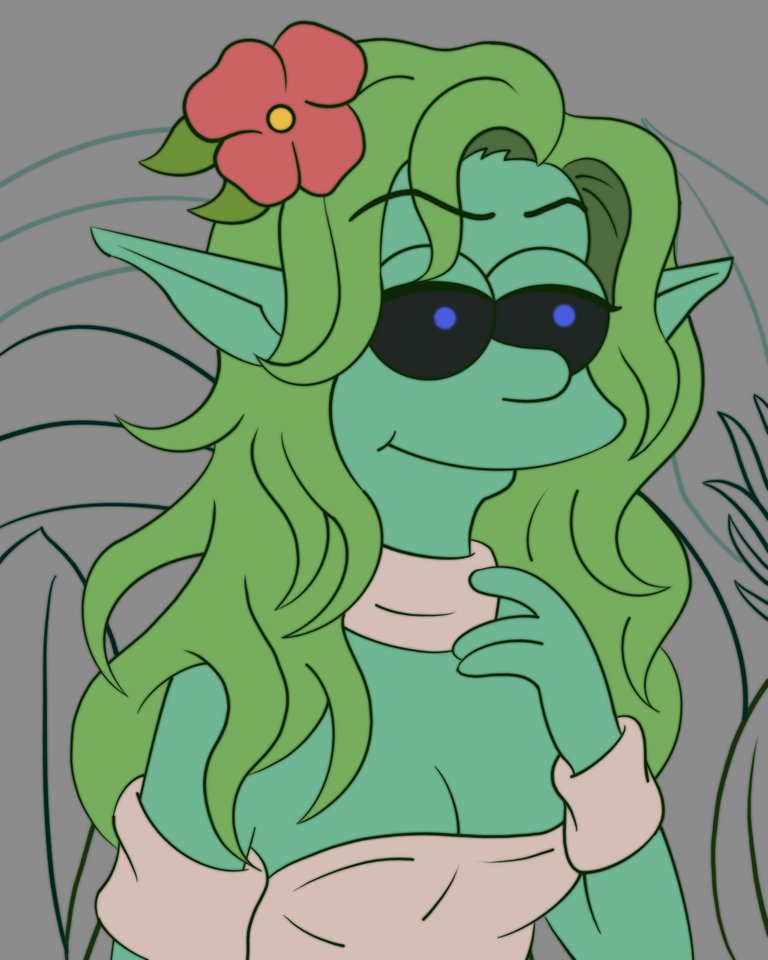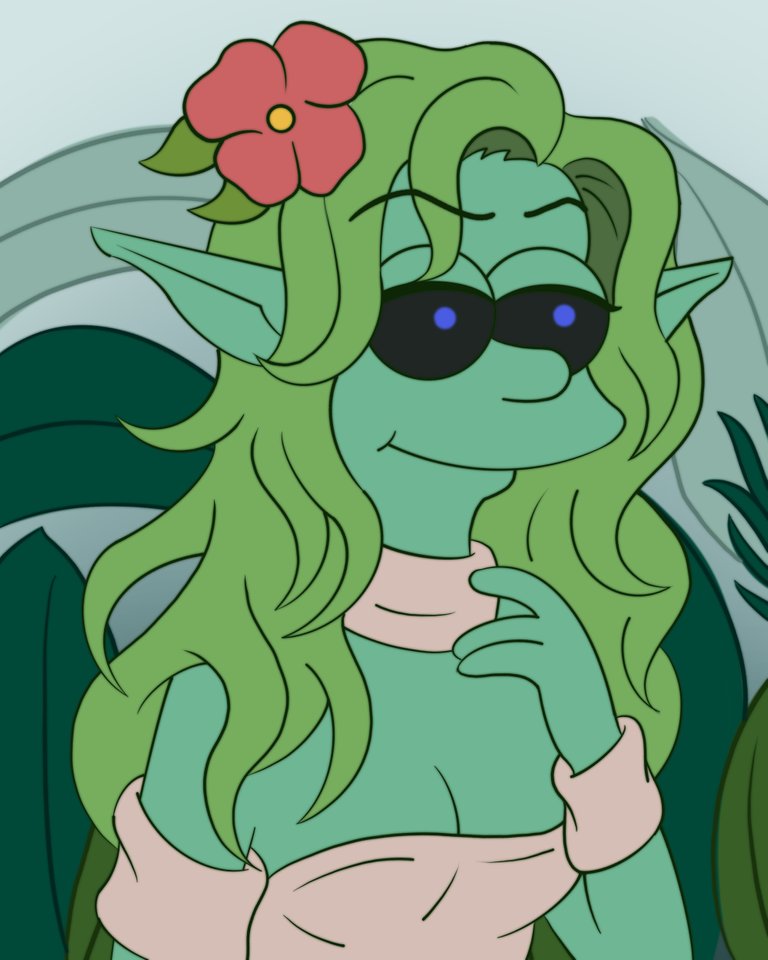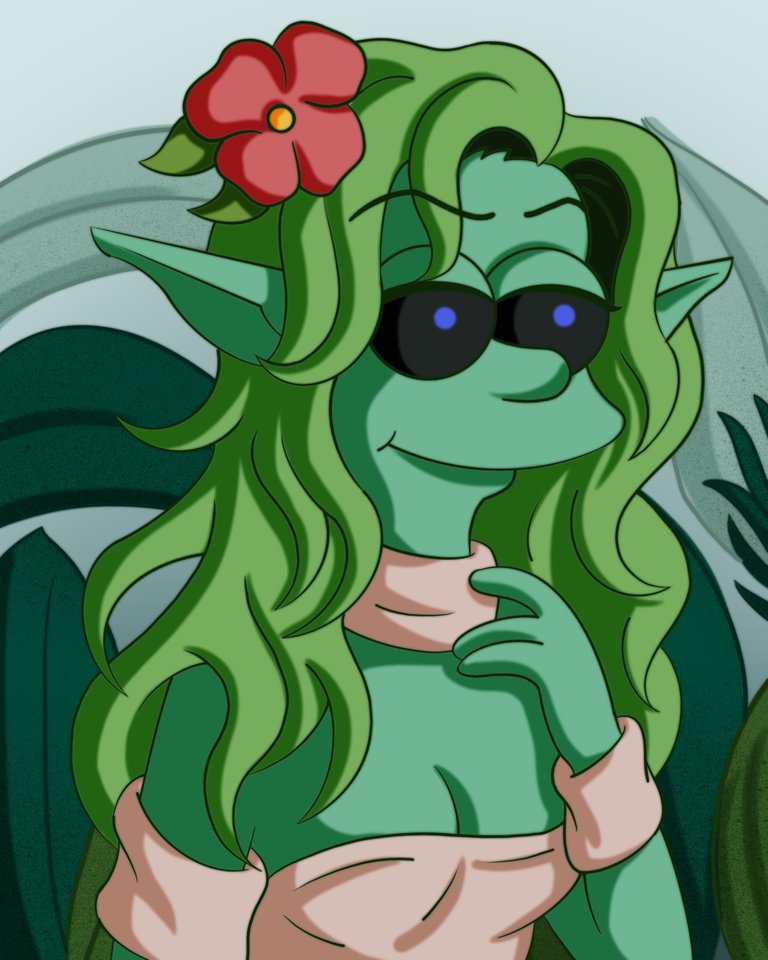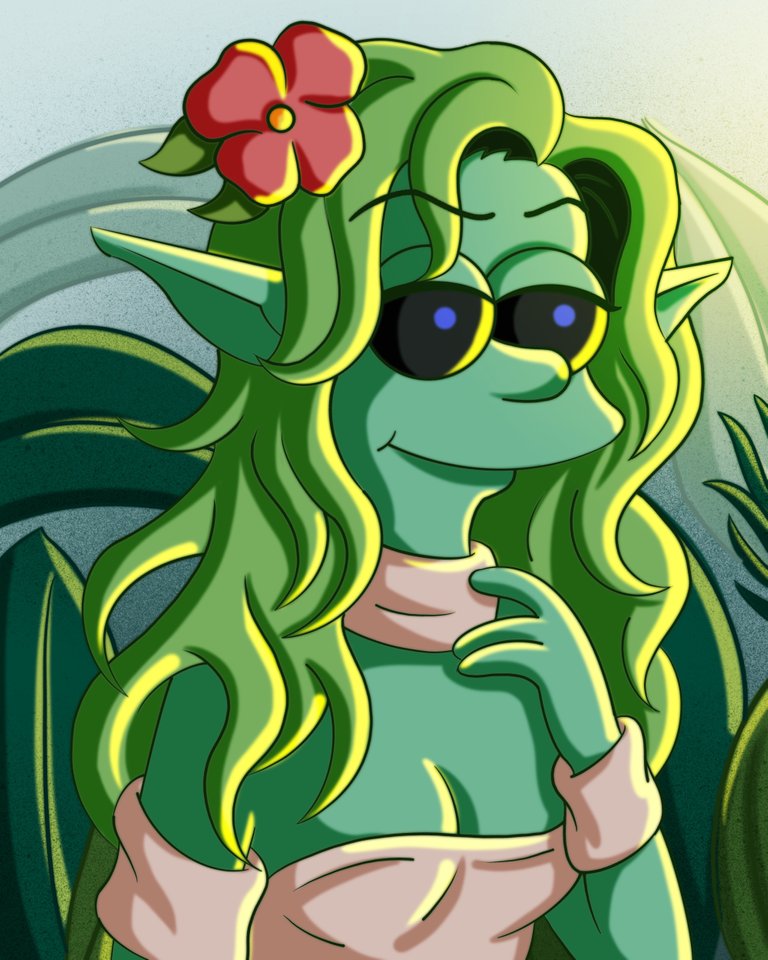 ---
Layer Technique Breakdown
---
Materials / Materiales
The tools I used for the drawing were the following:
Android tablet.
Capacitive pen (Stylus).
Ibis Paint X program.
Brushes: Pencil, Airbrush, Fuzzy, Marker.
Las herramientas que use para el dibujo fueron las siguientes:

Tableta Android.
Lápiz Capacitivo (Stylus).
Programa Ibis Paint X.
Pinceles: Lapiz, Aerografo, Difumino, Rotulador.
Reference / Referencia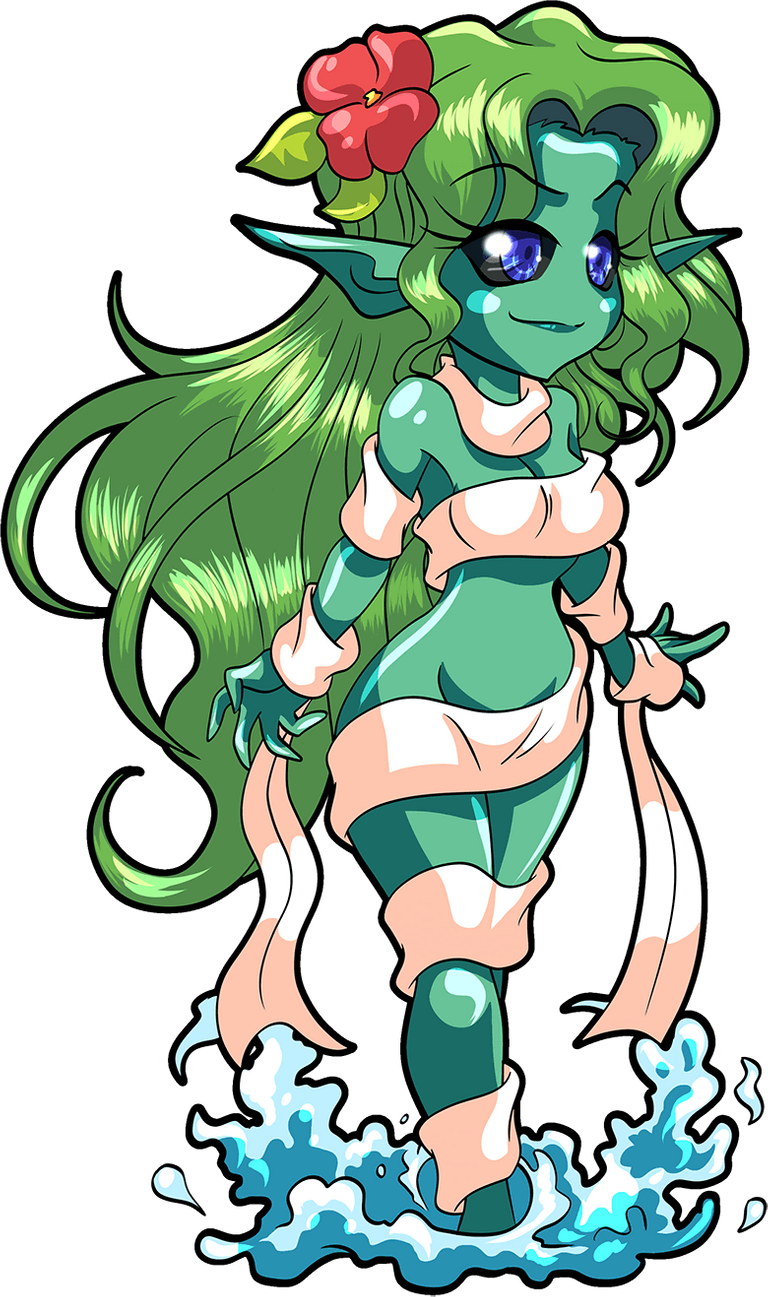 Reference link / Link de referencia
---
Thanks for reading and getting here, see you in the next post.
Gracias por leer y llegar hasta aqui, nos vemos en el siguiente post.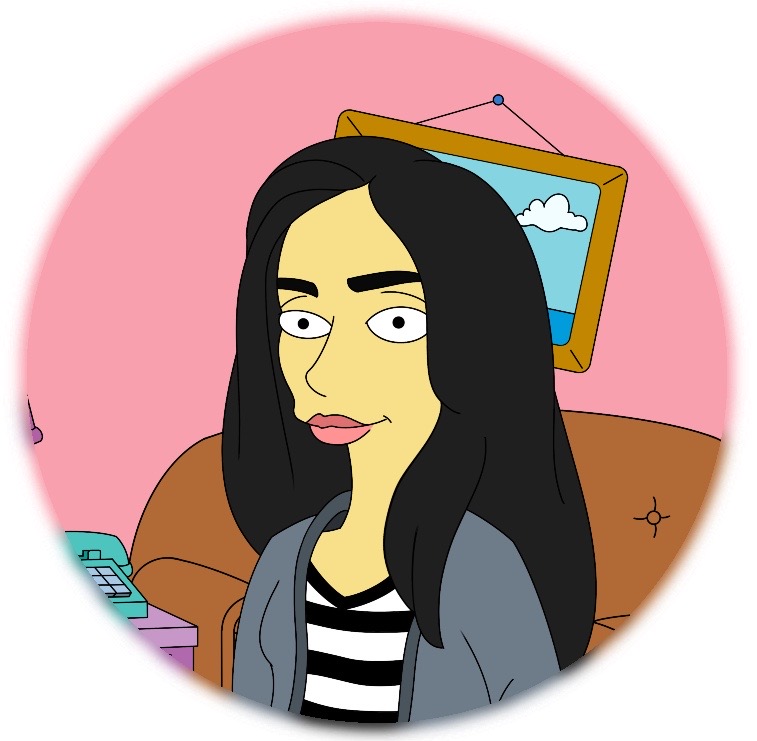 Discipline is the power of all professionalism.
La disciplina es el poder de todo profesionalismo.
---
---