SHARE YOUR BATTLE Weekly Challenge! DRAGONS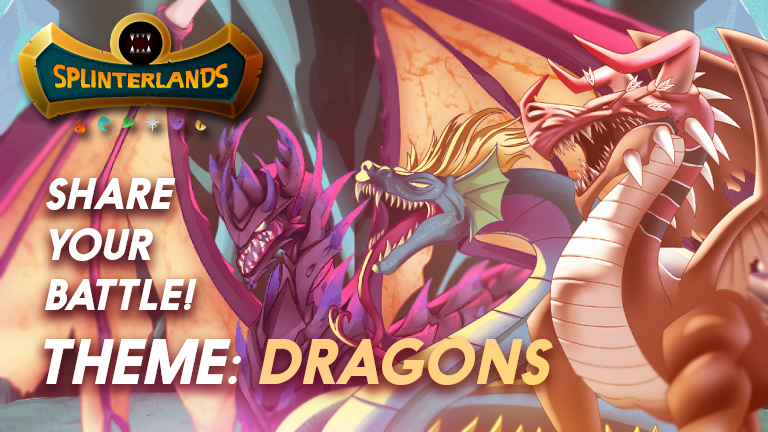 Ruleset and line-up:


Target Practice - All Ranged and Magic attack Monsters have the Snipe ability
Close Range - Ranged attacks may be used in the first position in battles
Mana Cap of 32.
Available Splinters - Fire, Life and Dragon
My Team:
Summoner: Quix the Devious (-1 to all Ranged damage, -1 to Speed)
1. Djinn Chwala - Tank, Melee Damage Dealer with the Thorns and Enrage abilities
2. Radiated Brute - Melee Damage Dealer with the Reach and Enrage abilities
3. Dhampir Infiltrator - Melee Damage Dealer with the Sneak, Double Strike and Cripple abilities
4. Ureaus - Melee Damage Dealer with the Sneak ability
5. Desert Dragon - Melee Damage Dealer with the Retaliate, Piercing and Trample abilities
6. Chaos Agent - Meatshield with the Dodge ability
Strategy:
My strategy was basically to deal a lot of melee damage while potentially damaging the opponent when they attack me from the front (Thorns) or the back (Retaliate). Quix reduces Ranged damage and Magic damage is hopefully slower than most of my Monsters and taken out before it can hurt me too much.
Position 1 - Djinn Chwala:
Very nice tank I use quite often in Gold (and not only because it is a cheap reward card I actually have on max level 😀) Thorns and Enrage with a great amount of HP and Armor are a great combination
Position 2 - Radiated Brute:
Can reach the frontline thanks to the Reach ability and deals a decent amount of damage especially when enraged.
Position 3 - Dhampir Infiltrator:
Another sweet reward card, 4 damage for 4 Mana is a great deal. Could be even more when the Monster it is attacking has Armor. Then the Cripple ability takes 1 HP while the attack destroys the Armor.
Position 4 - Ureaus:
Another low mana Sneak card with a high damage potential. In addition to its 2 Melee damage there is a 50% chance to poison the target for another 2 damage every round.
Position 5 - Desert Dragon:
My Sneak protection, if the opponent chooses to sneak me Desert Dragon has the potential to One-Shot most of them because of Retaliate and the Piercing abilities.
Position 6 - Chaos Agent:
Basically just to here to take an attack and for the Goldfoil bonus 😉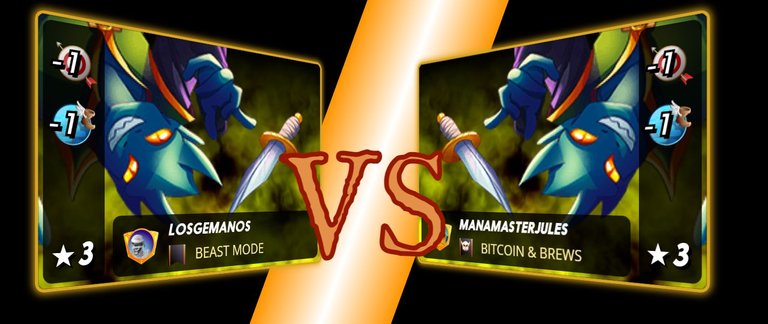 Round 1: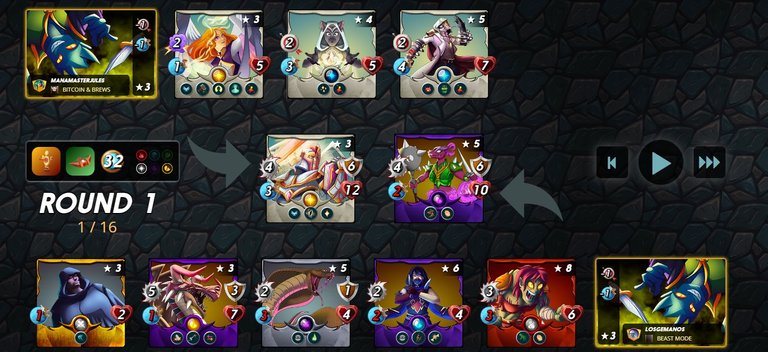 Not quite what I expected, seems like the opponent puts all the faith in Uriel and keeping him alive. But that line-up is very weak to sneak so I have a good feeling about this.
Round 2: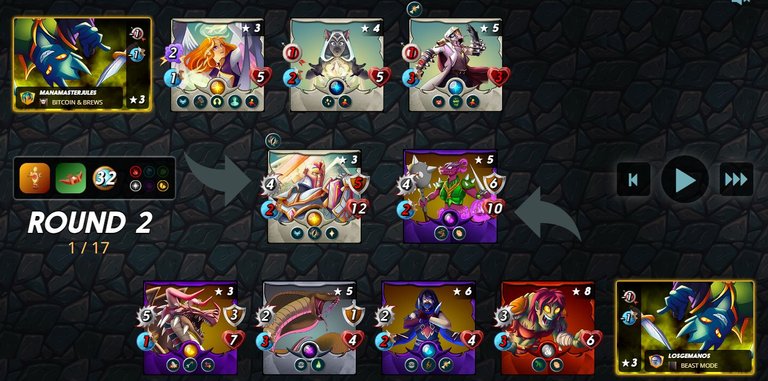 Uriel just smashes Djinn's shield with his massive 12 damage attack but
the first opponent Monster dies - twice - Dhampir Infiltrator is not having that resurrection and kills it again with its Double Strike.
Round 3: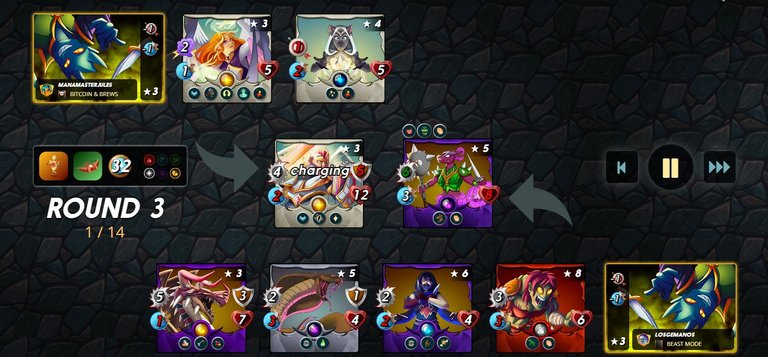 Uriel gets healed and repaired and is still at the top of his game, but my sneak attack manage to take out one of the heals.
Round 4: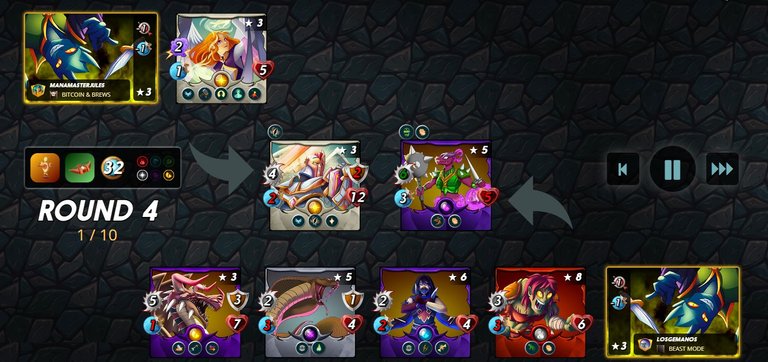 Time for Adelaide to go? No, she managed to get a flying dodge in and survives another round. But I also get a pretty lucky miss - Uriel would have taken Djinn down with another of his massive attacks but Djinn somehow managed to dodge.
Round 5: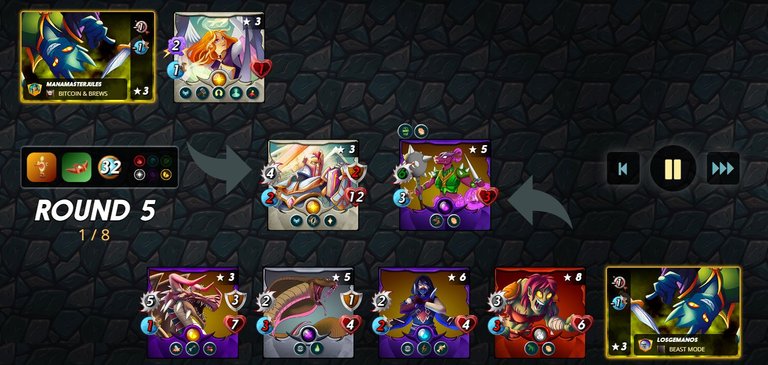 While Uriel charges his attack again, Adelaide is taken down and Uriel takes a few attacks as well.
Final Round: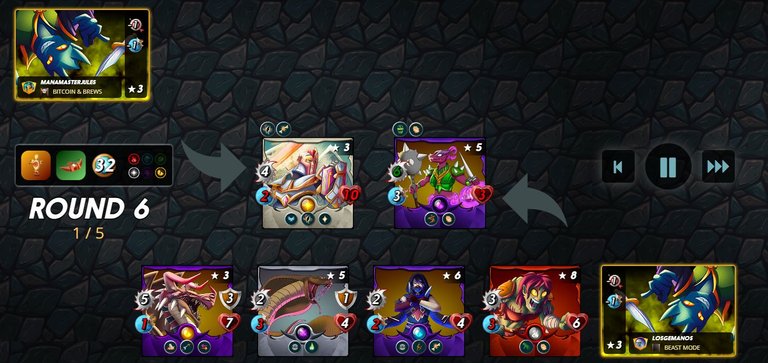 Poor Uriel versus 5 Monsters, even though the Desert Dragon is just watching.
Result:
My tactic worked even though my Desert Dragon sneak protection was pretty useless. My own sneak on the other hand was very effective.
The dragon splinter is my favorite. I like the versatility to combine it with other Splinters to make the most of your team.
The full battle can also be watched here
Thanks for reading and happy battling!

In case you don't have a Splinterlands account yet, why not create one now
---
---