Den Serpentine Spy nun auch endlich auf MAX Level...
...
und das war auch bitter nötig.
Eigentlich hab ich mir schon länger die Frage gestellt, warum ich meinen Serpentine Spy noch nicht auf dem MAX Level habe, da der sehr häufig gespielt wird und mir die besondere Fähigkeit "Poison" ab Level 10 echt fehlte.
Nun ist es soweit... ich hab einfach mal kurz und schmerzlos den fehlenden Level 6 gekauft. Gekostet hat der mich ca. 270 USD / 20k DEC. Kombiert und zack bin ich glücklich, das ich den Burschen nun auf MAX Level spielen kann.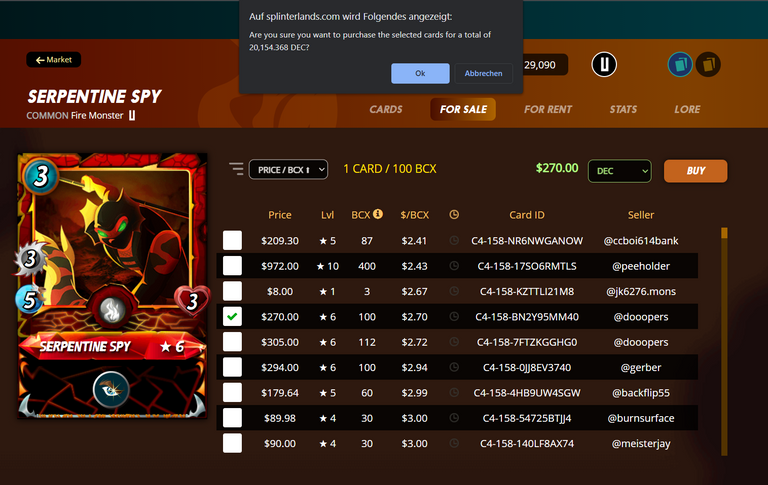 Die Karte hat nun einen ca. Wert von 888 US Dollar und wird nun sehr häufig in meinen Decks gespielt. Die Fähigkeit Poison ist nicht zu unterschätzen ;)
An upgrade per Day, keeps the Doctor away and brings a smile in the face
In diesem Sinne - jetzt wird weiter gegrindet und geschaut, das ich mich im Rating weiter nach oben schieben kann - Läuft derzeit echt zäh...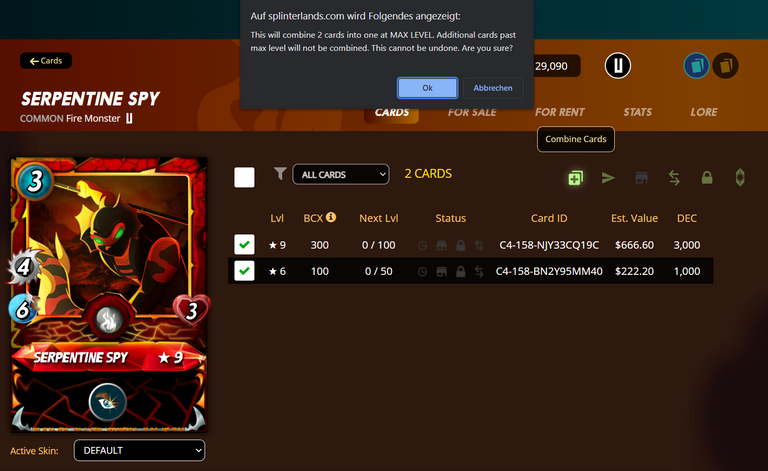 ---
---