Ein weiterer Splinterlands Airdrop ist Ready -> Carnage Titan Legendary Dragon Monster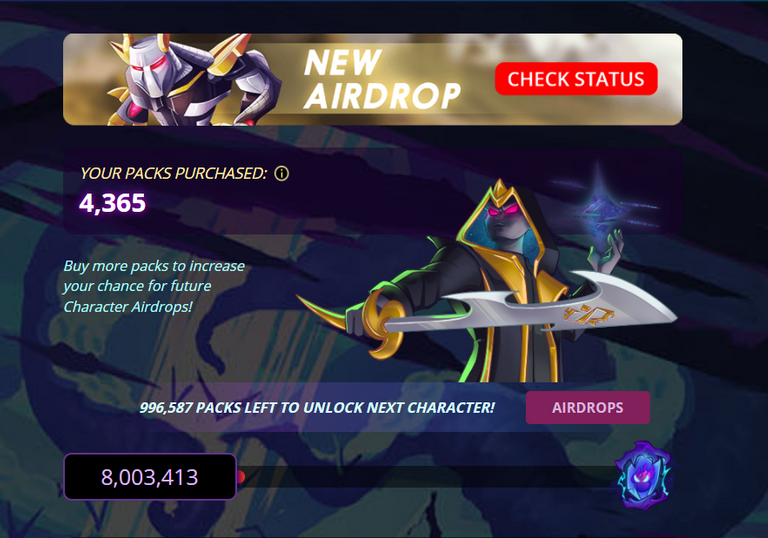 Heute früh war es dann nach einer langen Zeit endlich soweit... Die nächste Splinterlands Airdrop Karte wurde veröffentlicht und konnte geclaimed werden. Wie bei voran gegangenen Airdrops hat sich das Limit für eine garantierte Karte erneut erhöht und liegt derzeitig bei 525 gekauften Packs für einen garantierten Drop. Somit sind dann nun nurnoch 6 weitere Airdrops verfügbar, was bedeutet, das die nächste Karte wohl ein weiterer Summoner aus der Community sein wird. Ich gehe davon aus, das man für den nächsten Airdrop dann mind. 550 Packs kaufen muss, um Safe einen der weiteren Airdrop Karten zu erhalten.
Bei meinen derzeitig gekauften 4365 gekauften Packs hatte ich eine Wahrscheinlichkeit von 8,314 Airdrop Karten. Schade... Ich brauchte aber 11 um die Karte auf dem MAX Level zu spielen. Als ich dann heute morgen den Airdrop angeklickt habe, sind es also mind. 8 Karten, die es werden würden. Also den Button geklickt... gewartet.... und dann kam auch schon die Ernüchterung. Leider sinds dann doch bei den 8 Karten geblieben und keine der Karten war die ich erhalten habe, war eine Gold Foil.
Also heißt es wohl wieder warten - weitere Chaos Packs kaufen und schaun, das es beim nächsten Airdrop besser aussieht :)
Aktuell wird der Carnage Titan bei ca. 11 US Dollar gehandelt. Ich gehe davon aus, das der Preis noch etwas sinken wird und werde mir dann einfach die 3 verbliebenen Karten kaufen, damit ich meinen Carnage Titan auf MAX Level erhalte.
This morning it was finally time after a long time... The next Splinterlands Airdrop card was released and could be claimed. As with previous airdrops, the limit for a guaranteed card has increased again and is currently at 525 purchased packs for a guaranteed drop. So now there are only 6 more airdrops available, which means that the next card will probably be another Summoner from the community. I assume that you have to buy at least 550 packs for the next airdrop to get one of the other safe airdrop cards.
With my current purchased 4365 packs I had a probability of 8.314 Airdrop cards. Too bad... But I needed 11 to play the card at the MAX level. So when I clicked the airdrop this morning, there are at least 8 cards that would be. So I clicked the button... waited.... and then came the disillusionment. Unfortunately I got 8 cards and none of the cards I received was a Gold Foil.
So it's probably waiting again - buy more Chaos Packs and look, that it looks better at the next airdrop :)
Currently, the Carnage Titan is traded at about 11 US dollars. I expect the price to drop a bit and will just buy the 3 remaining cards to get my Carnage Titan to MAX level.
---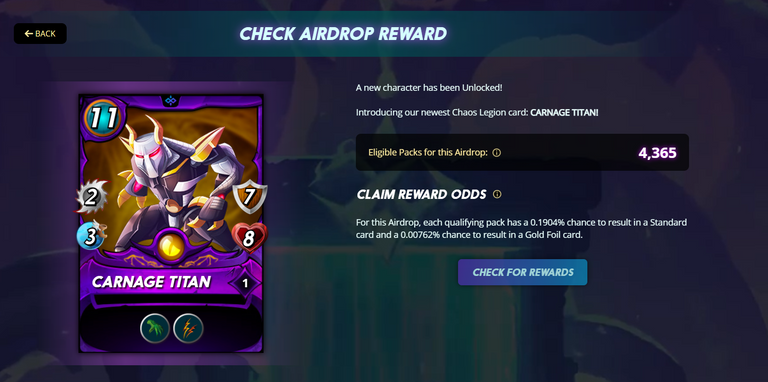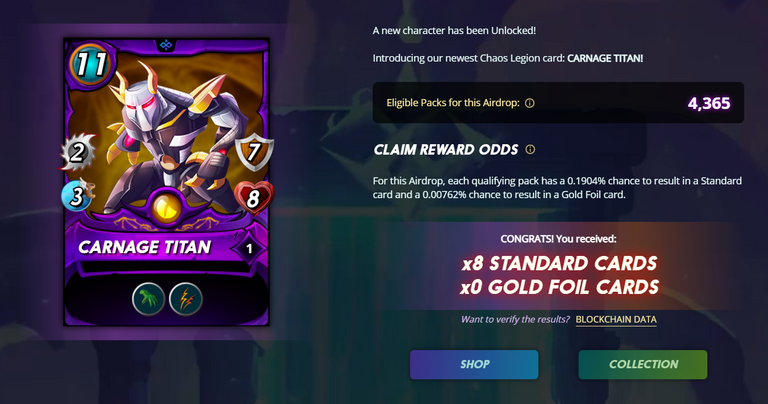 ---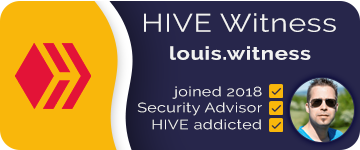 Vote for my Hive Witness
U can vote for my Witness using Hive Keychain here: https://vote.hive.uno/@louis.witness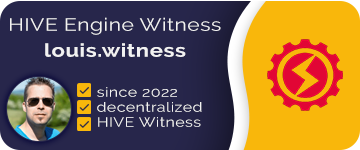 Vote for my Hive Engine Witness
Vote for my Witness on Hive-Engine using Primersion Tool: https://primersion.com/he-witnesses Enter your Username and search for louis.witness
---
---