Now have Ancient Redwood on MAX Level! Buying from Market hurts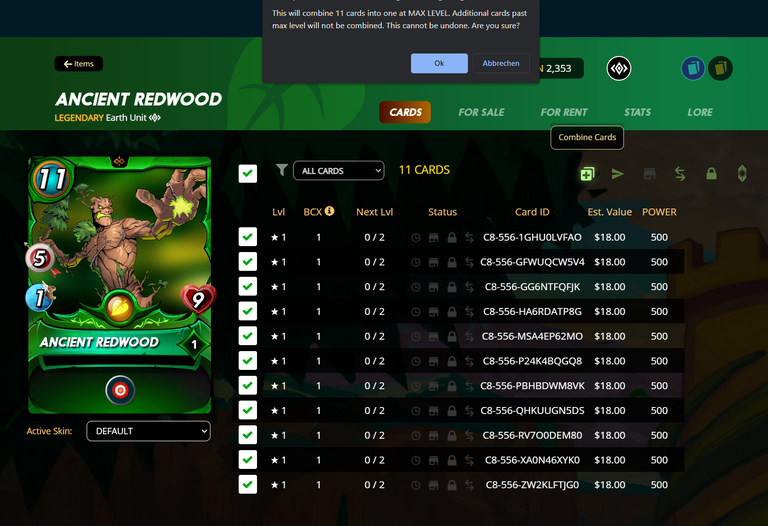 Yesterday the new Airdrop map "Ancient Redwood" was released and now, since I received only 5 cards from the Airdrop, I had to buy the missing 6 cards on the market. I paid 18 USD per card - so 108 USD - which was an expensive 126k DEC... With a view to the land expansion and the SPS Airdrop for the Vruz already painful but fits.
Gestern wurde die neue Airdrop Karte "Ancient Redwood" veröffentlicht und nun, da ich aus dem Airdrop nur 5 Karten erhalten habe, musste ich mir nun zwangsläufig die fehlenden 6 Karten auf dem Markt kaufen. Bezahlt habe ich 18 USD pro Karte - Also 108 USD - Was umgerechnet teure ca. 126k DEC waren... Mit Sicht auf die Land Erweiterung und dem SPS Airdrop für den Vruz schon schmerzhaft aber passt schon.
---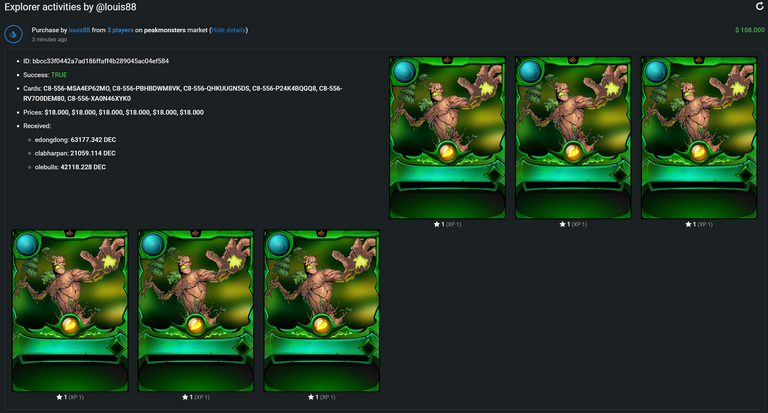 A few more Airdrops are still to come - but I'm curious to see how the Ancient Redwood does in gameplay. Seems to be with his 1 Speed and Protection Shield a good position on the off-tank position - With Truestrike and Piercing he pierces everything with his 6 Damage - Ai, I'll try that soon.
Have you seen Ancient Redwood in action or played it yourself? Show me your matches with Ancient Redwood in the comments!
Ein paar weitere Airdrops werden ja noch kommen - Bin aber mal gespannt, wie sich der Ancient Redwood im Gameplay so macht. Scheint ja mit seinem 1 Speed und Protection Shield eine gute Position auf der Off-Tank Position zu sein - Mit Truestrike und Piercing durchsticht er mit seinem 6 Damage einfach alles - Ai, das werde ich bald mal ausprobieren.
Habt ihr Ancient Redwood bereits im Einsatz gesehen oder selbst gespielt? Zeigt mal her eure Matches mit dem Ancient Redwood in den Comments!
---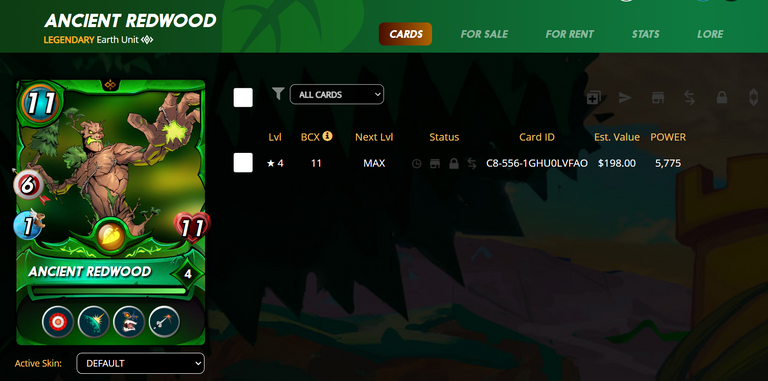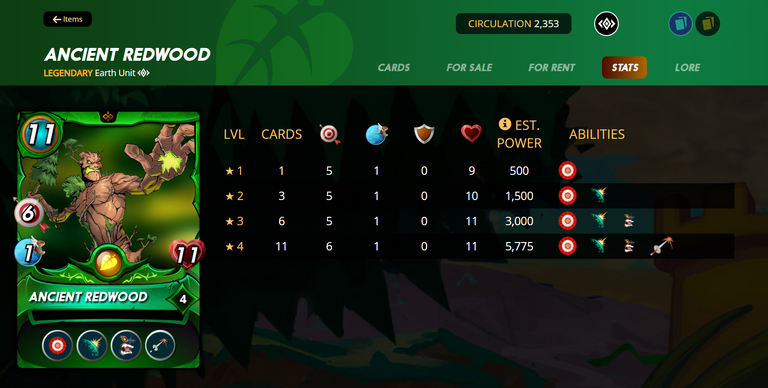 ---
---
---