[Splinterlands] 3 more Legendary's at MAX Level. (Invested over 7,8k US Dollar)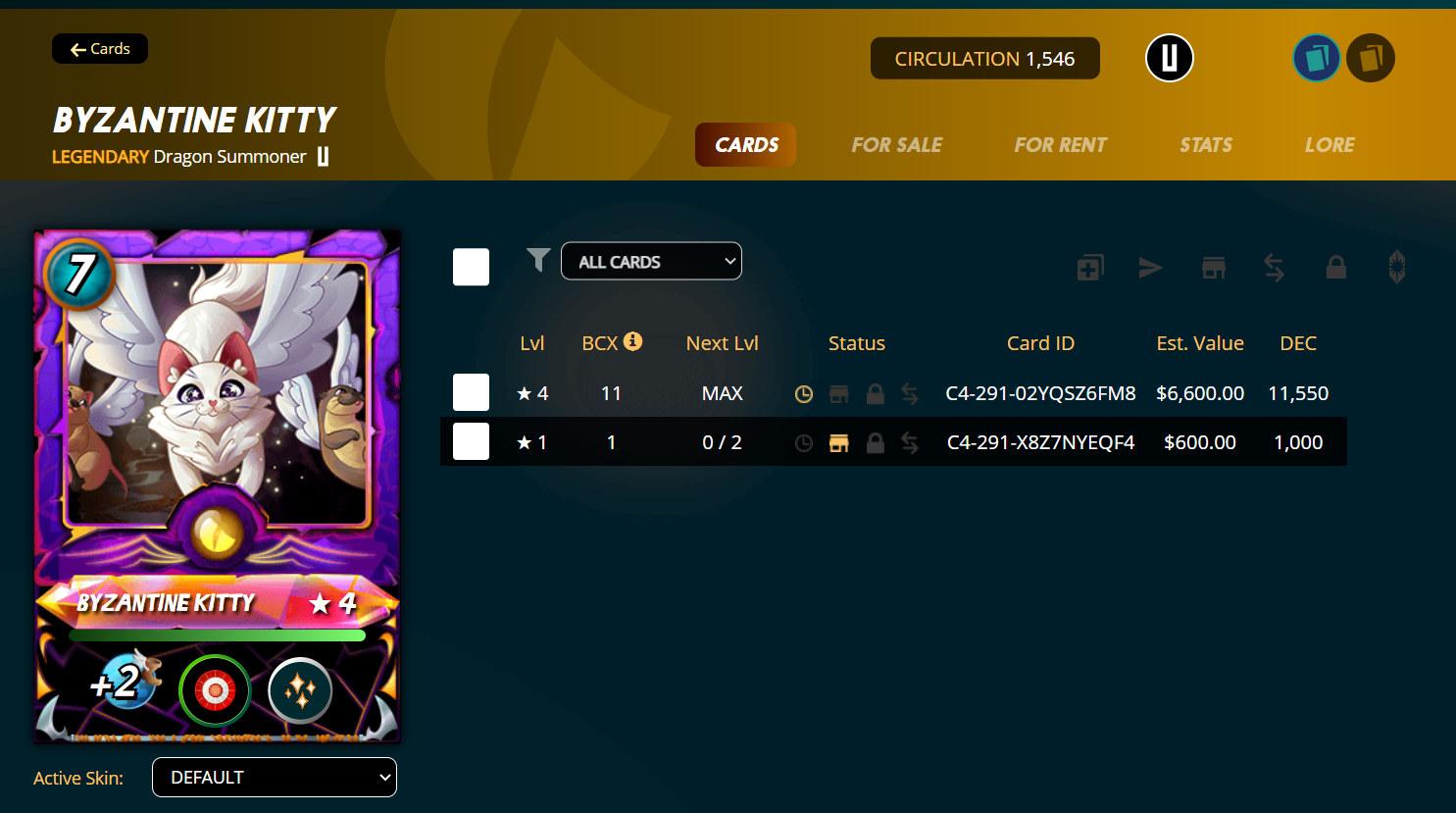 Today I finally got some bid orders filled on the Splinterlands card market and so I am now able to bring 2 more Legendary Splinterlands cards to the maximum level. This was not a cheap thing at the moment but very important for my progress in the game. In total both cards have a current value of about 2,836 US Dollars. Besides my investment a few days ago, where I bought a Maxxed BYZANTINE KITTY for 5,000 US Dollars, this investment was a bit smaller but also necessary, i.e. I spent over 7,800 US Dollars on cards last week, which I urgently need for the current gameplay.
Heute hab ich endlich einige Bid Orders auf dem Splinterlands Karten Markt gefüllt bekommen und somit bin ich nun in der Lage 2 weitere Legendäre Splinterlands Karten auf das Maximum Level zu bringen. Dies war momentan kein günstige Angelegenheit aber besonders wichtig, für meinen Progress im Spiel. Insgesamt haben beide Karten einen derzeitgen Wert von ca. 2,836 US Dollar. Neben meinem Invest vor ein paar Tagen, wo ich eine Maxxed BYZANTINE KITTY für 5,000 US Dollar gekauft habe, war dieser Investment etwas kleiner aber ebenfalls notwendig. d.H ich hab in der vergangenen Woche über 7,800 US Dollar für Karten ausgegeben, die ich dringend benötige für das aktuelle Gameplay.
---
Mimosa Nightshade ($2,450.25)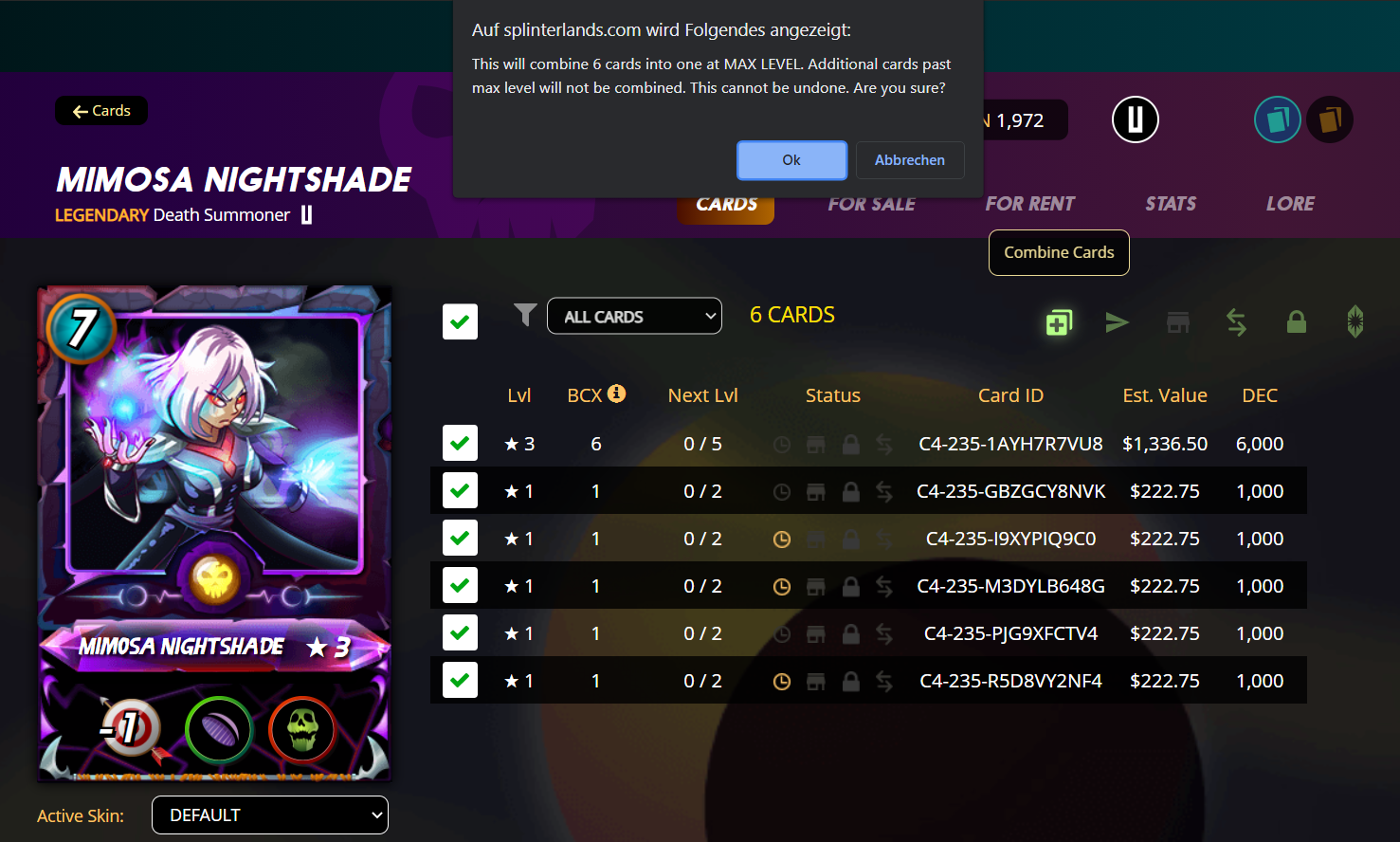 For a long time I had the black Death Summoner at level 3. I was missing only 4 more cards for a long time and now it was time to buy the rest and bring the all-important Summoner to the MAX level for the Diamond / Champion league.
Lange Zeit hatte ich den schwarzen Death Summoner auf dem Level 3. Mir fehlten eine lange Zeit nur 4 weitere Karten und jetzt war es an der Zeit, den Rest zu kaufen und den überaus wichtigen Summoner auf das MAX Level für die Diamond / Champion Liga zu bringen.
Lensmaster ($385.00)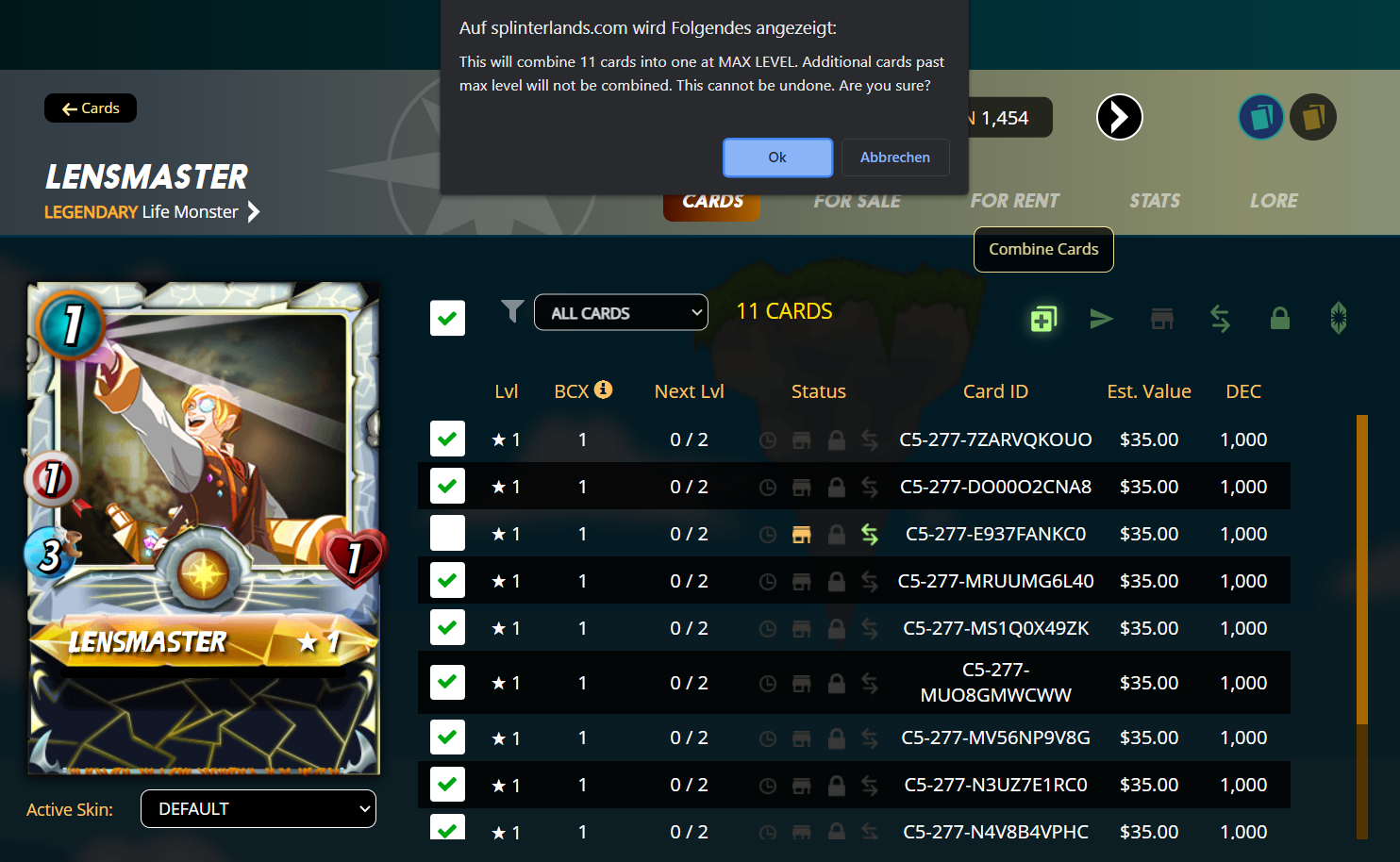 The Lensmaster is played more and more, because it costs only 1 mana and has incredibly good abilities. Now I am much better equipped for the Diamond League and can stand up much better against the strong opponents.
---
Next are the new Reward cards, which I will bring to the MAX level. These are also very interesting!
So, watch out on the Splinterlands battlefields for my new cards that will love to play against you!
Der Lensmaster wird immer und immer mehr gespielt, da dieser mit nur 1 Mana Kosten und unglaublich guten Fähigkeiten hat. Nun bin ich viel besser gewappnet für die Diamond Liga und kann viel besser gegen die Starken Gegner bestehen.
---
Als nächstes sind die neuen Reward Karten dran, die ich auf das MAX Level bringen werde. Diese sind nämlich auch sehr interessant!
Also, gebt acht auf den Splinterlands Schlachtfeldern vor meinen neuen Karten die gerne gegen euch spielen werden!
---
---