Il mio ultimo post sui risultati delle mie missioni quotidiane su Splinterlands?!? - (ITA/ENG) - My last post about the results of my daily missions in Splinterlands?!?
Buonasera a tutti e ben ritrovati.
Anche in questo sabato, che finalmente sancisce l'inizio di un tanto atteso weekend, eccomi rispuntare, anche questa sera, dopo la classica serata pizza che contraddistingue questo giorno della settimana, con il mio consueto post quotidiano, dedicato, in questo caso, ai risultati delle mie missioni su Splinterlands, anche se questo potrebbe essere l'ultimo.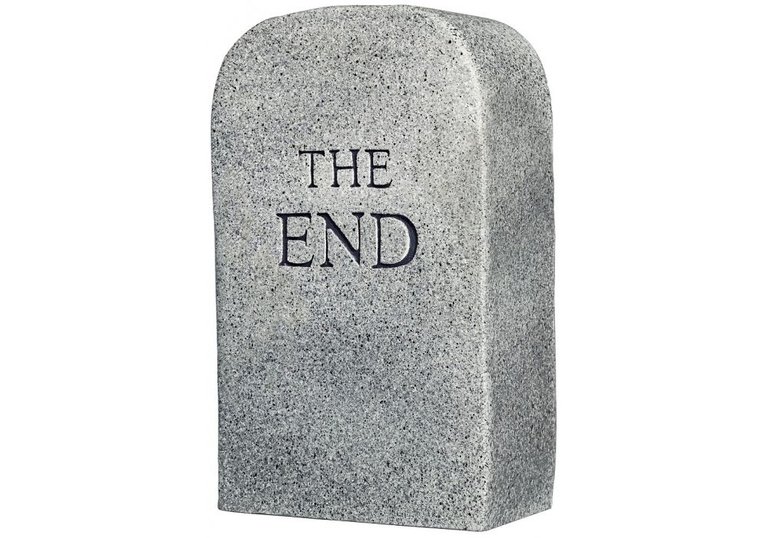 Questo non vuol dire, per ora, che abbia preso quella decisione, alla quale in realtà sto già pensando a un po' di tempo, che mi vedrà definitivamente abbandonare le scene dei combattimenti giornalieri su questo gioco, nel tentativo di portare avanti il termine le varie missioni Focus per ricevere ricompense che, ultimamente, sono quasi sempre praticamente risibili, ma semplicemente che, da ora in poi, probabilmente cambierò tipo di articoli.
Così come è successo all'interno di Splinterlands, infatti, le regole sono cambiate anche per quanto riguarda la possibilità di poter partecipare ai vari contest organizzati qui, su questa piattaforma, se si vuole sperare di essere adeguatamente votati come succedeva fino ad oggi.
Giusto ieri sera, infatti, @libertycrypto27, un utente di questa comunità tutta italiana, che ho sempre stimato ed apprezzato per il valore che apporta alla stessa, e per tutti i suggerimenti che spesso mi ha dato, ha sottoposto alla mia attenzione questo post di @underlock che spiega molto bene le linee guida della community per quanto riguarda i post, e la loro partecipazione ai vari contest settimanali.
Le stesse se non vietano espressamente questo tipo di articoli, dove si vanno a condividere i propri risultati giornalieri, ma li sconsigliano vivamente poiché, secondo le loro direttive, apportano ben poco valore per gli altri utenti, e, di conseguenza, potrebbero prendere degli upvote irrisori, o addirittura non essere più votati.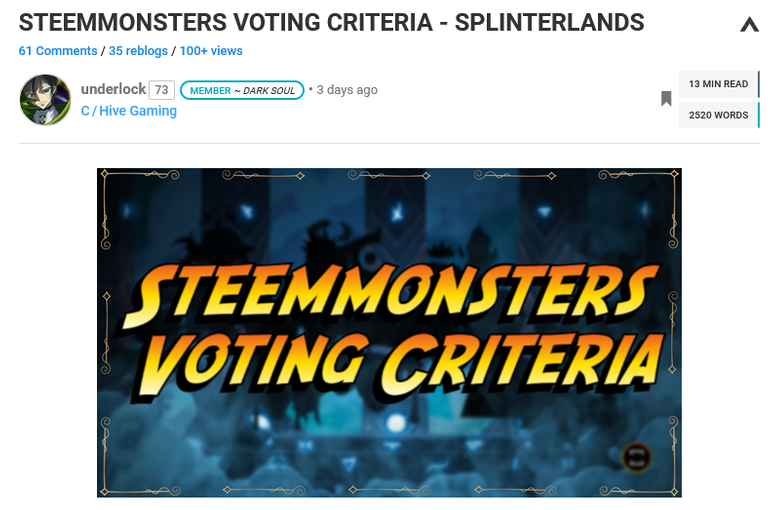 Al contrario, però, vengono indicati alcuni tipi di articoli, di diverso genere, che potrebbero essere molto più apprezzati, quale indicare le proprie strategie di gioco, ed i risultati ottenuti applicandole, parlare dell'utilizzo, e delle potenzialità, di una carta specifica, ed altre che potrete certamente comprendere, in modo migliore, leggendo direttamente il post di cui sopra.
Se magari mi capiterà, quindi, di continuare, per diletto, a pubblicare i miei risultati personali, sul mio blog, o all'interno della comunità italiana della quale faccio parte, va da sé, a questo punto, che dovrò cambiare il mio piano editoriale per quanto riguarda i vari contest ai quali, finora, ho partecipato in questo modo, per poter continuare ad offrire contenuti che possono essere considerati sufficientemente di valore.
Se questo, forse, è vero che può complicare un po' le cose, è altrettanto vero che si tratta di una scelta che posso comprendere, visto che, effettivamente, posso capire che, pubblicare, molto semplicemente, quello che si è riusciti a combinare durante una missione Focus, e quali ricompense si sono ricevute, possa rivelarsi poco interessante per la maggioranza delle persone, ma soprattutto poco utile, per chì, magari, voglia comprendere un po' meglio come approcciarsi allo stesso.
Nel prossimo futuro, quindi, cercherò di comprendere come seguire, nel migliore dei modi, queste nuove regole, per poter offrire, a chiunque deciderà di leggere i miei futuri post, dei contenuti che possano rivelarsi utili, e di conseguenza di valore, anche se questo richiederà, magari, un po' di impegno in più, visto che, certamente, non mancano gli autori che girano attorno a questo mondo.
A differenza delle modifiche implementate nel gioco, però, come dicevo qualche riga più sopra, comprendo perfettamente le motivazioni che hanno spinto la comunità di Splinterlands a dettare queste linee guida, visto che hanno uno scopo, e un'utilità, ben precisa, che è quella di fare aumentare il valore di quanto proposto dagli autori che, altrimenti, avrebbero potuto semplicemente scribacchiare articoli realmente non utili, solo per puntare alla ricezione di generosi upvote.
Come già preannunciato nel titolo, quindi, questa, con ogni probabilità, sarà una delle ultime occasioni nella quale pubblicherò un post dedicato esclusivamente ai miei risultati durante l'esecuzione delle missioni di Focus quotidiane, o quantomeno che condividerò all'interno dei contest settimanali, anche se, in realtà, i miei articoli non sono mai stati esclusivamente un elenco delle rewards da me ricevute, visto che ero sempre solito dire le mie opinioni in merito a quello che mi piaceva, o meno, nel gioco.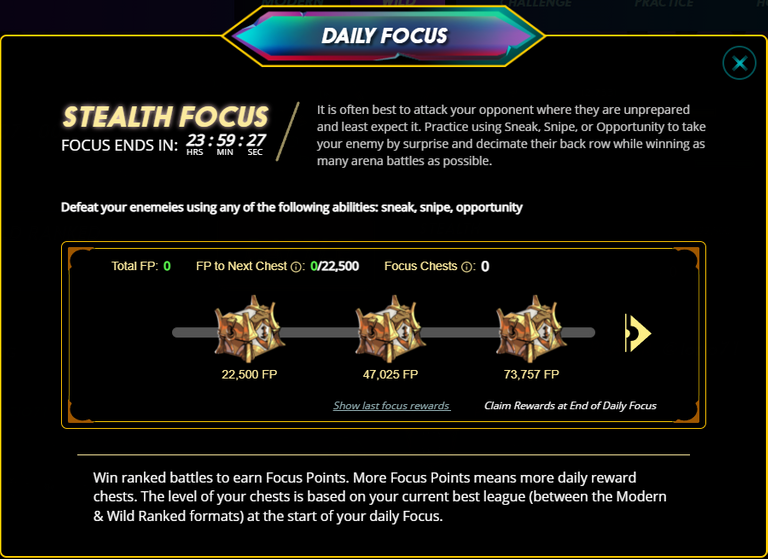 Procedendo, quindi, a parlare, forse per l'ultima volta in questi contest, delle mie ultime due missioni giornaliere, le stesse erano di tipo Fire, durante la quale si ricevono più punti utilizzando, per sconfiggere gli avversari, Summoners e carte dell'elemento fuoco, e Stealth, dove, invece, si devono utilizzare carte, all'interno dei propri schieramenti, con le abilità Sneak, Snipe, ed Opportunity.
Come ormai succede già da parecchio tempo, le due giornate in esame, non sono state assolutamente facili da portare a termine ottenendo risultati almeno soddisfacenti, visto che, come ormai succede da tempo, mi è toccato faticare parecchio per ottenere, alla fine, dei quantitativi di scrigni, decisamente mediocri, in entrambi i casi, pari, per essere precisi a 7 totali tanto per l'una quanto per l'altra.
Purtroppo, però, questa è, ormai, la realtà con la quale ci si deve scontrare, e sembra proprio che all'orizzonte non ci sia nessuna novità, in merito, che possa lasciar sperare in un cambio della stessa che ci possa lasciar sperare in un qualche cambiamento che possa andare a migliorarla.
Appare ormai evidente, infatti, la strada intrapresa dal gioco, che sembra andare in una sola direzione, rendendolo, sempre di più, accessibile, e giocabile, solo da chi è intenzionato ad investire pesantemente nello stesso, rendendo, al contrario, la vita molto difficile a chi non abbia intenzione di farlo, o semplicemente non se lo possa permettere.
Una politica che già più volte ho detto di non comprendere, poiché rende le cose decisamente molto complicate, sia ai nuovi utenti che vogliono iniziare a giocare, sia a tutti coloro che, magari, non possono permettersi investimenti così consistenti, e devono, quindi, rinunciare ad avere qualche possibilità in più.


Per quanto riguarda, invece, le ricompense delle due giornate di cui sopra, "niente di nuovo sul fronte occidentale" (cit.) anche in questo caso, visto che, all'interno dei scrigni faticosamente conquistati, mi sono ritrovato davanti a rewards che, come sempre, risultano essere piuttosto insoddisfacenti.
Nel caso della prima giornata, ad esempio, mi sono trovato davanti a 10 Alchemy Potion, 25 Merits, che da quando sono entrato a far parte di una nuova Gilda ho iniziato ad apprezzare, visto che ora li posso utilizzare, 5,592 SPS, e, per concludere, una Gargoya Lion delle cosiddette carte neutrali.
Anche nel caso del giorno successivo, però, non è che ci sia stato quel gran cambiamento, visto che, in questo caso, mi sono ritrovato davanti a 9 Alchemy Potion, 76 Merits, che, come detto poche righe più sopra sono tornato a gradire, 1 SPS, e, per concludere, due carte comuni dell'elemento teraa, ovvero una Vampire Bat ed una Pelacor Mercenary.
Come succede ormai da tantissimo tempo, quindi, le solite ricompense insoddisfacenti, per le quali, probabilmente, non varrebbe neanche la pena di impegnarsi a giocare alle missioni Focus giornaliere, perdendo del gran tempo, visto, alla fine, il ritorno risibile che si ottiene dalle stesse.
Situazione che da tempo trovo abbastanza spiacevole, visto che fa sì che, uno dei giochi da me preferito in assoluto, fin da quando l'avevo conosciuto la prima volta, sia ormai diventato, per me, irriconoscibile, facendomi addirittura arrivare a chiedermi, seriamente, se continuare a giocare o meno.
Visto che considero il tempo come uno dei beni più preziosi che abbiamo, infatti, ritrovarmi a sentirmi come se l'avessi letteralmente sprecato, dopo averlo dedicato a portare a termine le missioni giornaliere, per poi ritrovarmi di fronte a risultati finali di questo genere, mi infastidisce veramente parecchio.
Fortunatamente Splinterlands offre ai suoi utenti due lati, poiché, oltre a quello meramente ludico che è quello che, fino ad oggi, mi ha sempre attirato, visto che, come dicevo qualche riga più sopra, il gioco mi ha conquistato fin da subito e, inizialmente, non vedevo l'ora di avere un po' di tempo da dedicarvi per combattere quanti più scontri possibili, divertendomi un sacco, ne ha un'altro, piuttosto importante, che è quello economico, che può consentire ottimi ritorni.
È proprio per questo che, già da qualche tempo, sto valutando l'ipotesi di staccarmi completamente, o almeno in buona parte, dalla prima strada, per intraprendere, con sempre più decisione, la seconda, e valutare, quindi, come sfruttare questo lato del gioco per trarne i maggiori profitti.
Tra le ipotesi prese in considerazione ci sarebbero, sia la possibilità di attivare dei bot, che possano giocare al mio posto, ma onestamente è quella che mi piace meno, poiché ho sempre odiato coloro che li hanno utilizzati fin da subito, depredando le pool delle ricompense quotidiane, anche se, col senno di poi, probabilmente hanno avuto ragione loro, anche se hanno danneggiato il gioco, sia, ed è l'ipotesi che più mi piace, utilizzare dei servizi per il noleggio automatico delle mie carte, guadagnando i proventi derivanti da questa operazione.
Sinceramente, però, ammetto che mi spiacerà quando arriverò a prendere definitivamente questa decisione, poiché ho sempre adorato questo gioco, ma la situazione, adesso, è cambiata drasticamente, e sono stanco di continuare a portarla avanti, visto che mi sta causando più stress, attualmente, che divertimento, come riusciva a fare prima.
Nel frattempo, per il momento, continuerò ancora a dedicare sempre meno tempo allo stesso, cercando di svolgere i focus giornalieri senza preoccuparmi, più di tanto, dei risultati ottenibili, conscio che tanto, comunque, saranno piuttosto insoddisfacenti, e terrò gli occhi, e le orecchie, bene aperti, per seguire, comunque, gli ulteriori sviluppi di un gioco che potrebbe riservare anche qualche sorpresa piacevole, visto che sta iniziando l'era delle Lands, che sembrerebbe essere uno degli sviluppi più rivoluzionari del gioco, che potrebbe andare a cambiare, di parecchio, tutto quello che conosciamo, fino ad adesso, dello stesso.
Ora, però, non vi voglio annoiare ulteriormente, e, di conseguenza, per il momento, non mi resta altro da fare se non, augurarvi una buona serata, ed invitarvi, sempre che ne abbiate ancora voglia, a continuare a leggere i miei post ed a seguirmi.
P.S. Se non siete ancora iscritti a Splinterlands e volete iniziare anche voi a giocare a questo gioco potete iscrivervi da quì : Splinterlands
---
Good evening everyone and welcome back.
Even on this Saturday, which finally sanctions the beginning of a long-awaited weekend, here I am again, again this evening, after the classic pizza evening that distinguishes this day of the week, with my usual daily post, dedicated, in this case, to results of my missions on Splinterlands, although this may be the last.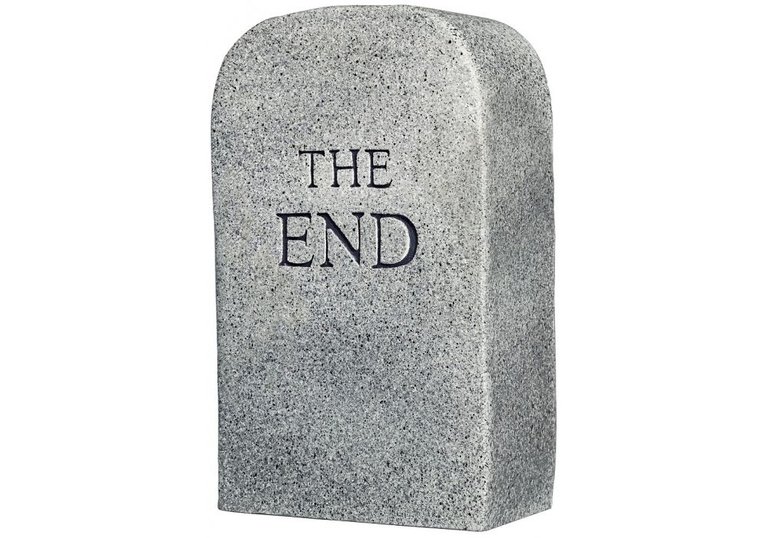 This does not mean, for now, that I have made that decision, which I've actually been thinking about for some time now, which will see me definitively abandon the daily fight scenes on this game, in an attempt to carry on the term le various Focus missions to receive rewards which, lately, are almost always practically laughable, but simply that, from now on, I will probably change the type of items.
As happened within Splinterlands, in fact, the rules have also changed as regards the possibility of being able to participate in the various contests organized here, on this platform, if we want to hope to be adequately voted as happened up to now.
Just last night, in fact, @libertycrypto27, a user of this all-Italian community, whom I have always esteemed and appreciated for the value he brings to it, and for all the suggestions he often gave me, brought this post by @underlock who explains very well the community guidelines regarding posts, and their participation in the various contests weekly.
The same if they do not expressly prohibit this type of article, where you go to share your daily results, but strongly advise against them since, according to their directives, they bring very little value to other users, and, consequently, could get upvotes derisory, or even no longer be voted.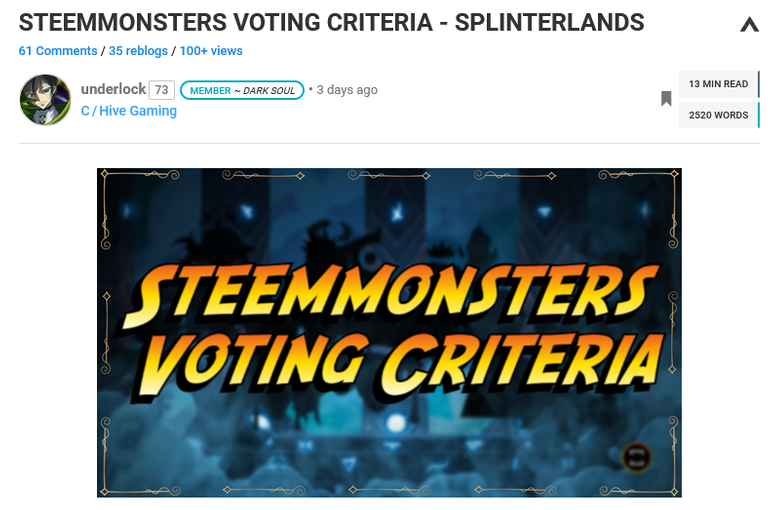 On the contrary, however, some types of articles are indicated, of different kinds, which could be much more appreciated, such as indicating one's game strategies, and the results obtained by applying them, talking about the use, and potential, of a specific card , and others that you can certainly understand, in a better way, by reading the above post directly.
Therefore, if perhaps I continue, for pleasure, to publish my personal results, on my blog, or within the Italian community to which I belong, it goes without saying, at this point, that I will have to change my plan editorial regarding the various contests in which, so far, I have participated in this way, in order to continue to offer content that can be considered sufficiently valuable.
If this, perhaps, is true that it can complicate things a bit, it is equally true that it is a choice that I can understand, given that, indeed, I can understand that publishing, quite simply, what we have managed to combine during a Focus mission, and what rewards have been received, may prove to be uninteresting for the majority of people, but above all not very useful, for those who, perhaps, want to understand a little better how to approach the same.
In the near future, therefore, I will try to understand how to follow these new rules in the best possible way, in order to be able to offer, to anyone who decides to read my future posts, content that may prove to be useful, and consequently of value, even if this will perhaps require a little more effort, given that, of course, there is no shortage of authors who revolve around this world.
However, unlike the changes implemented in the game, as I said a few lines above, I perfectly understand the reasons that prompted the Splinterlands community to dictate these guidelines, given that they have a specific purpose and utility, which is that of increasing the value of what is proposed by the authors who, otherwise, could have simply scribbled really useless articles, just to aim for the reception of generous upvotes.
As already announced in the title, therefore, this, in all likelihood, will be one of the last occasions in which I will publish a post dedicated exclusively to my results during the execution of the daily Focus missions, or at least that I will share within the weekly contests. although, in reality, my articles have never been exclusively a list of the rewards I received, since I always used to express my opinions about what I liked, or disliked, in the game.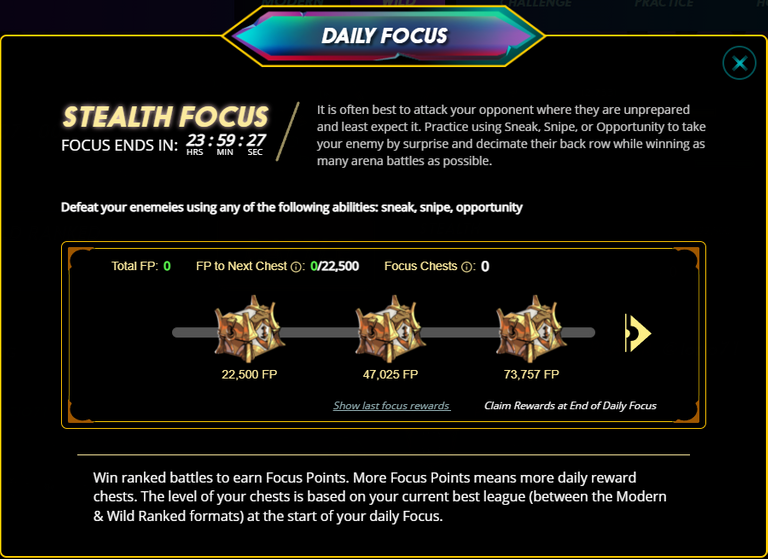 Proceeding, therefore, to talk, perhaps for the last time in these contests, of my last two daily missions, the same ones were of the Fire type, during which you receive more points by using Summoners and cards to defeat your opponents. fire element, and Stealth, where, instead, you have to use cards, within your own deployments, with the Sneak, Snipe, and Opportunity abilities.
As has been the case for quite some time now, the two days in question were not absolutely easy to complete, obtaining at least satisfactory results, given that, as has been the case for some time now, I had to work hard to obtain, in the end, the quantities of caskets, decidedly mediocre, in both cases equal, to be precise, to a total of 7 both for one and for the other.
Unfortunately, however, this is, by now, the reality with which we have to come up against, and it really seems that on the horizon there is no news, in this regard, that can give us hope for a change of the same that can give us hope for some change that could improve it.
In fact, the path taken by the game appears evident by now, which seems to go in only one direction, making it increasingly accessible and playable only by those who intend to invest heavily in it, making, on the contrary, life very difficult for those who have no intention of doing it, or simply cannot afford it.
A policy that I have already said several times that I do not understand, since it makes things decidedly very complicated, both for new users who want to start playing, and for all those who, perhaps, cannot afford such substantial investments, and must therefore give up to have a few more chances.


As regards, however, the rewards of the two days mentioned above, "nothing new on the western front" (cit.) also in this case, given that, inside the hard-won coffers, I found myself in front of rewards that , as always, turn out to be rather unsatisfactory.
In the case of the first day, for example, I found myself in front of 10 Alchemy Potions, 25 Merits, which since I joined a new Guild I started to appreciate, since I can now use them, 5,592 SPS, and, finally, a Gargoya Lion of the so-called neutral cards.
Even in the case of the next day, however, there wasn't that much change, given that, in this case, I found myself in front of 9 Alchemy Potions, 76 Merits, which, as mentioned a few lines above, I returned to liking , 1 SPS, and, finally, two common cards of the teraa element, namely a Vampire Bat and a Pelacor Mercenary.
As has been the case for a very long time, therefore, the usual unsatisfactory rewards, for which, probably, it would not even be worthwhile to commit to playing the daily Focus missions, losing a lot of time, given, in the end, the laughable return that is obtained from the same.
A situation that I have long found quite unpleasant, given that it causes one of my favorite games ever, since I first met it, to have become unrecognizable to me, even making me wonder, seriously , whether to continue playing or not.
Since I consider time to be one of the most precious possessions we have, in fact, I find myself feeling like I've literally wasted it, after dedicating it to completing the daily missions, only to find myself faced with final results of this kind, it really annoys me a lot.
Fortunately Splinterlands offers its users two sides, since, in addition to the purely playful one which is what, up to now, has always attracted me, given that, as I said a few lines above, the game won me over right away and, Initially, I couldn't wait to have some time to dedicate to fighting as many fights as possible, having a lot of fun, it has another, rather important one, which is the economic one, which can allow excellent returns.
It is precisely for this reason that, for some time now, I have been evaluating the hypothesis of detaching myself completely, or at least to a large extent, from the first path, in order to undertake the second, with more and more decision, and therefore evaluate how to exploit this side of the game to make the most of it.
Among the hypotheses taken into consideration there would be both the possibility of activating bots, which can play in my place, but honestly it is the one I like least, since I have always hated those who have used them right away, plundering the pools of daily rewards, even if, in hindsight, they were probably right, even if they damaged the game, either, and it is the hypothesis that I like most, using services for the automatic rental of my cards, earning the proceeds resulting from this operation.
Honestly, though, I admit that I will be sorry when I finally come to make this decision, as I have always loved this game, but the situation has now changed drastically, and I am tired of continuing to carry on with it, as it is causing me more stress, currently, what fun, as he managed to do before.
In the meantime, for the moment, I will still continue to devote less and less time to the same, trying to carry out the daily focuses without worrying too much about the obtainable results, aware that anyhow, they will be rather unsatisfactory, and I will keep my eyes, and ears, wide open, to follow, however, the further developments of a game that could also reserve some pleasant surprises, given that the era of the Lands is beginning, which would seem to be one of the most revolutionary developments of the game, which could go to change, by a lot, everything we know, until now, of the same.
Now, however, I don't want to bore you further, and, consequently, for the moment, there is nothing left for me to do but wish you a good evening, and invite you, if you still feel like it, to continue reading my posts and to follow me.
P.S. If you haven't signed up for Splinterlands yet and want to start playing this game, you can sign up here: Splinterlands
---
---