Risultati del Focus Quotidiano su Splinterlands - Dragon Focus - (ITA/ENG) - Results of the Daily Focus on Splinterlands - Dragon Focus
Buonasera a tutti e ben ritrovati.
Anche in questo venerdì che, fortunatamente, segna la fine di una settimana lavorativa, che nel mio caso, è stata molto più corta del solito, ma si è rivelata essere, comunque, pesante, e l'arrivo di un nuovo weekend, eccomi ritornare, come di consueto, con questo mio nuovo post, dedicato, in questo caso, ai risultati delle mie missioni giornaliere su Splinterlands.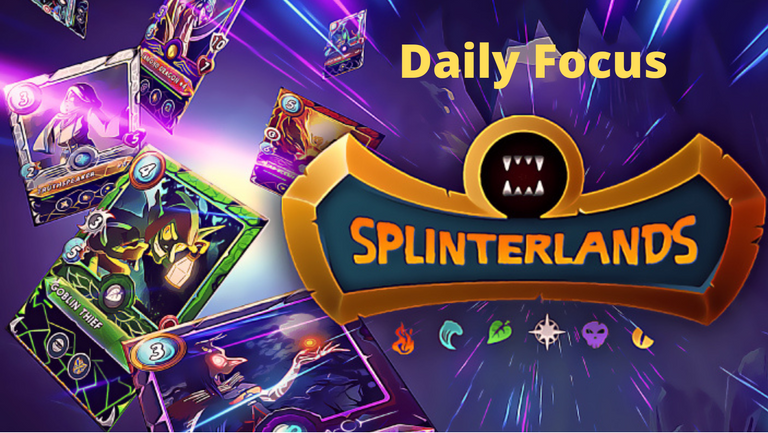 Nonostante abbia trascorso solamente due giorni all'interno del luogo dove lavoro, infatti, questi mi sono abbondantemente bastati per stancarmi, ulteriormente, della situazione che ormai sto vivendo da già fin troppo tempo, e che sta diventando sempre più insopportabile.
Per quanto io possa cercare di lasciarmi scivolare addosso le abbondanti rotture di scatole giornaliere, nonché tutti quei comportamenti, a dir poco fastidiosi, di alcuni personaggi che mi circondano quotidianamente in tale ambiente, il vaso è, ormai, talmente colmo, che non mi riesce di tornare a casa senza un'abbondante carica di stress, e nervosismo, che mi stanca molto di più che se avessi fatto un lavoro manuale pesantissimo, ma con la dovuta serenità.
La cosa peggiore, però, è che, per quanto sia conscio che non lo dovrei fare, finisco, poi, col portarmi a casa il carico di cui sopra, finendo, a volte, con lo sfogarmi con le prime persone che mi capitano a tiro, e che, spesso e volentieri, non c'entrano nulla, finendo, a volte, per essere molto sgarbato con mia moglie, e mia figlia, e questa cosa non è tollerabile.
Diventa, quindi, sempre più inevitabile, per me, trovare un'alternativa che mi consenta, realmente, e concretamente, di cambiare, se non vita, quantomeno il mio percorso lavorativo, consentendomi di trovare un ambiente dove mi sia consentito di lavorare in modo più dignitoso, e sereno.
Sono conscio, in realtà, che ogni lavoro, fondamentalmente, ha i suoi pro e i suoi contro, e che, probabilmente, situazioni come quella che sto affrontando io, siano in realtà molto più comuni di quanto io possa pensare, visto che non sono certo l'unico a lamentarsene, ma è anche vero che esistono realtà diverse, e se non si fa mai nulla per cercare di cambiare le cose, queste da sole non cambieranno mai.
Ma tutto questo non riguarda minimamente l'argomento principale di questo mio post e, di conseguenza, direi che è arrivato il momento di iniziare a parlare della reale protagonista dello stesso, ovvero dell'ultima missione da me completata su Splinterlands.

Il Focus di giornata era, in questo caso, di tipo Dragon, ovvero una mia conoscenza di vecchia data, che concede 24 ore di tempo, per racimolare punti, nella speranza di ottenere la maggior quantità possibile di scrigni, vincendo scontri contro gli avversari di turno, utilizzando, prevalentemente, Summoners dell'elemento Drago, in combinata con carte dello stesso elemento, o, in alternativa, di qualsiasi elemento venisse reso disponibile durante i vari scontri.
Quasi inutile dire che, gli scenari di fronte ai quali mi sono ritrovato, anche durante la giornata in esame, nonostante la missione di cui sopra sia sempre stata una delle mie preferite, non sono stati differenti da quelli ai quali oramai siamo abituati, purtroppo, da parecchio tempo, con sfide decisamente molto difficili, spesso contro avversari ben al di fuori delle mie possibilità.
Ovviamente non sono mancati, poi, numerosi scontri contro vari Bot, che, come già da me sostenuto in parecchi post precedenti, continuano, che piaccia o meno, ad imperversare ad ogni livello, facendo il bello ed il cattivo tempo, e continuando a depredare, di conseguenza, la pool giornaliera delle ricompense, alla quale tutti attingiamo.
Inutile meravigliarsi, quindi, quando ci ritroveremo, per l'ennesima volta, di fronte a risultati decisamente scadenti, visto che, con una probabilità del 99,99%, i premi migliori a disposizione, saranno già stati rastrellati, in abbondanza, dai giocatori artificiali di cui sopra.
Personalmente, dopo un'alternarsi di alti e bassi, e quindi di vittorie, ma, soprattutto, di non poche sconfitte, mi è riuscito di concludere la giornata con un risultato finale pari a 7 scrigni, che trovo abbastanza mediocre.

Se almeno esistesse la possibilità di poter sperare in contenuti almeno soddisfacenti, la quantità in esame potrebbe anche essere accettabile, ma la realtà è, ormai da tempo, ben diversa, e, salvo rarissime occasioni, ci siamo ormai assuefatti a ricompense che, nella maggior parte delle occasioni, sono quasi risibili.
Anche in questa giornata, infatti, le cose non sono andate in maniera diversa, visto che, all'apertura degli scrigni, mi sono ritrovato davanti a 7 Legendary Potion, 102 Merits, che, se non altro, essendo entrato a far parte di una nuova Gilda ora riesco ad utilizzare, 1,076 SPS, e, per concludere, una Blood Maker dell'elemento fuoco.
L'ennesimo bilancio giornaliero, quindi, decisamente insoddisfacente, che va ad aggiungersi a una lunga lista di precedenti simili, che sembra, ormai da tempo, non avere praticamente quasi fine, e che, salvo rarissime occasioni, sembra quasi fatta in serie, tanto si assomigliano gli uni agli altri.
Ulteriore conferma, quindi, come se ce ne fosse bisogno, che la situazione di questo gioco sta andando sempre più alla deriva, ma che, soprattutto, sembra denotare, da parte degli sviluppatori e dei creatori del gioco, un totale disinteresse verso quello che possano provare i fans, dello stesso, che li supportano.
Non voglio credere, infatti, che i suddetti siano completamente all'oscuro del malumore che serpeggia, sempre di più, tra gli utenti di Splinterlands, che sono sempre più insoddisfatti di una situazione che sta diventando, ogni giorno che passa, sempre più intollerabile.
È ormai è sempre più evidente, infatti, che sia necessario un intervento atto a riequilibrare le cose, così da far tornare il giocare a questo gioco, nuovamente divertente ed interessante, visto che, attualmente, al contario, dedicare del tempo a portare avanti le missioni quotidiane, visto poi i risultati ridicoli che si riesce ad ottenere, stia diventando un totale, ed inutile, spreco dello stesso e di energia.
Il rapporto tra l'impegno richiesto, per poter sperare di racimolare un certo numero di scrigni che possa considerarsi almeno soddisfacente, ed i risultati finali di fronte ai quali ci si viene a trovare giornalmente, sia completamente impari, e, di conseguenza, come si suol dire, il gioco non vale più la candela.
Le uniche chances che qualcosa possa cambiare, infatti, sembra che, allo stato attuale delle cose, siano lasciate all'arrivo delle nuove card, delle quali ho parlato ieri, visto che non saranno cedibili, vendibili, o altro, e che, di conseguenza, potrebbero, secondo alcuni, mettere freno all'imperversare dei Bot, anche se io non ne sono per nulla convinto, e all'arrivo, definitivo, delle Lands, che sembrerebbero rappresentare una vera e propria rivoluzione totale del gioco, come lo conosciamo fino ad adesso, che potrebbe, di conseguenza, stravolgerlo completamente, e chissà, magari, ridare un po' di linfa vitale allo stesso, e renderlo di nuovo più interessante e, si spera, anche più equilibrato.
In attesa di comprendere meglio, però, se tutto questo servirà realmente a qualcosa, oppure no, temo dovremo attendere ancora un po', e, di conseguenza, per il momento, continuerò per la mia strada, che prevede che io dedichi sempre meno tempo alle missioni giornaliere, valutando, nel frattempo, la possibilità di attivare, anch'io, a mia volta, dei Bot, a cui far fare le mie veci nelle quest giornaliere, o dei servizi che possano affittare l'intero mi mazzo di carte, per godere, di conseguenza, dei ritorni derivanti dall'affitto delle stesse.
Ora, però, visto non vi voglio annoiare ulteriormente, ma anche perchè inizio ad essere a pezzi, per il momento, concludo quì questo mio post, e non mi resta altro da fare, quindi, se non, augurarvi una buona serata, ed invitarvi, sempre che ne abbiate ancora voglia, a continuare a leggere i miei post ed a seguirmi.
P.S. Se non siete ancora iscritti a Splinterlands e volete iniziare anche voi a giocare a questo splendido gioco potete iscrivervi da quì : Splinterlands
---
Good evening everyone and welcome back.
Even on this Friday which, fortunately, marks the end of a working week, which in my case was much shorter than usual, but which nevertheless turned out to be heavy, and the arrival of a new weekend, here I am back , as usual, with this new post of mine, dedicated, in this case, to the results of my daily missions on Splinterlands.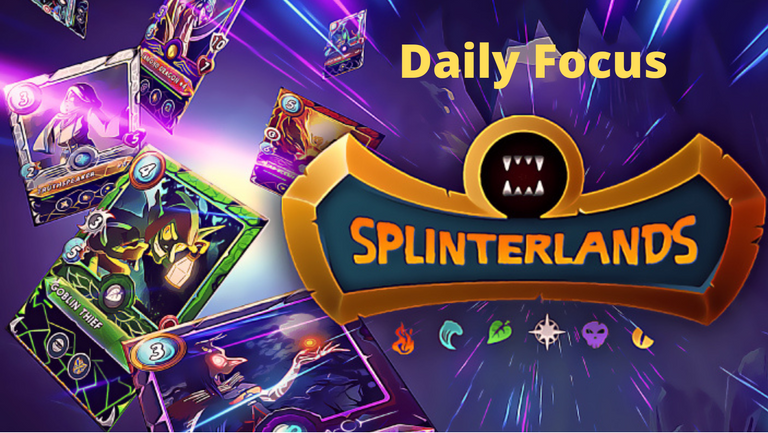 Despite having only spent two days in the place where I work, in fact, these were abundantly enough for me to get further tired of the situation that I've been experiencing for far too long, and which is becoming increasingly unbearable.
As much as I can try to let the abundant daily annoyances slip on me, as well as all those behaviors, annoying to say the least, of some characters who surround me every day in this environment, the vase is, by now, so full that I can't to go home without an abundant load of stress and nervousness, which tires me much more than if I had done a very heavy manual job, but with due serenity.
The worst thing, however, is that, although I am aware that I shouldn't do it, I end up taking home the load mentioned above, sometimes ending up venting myself with the first people who come within range. , and who, more often than not, have nothing to do with it, ending up, at times, being very rude to my wife and my daughter, and this thing is not tolerable.
Therefore, it becomes increasingly inevitable for me to find an alternative that allows me, really and concretely, to change, if not life, at least my career path, allowing me to find an environment where I am allowed to work in a more dignified, and serene.
I am aware, in reality, that basically every job has its pros and cons, and that, probably, situations like the one I'm facing are actually much more common than I might think, since I'm not sure the only one to complain about it, but it is also true that there are different realities, and if nothing is ever done to try to change things, these by themselves will never change.
But all this is not at all about the main topic of my post and, consequently, I would say that the time has come to start talking about the real protagonist of the same, or the last mission I completed on Splinterlands.

The Focus of the day was, in this case, of the Dragon type, i.e. a long-standing acquaintance of mine, which grants 24 hours of time, to collect points, in the hope of obtaining as many chests as possible, by winning battles against opponents of round, mainly using Summoners of the Dragon element, in combination with cards of the same element, or, alternatively, of any element made available during the various clashes.
Almost needless to say, the scenarios I found myself facing, even during the day in question, despite the above mission having always been one of my favourites, were no different from those to which we are now accustomed, unfortunately, for a long time, with decidedly very difficult challenges, often against opponents well beyond my possibilities.
Obviously, there have also been numerous clashes against various Bots, which, as I have already argued in several previous posts, continue, like it or not, to rage at every level, making good and bad weather, and continuing to plunder , consequently, the daily pool of rewards, from which we all draw.
Therefore, it is useless to be surprised when we find ourselves, once again, faced with decidedly poor results, given that, with a 99.99% probability, the best prizes available will have already been raked in abundance by the players artificial above.
Personally, after alternating ups and downs, and therefore of victories, but, above all, of quite a few defeats, I managed to end the day with a final result equal to 7 chests, which I find quite mediocre.

If at least there were the possibility of being able to hope for at least satisfactory contents, the quantity in question could also be acceptable, but the reality has been quite different for some time now, and, except for very rare occasions, we have now become accustomed to rewards which, in the majority part of the occasions, are almost laughable.
Also on this day, in fact, things went no differently, given that, upon opening the caskets, I found myself in front of 7 Legendary Potions, 102 Merits, which, if nothing else, having become part of a new Guild now I can use, 1,076 SPS, and, finally, a Blood Maker of the fire element.
Yet another decidedly unsatisfactory daily assessment, which adds to a long list of similar precedents, which seems, for some time now, to have practically no end, and which, except for very rare occasions, seems almost mass-produced, so much they look alike to each other.
Further confirmation, therefore, as if it were needed, that the situation of this game is drifting more and more, but that, above all, it seems to denote, on the part of the developers and creators of the game, a total disinterest in what they can try the fans, of the same, who support them.
In fact, I don't want to believe that the aforementioned are completely unaware of the discontent that is spreading more and more among Splinterlands users, who are increasingly dissatisfied with a situation that is becoming more and more intolerable with each passing day.
It is now increasingly evident, in fact, that an intervention is necessary to rebalance things, so as to return to playing this game, which is once again fun and interesting, given that, currently, on the contrary, dedicating time to carry on the daily missions, then given the ridiculous results that can be obtained, is becoming a total, and useless, waste of the same and of energy.
The relationship between the effort required, in order to hope to collect a certain number of caskets that can be considered at least satisfactory, and the final results in front of which one finds oneself daily, is completely unequal, and, consequently, how as they say, the game is no longer worth the candle.
The only chances that something can change, in fact, it seems that, in the current state of things, are left to the arrival of the new cards, of which I spoke yesterday, given that they will not be transferable, salable, or anything else, and which, consequently , could, according to some, put a stop to the rage of the Bots, even if I'm not at all convinced, and the definitive arrival of the Lands, which would seem to represent a real total revolution of the game, as we know it up to up to now, which could, consequently, completely distort it, and who knows, maybe, give a little lifeblood back to it, and make it more interesting again and, hopefully, even more balanced.
While waiting for a better understanding, however, whether all of this will really help or not, I'm afraid we'll have to wait a little longer, and consequently, for the moment, I'll continue on my way, which requires me to spend less and less time to the daily missions, evaluating, in the meantime, the possibility of activating, in my turn, some Bots, which I have to take my place in the daily quests, or services that can rent my entire deck of cards, to enjoy, consequently, the returns deriving from the rental of the same.
Now, however, since I don't want to bore you further, but also because I'm starting to feel broken, for the moment, I'm ending my post here, and there's nothing left for me to do, so, if not, wish you a good evening, and invite you , if you still feel like it, keep reading my posts and follow me.
P.S. If you haven't signed up for Splinterlands yet and want to start playing this wonderful game, you can sign up here: Splinterlands
---
---