Risultati del Focus Quotidiano su Splinterlands - Fire Focus - (ITA/ENG) - Results of the Daily Focus on Splinterlands - Fire Focus
Buongiorno a tutti e ben ritrovati.
Seppure lentamente, anche questa settimana lavorativa sta svolgendo lentamente verso il termine, e, ormai a pochi passi da un weekend tanto atteso, eccomi rispuntare, quest'oggi un po' più sereno del solito, con questo mio nuovo post quotidiano, dedicato, in questo caso, ai risultati delle mie missioni giornaliere su Splinterlands.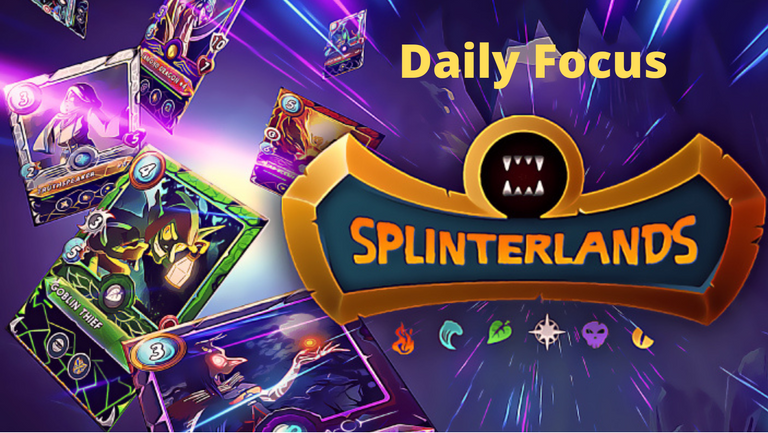 Durante la giornata odierna, infatti, anche se i motivi per innervosirmi non sono comunque mancati, non sono andato a lavorare, visto che dovevo effettuare delle visite di controllo già previste da qualche tempo, e, di conseguenza, riuscendo a stare lontano da quel luogo malsano, che ormai sopporto sempre meno, sono, comunque, decisamente più tranquillo.
L'unica nota stonata di questa giornata, infatti, è stato un piccolo disguido che, purtroppo, non mi ha consentito di fare gli esami del sangue, per colpa di uno stupido imprevisto, al quale non mi è riuscito di porre rimedio, grazie anche all'ottusità di una persona che si è praticamente rifiutata di sbattersi, un minuto di più, per compiere il suo lavoro.
Questa mattina, mentre mi stavo recando presso la sala prelievi dove avrei dovuto eseguire i miei controlli, mi sono reso conto, durante il tragitto, che, rispetto alle impegnative che mi erano state descritte dal mio dottore, mi ritrovavo, non so per quale motivo, con una di meno in mio possesso.
A questo punto, visto che ormai ero abbastanza vicino alla struttura dove mi sarei dovuta recare per effettuare i miei esami, ho contattato su WhatsApp il suddetto, che ha provveduto ad inviarmi, via email, il foglio mancante, così che potessi presentarlo, tramite cellulare, all'incaricato di turno, per poter eseguire, comunque, quanto avrei dovuto fare.
Peccato, però, che la persona di fronte alla quale mi sono ritrovato si sia dimostrato molto poco collaborativo, richiedendomi, gioco forza, la versione cartecea del foglio in questione per poter procedere oltre, e si è rifiutato di eseguire ugualmente il prelievo, o, magari, semplicemente recarsi di fronte a un computer, comunque presente, al quale avrei potuto inviare la mail di cui sopra e provvedere lui alla stampa, consentendomi di evitare di perdere, in pratica, una parte della mattinata, che mi ero appositamente preso di ferie, dal lavoro, per fare tutte le mie cose, costringendomi a prendere un'altra giornata, più avanti, o a trovare un qualche rimedio alternativo.
Queste mie divagazioni personali, però, che in realtà sto anche utilizzando un po' come sfogo, non c'entrano nulla con l'argomento principale di questo mio post, e, di conseguenza, direi che ora è arrivato il momento di andare a parlare della reale protagonista dello stesso, ovvero dell'ultima missione da me completata su Splinterlands.

Il focus di giornata era, in questo caso, di tipo Fire e, di conseguenza, per racimolare quanti più punti possibili, nella speranza di aggiudicarmi un buon numero di scrigni a fine giornata, avrei avuto 24 ore di tempo, a disposizione, per vincere scontri, contro i miei avversari, utilizzando Summoners, e carte, principalmente dell'elemento fuoco, al limite in combinata con le cosiddette carte neutrali.
A seguito della missione precedente, ovvero la prima di questa nuova Season, dove mi sono ritrovato a combattere per scrigni relativi alla lega precedente, che nel mio caso era la Diamond, nonostante fossi già stato declassato all'interno della lega Gold, come succede ogni volta che c'è un cambio di questi periodi, oltre ad aver ottenuto un risultato piuttosto insoddisfacente, mi ritrovavo a ripartire dalla lega Silver.
Il giorno precedente, infatti, mi ero ritrovato, fin da subito, di fronte ad avversari piuttosto forti, in più di un caso al di sopra delle mie possibilità, che mi avevano inflitto una pesante serie di sconfitte, facendomi, di conseguenza, precipitare al livello sottostante, dal quale oggi mi sono impegnato per risalire, almeno, a quello di partenza.
Nonostante, teoricamente, io possiede un mazzo di carte che mi dovrebbe consentire di avere vita facile all'interno di questa lega, le cose sono state meno facili di quello che si potrebbe pensare, visto che, ormai abituato a sfruttare le mie carte ad un potenziale ben più alto, ritrovarsi a doverle usare in maniera limitata, mi ha creato qualche problema.
Nonostante tutto questo, però, fortunatamente, alla fine la giornata non è andata affatto male, visto che, non solo mi è riuscito, comunque, di racimolare i punti sufficiente a portarmi a casa nove scrigni che comunque è un risultato accettabile, ma anche di riuscire a ritornare a livello Gold, dal quale partirò domani nella prossima missione.

Restava solo da capire, a questo punto, che cosa avrei potuto trovare all'interno dei suddetti, e, ad essere onesto, visto che erano di livello Silver, non ero esattamente così ottimista sul possibile contenuto degli stessi, visto che di un livello inferiore.
Questi miei dubbi, però, sono stati letteralmente spazzati via, da lì a poco, visto che, una volta aperti gli scrigni di cui sopra, mi sono ritrovato davanti a 2 Legendary Potion, 2 Alchemy Potion, 0,41 SPS, due copie di Imperial Knight dell'elemento vita, tre copie di Gobson Bomber delle cosiddette carte neutrali, una Helios Matriarch, evocatore raro dell'elemento drago, due copie di Octavia Shadowmeld, evocatore raro dell'elemento morte, ma, soprattutto, per concludere in bellezza, una Kulu Mastermind, carta leggendaria dell'elemento acqua,
Un risultato decisamente, tanto piacevole, quanto inaspettato, visto il livello dei bauli che mi sono trovato ad aprire, che ha reso questa giornata decisamente molto positiva, consentendomi di incrementare, in maniera decisa, la mia collezione di queste carte Soulbound che, ogni giorno che passa, mi piacciono sempre di più.
Devo ammettere, inoltre, che, a seguito di un risultato di fine stagione decisamente più positivo di uanto speravo, e di una giornata come quella di ieri che, al contrario, era stata piuttosto deludente, che mi riportava con i piedi per terra, non mi sarei mai aspettato un qualcosa di così positivo, e, di conseguenza, ne sono rimasto più che piacevolmente sorpreso.
A questo punto, direi, inoltre, che i miei dubbi, in merito alle reali motivazioni che mi avevano portato a risultati iniziali decisamente stratosferici, che poi erano andati, via, via, appiattendosi, e mi avevano fatto pensare che potessero essere stati dovuti ad un errore iniziale, commesso dagli sviluppatori del gioco, nel regolare l'algoritmo che determina le ricompense che riceviamo, probabilmente possono andare a farsi benedire.
Negli ultimi giorni, infatti, direi che le Rewards di fronte alle quali mi sono venuto a trovare, smentiscono chiaramente questo mio pensiero, visto che mi hanno consentito di portare a casa dei risultati molto importanti.
Tutto questo, ovviamente, mi sta facendo ritrovare, sempre di più, un entusiasmo, nel giocare a questo gioco, che in precedenza avevo perso per strada, fino ad arrivare al punto da chiedermi se sarebbe ancora valsa la pena di tentare di portare avanti le missione giornaliere, visto la pochezza delle ricompense ricevibili.
Dopo un lunghissimo periodo, quindi, che mi ha visto lamentarmi, in più occasioni, di una situazione che sembrava aver portato Splinterlands un po' allo sbando, e che aveva fatto nascere un malcontento generale, quasi palpabile, tra moltissimi utenti, come si poteva scoprire frequentando forum, e gruppi, dedicati a questo gioco, attualmente non posso che essere entusiasta del nuovo corso che lo stesso ha intrapreso, e questo sta facendo ritornare molti utenti a giocare con entusiasmo.
Certo ci sono ancora alcune cose da valutare, quali l'attuale valore pari allo zero delle carte Soulbound che stiamo ricevendo, e come queste verranno immesse sul mercato, ma, per il momento, non voglio darmi pena per tutto questo, ed, al contrario, voglio pensare, solo ed esclusivamente, a divertirmi, e a godermi questa nuova era, che è appena iniziata, e che dovrebbe durare almeno un anno.
Ora, quindi, non vi voglio annoiare ulteriormente, e, di conseguenza, per il momento, non mi resta altro da fare se non, augurarvi una buona serata, ed invitarvi, sempre che ne abbiate ancora voglia, a continuare a leggere i miei post ed a seguirmi.
P.S. Se non siete ancora iscritti a Splinterlands e volete iniziare anche voi a giocare a questo gioco potete iscrivervi da quì : Splinterlands
---
Good morning everyone and welcome back.
Albeit slowly, even this working week is slowly developing towards the end, and, now just a few steps away from a long-awaited weekend, here I am, today a little more serene than usual, with this new daily post of mine, dedicated, in this case, to the results of my daily quests on Splinterlands.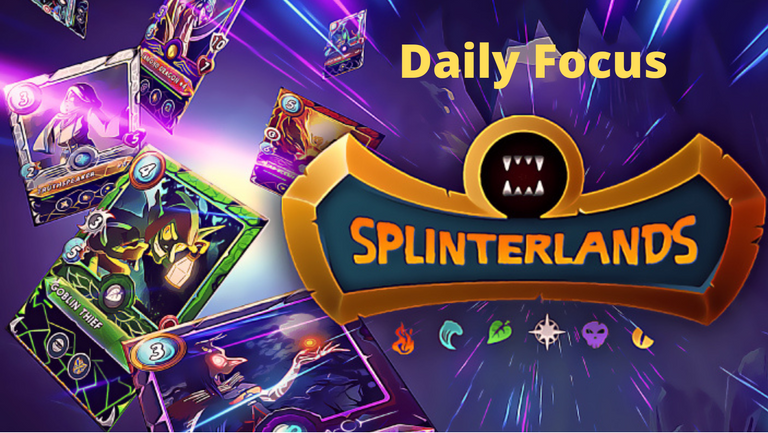 In fact, during today's day, even if there was no shortage of reasons to get nervous, I didn't go to work, since I had to carry out check-ups that had already been scheduled for some time, and, consequently, managed to stay away from that place unhealthy, which by now I tolerate less and less, I am, however, decidedly calmer.
The only sour note of this day, in fact, was a small mistake which, unfortunately, did not allow me to take blood tests, due to a stupid unexpected event, which I was unable to remedy, thanks also to the narrow-mindedness of a person who practically refused to give a fuck, one minute longer, to do his job.
This morning, while I was on my way to the sampling room where I was supposed to carry out my checks, I realized, during the journey, that, compared to the demanding conditions that my doctor had described to me, I found myself, I don't know why , with one less in my possession.
At this point, since I was now quite close to the facility where I was supposed to go to carry out my exams, I contacted the aforementioned via WhatsApp, who proceeded to send me the missing sheet via email, so that I could present it, via mobile phone , to the duty officer, in order to be able to carry out, however, what I should have done.
Too bad, however, that the person in front of whom I found myself proved to be very uncooperative, asking me, forcefully, for the paper version of the sheet in question to be able to proceed further, and he refused to carry out the sampling anyway, or, perhaps, simply go in front of a computer, however present, to which I could have sent the above e-mail and provided him with the printing, allowing me to avoid losing, in practice, a part of the morning, which I had purposely taken on vacation , from work, to do all my own things, forcing myself to take another day, later, or to find some alternative remedy.
However, these personal digressions of mine, which I'm actually also using a bit as an outlet, have nothing to do with the main topic of my post, and, consequently, I would say that now is the time to go and talk of the real protagonist of the same, or of the last mission I completed on Splinterlands.

The focus of the day was, in this case, of the Fire type and, consequently, in order to collect as many points as possible, in the hope of winning a good number of chests at the end of the day, I would have had 24 hours of time available to win clashes, against my opponents, using Summoners, and cards, mainly of the fire element, at the limit in combination with the so-called neutral cards.
Following the previous mission, i.e. the first of this new Season, where I found myself fighting for chests related to the previous league, which in my case was the Diamond, despite having already been downgraded within the Gold league, as happens every every time there is a change of these periods, in addition to having obtained a rather unsatisfactory result, I found myself starting from the Silver league.
The previous day, in fact, I had found myself, immediately, facing rather strong opponents, in more than one case above my possibilities, who had inflicted a heavy series of defeats on me, consequently making me fall to the underlying level, from which today I have undertaken to go back, at least, to the starting one.
Although, theoretically, I have a deck of cards that should allow me to have an easy life within this league, things have been less easy than one might think, given that, by now accustomed to exploiting my cards at a much higher potential, finding myself having to use them in a limited way, created some problems for me.
Despite all this, however, fortunately, in the end the day didn't go badly at all, given that, not only did I manage to collect enough points to bring home nine treasure chests which is an acceptable result, but also be able to return to Gold level, from which I will leave tomorrow in the next mission.

It only remained to understand, at this point, what I could find inside the aforementioned ones, and, to be honest, since they were Silver level, I wasn't exactly so optimistic about the possible content of the same, since they were of a lower level .
These doubts of mine, however, were literally swept away shortly thereafter, given that, once I opened the chests mentioned above, I found myself in front of 2 Legendary Potions, 2 Alchemy Potions, 0.41 SPS, two copies of Imperial Knight of the life element, three copies of Gobson Bomber of the so-called neutral cards, one Helios Matriarch, rare summoner of the dragon element, two copies of Octavia Shadowmeld, rare summoner of the death element, but, above all, to top it all off, a Kulu Mastermind, legendary card of the water element,
A decidedly result, as pleasant as it is unexpected, given the level of the trunks that I found myself opening, which made this day very positive, allowing me to decisively increase my collection of these Soulbound cards which, every day that passes, I like them more and more.
I must also admit that, following a decidedly more positive end-of-season result than I had hoped for, and a day like yesterday which, on the contrary, had been rather disappointing, which brought me back down to earth, I I never expected something this positive, and as a result, I was more than pleasantly surprised.
At this point, I would also say that my doubts regarding the real motivations that had led me to decidedly stratospheric initial results, which then gradually flattened out and made me think that they could have been due to an initial mistake, made by the game developers, in regulating the algorithm that determines the rewards we receive, can probably go down the drain.
In fact, in the last few days, I would say that the Rewards I've come across clearly contradict this thought of mine, given that they have allowed me to bring home some very important results.
All of this, of course, is making me find more and more an enthusiasm in playing this game, which I had previously lost along the way, to the point of wondering if it would still be worth trying to carry on the daily mission, given the paucity of rewards receivable.
After a very long period, therefore, which saw me complain, on several occasions, about a situation that seemed to have led Splinterlands a bit into disarray, and which had given rise to a general, almost palpable discontent among many users, how could find out by attending forums and groups dedicated to this game, currently I can only be enthusiastic about the new course that it has undertaken, and this is making many users return to play with enthusiasm.
Of course there are still some things to evaluate, such as the current zero value of the Soulbound cards we are receiving, and how these will be released on the market, but, for the moment, I don't want to worry about all this, and, on the contrary , I want to think, solely and exclusively, of having fun and enjoying this new era, which has just begun, and which should last at least a year.
Now, therefore, I don't want to bore you further, and, consequently, for the moment, there is nothing left for me to do but wish you a good evening, and invite you, if you still feel like it, to continue reading my posts and to follow me.
P.S. If you haven't signed up for Splinterlands yet and want to start playing this game, you can sign up here: Splinterlands
---
---