Trample ability
Trample ability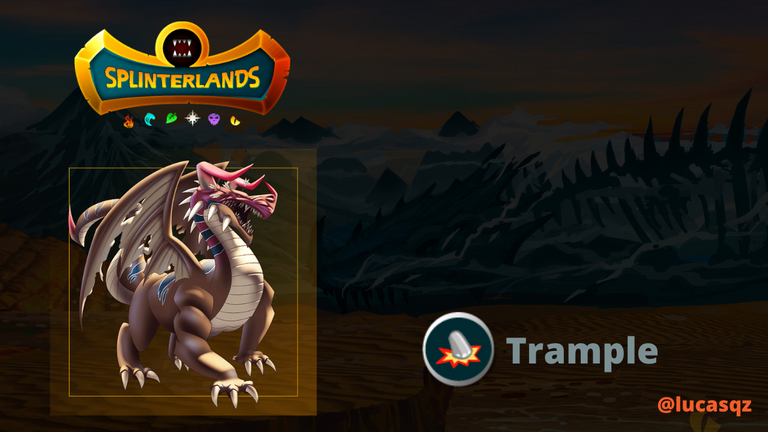 Trample is an ability so fun to play that everyone have to try once. Basically, always the monster is succeeded in defeat other monster, he will be able to attack the next enemy in the line-up.
This ability become more powerful when it is combined with Piercing ability and Stampede ruleset. The Piercing ability allow the attack break in trough the shields and Stampede ruleset enable trample several times in a row.
To show this specific case I'll show you a fun battle using Desert Dragon!

DESERT DRAGON
Desert Dragon is certainly the right choice to show one of the situations to use Trample. At level 2, Desert Dragon is able to use Trample and Piercing, with a good damage.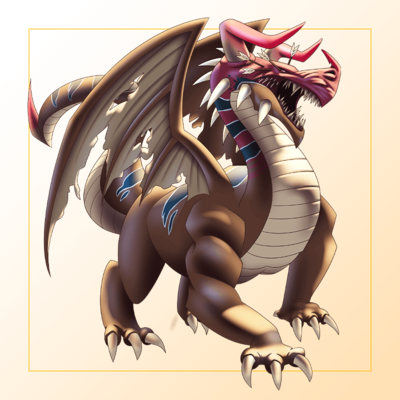 The rule set

| | Stampede: The Trample ability can trigger multiple times per attack if the trampled Monster is killed. |
| --- | --- |
| | Heavy Hitters: All Monsters have the Knock Out ability. |

Strategy
The strategy in this battle was to try to trample the entire line of enemies using piercing, hoping to find weak monsters to keep trampling.
Because this battle has a lot of mana, I decided to use melee monsters, using Demented Shark to amplify the damage done.
As my goal was to take advantage of the ruleset, I tried to spread the damage, using Sneak and Opportunity, aiming to reduce shields and lives, so that Desert Dragon is able to use its ability.

Cards and Lineup
| Card | Description and Goal |
| --- | --- |
| Quix the Devious | Quix is a legendary summoner that is able to reduce speed and ranged attack. |
| Desert Dragon | Desert Dragon at level 2 has a great melee attack and Trample and Piercing abilities. His problems are his low speed and health, making him susceptible to magic damage and miss attacks. But, Quix is a choice that will help him a little to not lose his attacks. |
| Flying Squid | Flying Squid is a great card to use as a secondary tank, because of its Reach ability and its nine health points. |
| Demented Shark | Using Demented Shark is a way to improve Water Splinter's melee attack. |
| Deeplurker | Deeplurker is an Opportunity monster with good speed and damage. |
| Dhampir Infiltrator | Dhampir Infiltrator is a new reward card that sneaks in the enemy's backline dealing double damage. |
| Pelacor Bandit | Pelacor Bandit, other reward card, is a great sneak attack that is good in evade enemy attacks with his speed and Flying ability. |

Battle
You can see the battle here.

Tample in Action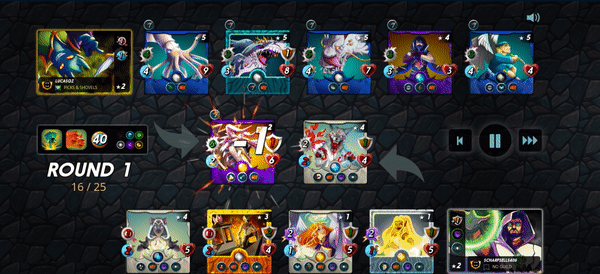 Conclusion
The opponent used Shieldbearer as his tank. However as my monsters had a large amount of damage, they were able to eliminate it quickly. And with that, Desert Dragon began to eliminate one by one, using Trample and Piercing. This battle showed the potential of the Trample ability, using Desert Dragon as an example.

Cards to test Trample
Some cards to test the ability and the level at which it is released to use:
Diemonshark - Level 1
Grund - Level 4
Desert Dragon - Level 1
Disintegrator - Level 5

---
Want to play Splinterlands? Consider using my referral link and I will send you 200 DEC!
---
---